The marble statue dating back to the 7th century BC is presented to the public for the first time by the Ephorate of Antiquities of the Cyclades in a temporary exhibition, which opened on 4 September 2022 at the Archaeological Museum of Thera.
The larger-than-life (2.48 m high) archaic Kore is made of white Naxos marble and has been preserved almost intact, missing only the tip of its nose and most of its right arm (with the hand still resting on the statue's chest). It is one of the few surviving examples of archaic large-scale stone sculpture, which typically features standing statues of either a Kouros (male youth – plural Kouroi) or a Kore (young maiden– plural Korai), expressing that era's archetype of beauty.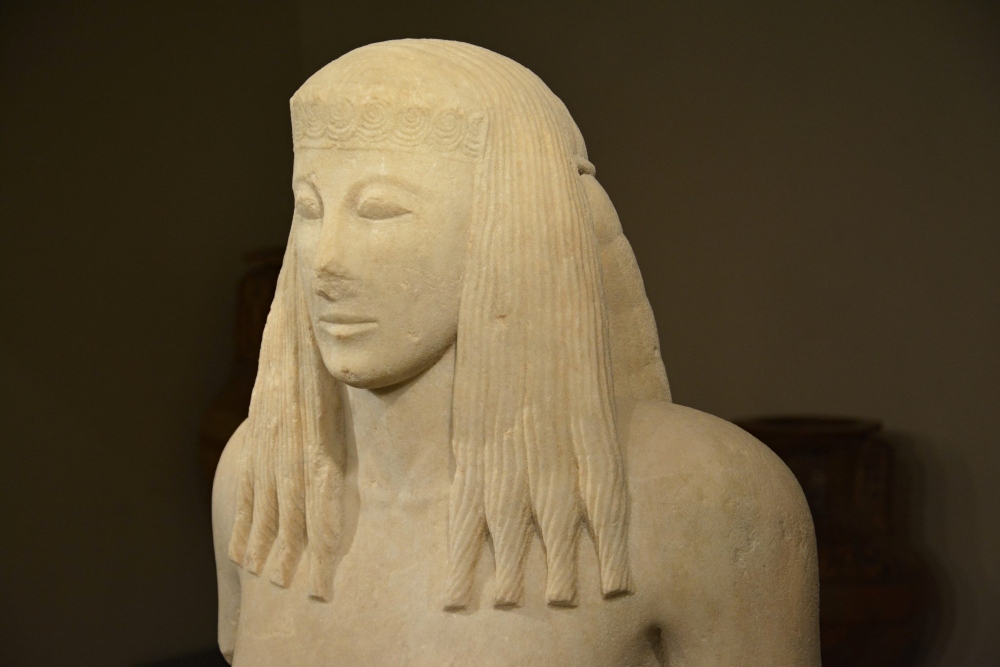 The rare masterpiece was brought to light in November 2000, during a rescue excavation in the cemetery of the Ancient Thera by archaeologist Charalambos Sigalas, and had remained in a warehouse for 22 ears. It is an invaluable addition to earlier finds from the same period, also uncovered in the cemetery of Thera, including parts of Kouroi and a Kore in a poor state of preservation.
The almost intact female figure dressed in a long Doric peplos uniquely complements our knowledge on the development of the Kore type in the second half of the 7th century BC, as its perfect preservation highlights its stylistic characteristics and unique artistic value. It also reveals the economic prosperity but also the ostentation of the islands aristocracy, as well as their aesthetic preferences and their understanding of the arts.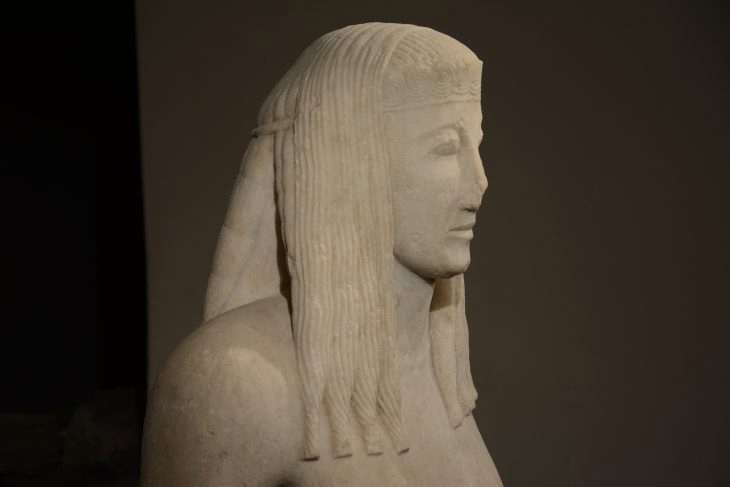 Excavation of the surrounding area did not produce any further evidence regarding the statue; however, the discovering archaeologist's interpretation of the Kore as funerary monument is corroborated by the fact that the statue was discovered in an a reclining position in an archaic burial ground, next to the ancient cobbled roadway that ran through the cemetery leading to the ancient city.
Both of Santorini's archaeological museums –the Museum of Prehistoric Thera and the Archaeological Museum of Thera– are being renovated and are expected to be fully open to the public by 2023. As part of these efforts, the Ephorate added in August 2021 "Thera Murals – The Treasure of the Prehistoric Aegean" to the exhibits of the Museum of Prehistoric Thera, presenting for the first time the entire collection of impressive prehistoric frescoes from Akrotiri.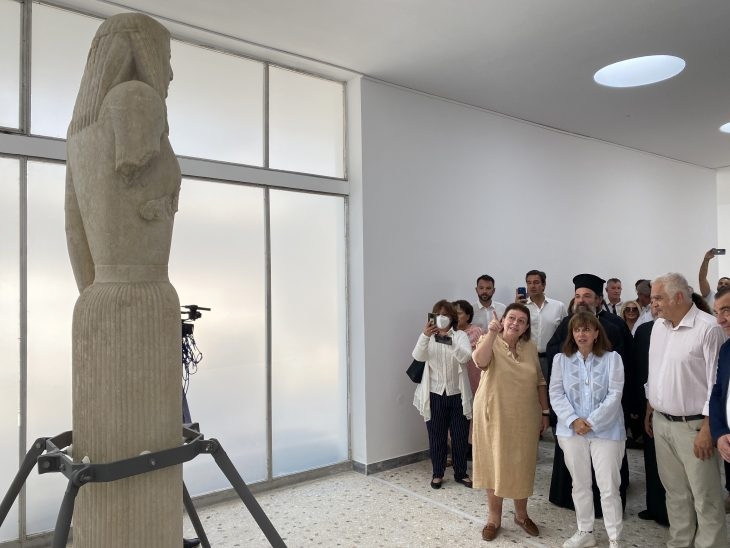 The Archaeological Museum of Thera, which houses all finds from Santorini dating from the early historic period to the Roman times, and is also expected to fully open its gates to the public in 2023, with the Kore of Thera as one of its most prominent exhibits. The temporary exhibition, inaugurated by the Minister of Culture and Sports, Lina Mendoni, in the presence of H. E. the President of the Hellenic Republic, Katerina Sakellaropoulou, is housed in one of the museum's already refurbished halls, giving visitors a taste of the final results of the museum's renovation.
Read also via Greek News Agenda: The archaeological site of Akrotiri on Santorini | The Pompeii of the Aegean; Aiolou Street has a story to tell; The archaeological sites of Mycenae and Tiryns; The unknown Mycenaean acropolis of Glas; Minos Kalokairinos: the man who discovered Knossos
N.M. (Text & photos source: digitalculture.gov.gr)
TAGS: ARCHEOLOGY