The Urban Age Task Force Athens is a programme organized by the LSE Cities and the International Forum Alfred Herrhausen Gesellschaft in partnership with the City of Athens with the aim to address key priority areas in Athens' urban development making the city more liveable and sustainable. The program involves establishing workshops of local and international experts as well as site visits to cities that have undergone successful urban change to identify best practice in the effective delivery of complex urban projects in the domains of public space, access and walkability, greening the city, addiction and homelessness. Through advanced GIS mapping and visualisations the programme's partners also collaborate on assembling data on key urban indictors.
Creating local impact from academic knowledge
The Urban Age programme was launched in 2005 with the aim to explore the diverse spatial, social, economic and political dynamics of global cities in different regions of the world through conferences, research, advisory work and engagement. With the establishing of the Task Forces in 2019, the Urban Age programme expanded its activities from research, critical reflection and dialogue to concretely delivering urban change in cooperation with local and international experts and local authorities. The aim is to develop interdisciplinary, science-based proposals for action to tackle the challenges that fast-growing and rapidly changing cities are facing.
In February 2020, the Mayor of Athens Kostas Bakoyannis and the Director of LSE Minouche Shafik signed a Memorandum of Understanding concerning the implementation of the Urban Age Task Force Athens for an 18-month period. The project was coordinated by LSE Cities, and directed by Professor of Urban Studies Ricky Burdett, in close cooperation with the City of Athens and partner institutions. As the Mayor of Athens said: "What Athens really needs is not an ordinary city management. We need innovative interventions that will enhance the public space and highlight its routes and building wealth in order to transform it into a modern, environmentally friendly capital for its residents and visitors".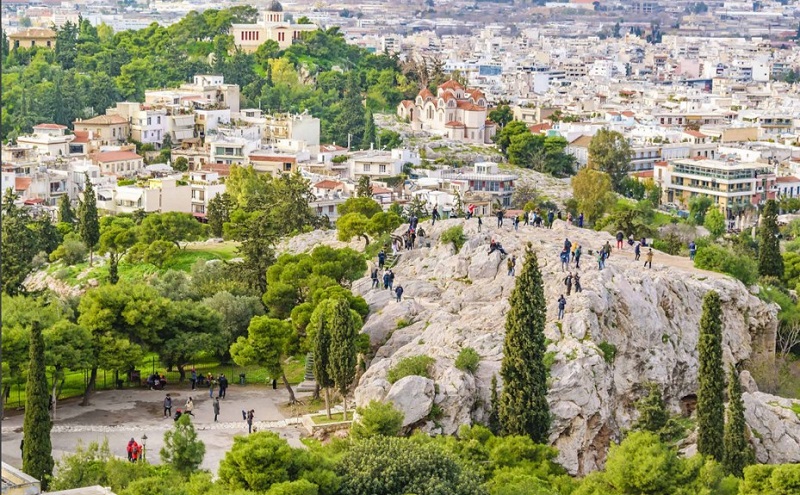 The Areopagus with the Pnyx, Thissio neighbourhood and the National Observatory on the Hill of the Nymphs in the background © Zoonar/Daniel Ferreira-Leites Ciccarino / Alamy Stock Photo via "Athens Urban Age Task Force – A spatial compendium"
Analyzing Athens' unique DNA
Athens has experienced a number of tumultuous changes and is now trying to re-invest in its future. The results of the Urban Age programme, that attempted an in-depth analysis of Athens' unique DNA, were presented in Athens this June. The programme assembled data comparing Athens to 15 other cities in Europe and across the globe. Indicators cover a range of demographic, spatial, social, economic and environmental measures providing an overview of city-wide performance – not a ranking – based on information principally gathered prior to the COVID-19 pandemic.
More precisely, according to the analysis:
The City of Athens is the smallest in the sample at 38.9 km2, with over 660,000 people living within a much wider metropolitan region of 3.8 million people (based on data from the last available census of 2011), with the second highest density in Europe (after central Paris).
Athens reveals a flat growth curve (after a period of negative growth), like other European cities including Berlin and Milan (0.1 %–0.2%), lower than Stockholm and London.
Athens' administrative area is very compact with 16,615 people/km2, three times higher than more dispersed cities like London (4,697 people/km2) and five times higher than Berlin (3,105 people/km2).
Athens welcomes 6.4 million international visitors a year (which is still only one-third of the annual visitors to London, Paris and Singapore), with consequent stress on urban infrastructure and housing stock.
Despite high rates of unemployment at 10.6% in the Attica Region, Athens is one of the least unequal cities.
Although Athens is investing in sustainable transport, car ownership remains the highest of the sample at 799/1,000 persons.
The City of Athens is currently exploring ways of improving its provision of green space, which at 6.63 m2 per person is lower than most European cities.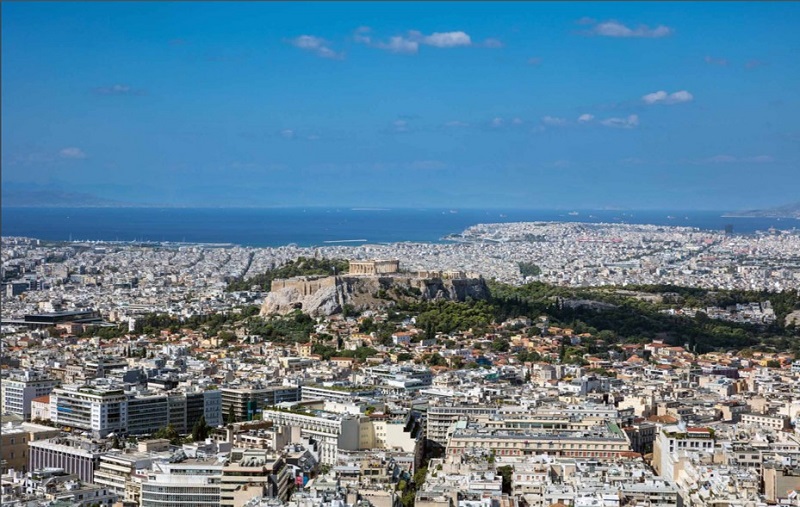 Looking south beyond the Acropolis towards Faleron Bay and the port of Piraeus © Rawf8 / Alamy Stock Photo via "Athens Urban Age Task Force – A spatial compendium"
"A city with a strong urban character"
The presentation of the results was a good opportunity for discussion between experts and local authorities, but most importantly it enriched the debate about the urgent need to re-design urban policies in Athens. The city is making new investments in its urban infrastructure and public realm to improve quality of life and it will certainly take into consideration the data of the Task Force analysis.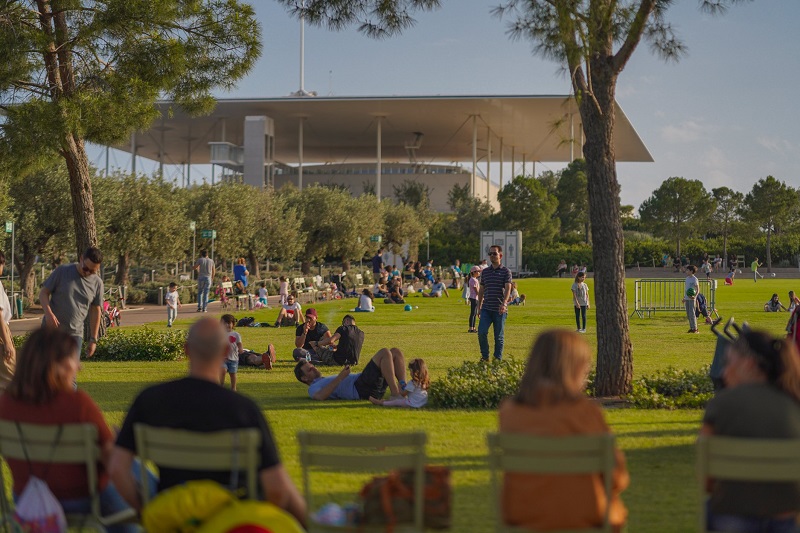 Stavros Niarchos Park – Photo @This is Athens
Athens is a fascinating city combining historical continuity and an interesting geography as it is surrounded by mountains and the Mediterranean Sea. At the same time, it is a compact city of remarkable density comprising 129 neighborhoods. What is more, Athens is a city that has survived multiple crises and has come through today with renewed vigor, seeking to reconnect with its future.
Although it is a dense city lacking open and green spaces and with significant challenges to transport mobility, Athens is a lively city with full of energy vibrant neighborhoods. As Ricky Burdett, the head of the LSE Cities research center, architect and professor of urban studies at LSE, said in a recent interview with Kathimerini Newspaper: "Athens is dense both physically and within its experiences. It is a city with a strong urban character, not always pretty, but with an urban quality. You can feel the pulse."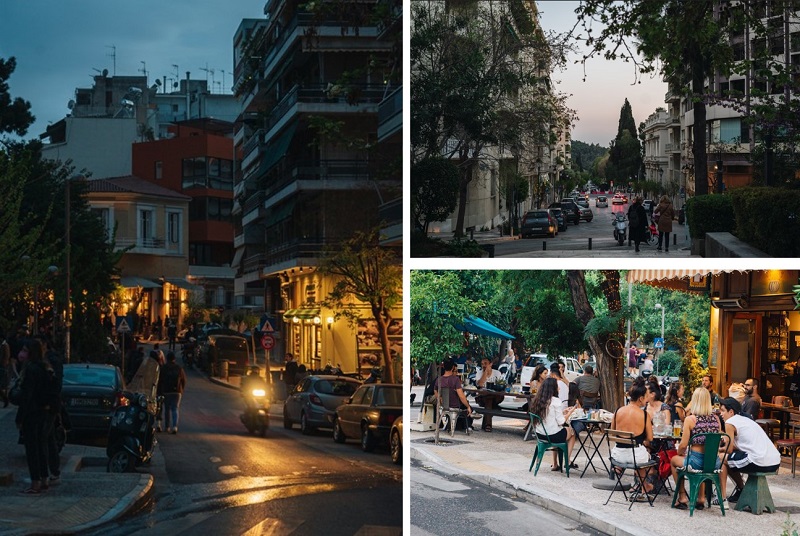 Athens' Neighborhoods – Photos by Nick Night on Unsplash
* Intro photo: Lycabettus Hill, Athens © Steven / Alamy Stock Photo via "Athens Urban Age Task Force – A spatial compendium"
Read also via Greek News Agenda
The National Garden: An Oasis in the Heart of Athens
The Ellinikon Project in Southeastern Athens on the rails!
Varvakeios Market, a foodie's paradise in the heart of Athens
Manolis Anastasakis: 200 years of architecture in Athens
Beautiful Athens by Night: The Capital of Greece among the World's Top 3 Cities to explore after dark
IE
TAGS: ATHENS | EDUCATION | ENVIRONMENT | INNOVATION | LIFESTYLE