Hikers and nature lovers will have yet another reason to visit Greece and more specifically the Peloponnese this summer. Launched on May 31, the Menalon Trail is a long mountain trail in Arcadia, a wonderful mountain area in the center of Peloponnese, that unfurls through the Lousios River gorge, the western slopes of Menalo Mt., the valley of Mylaon River and the Northeast Gortynian Mountains, crossing the traditional villages of Stemnitsa, Dimitsana, Zygovistii, Elati, Vytina, Nymfasia, Magouliana, Valtesiniko and Lagadia.
Being the first footpath in Greece to receive European certification and be placed among the Leading Quality Trails – Best of Europe, the trail was created by a group of volunteers from Eastern Gortynia, with the participation of the Club of Arcadian Mountaineers and Ecologists and the support of the Municipality of Gortynia. It has been incorporated in the prizewinning programme "Greek Paths of Culture" of the ELLINIKI ETAIRIA – Society for the Environment and Cultural Heritage, which aims to give new life to paths of particular natural beauty and historical importance, all over the country, stimulating local communities with an important factor of sustainable development, that of hiking tourism.
The area of Menalo is one of the richest regions in history and landscapes of Greece. On the wild but rich natural scenery of the gorges and the successive folds, visitors will discover the beauty of large headsprings, riparian resources and sunny crests. There, somewhere between forest and rural areas, in locations naturally fortified or prominent, human settlements rallied and flourished. Dozens of villages, some of them located on the "legs" of the forest, some other in the perimeter of fertile basins and other at the outlets of large headlands, define the volume of the mountain, which rises almost 1000 m. above the vast Arcadian upland. Among all these, an endless network of trails ascends, descends, turns like a snake in the meadows and saddles. In this zone, you will find the largest variety of flora and fauna in all Arcadia and among them many rare or unusual species.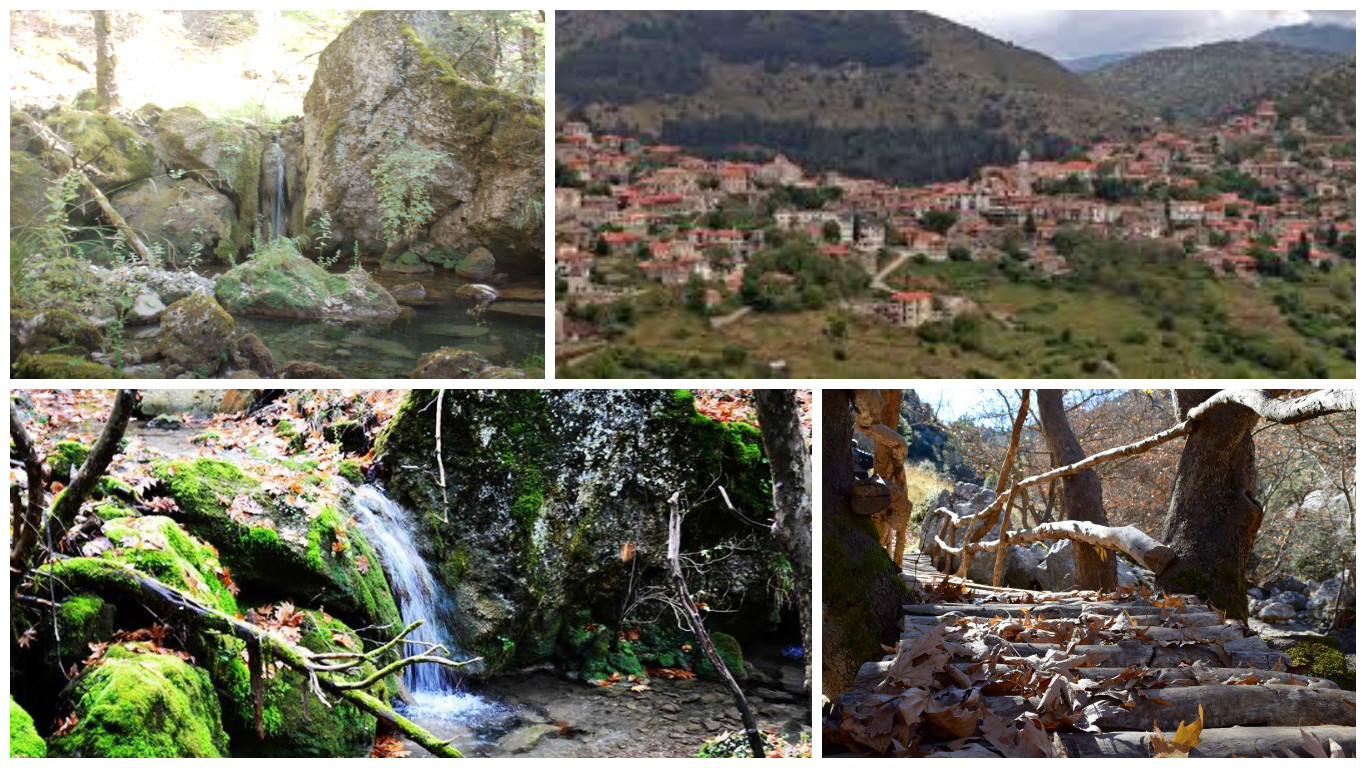 The trail is divided into eight sections of varying difficulty, the Stemnitsa–Dimitsana leg being the most popular. The eight trail sections are as follows: Stemnitsa–Dimitsana, Dimitsana–Zygovisti, Zygovisti–Elati, Elati–Vytina, Vytina–Nymphasia, Nymphasia–Magouliana, Magouliana–Valtesiniko and Valtesiniko-Lagkadia. Through the trail, local entities hope to promote the region as an all-year-round outdoor recreational tourist destination and its products, including wine, honey, silver jewellery, wood carving and herbs.
Menalon Trail is not only a path to discover nature, but also a path to the Arcadian history and geography. In each of the eight sections, Menalon Trail offers the traveler the opportunity to revive his interest or complete his knowledge on history and geography, providing an alternative path to understand the untold human-scale topography.
TAGS: ENVIRONMENT | SPORTS | TOURISM