Ιn the 15th LSE Hellenic Observatory Annual Lecture (The Hypocrisy of European Moralism: Greece and the Politics of Cultural Aggression, 4 November 2015) Harvard University Professor of Anthropology Michael Herzfeld explored Western moralism about alleged Greek "corruption and irresponsibility" (listen to podcast) arguing that modern anthropological thought offers useful tools for understanding the cultural aspects of the crisis. According to Professor Herzfeld, both Greek judgments of their own culture, as well as foreigners' views of Greeks, are warped by a crypto-colonialism leading an ostensibly national culture to be fashioned along the lines of foreign models. This culture is technically independent; the nominal independence, however, often comes at a cost, i.e., a humiliating form of effective dependence: "Over nearly two centuries, Greeks were forced to fit their national culture to the antiquarian desires of Western powers … (that) supported conservative politicians who maintained Greece's status as a "backward" client state … Western moralism about alleged Greek "corruption," "laziness," and "irresponsibility" thus occludes the West's own complicity in generating these attitudes.
Michael Herzfeld is Ernest E. Monrad Professor of the Social Sciences, Department of Anthropology, Harvard University. His books about Greece include "Ours Once More: Folklore, Ideology, and the Making of Modern Greece" (Pella Publishing Company, 1986); "The Poetics of Manhood: Contest and Identity in a Cretan Mountain Village" (Princeton University Press, 1988); "A Place in History: Monumetal and Social Time in a Cretan Town" (Princeton University Press, 1991).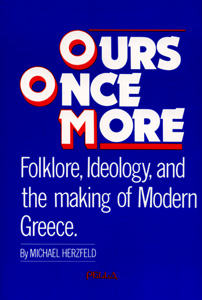 The Hellenic Obseravatory, LSE was established in 1996, with the creation of the Eleftherios Venizelos Chair of Contemporary Greek Studies. The Venizelos Chair is also the Director of the Hellenic Observatory at the LSE, which is part of the LSE's European Institute. The role of both the Chair and the Observatory is to promote the multidisciplinary study of contemporary Greek politics, economy and society.
Read more: King's College, Cambridge Review: An interview with Michael Herzfeld: Cryptocolonialism, the responsibility of the social sciences and Europe; Interview and summary by Dr. Sohini Ray; Short reviews of "Ours Once More": Stephen Rousseas; Roger Just; Gerasimos Augustinos
Watch video: Michael Herzfeld @ the Institute of Postcolonial Studies, Melbourne, Australia: Dominion in Disguise: Crypto-Colonialism and the Management of National Cultures
TAGS: CONFERENCES | EDUCATION