C.P. Cavafy is considered one of the most influential Greek poets of the 20th century as well as one of the most important figures in Western poetry. On the 160th anniversary of his birth, the Onassis Foundation in New York presents 'Archive of Desire', a week-long festival that traces the influential character of the Alexandrian poet and the impact of his work on a global breadth.
"Archive of Desire" is a festival that involves a multitude of actions inspired by the life and work of the Alexandrian poet, seeking to turn the spotlight on his work through an array of contemporary artistic endeavors that extend across the city. The festival focuses on the poet as well as the man Cavafy, refracting him through an interdisciplinary kaleidoscope that renders him contemporary and timely, as well as political, sensual, and profound.
From April 28 to May 6, the interdisciplinary festival's program includes a series of performances, digital art presentations, short film screenings, poetry readings, literary discussions, a visual rave, and many more live events curated by composer Paola Prestini, Artistic Director of National Sawdust, a non-profit organization for the promotion of contemporary music, and under the creative direction of Afroditi Panagiotakou, Onassis Foundation's Director of Culture. It summons the creative talents of internationally established artists, such as Nick Cave, Bob Faust, Julianne Moore, Laurie Anderson, Rufus Wainwright, Robin Coste Lewis, Julie Mehretu, Vijay Iyer and Jeffrey Zeigler, Sister Sylvester, Nadah El Shazly, Juliana Huxtable, and many others, who will re-approach Cavafy's words, aiming to experience his poetry anew.
Within the framework of the festival, a symposium for poets from New York, Egypt and Greece will be held at Columbia University and led by professors Stathis Gourgouris (Columbia) and Karen Emmerich (Princeton), both members of the Cavafy Academic Committee that advised on the digitization of Cavafy's archive. The title, 'Days of 2023', references Cavafy's many works named "Days of," with the year of their writing, or a date of reflection.
The Columbia Hellenic Studies department will host a two-part event on May 1, 2023. A morning workshop will feature invited poets Orfeas Apergis, Yiannis Doukas, Phoebe Giannisi, Katerina Iliopoulou (Greece); Haytham al-Wardani, Iman Mersal (Egypt); Janlori Goldman, Robin Coste Lewis, Brenda Shaughnessy (US), as well as translators Susan Bernofsky, and Karen Emmerich, who will conduct roundtable conversations on the multiple ramifications of C. P. Cavafy as a 21st-century phenomenon.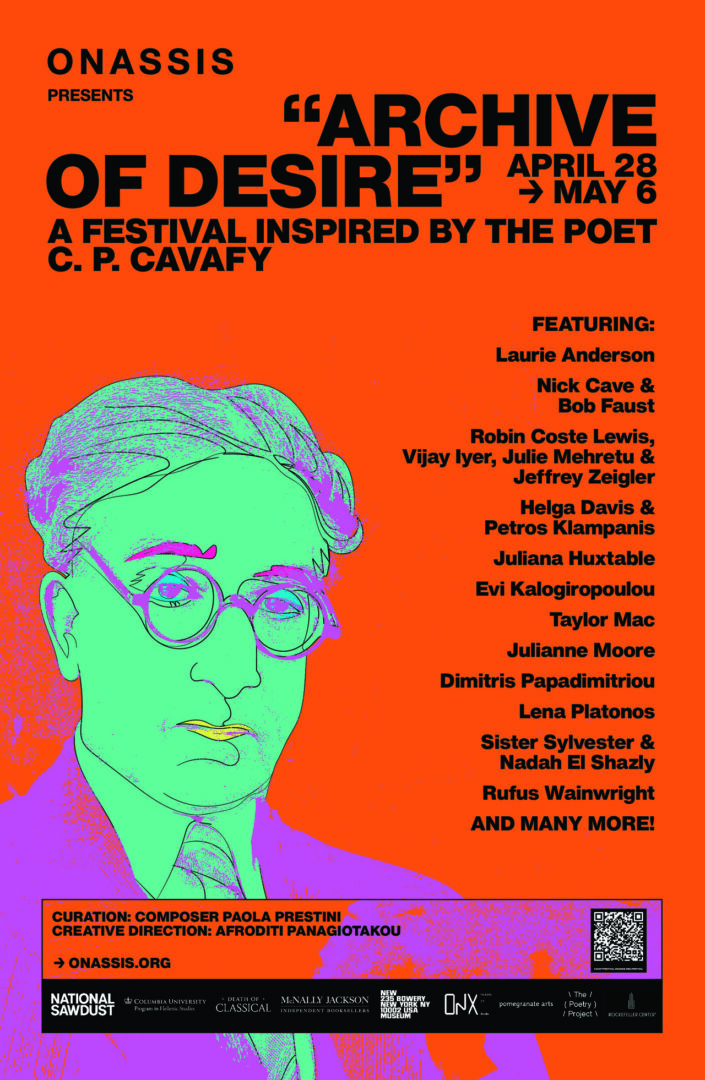 That evening, in the Miller Theater at Columbia University, a free event will feature the poets performing either Cavafy poems in Greek and/or Arabic or new writing prepared for the occasion, paired with music by Sofía Avramidou, Marcos Balter, Zosha di Castri, Stylianos Dimou, Dimitri Mitropoulos, Lena Platonos, and Georgios Poniridis, which will be performed by the National Sawdust Ensemble under the music direction of Jeffrey Zeigler, with Greek guest musicians Yiannis Palamidas (voice) and Stergios Tsirliagos (synths).
Reading Greece spoke to Stathis Gourgouris, Professor of Classics and of English and Comparative Literature (Department of Classics, Columbia University) about the scope of the festival, the events that will take place, as well as about 'Days of 2023' and the reasons why Cavafy is considered both global and timeless.
"Archive of Desire" is a week-long festival aiming to turn the spotlight to the work of C.P. Cavafy and the impact of his work on a global breadth. Tell us a few things about the scope and events that will take place within the framework of the festival.
Historically speaking, this is one of the most ambitious and grandest in range, multiple and multi-cited, series of events to have ever taken place abroad with an exclusively modern Greek cultural matter as its basis. The seemingly endless capacity of the Cavafy phenomenon to inspire and remain relevant to our contemporary world comes to exemplify the huge diversity, complexity, and resonance of contemporary New York life.
All the invited artists—Greek, Egyptian, American, some of whom are world famous, others pioneering young artists—are commissioned to create new works inspired by Cavafy's relevance to today's world. It's an incredible range of creativity—poetry, music, film, visual arts—that is also celebrating the global diversity of the city, which is very much like what Alexandria was in its ancient glory: both passage and safe harbor for people who come from a vast range of cultural traditions and points of view.

We hope that the people attending will feel both celebrated in this respect and learn new ways to see things differently in their world from the work and life of a poet who lived much like them in the crossroads of East and West more than a hundred years ago.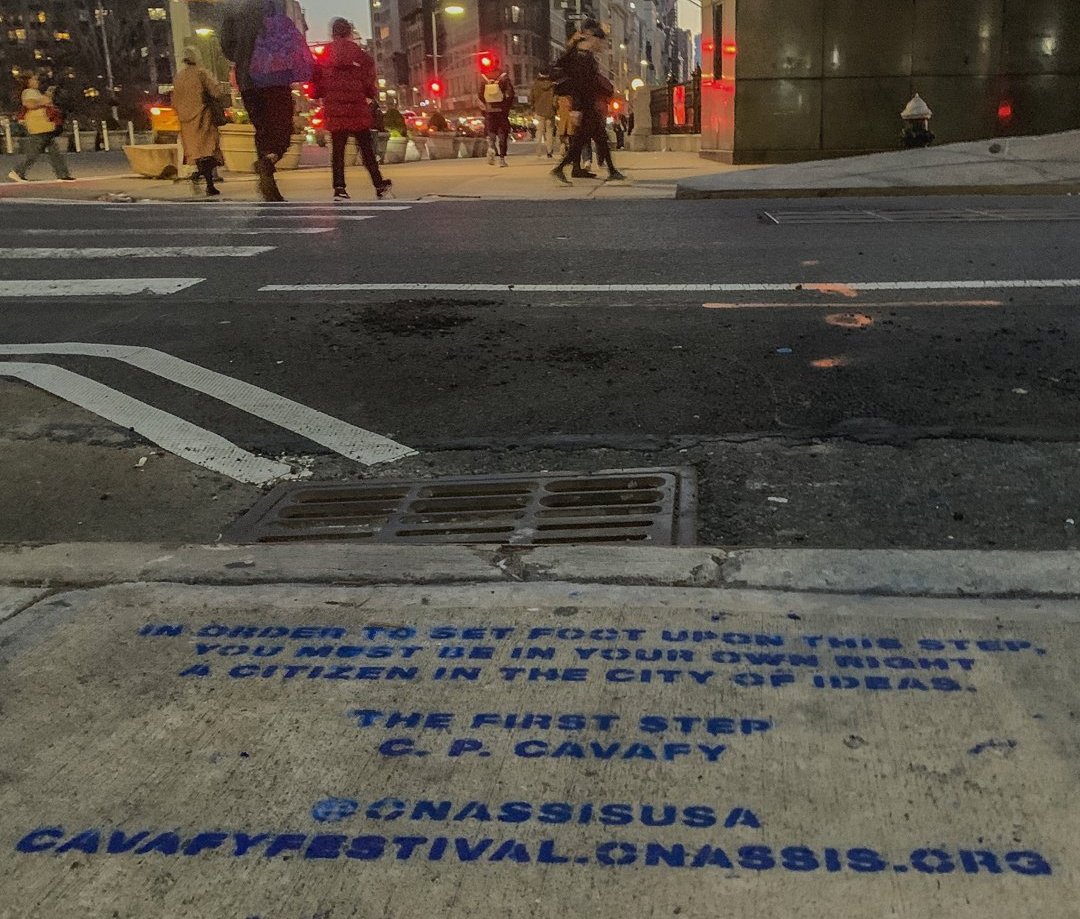 "Days of 2023", a symposium hosted by the Columbia Hellenic Studies Program on May 1st, will focus on the multiple ramifications of the Alexandrian poet as a 21st-century phenomenon. What is that makes Cavafy both a global and a timeless poet?
It's a question that is constantly asked and can never be answered fully. Cavafy is uniquely relevant to our time via a set of paradoxical characteristics. He is world famous while never publishing a book in his lifetime, refusing the market of literature by self-publishing a series of pamphlets, each one being a unique work of art. He is the most translated poet in history, even though he writes in Greek—like no other Greek—an idiomatic erotic poetry that is instantly mutable and transferrable. Even when he speaks of the past, he is speaking of now. Even when he speaks in peculiar detail, he sketches an instantly recognizable world.
He thus belongs to the world, even though he inhabited a specific time and space in the colonial world of empires. His understanding of Alexandria as a node of historical time across the ages lends his poetry a kind of suspension and translatability. The city is always there, no matter the time period, the people who inhabit it, or the language they speak. I'm not suggesting Cavafy is universal; rather, the opposite. He is so particular and unique that he is disconnected from the specific regimes of time and space. For this reason, he is endlessly rediscoverable and reperformable—now, we can say, as a New York City poet in the 21st century.
A.R.
Read more: POEM OF THE MONTH: A Tribute to C.P. Cavafy
TAGS: LITERATURE & BOOKS | READING GREECE