Christos Chryssopoulos (1968) is a writer and photographer. He has been awarded the Prize of the Academy of Athens (2008), the Balkanika Prize (2015) and the French Award Prix Laure Bataillon (2014). He is honored with the title of Chervalier / Ordre des Arts et des Lettres by the French Republic (2015). His photography is exhibited in group and solo shows in Athens and abroad. His work is collected in public and private collections in Greece.
His latest solo exhibitions: "En[Syn]Aesthesis / Anna Vera" [Piraeus Municipal Theater, 2015] "Disjunction" [Artwall, Athens, 2015] "Disjunction" [MuCEM, Marseilles, 2014] "Disjunction" [Desmos Gallery, Paris, 2014] "My mother's silence" [Alex Mylona Museum of Contemporary Art, Athens 2014] "My mother's silence" [The Symptom Projects, Amfissa, 2014].
Christos Chryssopoulos spoke to Reading Greece* about his books as 'sets of problems about the world' and literature as a 'mode of exploration', photography's narrative potential, how international readers have received his books and the place of Greek literature abroad as well as about his future ventures, including a book on the 'performativity of literature' and a short book-portrait of the city of Marseille. "…There is a connecting thread running through my work, and this I think is the persistent quest to construct alterative meanings about my own sense of identity".
The Parthenon Bomber – 'a reflection on art and the city, history and identity, justice and the sacred' – will be published in English in the following months. Tell us a few things about the book.
The Parthenon Bomber is a work of speculative fiction that is based on a real event. In November 1944, just a few months after the liberation of Athens from Nazi forces and before the outbreak of the Civil War a proclamation was distributed in Athens. The title was «Let's blow up the Parthenon» and it was asking for the destruction of all classical antiquities starting with the Athens Acropolis. The Proclamation was signed by the group Aesthetic Saboteurs of Antiquities, and the man behind it was an obscure intellectual, the poet George Makris. This is a piece of Greek history that remained largely unknown, since Makris killed himself in 1968 and his Proclamation never surfaced again gaining the status of an urban legend. In this short novel, I am imagining a situation where a contemporary Athenian is inspired by Makris' Proclamation and decides to act upon it. In fact, what interests me most in this book, is the relationship western societies develop with their heritage, the weight of ideology and the manner in which we write the narratives that form our sense of identity. All these I feel are questions of pressing nature in our times.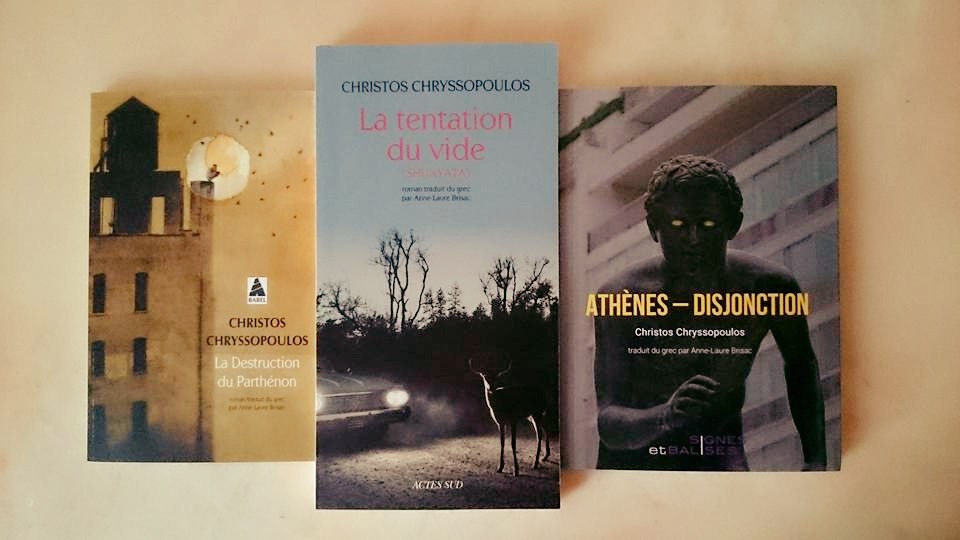 You are considered one of the most prolific writers of your generation. Where do you draw your inspiration from? Which are the main themes of your books?
Every book is derived from a different source. I see literature as a mode of exploration and in that sense I do not write with the need to express things I knew,  but I rather go into writing with an urge to understand what I sense at a given moment. This is why I don't use the word inspiration. I prefer to discuss books as sets of problems about the world, the human subject, our lives, history, ideas, identities, stories and histories. Having said that, there is a connecting thread running through my work, and this I think is the persistent quest to construct alterative meanings about my own sense of identity, that is: the understanding I have of myself, the way I can describe the world, and the relationship that I can invent between the two.
In your latest book "Disjunction", your photographic lens and writing merge to capture Athens, a "deranged and at the same time charming city". How does the art of creating images mingle with the art of producing words? What does the photographic lens reveal about the current socio-economic crisis?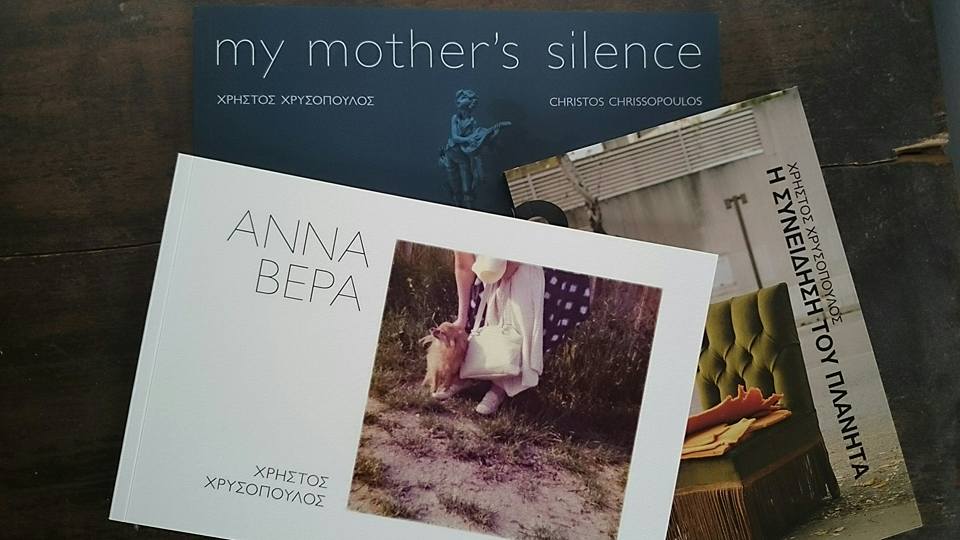 Photography, when used in parallel with text, transforms the reader into a spectator. In that sense, it provides a sense of witnessing. Of course, it is only a fictive sense of witnessing. And this is exactly the way that photography documents reality: through subjectivity. Regarding narrative potential, I don't see much difference between the roles of the photographer and the writer. Both photography and literature are incomprehensible outside the sphere of experience of each individual viewer / reader. It all comes down to the ways one has learned to "read" photography and literature, one's life experiences and acquired skills for interpreting art. So, yes, stories can be told by both mediums. But, not every photograph tells a story, the same way that not every piece of literature tells one either. There are story-less pieces of writing the same way that there are story-less photographs.
Your books have been translated mainly in French, while TRASFUGE included you in the '100 qui comptent' list. How have foreign readers received your books? Has the current crisis increased interest in Greek literature?
No, literature always comes a bit later down the road. What I mean is that other forms of art (cinema, music, the visual arts, theater, performance…) are more often sought as ways of interpreting the contemporary. Literature is usually in need of more time in order to formulate its worldview and this I feel is due to the fact that language -no matter how abstract- is of conclusive nature: It is rather impossible to make literature without using the verb «is». Beyond that, we usually turn to literature seeking a form of meaning, whilst other art forms are better equipped to accommodate experiential perception. So, I don't see increased interest in Greek literature abroad because of the crisis -or even beyond it. It is very difficult for a Greek writer to make the leap to some foreign market, and the fact that we still lack policy instruments such as a concrete National Book Policy, institutions such as the National Book Center and translation support programs such as the former Frasis program, will keep the situation in stagnation.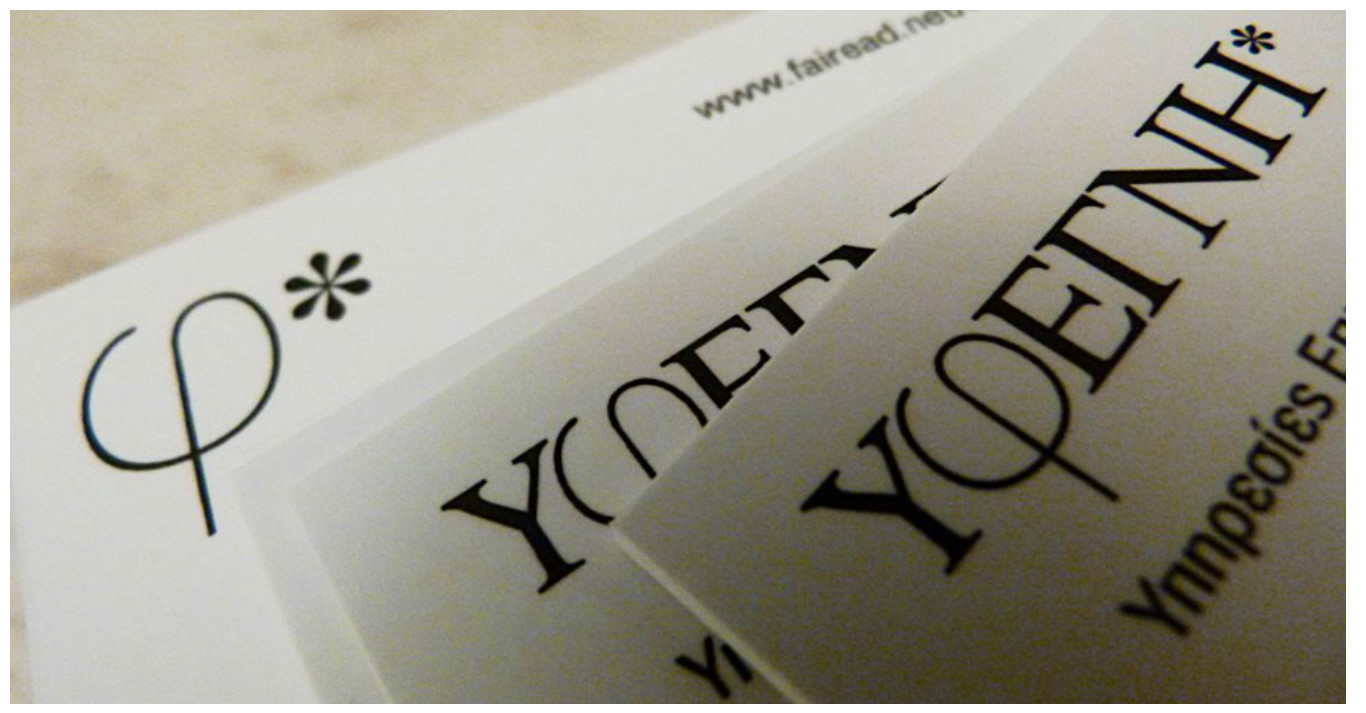 You are the man behind HYFEGNI, a comprehensive editing service offered through FAIREAD that provides personalized editing services at all stages of the literary process. How did you come up with the idea? How does the role of a writer compound with that of an editor?
HYFEGNI is the name of the editing service we created less than a year ago together with three friends and professionals, the copyeditor Heleni Zafeirouli, the ghostwriter and copywriter Leoni Thanasoula and the translator Konstantinos Matsoukas. We offer comprehensive editing services to individuals and organizations. When dealing with institutional projects e.g. Festivals. Conferences…etc we can undertake the whole project from initial conception, to the actual writing of material, editing, page-setting corrections (electronic or physical) down to translations, subtitling… etc. In essence we provide all sorts language management according to our customer's needs. A good example of this line of work is the Metamorphosis program recently held at the Stavros Niarchos Foundation Cultural Center hosting the new Greek National Library and Opera, for which we worked as principal editors. Our second line of work deals with individual customers, people who need  guidance or editing for their writing – or even want us to help in the writing itself (ghostwriting). In this work, the skills needed are not identical to those of a fiction writer, but entail a deep understanding and appreciation of language, together with a deep rooted love for the world of words.
What about your future ventures? Is there a new book underway?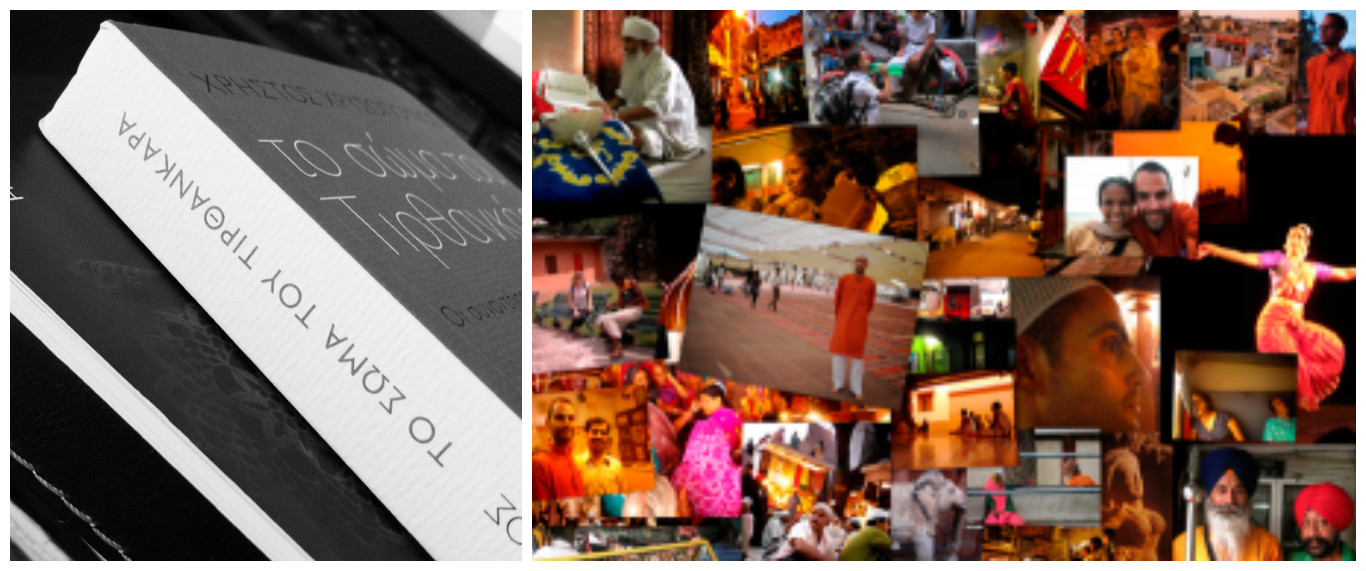 My last book, «The Body of Tirthankara», was published roughly two years ago by Nefeli Editions, and it is a long narrative that stems from a trip to North India in 2012. That was a major undertaking for me, both in terms of magnitude as well as stylistically and in matter of form. Since then I feel the need to take some distance in order to make the next step in fiction. This fall though, a book of theory will be published by Editions Okto, it is titled «Borrowed Speech – An essay about the performativity of literature» and it is a book-length exploration of performativity theory in contemporary novel–writing. At the same time, I'm working with photography and I am asked to write a short book – a portrait of the city of Marseille, resulting from a two month residency I will take there during the summer.
*Interview by Athina Rossoglou
TAGS: LITERATURE & BOOKS | READING GREECE