Eleni Geroulanou was born in Athens, Greece. She studied Early Childhood Education at the University of Athens and subsequently specialized in Children's Museum Education for K-8 at Boston University Wheelock College of Education & Human Development. In 1986 she was recruited at the Moraitis School, a private School in Athens, where she started implementing Museum Education programs in the Kindergarten. In the year 2000, she was appointed Head of the Kindergarten, a position she currently holds. She is an author of several books for children and a co- founding member of the NGO "Library4all", committed to the support of lifelong learning and education accessible to all, by offering books to school libraries. She is married with three children.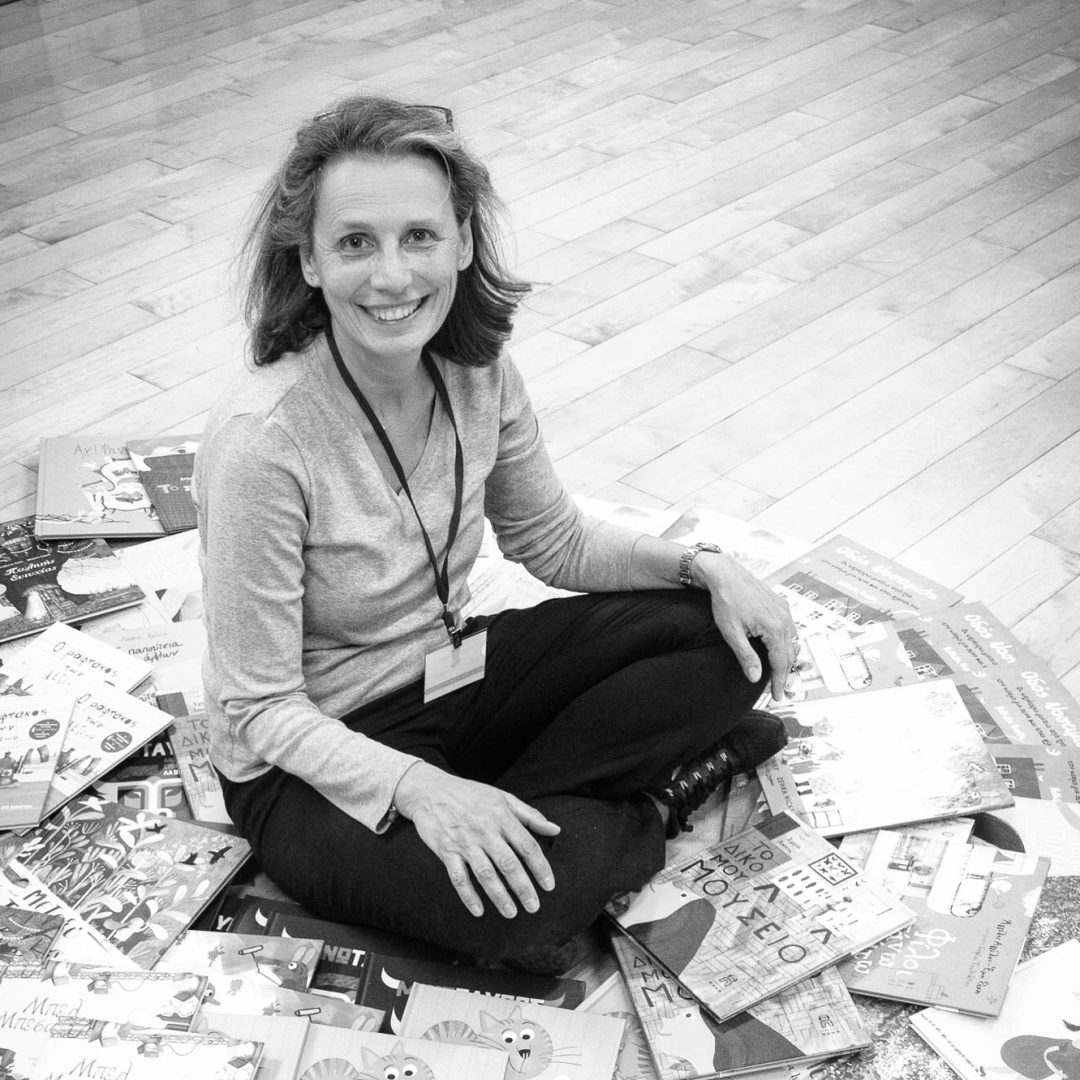 © Christos Sakellaropoulos
Your recent writing venture Once upon a bear has managed to move beyond national borders, recently translated into Chinese (Hebei Children's Publishing House). What's the story behind this quite renowned bear?
The book is based on the true story of a very special woman called Maria Argyriadi who found near a dumpster a small teddy bear that reminded her of the one she had when she was a little girl. She picked it up and from that day, she started collecting toys from all over the world. She was the primary collector, donor and researcher at the Benaki Toy Museum. Her toy collection is one of the biggest in Europe and she donated it to the Benaki Museum in Athens, one of the most renowned museums in Greece. Getting to know Maria and her love of toys truly inspired me to write this story, teddy bear's story.
The bear was unique to Maria. And for the bear, Maria was his family.
In fact, when I saw it for the first time in the museum exhibit with the number 5, I felt a connection with the bear. The words of his story came naturally to me when I got home and quickly his story became a fairy tale.
The book is illustrated in an innovative style by the talented and Andersen award nominee, Iris Samartzi, who brought to life more than 240 toys from Maria's collection that are exhibited at the Benaki Toy Museum. Throughout the story, the bear is illustrated. He only comes alive in the last pages when he finally finds the home he was looking for.
With this story, I wanted to explore how the word "home" can mean something different to each and every one of us. It can be an actual place, people – family and friends – or a feeling such as warmth, belonging, togetherness, security, acceptance and more.
It's a fairytale full of emotion, for children and for adults who still feel like children, which aims to introduce children to the treasures of the Benaki Toy Musuem.
The book can be read in two ways. On a first level, the reader enjoys the fairytale following the bear's journey until he finds his home. On a second level, the reader will discover it is also a game challenging his/her observational skills, language development, and image description, based on the variety of the toy collection displayed at the Benaki Toy Museum.
Maria Argyriadis passed away in November 2018. She was lucky to see the Museum open and full of children, she celebrated the Museum's first birthday with us, she also managed to see her / our book printed.The people of the Museum, her worthy collaborators, Nora Hatzopoulou and Mary Vergou, continue her work tirelessly so that we can all enjoy it.
The book is a strong collaboration between the Benaki Museum and Patakis publishers, which aims to introduce children to the treasures of the Benaki Toy Museum.
"Books remind us of how much we all have in common, as the emotions and meaning that underlie great stories are universal, crossing cultures and language barriers", you stated in an interview to Xinhua. What role could literature play in building bridges between different countries and cultures? Could writers act as cultural ambassadors in this respect?
I think that literature has a wonderful role to play in building bridges. Great stories and books remind us of how much we all have in common. What happens in a given story might surprise us, but the emotions and meaning that underlie great stories are universal, even across cultures. Books can even cross language barriers, thanks to translators and I'm so happy and grateful that my book has been brought abroad by great translators.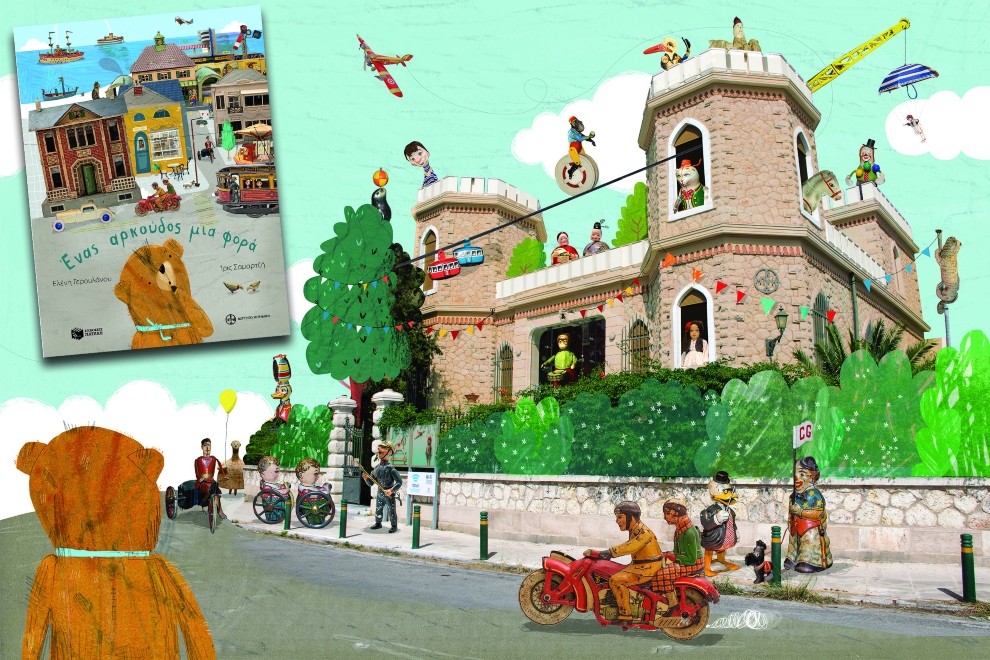 What brought you to writing of children's books? Which continues to be your driving force?
My love for children and art inspired me to write stories that would introduce them to the world of museums and collections. Having studied Museum education for young children and working as an educator for 36 years, I enjoy putting books at the center of the educational process.
All my books aim to make children experience museum exhibits in a unique and attractive way. Children accept with great ease what interests them. Art opens their minds, because in itself it has a special power. Modern pedagogical theories argue that the development of school knowledge must be based on objects. Museums contain treasures of knowledge, through which the learning process comes to life.
In Once upon a bear you co-operated with one of Greece's most renowned illustrators Iris Samartzi. How important is children's book illustration in making books more attractive to young readers?
One of the biggest challenges when writing a children's book is that the author should speak the same language with the illustrator, so that words and illustrations work together in harmony. It's a demanding process that requires the writer and the illustrator to closely collaborate, to erase too much text and too many images, to make storyboards, to experiment, to follow rules, to circumvent them and to reinvent them. To listen to each other, not to consider themselves authorities and to bravely leave behind elements of the story that don't end up not working.
I was very lucky to partner with an incredibly talented illustrator, Iris, in my book. Kids are naturally drawn to beautiful images, which have the power to immerse them into the story.
In 2013, together with four other friends, you created Library4all aiming to provide the libraries of the country's public schools with new or almost new books. Tell us few things about the scope and initiatives of this venture.
Back in 2013, when Greece was implementing a strict austerity program, we were looking for ways to support and strengthen the country's school libraries and help create new ones. That year, we founded Library4all, with the aim of developing literacy in school and preschool children, be enriching school libraries with books. Our aim is to foster the love of reading in children by collecting books for libraries of kindergartens and primary schools across the country.
Library4all acts as the link between those who want to offer books, and the schools in need of creating or enriching their libraries. We dreamed of filling the kindergartens and primary schools of our country with books.We collect new books or like new ones, put them in boxes and send them to schools at every point on the map. We offer books that we would like to have our own.
The books we send to schools come from donations by individuals, writers, publishing houses, businesses, and non-governmental organizations. By doing so, Library4all strives to raise public awareness on the value of books and helps teachers who rely heavily on having the necessary educational materials in order to be their best selves as educators within the classroom. What is more, extensive research has shown that if children are encouraged to love reading, they will soon acquire reading habits and become better readers. And that is groundbreaking, even in the digital age. Since then, we have donated more than 350,000 books to 3,900 schools in Greece and we continue our work with determination. The 5 friends became 100, we became countless. The success of this endeavor is collective.Keyword: TOGETHER. From a single reader we reach entire libraries. From a book, on shelves full of adventures.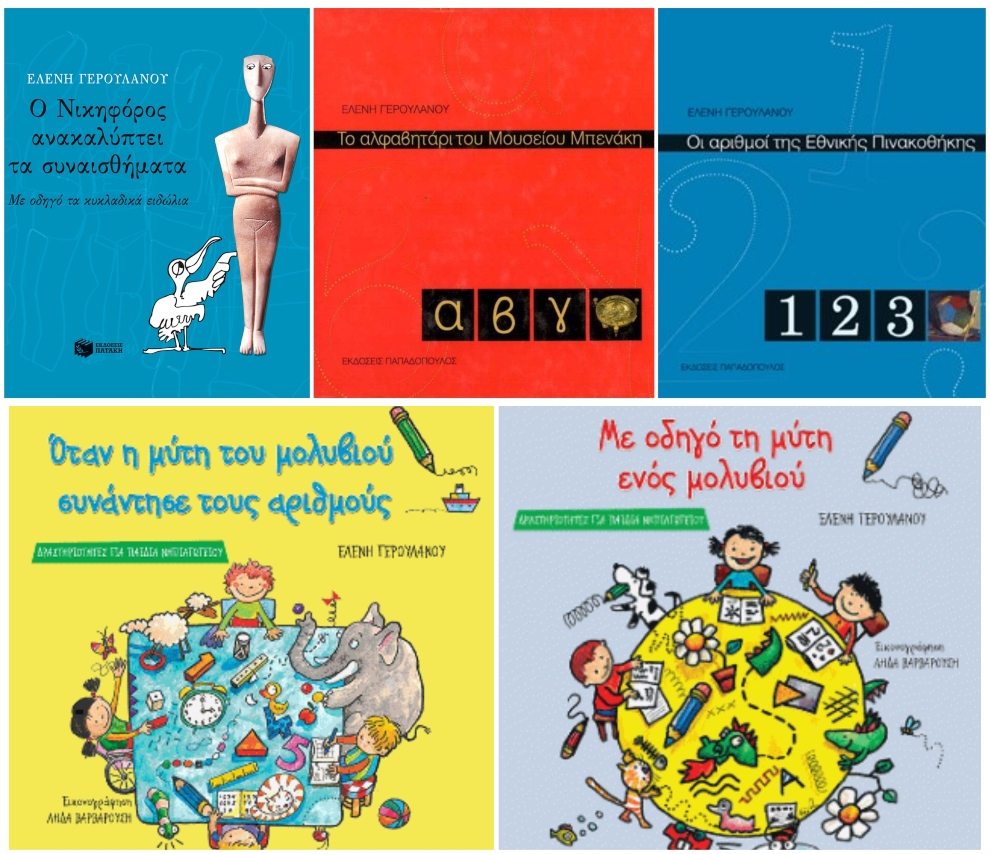 Would you say that public libraries, and more specifically school libraries constitute a pivotal step towards strengthening young people's love for reading? What initiatives should be taken at a more institutional level to foster such love?
School libraries are the ideal place to create a culture of reading through the updated collections of fiction books and not only, but also to create a space that will be easily accessible to all and will encourage students to read. The library is the school's beating heart!The library is the most important means of transportation for the best trips a child can make.The use of the book, not only as a way of acquiring knowledge, but as a medium of entertainment, imagination and creativity, should be a point of reference for any school library.
A school library can cultivate a culture of reading and a love of books in general. What needs to be understood is that the library is organically connected to the school, either as an extension of the physical classroom or by actively participating in the wider educational work. At the same time, the school library maintains an autonomy, as it is often a personal choice of students to come to the library to read something they like, to search for information on a topic that concerns them or even to take advantage of the calm and creative environment of the library.
I wish the children had more time and space in their daily program to read without anyone grading their abilities and progress. Ten minutes is often enough for them to read freely what they want, without any criticism of their choices.
What we can do to help children love reading and enter the world of books from an early age is to read to them from infancy, to read with them, to surround them with books… Let the children freely choose the books they want to read. Make sure they socialize with active readers, that they see us reading, that they are familiar with book spaces, such as libraries and bookstores. Reading a book with your child is the best way to ensure that they enjoy reading as they grow up. In addition, research shows that if we encourage children to love reading, they will develop reading habits and become better readers. This is extremely important even in the digital age we live in. We therefore consider it very important that school libraries have a large selection of books that children can easily access.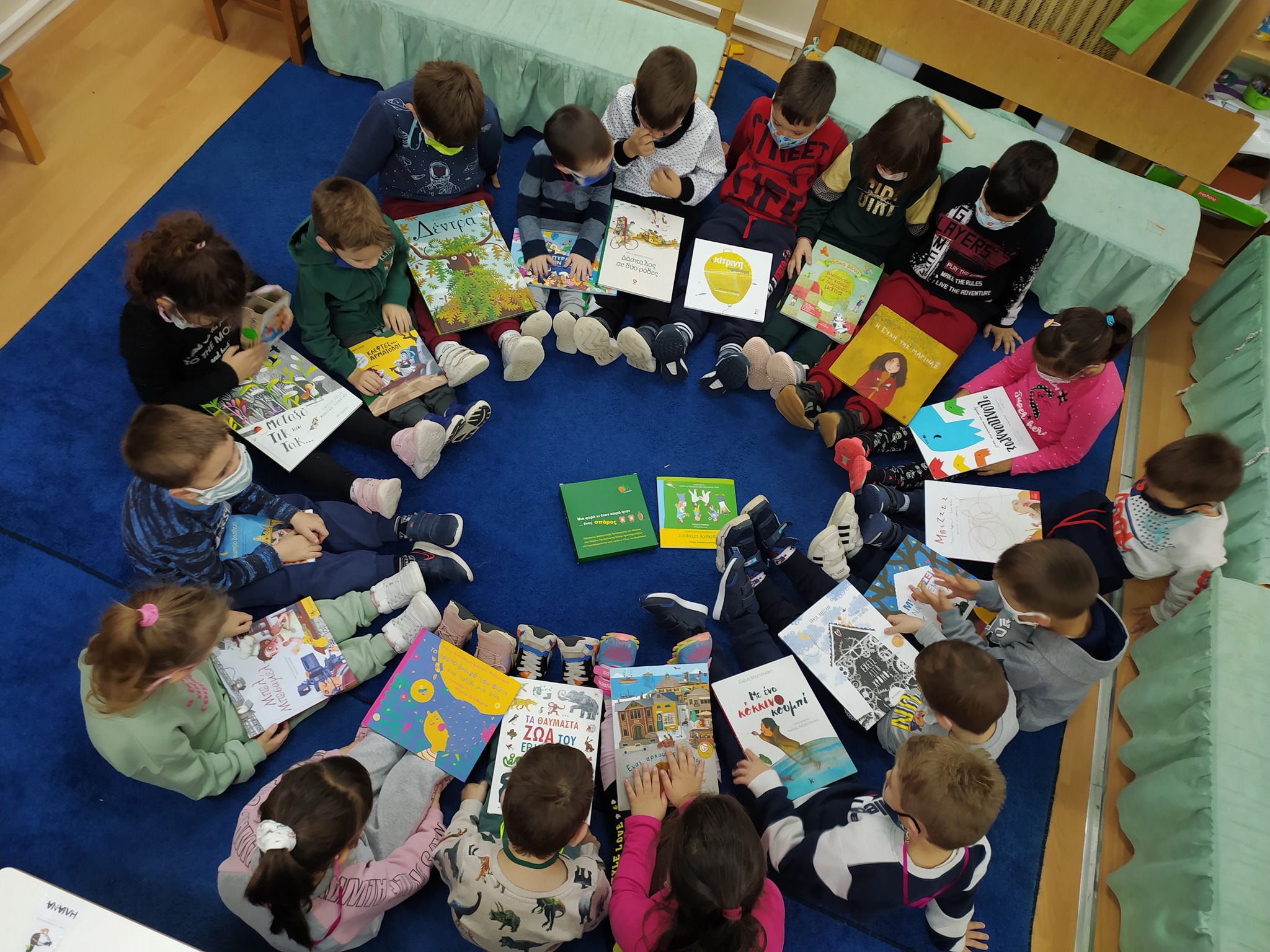 What about literature in the era of online communication? How have both writing and reading habits changed due to new technologies and social media?
I think the impact of online communication is overstated. Children and young people love their screens, but I don't think that the screen is the enemy of the book; it just needs to be used in moderation. Besides, social media makes it easier for book lovers to connect and for writers to reach their readers.
Online communication may change how we write, too, but that's not new. Writing styles, spelling, and grammar have been evolving for far longer than the internet has been around. Literature is always changing, but it always finds its way to new generations, no matter how much we worry about distractions and "bad influences."
Thank you very much for this beautiful conversation.It's nice to share what you love.
*Interview by Athina Rossoglou
TAGS: LITERATURE & BOOKS | READING GREECE