David Mason, Poet Laureate of the state of Colorado (2010-2014) and teacher at Colorado College, is the author of the award-winning poetry collections: The Buried Houses (1991), Nicholas Roerich Poetry Prize; The Country I Remember (1996), Αlice Fay Di Castagnola Award; and the verse novel Ludlow (2007), named best book of poetry in 2007 by the Contemporary Poetry Review and the National Cowboy and Western Heritage Museum. He has edited and co-edited several anthologies and has authored dozens of poems, essays, reviews, translations, stories and memoirs.
In 1980 he came to Greece, where he lived for just over a year in Kardamyli, Greece, in the Mani district of southernmost part of the Peloponnese. He returned to Greece on a Fulbright fellowship in 1996-97. He has written extensively about his experiences in Greece: a book of poetry Arrivals (2004) and a book of memoirs News from the Village: Aegean Friends (2010). As a librettist, Mason collaborated with Lori Laitman on her opera The Scarlet Letter and on an award-winning opera adaptation of Ludlow. His one-act opera with composer Tom Cipullo, After Life, won the 2017 Dominick Argento Prize for Best Chamber Opera from the National Opera Association.
David Mason spoke to Reading Greece* about the main themes his poetry touches upon, noting that "the scars and abrasions of a vagabond life have given me subjects", adding that he wanted to write "what it feels like to live in a body even when the body does not happen to be [his] own". He comments that much of his consciousness "is heavily laden with Greek mythology and literature", explaining that the "tragic sense of life", which came to him via the Greeks, is the way he views life on this earth.
Asked about the role of poetry in times of crisis, he quotes Shakespeare's MacBeth that in dire times we must "give sorrow words", concluding although human being may not be capable of eliminating conflict altogether, "we can find language to help us grieve and even laugh together, to help us memorialize our time on earth".

A poet, essayist, librettist, translator and editor with a major contribution to the rejuvenation of meter and narrative in American poetry. What is the binding thread?
This is a very generous description as well as a question. I suppose I have done many kinds of writing, but none of them were ever planned. What event in my life sent me in all of these directions? I wanted to write. I was interested in theatre and performance, and I loved poetry. One follows the threads where they lead. Friendships with figures like Dana Gioia, Yiorgos Chouliaras, Katerina Anghelaki-Rooke, Patrick Leigh Fermor offered me opportunities for kinds of work, from poetry to translation to memoir. An introduction to composer Lori Laitman led to commissions to write libretti, which I have now also done with composer Tom Cipullo. I may even be returning to my roots in drama and fiction writing—we shall see. Meanwhile, essays and reviews get written in an effort to make money as well as to clarify my thinking about all of these things. Perhaps one day I will find the connections between these interests. For now, I feel lucky to have the opportunity to pursue them.
"Always preparing to arrive/ I suffer the deaths of many friends, / survive, surprised to be alive. / My story's told, but never ends". What are the main themes your poetry touches upon?
I'm grateful to you for quoting that poem, "The Dream of Arrival," which is a fanciful retelling of a scene in Homer, rather as Greek poets sometimes revise myth and history. It was Seferis who said the poet had only one subject: his living body. Or her living body, as the case may be. So the scars and abrasions of a vagabond life have given me subjects. But I'm also not satisfied with the letter "I," and want to write about people other than myself. I want to acknowledge our common trials, as well as the inconclusiveness and ephemerality of our experience. I want to write what it feels like to live in a body even when the body does not happen to be my own.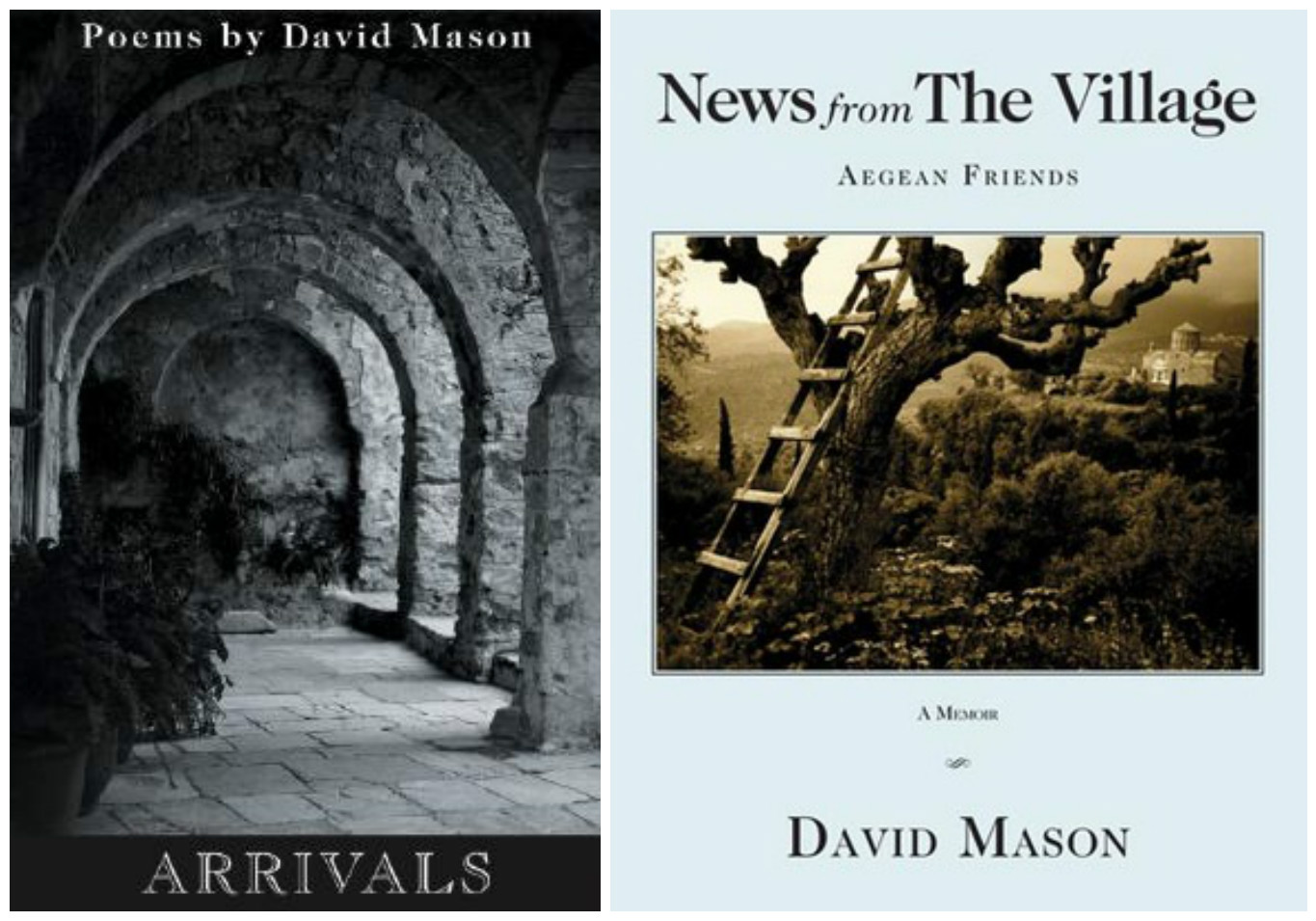 "Greece in Mason's poems is both Epicurean and Homeric; it is an image of intense sensual presence and unreflective vitality – part of his drive to "feel more alive in [his] own skin". What does Greece represent for you? How is the Greek experience imprinted in you literary work?
I love Greece. I love the Greek people—their history, their struggles, their language, their vitality. Greeks have been generous to me in more ways than I can possibly list, and I have also written about Greek immigrants in America and Australia. There is an element of unreality in that I have often been footloose while in Greece—unfettered in ways I feel fettered in America. So you might say even my years of contact with Greece include a kind of cultural sampling. But I plead love as my excuse, and hope I have been a loyal and truthful lover of Greece. Also, my own native tongue, English, is partly made from Greek, and much of my consciousness is heavily laden with Greek mythology and literature. Ellenismos is unavoidable to me. The "tragic sense of life," to borrow Unamuno's phrase, comes to me via the Greeks, and it really is the way I view our life on this earth.
"Fearing he has lost Greece and everything it has meant in his life, Mason goes back again and again to the country he knew as a young man". Tell us a few things about your memoir News from the Village.
It is the book I most wish I could rewrite, yet I was writing and revising it for many years, trying to get it right. When I returned to Greece in 1996 after a 15-year absence I suddenly felt I had a story to tell. Whether my story of coming of age and growing in relation to a village of which I was only very marginally a part is useful or not I cannot say. It's a story in some sense of youthful delusions and trying to grow into an adult awareness of reality and responsibility. But the big problem in the book has to do with a relatively small number of its pages. I was lying in the book about my personal life, unwilling to do what the bravest memoirists do and really openly talk about their lives. I should either have been more honest about my private life or cut it out altogether. The pages about other people—Yiorgos, Katerina, Paddy and others—are the best parts of the book.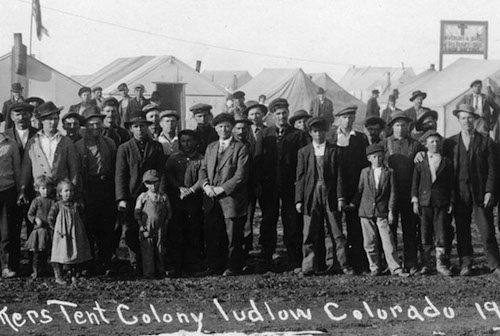 One of the main characters in Ludlow, Louis Tikas, is from Crete and his Greekness and that of others in the miners' camp is a main feature of the story. How are the themes of roots and uprootedness dealt with in your poetry?
My father grew up in a small Colorado town near Ludlow, Colorado. The river that flows through that town was named by Spaniards El Rio de las Animas Perdidas en Purgatorio—The River of Lost Souls in Purgatory. Having grown up with that name in my mind, I have always felt that my people were rootless wanderers. America may be a nation of immigrants, but not all Americans acknowledge that truth and not all of them understand what it means to live with more than one identity. My family come from Scottish and Danish immigrants—my maternal grandmother arrived first in Canada, then in America, from a small village near Aberdeen, Scotland. In America she became a drug addict, and she was later lobotomized, and I never met her. That is another kind of exile—psychic as well as geographical. I feel these alienations at my core, and perhaps that helps me sympathize with immigrants like Tikas.
What about poetry in times of crisis? Could poetry offer new ways to imagine what can be radically different realities?
Someone in Shakespeare's MacBeth says that in dire times we must "Give sorrow words." That is what we must do, along with everything else we do to bring a bit more civility to our lives. And yes, I think literature is a way of humanizing ourselves and others. Empathy is a civilizing activity. These things don't put bread on the table, and they don't save Syrian children from a gas attack, but they might convince some soldiers to disobey evil orders, and that would be a good thing. Poems intended as marching songs are usually not very good. But poems that help us feel and experience life in its complexity cannot be a bad thing. I don't believe human beings are capable of eliminating conflict altogether, but perhaps we can find language to help us grieve and even laugh together, to help us memorialize our time on earth.
*Interview by Athina Rossoglou
TAGS: LITERATURE & BOOKS | READING GREECE