A major figure of contemporary children's literature, Alki Zei was born in Athens and passed her early childhood in Samos, where her mother was from. She studied philosophy at the University of Athens, drama at the Athens Conservatory and scenario writing at Moscow Cinema Institute. She started writing very young. At high school she wrote some pieces for the puppet theatre. One of the characters she created became later one of the main heroes of the Athens Puppet Theatre "Barba Mytoussis". She continued writing by publishing a series of short stories in Neaniki Foni (Young Voice), a magazine for young people directed by a team of intellectuals of that time. She kept writing short stories and novelettes during the years of her stay in the Soviet Union that were occasionally published in literary magazines in Greece.
Alki Zei is one of the main representatives of the after war (Second World War) generation, not only because of her work for adults, but also with her novels for grown-up children. Through the juxtaposition and the synthesis of adult and child situation, often with youthful thinking and perception of reality, child innocence, purity of child view and subversive mood, Alki Zei fashions a natural style of writing, realistic and spontaneous, without didacticism, with humour and irony that converts cruel reality into exciting fiction, fertile for further research and questioning.
The clear-cut way of her writing, the linguistic integrity, the critical attitude towards persons and situations, her humour and the penetrating view to facts, are the dominant characteristics of Alki Zei's works. Achille's fiancee, Wildcat under glass and Petros' war, are included in the classic best sellers of contemporary Greek literature. Wildcat under glass, her first novel, has been a milestone for Greek children's literature. Almost fifty years after its first publication, it is now considered a classic book of the international literature for children. Her books are inspired by her personal experiences, weaving along the recent history of Greece, treating meanwhile universal subjects. Specifically, Wildcat under glass, Petro's war and The purple umbrella constitute a trilogy on Greece's history between the decade 1936 – 1946, is the atrocities of war (Second World War), the oppression of dictatorship, the hardship of the lack of freedom, the torture of hanger. But at the same time these difficult and uneasy themes are incorporated in intriguing adventures with lovely characters, funny stories and a lot of suspense.
A main feature of her stories is the projection of her own life experiences on her heroes' lives achieving to present to the younger generations events of the troublesome recent Greek history in a collected but sharp way. Her work is characterized by realism, social concern for contemporary problems of urban society and respect for historical truth. Despite the realism and seriousness of their subject matter, her books stand out for their optimistic view on life and their delicate humour, without lacking either the gift of fiction, therefore constituting admirable literary works. The use of modern narrative techniques, like boxing, artful intertextual integration, inner monologue, mail insertion, narrator alternations (first or third person) from novel to novel, multiple viewing angle of events, use of time through acceleration, flashbacks and foreshadowing, but mainly the design of characters and the dynamic development of the plot of the novels, as well as the use of figurative language, reveal the strength of her writing.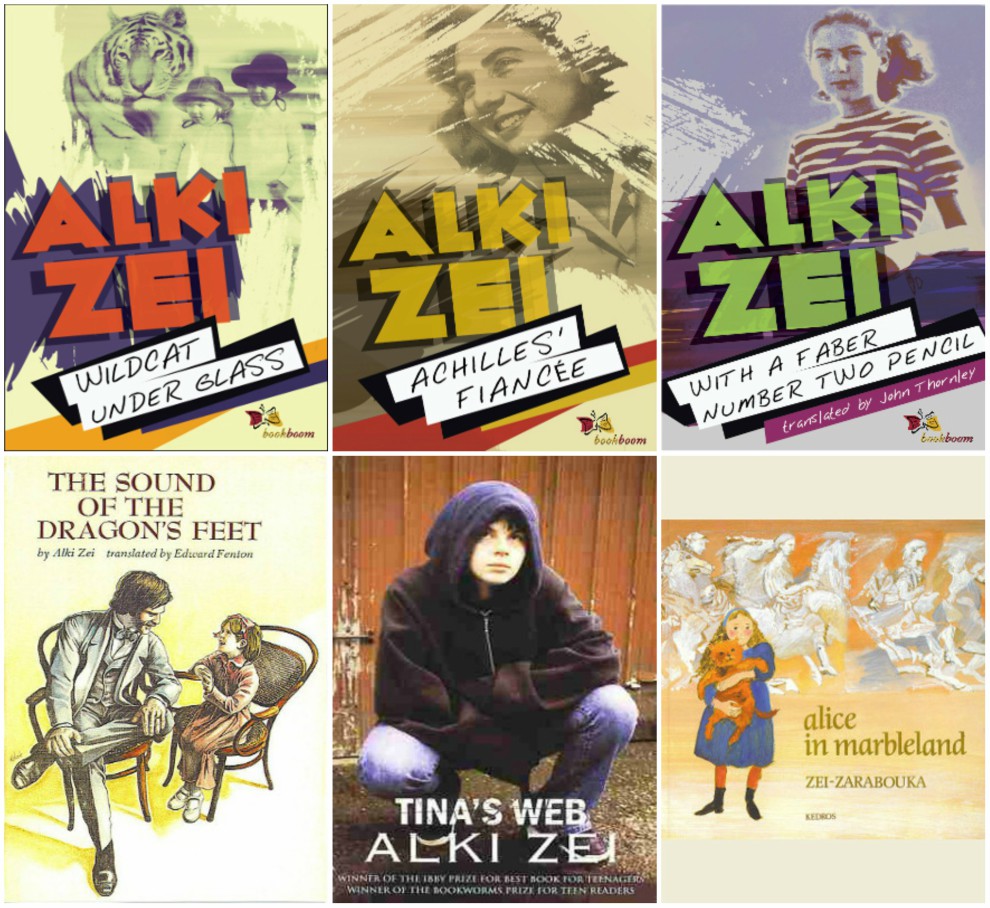 The innovative and avant-garde novels, short stories and plays that she has written have obtained many distinctions and awards, including a State prize, an Athens Academy award, various national and international distinctions and, ultimately, the Honorary Doctorate proclamation of hers by the Universities of Cyprus and Salonika. Most of the titles of her works have been published in a large variety of languages and a number of countries around the world, not to mention the adaptations of her works for Cuban television and the inclusion of some of her works as textbooks in Italy and Cyprus. What is though especially remarkable, is the admiration that is often expressed for her work by foreign publishers, translators, literary critics and agents, making of Alki Zei an excellent ambassador of Greece's literature, like Kazantzakis, Kavafis, Seferis or Elytis.
To use Angelica Vouloumanou's words, "Alki Zei is a precious asset for Greek contemporary literature […] As she belongs to a generation of people who have sacrificed their ambitions and private lives for the sake of collective dreams and fight for peace, freedom and democracy, having herself actively participated in Greece's bitter historical moments of Resistance, persecutions and overthrows during and after World War II, she considers it her duty to record those important historical events so that younger generations know. But although her stories are set in really lived historical context, she is neither exhaustive in History account nor instructive towards readers. Her intention is to ensure awareness and give a chance for further questioning on a multitude of universal moral and social issues".
A.R.
Read also: BOOK OF THE MONTH: 'Petros' War' by Alki Zei
TAGS: LITERATURE & BOOKS | READING GREECE