A thriller at heart, "Rosemarie" is a film about duality and ambiguity, with many unexpected comic elements; and that's where its charm comes from. A rather dysfunctional character, who loves arias and haloumi, Kostas hovers between art and reality in contemporary post-crisis Cyprus, which also tries to find its way in a glocal setting. Film and theatre director, screenplay writer and playwright Adonis Florides lives and works in Limassol, Cyprus. "Rosemarie" (2017), his second feature film, premiered at the "Cyprus Film Days International Film Festival" where it received Best Film Award in the "Glocal Images" International Competition section. "Rosemarie" also won Best Film Award from the Greek Film Critics Association at the 58th Thessaloniki Film Festival 2017. Florides has also written and co-directed the feature film "Kalabush" (2004) and the short "Espresso" (1998) which have been screened at many festivals around the world, receiving various awards.
Talking to Greek News Agenda* Florides explains that his postmodern take, intertwining different genres, comes from his interpretation of the world as tragicomedy. As regards Cyprus, a hidden central character in the film, he elaborates on the inherent contradictions of contemporary Cypriot society, the dualities that form Cypriot identity, many of which are reflected upon his main character.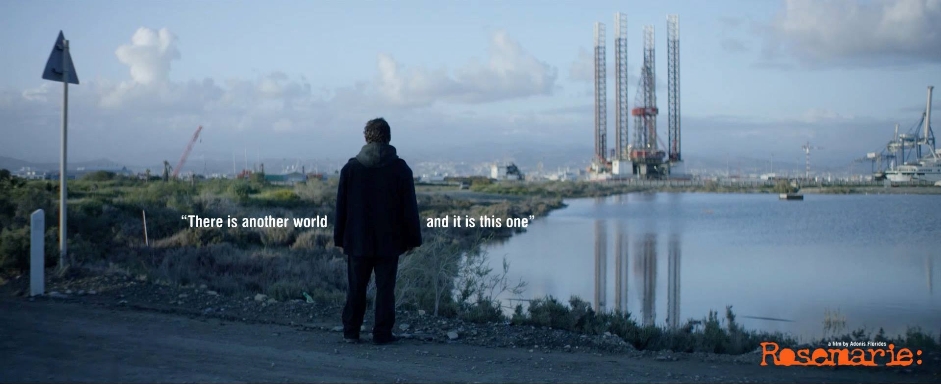 Yiannis Kokkinos, "Rosemarie" (2017)
"Rosemarie" is an intriguing mixture of genres. Drama intertwines with hints of thriller, comic twists and ancient tragedy. Could you elaborate on your choices?
I always tended to be motivated by the tragedy hidden behind each comic situation and vice-versa. This is the way I understand and interpret the world; as a tragicomedy. Thus, when I first started working on the screenplay, it came out naturally. I did not think much about intertwining genres. At a later stage though, I did realize that I was actually doing it and I felt rather uncomfortable for not sticking with the rules of a specific genre. This was one of the reasons it took me so long – almost ten years – to finish it. I tried a couple of times to re-write it in a more conventional way but I felt I was betraying my initial motivation each time. At some stage I decided that I would stop censoring myself and instead of worrying about it, I would work consciously in order to incorporate the right amount of drama, suspense and humour in order make it work and, at the same time, to stay true to what I wanted to say. It was an adventure which I enjoyed, although I knew the risks involved. In order to make it work, it was of paramount importance to give the film the right pace, both in terms of the external as well as the internal rhythm of the shot. And rhythm in film-making is to get the right thing to happen at the right moment. Dismissing the "grand narratives" by deconstructing and intertwining solid genre forms is certainly a post-modern approach. But this did not happen consciously, at least not when I first began working on the film. Still I believe the film tells a story in a rather conventional way, built on a firm 3-act structure – with plot, character and theme contributing to each other.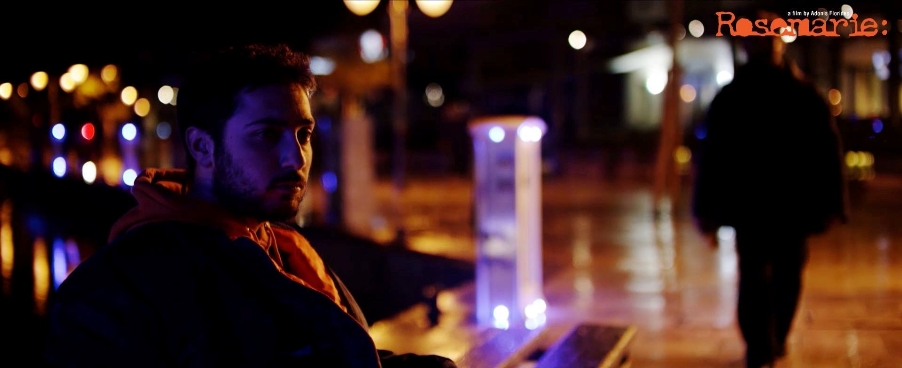 Andreas Vassiliou, "Rosemarie" (2017)
Cyprus is a hiddencharacter in your story. You use as a background notion the economic crisis that hit the country in recent years. How is contemporary Cypriot society presented in your work?
I always remember Cyprus being in some sort of crisis. War, conflict, nationalism, corruption, power struggles, the battles between civil society and the norms of patriarchy, expressed mainly through institutions such as the church and the education system spreading down to the very heart of society, i.e. the traditional family. Add to this a deep post-colonial syndrome that has never healed and which has been growing out of control in a complicated post World War II geopolitical environment, and we get the whole picture. The crisis of capitalism in 2013 – which affected Cyprus in a rather dramatic way – was just another manifestationof this seemingly endless circle of crises. So yes, one could conceive the film as an allegory of contemporary Cypriot society that cannot, or does not want to, find a way out of this seemingly endless vicious circle. This was not fully intentional to be honest. However, I wasn't particularly puzzled when a young spectator of the film sent me this message on Facebook, "…it is a film about a society locked and trapped behind the firmly shut doors of the traditional family, that steals everything from the generations to come, its future, its dreams, its beaches, its forests, its natural wealth. It is a film about a society that does not hesitate to condemn its children to mental death, to drive to madness those who are still morally decent …"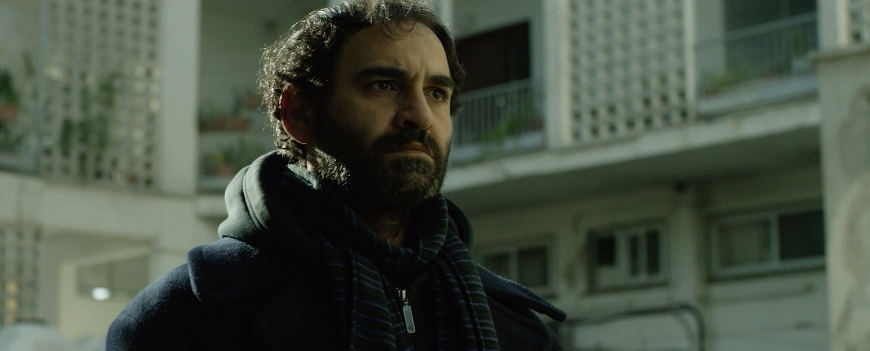 Yiannis Kokkinos, "Rosemarie" (2017)
What are your cinematic influences and how did you incorporate them in your film?
At some point I realised that I had included in the film direct or indirect references to cinematic moments and images that I personally enjoyed or was moved by, ones that I felt have had some impact on my life. I decided to keep them and consciously elaborated on this idea. The first issue at stake was to incorporate these moments and images into one aesthetically solid and self-contained film that tells a story in a simple – but not simplistic – way. This was a risky endeavour. The second was to create a "psychological reality" in which both character and audience can "exist" in an abstract world enclosed in a poorly maintained modernist block of flats. Viewers often isolate and point out different aspects of the film that correspond to different cinematic aesthetics, moments, or images. This is more than welcome and I enjoy the various ways that 'Rosemarie' communicates with the audience. However, to me the film is a thriller at heart.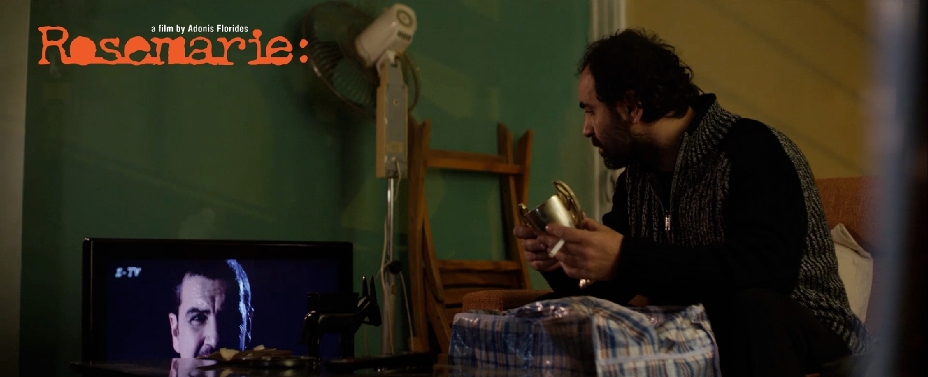 Yiannis Kokkinos, "Rosemarie" (2017)
Arias and halloumi. Soap operas and high brow culture. Would you like to talk about the glocal pendulum in Rosemarie?
I have always been interested in connecting this rock I live on, its history and culture, with the rest of the world. "Duality" has always been part of our life in many ways, as it is in many areas of the world that are in a transitional state. In this sense, it is both a global and a local phenomenon. In our case we are both Europeans and Middle Easterners at the same time, though we tend to forget the latter. Linguistically we are torn between the "standard" Modern Greek and the dialect and as socially diglots we use distinct 'high' and 'low' varieties of the language/ dialect depending on the circumstances. We are also split between being ourselves intimately and being someone else formally; split between "traditional" moral values and hypocrisy; split between 'being' cultured or successful and our recent past in a remote village where we have abandoned a crippled brother; between glossy life on a TV screen and tacky real life. This island-rock is even split ethnically and torn apart geographically. Unfortunately, we tend to acknowledge only one aspect of all these "dualisms" at a time, also ignoring what is in between their two poles. This is done in order to project a "cleansed" persona that fits our understanding of an imaginary world. At the end of the day, this split is between self-consciousness and self-denial, and we often prefer the latter. The problem is that self-denial is at most times based on some sort of guilt. Kostas goes through this transition, covering the distance from one side to the other, confronting a shocking experience. As the poet says, 'There is another world and it is in this one'. At the same time Kostas is a tragi-comic, rather dysfunctional character, "…torn between art and reality". (This was mentioned in the rationale of the International Jury of Cyprus Film Days, where the film received Best Film Award in the International Section).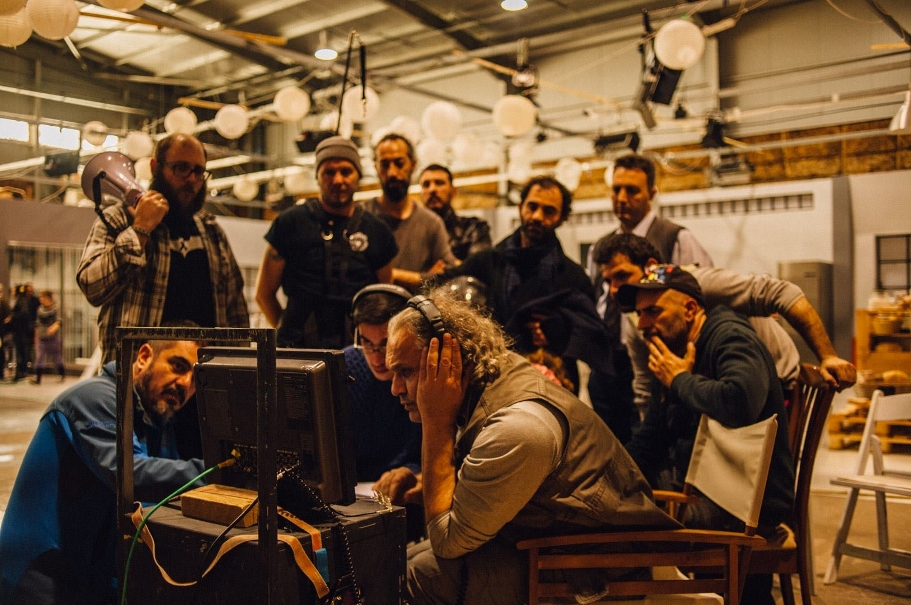 Adonis Florides on set, "Rosemarie" (2017)
What was the public's reaction to the film?
The impression I got is that most of the audiences in Cyprus were enthusiastic and generally reacted in a very positive way. The film inspired lively discussions. It appears that the use of Cypriot dialect and the imagery of a Cyprus stripped of its tourist attractions and sunny beaches contributed to this reception. I think the public appreciates this endeavour at the heart of Cypriot life, with a winter backdrop. Elsewhere reactions were mixed but were mostly positive by the general audience, especially by film critics. The real test will come in March when the film is screened in cinemas in Cyprus.
* Interview by Florentia Kiortsi
Read also: Rosemarie: Sanitising society's stigmas with a soap opera, Film synopsis, Film review by Cineuropa.