A Roman shipwreck with a mixed cargo of various types of amphorae is the most important find of the second underwater research mission off the coast of Kasos, a small island in the Dodecanese group, according to a Press release by the Greek Ministry of Culture and Sports.
The mission was carried out by the Ministry's Ephorate of Underwater Antiquities, in collaboration with the Institute of Historical Research of the National Hellenic Research Foundation (IHR/NHRF), and took place between 23 September and 14 October 2020, headed by archaeologists Xanthis Argyris and Georgios Koutsouflakis. It has also yielded evidence of other shipwrecks dating from the Classical and Hellenistic periods.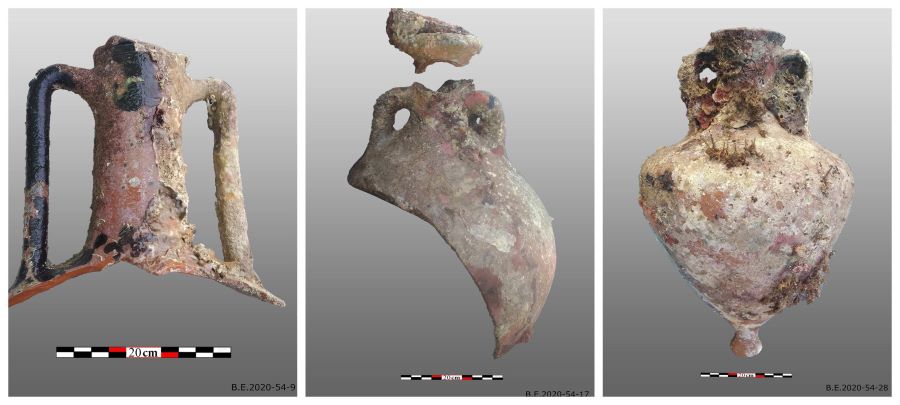 The most remarkable find, a Roman-era shipwreck believed to be dated between the 2nd and 3rd century AD, was carrying a load consisting of "Dressel 20" and "Africana I" amphorae; the first is a type of large globular amphora with substantial cylindrical handles and a prominent rim, produced in the Spanish province of Baetica, Southern Spain (1st-3rd century AD), usually used to store oil; the latter originate from the ceramic workshops of Africa Proconsularis, and more specifically in the region of present-day Tunisia (2nd-3rd century AD.
Three more ancient shipwrecks were identified and documented, including one carrying a load of amphorae of the Hellenistic period (1st century BC) from the North Aegean Region, and another with a cargo of amphorae of the Classical period (5th century BC) from the ancient city of Mende in Chalkidiki. The third wreck is believed to be considerably more recent. The research also yielded a large number of independent finds.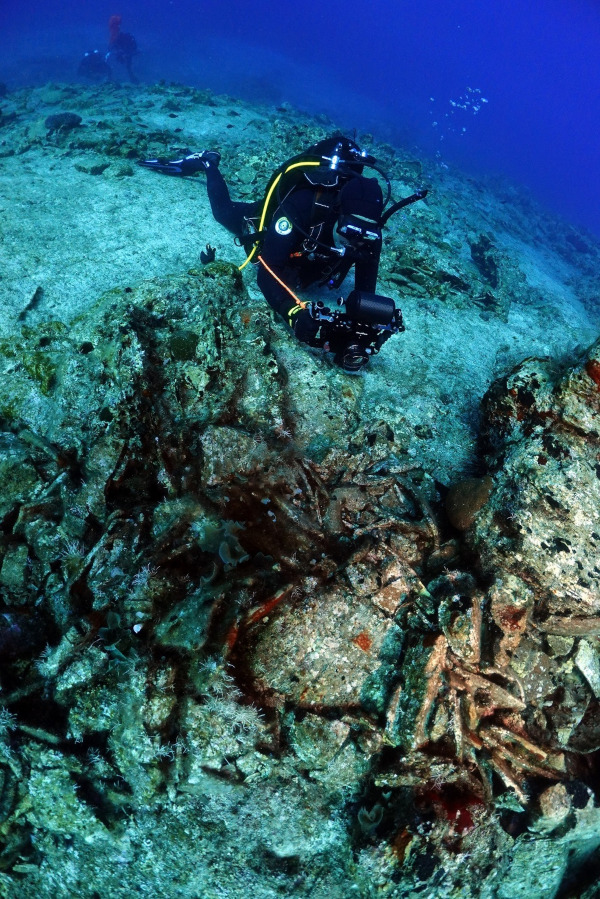 Kasos, the southernmost island of the Dodecanese, has been under systematic archaeological research for the first time as part of a three-year project (2019 – 2021), the main objective of which is to identify, document and study underwater antiquities. The area has been an important seafaring hub and a crossroads of civilisations since the antiquity. During the latest research mission, twenty-three specialised scientists and technicians of various specialties took part in the field work.
Also read via Greek News Agenda: Peristera: Greece's first underwater museum; "Fiscardo wreck" in Kefalonia: The largest Roman shipwreck in the eastern Mediterranean; Underwater excavation at the historic Mentor wreck site (Kythera, 1802); Pavlopetri: The Oldest Submerged City in the World; Secret treasures of Greece – Sapientza
N.M. (Photos: ©Greek Ministry of Culture and Sports)
TAGS: ARCHEOLOGY | RESEARCH