Petros Tatsopoulos is an acclaimed Greek writer. He was born in Rethymno, Crete, in December 1959. He grew up in Athens. He studied economics and political science. He worked as a trainee social worker, co-screenwriter for A foolish love (1981) by George Panousopoulos and Underground Passage (1983) by Apostolos Doxiadis, as well as journalist, book reviewer, publishing consultant and presenter of the cultural programs on public and private television Spirit of Controversy (ET1, 1999-2000), Great Greeks-Eleftherios Venizelos (SKAI, 2009), 1821 (SKAI, 2011), and Bras de Fer (Action 24, 2014).
Together with celebrated Greek writers Kostas Mourselas, Giorgos Skourtis and Antonis Sourounis he took part in writing the novel The Game of Four (1998). He has published twenty-one books, including The minors (1980), The painkiller (1982), The heart of the beast (1987 – with a film adaptation released by Renos Ηaralambidis in 2005), The first appearance (1994), Honoris Causa (2004), The kindness of strangers ( 2006), Modern Greeks (2007), Sisyphus on the balcony (2009 – Athens Academy Award), The book about books (2010), Gagarin (2016), The lady feels compassion (2018), In Your Face (2019).
Some of his short stories and novels have been translated into English, French, German, Turkish and Czech. He was member of the board of the Writers' Society from 2001-2003, chaired at the time by Vassilis Vassilikos, and he served briefly as vice president of the National Book Centre in 2010. He served as member of the Greek Parliament (2012-2015) as well as the Greek parliamentary delegation at the Council of Europe Parliamentary Assembly (2012-2013). He has two children, Giannis and Danae.
Petros Tatsopoulos spoke to Reading Greece*about his experiences as a writer, his latest book and his involvement in the world of politics.
You are a celebrated author and your books have been widely praised. What influenced your decision to become a writer?
As a student I had always performed well in composing essays, whilst I was also writing poems, opinion pieces, plays, short stories etc, all at a time when there were not many distractions for teenagers: there were no cell phones, personal computers, social media etc. The dilemma we faced those days was whether our work would be handwritten and then typed or whether it would be typed from the start. So I guess I just decided at some point to make my living from what everyone was telling me I was doing well.
If, however, I was to point to a decisive reading experience that irrevocably pushed me in the direction of becoming a writer, I would have to say that it was an essay by Albert Camus about two heroes who had committed regicide and deicide. As teenagers, we consumed plenty of such reflective and philosophical works, without necessarily understanding much, which nonetheless did not daunt us. In this book-length essay, Camus compared the two heroes, Robespierre and Raskolnikov, both of whom were perpetrators of regicide and deicide. It took me a while to realize that, of the two, only Robespierre was an actual historical figure.
I was in awe and thought, "Imagine, there once was a writer, Dostoevsky, who took pen and paper and depicted a fictional character, Raskolnikov, so aptly and realistically that a century later came another great thinker, Camus, and portrays Raskolnikov, an imaginary figure, as equivalent to a historical figure, Robespierre. It must be absolutely amazing doing the work of a writer". I have been seduced ever since and the spell has never been broken.
You have worked in several media and have been involved in politics for many years. To what extend has this experience affected your choice of subject of your books?
I have not been actively involved in politics that long; my involvement began in 2012, when I was already 52 years old. I have definitely been much more actively engaged in the media. I have never drawn lines in my life. I switched from one professional activity to another or from one academic course to another without being really concerned about leaving some things unfinished; I was more interested in doing something I really enjoyed, not doing things compulsively. It was for this very same reason that I never had a problem with switching from fiction to non-fiction writing. There was constant feedback from the experiences in the books and vice versa.
I wanted to make sure that each one of my books not only reflected my concerns during that period in my life – even my obsessions, my fears, my follies – but, more importantly, responded positively to the following question: If I were a reader, would I be interested in reading this book?
What is your opinion on the reading habits of the people of Greece?
It's the worst. In the spring of 2010, when I briefly served as vice president of the National Book Centre of Greece, I was shown the results of a survey concerning the reading habits of Greeks, as well as those of their shopping habits of books, which we should not confuse with the first. According to the survey, one out of two adult Greeks does not read any books throughout his adult life; that was the worst rate in Europe and one of the worst in the world, at least among countries where there is no illiteracy; in other words, it is a choice not to read, not a necessity.
Now if you combine this alarming information with the belief that we know everything, which characterizes us as a nation because we happen to be descendants of the ancient Greeks and "owners" – this is how we feel – of an invaluable cultural heritage (about which, by the way, we know almost nothing), you could understand what a dangerous assortment of conceited ignorants we are.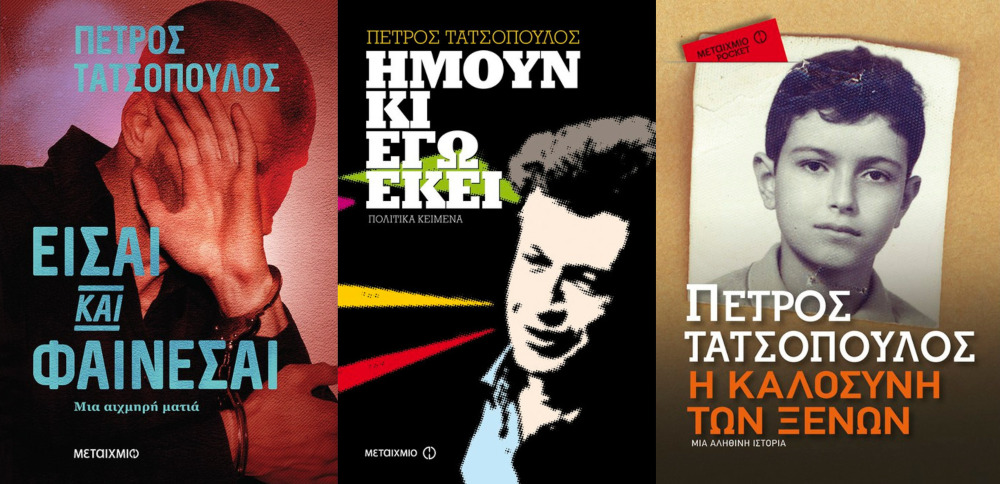 You have authored 21 books since 1980. What has changed and what remains the same in the way you write?
It's a bit awkward to chronicle and evaluate my own mutations in the course of 43 years of incessant writing (I wrote my first book in 1978 when I was 18, and it was published in 1980); and I certainly can't answer your question adequately in the limited context of an interview.
However, what I can do is to assure you that, typographical errors aside, I have never fancied 'correcting' my views in reprints or harbored any wish to 'redress', so to speak, my earlier self – in my twenties, thirties, or forties – with a supposedly more mature image. No, I wanted my books to be "frozen snapshots" in time, with all their imperfections and weaknesses.
Your book In your face is a collection of writings from the years 2017-2019, through which, if I am not mistaken, you endeavor to outline the pathologies of Greek society. Would you like to tell us a little more about your book?
In your face (2019) is my latest book. I have always been tickled by the childish stubbornness behind this expression, the double denial that lurks: I am not who you say I am and you are not who you think you are. I think that this double denial, the twin complex of superiority/ inferiority, characterizes contemporary Greeks. I hope to prove my claim, and if not, to at least not weaken it, in the roughly one-hundred short pieces of writing of "In your face". That, at least, was my intention.
Are you considering becoming involved in politics again by running in the next election?
This is not exactly how it works; it is not a unilateral decision. If one does not belong to a political party, and/or is not a party loyalist – which I never was or ever could be and I would find it hilarious to even try – you do not run on a whim. To date, I have been a candidate three times: in 2012 with SYRIZA, in 2015 with To Potami, and in 2019 with New Democracy; and always as a collaborator, never as a party member.
On the first occasion, I was elected; on the second and third ones I did not succeed. On all three instances however, I had taken part as a candidate in the election as a personal choice of the respective party leaders: Alexis Tsipras, Stavros Theodorakis and Kyriakos Mitsotakis. I thank them for the honor, but I am old enough to know by now that their choice was not based on plain generosity or anything other then the one question all political leaders need to address,: could this odd fellow, who does not belong to our party, bring in more votes than he could take away from us? Times change, but the question remains.
And one last question. In 2019 you experienced serious, almost fatal, health complications, but you managed to overcome. What lessons did you take away from this experience?
The frontrunners in that race were the team of doctors and nurses, led by the heart surgeon Dimitris Lymperiadis, who put up a tough fight. They went to the battlefront and fought with brutal enemies, the most ruthless being time itself and the horrendous pressure it placed, the likely possibility of not only death but of permanent physical and/or mental disability, as well as the risk of not overcoming the temporary psychosis that is the outcome of the consumption of so many and extremely potent analgesic opiate drugs.
And you know something? If they had made a mistake or did not fight the battle, no one would ever say anything; I am so grateful to them for that. They taught me to welcome each new day as one more day on this planet, one more day gained. It was a priceless gift and an invaluable lesson for someone preparing to turn sixty and totally unsuspicious of what was coming.
*Interview by Marianna Varvarrigou. Translation into English by Marianna Varvarrigou and Magda Hatzopoulou.
Read also via Reading Greece: BOOK OF THE MONTH: 'Foreign Words' by Vassilis Alexakis; Aris Maragkopoulos on Literary Writing and Literary Critique as Two Streams Pouring into the Same River of Creation; Dimitra Kolliakou on Writing as a Means to Explore Unknown Territory and Experiment with Language
TAGS: LITERATURE & BOOKS