Spa tourism is a form of wellness tourism centered around the use of thermal and/or mineral waters for treatment, rehabilitation, and recreation. Although Greece has not made a name as a destination for medicinal baths, it is nevertheless home to numerous spa resorts, since various hot springs and mineral springs can be found on both its mainland and its islands.
There are more than 750 thermal springs in Greece, 82 of which have officially recognized healing properties. This is in consistency with Greece's high seismic activity and past volcanic activity, as there is a proven correlation between these and the creation of hot springs; Greece also has an abundance of potable spring water, including many mineral springs. Many of these thermal springs have been known for their therapeutic properties since the antiquity, as hydrotherapy and balneotherapy have been practiced by ancient Greeks. Thermal tourism is now being promoted more prominently, and is a form of tourism that can be practiced throughout the year.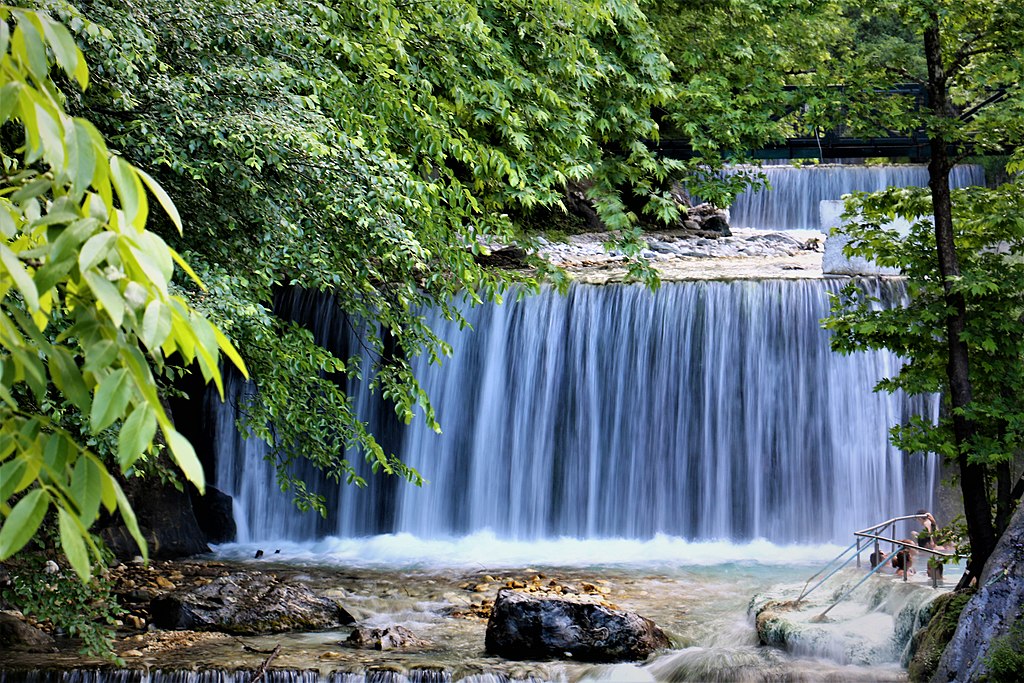 Kaiafas Thermal Springs
Lake Kaiafas in the Peloponnese lies about 25 km south of the archaeological site of Olympia. It is a protected wetland and sea turtles habitat, which forms part of the Natura 2000 network. Close to the lake's eastern shore, at the foot of Mount Lapithas, there is a cave with two hot mineral water springs –Anigrides nymphs and Geranio or Atlantides nymphs–, which are believed to have therapeutic properties for various health conditions.
Hot springs of Lesbos Island
Due to its volcanic origin, the island of Lesbos, in the northern Aegean Sea, has several thermal springs (some of the hottest in Europe, with average temperature of 69,8-87,6 °C), with a wide variety of chemical elements. Due to their therapeutic properties, they have attracted bathers since the antiquity, and were appreciated by the Greeks, the Romans and the Ottomans, who all built baths and other facilities around them. One can still enjoy the relaxing experience of the baths and also make a journey through history in the various thermal springs scattered all over the island, with some of the most well known being in Therma (just outside the island's capital, Mytilene), Polichnitos, Eftalou and Lisvori.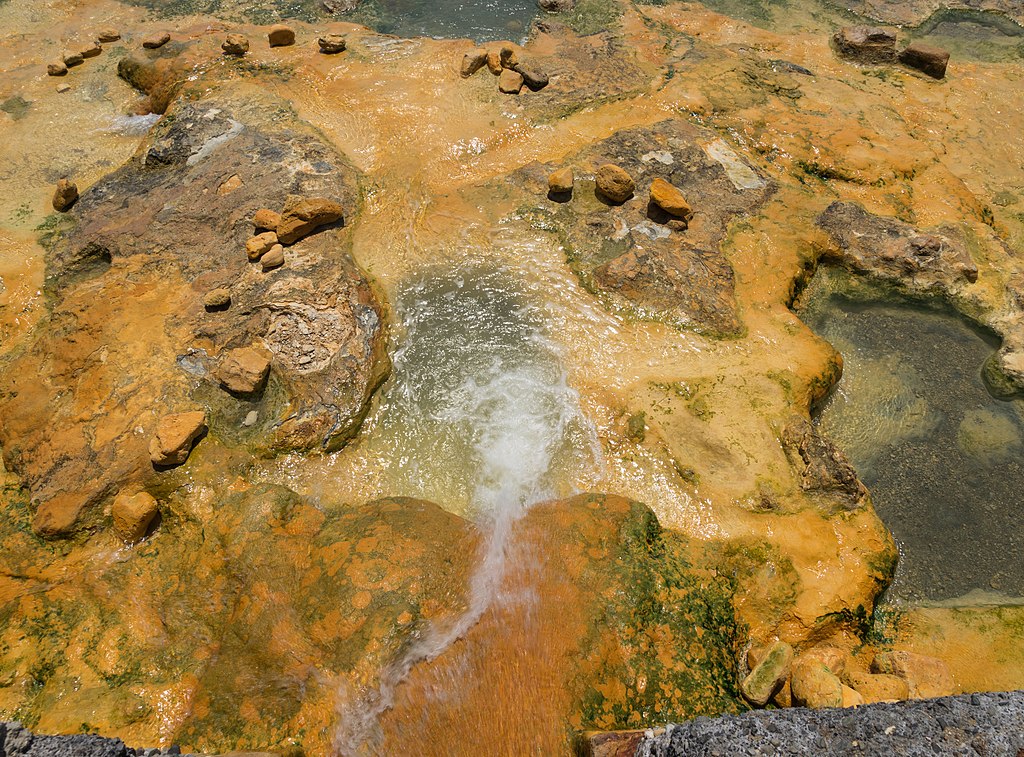 Aidipsos Thermal Springs
Aidipsos, on the northwestern part of Evia Island, is perhaps the most famous spa town in Greece; throughout history, the area is said to have been said to have been visited by Roman emperors like Hadrian, Marcus Aurelius and Constantine the Great, while it is also mentioned by Aristotle in his Meteorology and by the geographer Strabo, who also wrote about the region's past earthquake activity. There are around 60 hot springs in Aidipsos and the wider area; waters come up from a depth of up to 2.5 km and their temperature ranges between 34 and 71,2 °C, while they also contain minerals including potassium, calcium, magnesium, iron and sodium.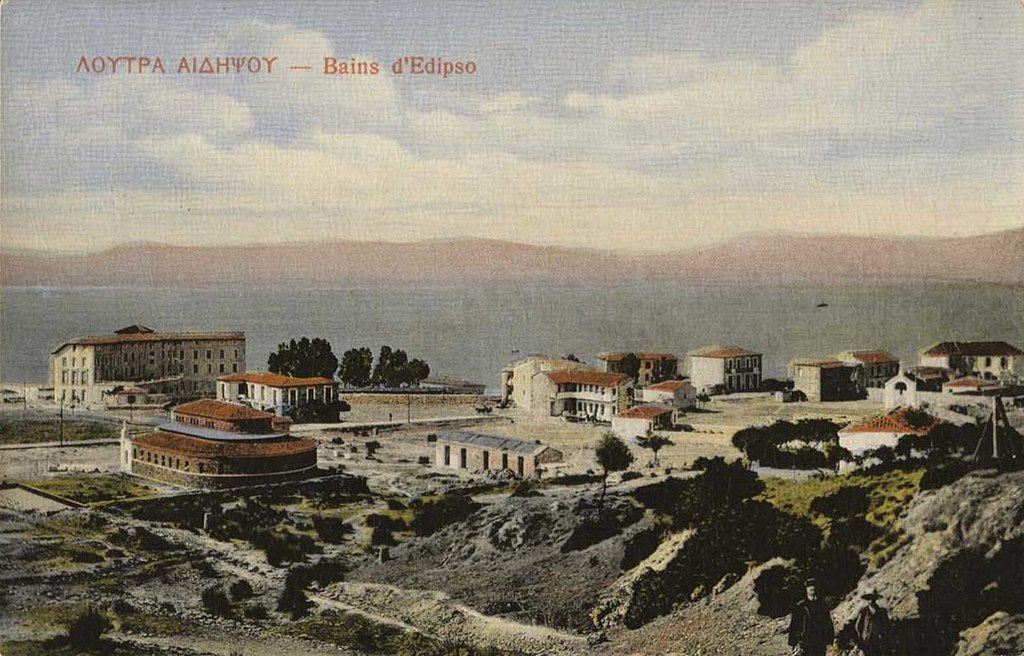 Pozar Thermal Baths
About 100 km from Thessaloniki is the village of Loutraki, famous for the Pozar springs. The spa town is located in the forested gorge of the Agios Nikolaos (St. Nicholas) River, also known as Thermopotamos (meaning "hot river" in Greek), which flows from the Kaimaktsalan Mountains in the north. The name Pozar is of Slavic origin (Пожар) and means "fire". The Baths of Pozar were known since ancient times, and according to the legend they used to be visited by the kings of Ancient Macedon. The waters of this mineral hot spring emerge at a temperature of 37 °C. They are formed by rainwater that penetrates the ground and reaches great depths, where it is heated up as well as enriched it with minerals. There is also a complex of seventeen caves in the area, where prehistoric finds have been recovered and are on display at the local small museum, while the area is also ideal for hiking.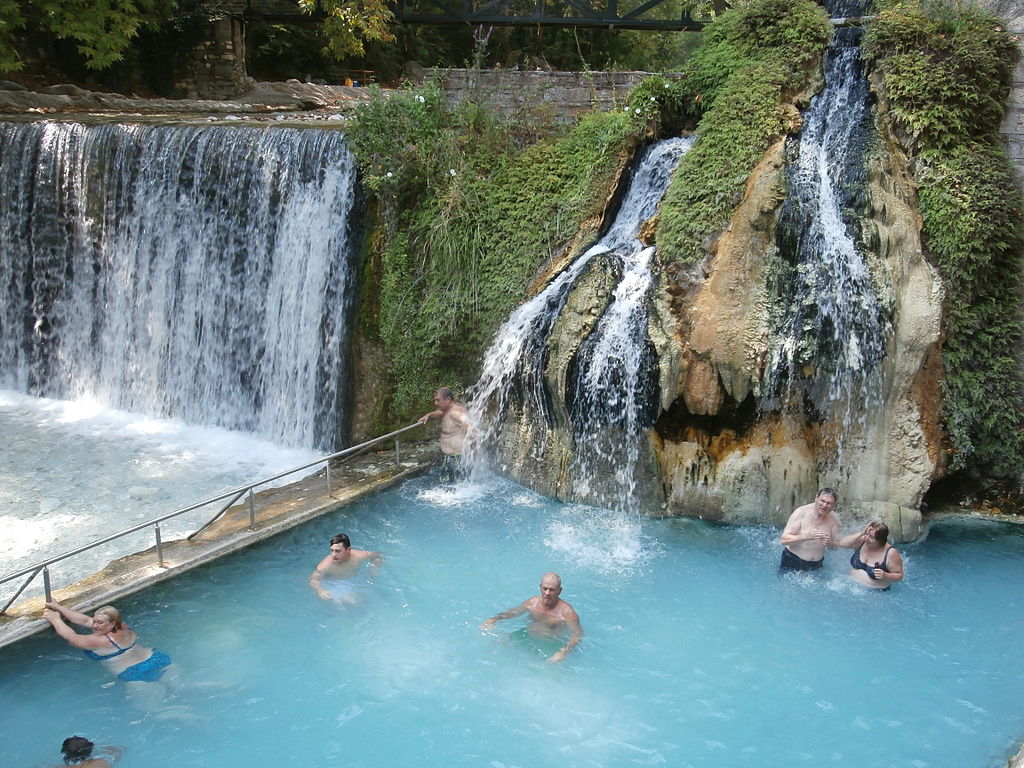 Hot springs of Ikaria Island
The island of Ikaria in the Eastern Aegean is well-known for the longevity of the local population, as well as for its mineral-rich thermal springs, which have been famous since ancient times. The island's most important spa town is Therma (from the adjective thermos "hot"), located close to the capital, Agios Kirykos, and featuring five different springs, with the heat of their water ranging from 45 to 60 °C. There are four more hot springs close to Therma.
Loutraki Thermal Springs
Another town called Loutraki (from the word loutron "bath") is found on the Corinthian Gulf (in the Peloponnese), at a distance about only 80 km from Athens. Loutraki has been a popular seaside resort and spa town for very long. Apart from its saline healing springs, it is also known for its extensive beach, large casino (the first one in Greece) and some impressive buildings (hotels and villas) from the early 20th century.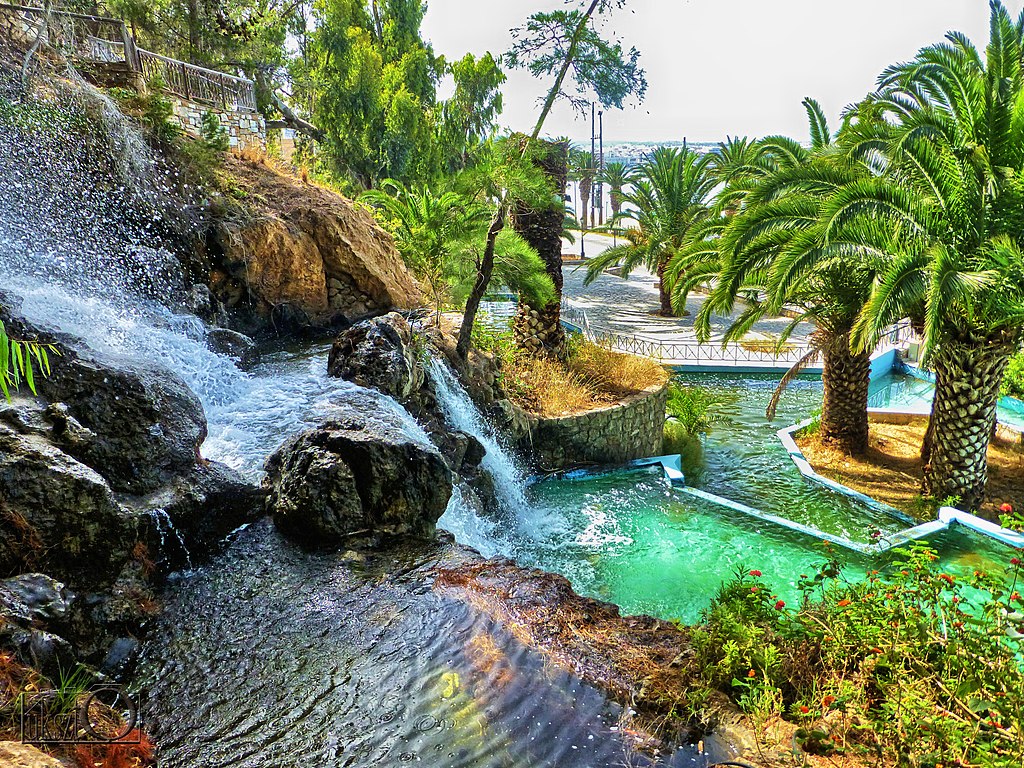 Kamena Vourla hot springs
Another seaside resort and spa town that was especially popular the 50sand 60s is Kamena Vourla, around 180 km north of Athens. Its thermal springs have become known since the early 20th century, when their high concentration in radon was discovered. There are several different springs, and their temperature and mineral content varies. It is also worth noting that the town is quite close (24 km) to the historic site of the ancient Battle of Thermopylae; the site of Thermopylae ("hot gates") owes its name to the presence of hot sulfur springs in the wider area.
N.M. (Based on an original article in Griechenland Aktuell; intro photo: Sulfur-rich hot spring close to the site of Thermopylae in Central Greece (by Grb16 via WikiMedia Commons).
TAGS: TOURISM