Lesbos (also known as Lesvos), in the North Aegean, is the third largest Greek island; it has been famous not only as the birthplace of poets Sappho -famously declared the "Tenth Muse" by Plato himself- and Alcaeus, but also for its unique culture that has developed since prehistoric times.
Lesbos sites and heritage
The island covers an area of 1,632 km² and is the eighth largest in the Mediterranean Sea, with a population of about 86,000 people. It is widely known for its many olive groves (there are about 12 million olive trees on the island), which produce olive oil of excellent quality, its hot springs, its pine forests, the large and diverse avifauna and its world-renowned "petrified forest", formed due to volcanic activity about 20 million years ago.
Trunk 12, in the Petrified forest of Lesbos; identified as a Pinoxylon paradoxum. (by C messier via Wikimedia Commons)
Mytilene is the capital of the island, as well as the capital and administrative centre of the North Aegean Region. The city is overlooked by a large fortress -one of the largest in the Mediterranean- dating to the Byzantine era (probably built during the reign of Justinian I) and believed to have been erected on top of an ancient acropolis. The large number of exhibits showcased at the Archaeological Museum of Mytilene is a testament to the island's millenia-old history.
Other sites of interest on Lesbos include the towns of Plomari, Kalloni, Agiassos, Eresos, and Molyvos. Agiassos is situated at an altitude of 475 meters. It is a quaint little town with houses built in the traditional style, and is primarily known for its numerous artisan shops selling traditional craftwork. Molyvos, known in the ancient times as Mythimna, is mostly famous its old Genoese fortress on the hill in the middle of the town, built as protection against pirates.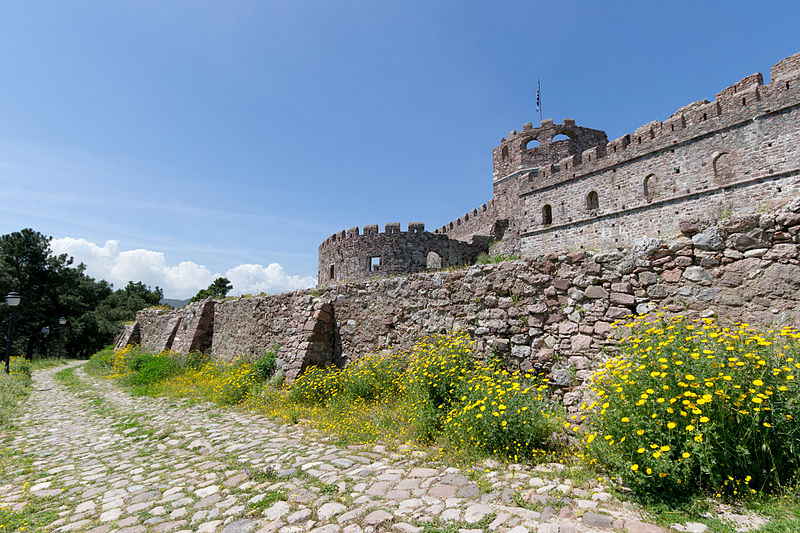 Fortress of Mytilini – the outer walls (by Katsiaryna Naliuka via Wikimedia Commons)
Due to its volcanic origin, Lesbos has several hot springs, well known since antiquity; the natural springs, believed to have therapeutic properties, have been a popular destination through the ages, appreciated by the Greeks, the Romans and the Ottomans, who all built baths and other facilities around them. One can still enjoy the relaxing experience of the baths and also make a journey through history in the hot springs of Polichnitos, Eftalou, Gera Villages or Thermi.
The island's economy does not rely exclusively on tourism but is instead -as in ancient times- largely based on agriculture. The high-quality olive oil has always been one of the most famous products of the island. Lesbos is also known for several local types of cheese (the most renowned being the PDO cheese Ladotyri Mytilinis) as well as its many local brands of high-quality ouzo. Other agricultural products include pomegranates, figs, almonds, quinces and oranges.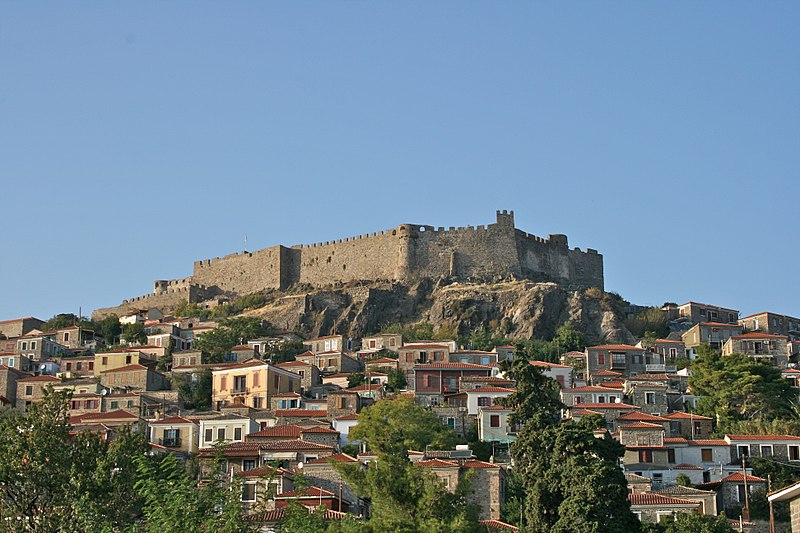 Fortress of Molyvos (by Mike Peel via Wikimedia Commons)
Culture on Lesbos
In the ancient times, Lesbos was known as a place of culture. The most famous figures associated with Lesbos in antiquity were Sappho and Alcaeus, two poets who were born and lived on the island in the sixth century BC. They had a great reputation and both would later hold a special place in the canon of nine poets most esteemed for their works in lyric poetry, a form of emotional poetry meant to be recited or sung, often to the accompaniment of an instrument (in which case it was also known as melic poetry). Even in modern times, the few surviving fragments of Sappho's poetry, written in the ancient Aeolian dialect, have influenced and inspired poets of the likes of Alfred Lord Tennyson and Ezra Pound.
Lesbos, namely the town of Mythimna, is also mentioned by Herodotus as the birthplace of Arion, a lyric poet and kitharode of semi-mythical status credited with inventing the dithyramb. But the island was not only a land of poets; Pittacus of Mytilene, a contemporary of Sappho and Alcaeus, was a military general reckoned among the Seven Sages of Greece.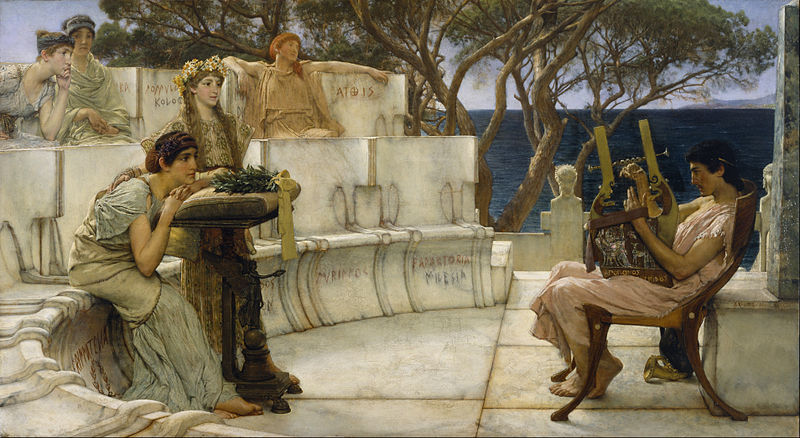 Sappho and Alcaeus, 1881, Sir Lawrence Alma-Tadema
Lesbos was also home to a number of ancient philosophers, the most notable of which was Theophrastus (4th c. BC), a Peripatetic philosopher who was Aristotle's close colleague and successor at the Lyceum. It was Aristotle himself who gave Theophrastus his name for "the godlike manner of his speech"; it is in fact believed that he followed him back to Lesbos for two years, where they both conducted their research into natural science. Other philosophers from Lesbos include Phaenias, another distinguished disciple of Aristotle, who followed Theophrastus's steps; Praxiphanes, also a Peripatetic philosopher and disciple of Theophrastus; Hermarchus (3rd c. BC), a disciple of Epicurus and successor as head of his school; and Cratippus, a leading Peripatetic philosopher of the 1st century BC.
Lesbos was also home to renowned painter Georgios Iakovidis (1853-1932), first curator of the National Gallery of Greece and first director of the Athens School of Fine Arts, as well as Theophilos (1870-1934), who posthumously became Greece's most famous naïve artist. Writer Stratis Myrivilis (1890-1969), a notable member of the "Generation of the '30s", was also a native of the North Aegean island, where he spent a great part of his life. Both parents of iconic Greek poet Odysseus Elytis (1910-1981) also hailed from Lesbos, although his family had relocated to Crete long before he was born; the 1979 Literature Nobel Laureate often evoked Sappho and her influence in his works, as in the poem "Of the Moon of Mytilene".
Originally published on Griechenland Aktuel by A. Lambrou. Adapted into English by N. Mosaidi. (Intro photo: Molyvos port [by Greg Montani via Pixabay])
Read also via Greek News Agenda: Georgios Iakovidis, a painter of childhood; Theophilos, the genuine Greek folk artist; Hydra: a haven for international artists; The fascinating history of the island of Samos; Kastellorizo: Greece's remotest island