Islamic Studies Program @ University of Thessaloniki
A new "Islamic Studies Program" will be available at the Aristotle University of Thessaloniki's School of Theology from the next academic year (2016-2017). Professors from various departments such as those of theology, political science and even architecture will teach courses.
The program will have a non-indoctrinative religious studies approach, in accordance with the School's general goals to promote "Biblical Studies, the ongoing study of religion from a sociological and historical perspective, focusing on Christianity and Orthodoxy, Judaism, religion in the Greco-Roman period, and Islam".
Alternate Education Minister Sia Anagnostopoulou, ratified the relevant directive and General Secretary for religious affairs Giorgos Kalantzis told Kathimerini daily that "although as a country we have an indigenous Muslim minority and we are Europe's border with the Muslim world, we still do not have an Islamic studies program".
Muslim world & Ottoman Studies
Muslim world & Ottoman Studies in Greece from a social science and historical perspective include a special research centre in the University of Peloponnese as well as various centres and academic activities that cover academic and scholarly interest about Greece's Ottoman past.
University of Peloponnese's Department of Political Science and International Relations includes a Centre of Mediterranean, Middle East and Islamic Studies (CEMMIS) that covers the countries of North Africa, from Morocco and Mauritania to Egypt, the countries of the Middle East, the Arabian Peninsula and the Persian Gulf including Iran, Pakistan and Afghanistan. In addition it covers the Horn of Africa from Sudan and Somalia to Ethiopia and Eritrea. There is special focus on general economic, cultural and political trends in the whole of the Muslim world, in societies of Sub-Saharan Africa and South Asia.
The interest for Ottoman studies in Greece goes back to the 1960s. Nikos Svoronos and the "new history" circle (Spyros Asdrachas, Vasilis Panayotopoulos and Philippos Iliou) belong among the ranks of the main precursors, but the field acquired substance in the decades 1980-2000. A small, yet growing group of specialists, stemming from the Modern Greek Historiography (1974-2000) methodologies and orientations, is concerned with topics such as the economy of regions of Greece according to Ottoman Registers sources, the history of Greek towns under the Ottomans, the history of the Patriarchate and the study of Greek communities under Ottoman rule.
The Programme of Turkish Studies at the Institute for Mediterranean Studies, Rethymnon, Crete, has gained international reputation through its 'Halcyon Days in Crete' series of international symposia of Ottoman history, held since 1991, whereas a Faculty of Turkish Studies and Modern Asian Studies was established as part of the School of Philosophy of the University of Athens, in 2003.
See also: Remembering the Ottoman Past; Ottoman Studies in Modern Greek Historiography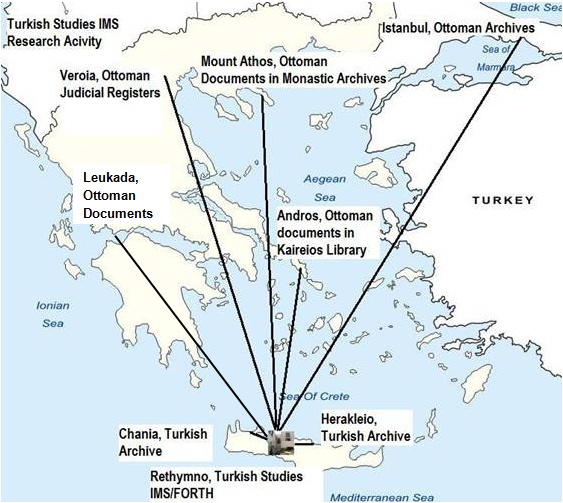 TAGS: RELIGION