As the number of study programs taught in a foreign language is gradually increasing in Greek Universities, catering for a variety of needs ranging from bachelor degrees to short term courses and summer schools, the Greek Ministry of Foreign Affairs has introduced two new Student visas facilitating international students and professionals wishing to undertake part of their studies in Greece.
The new Student Visas were introduced by the Greek Ministry of Foreign Affairs by article 134, Law 4763/2020 (that modified article 18, Law 4251/2014), with the aim of enhancing the extroversion and competitiveness of the Greek economy. More specifically, the following categories of students are able to enter Greece following fast -track procedures:
a) Non-EU citizens, who are already enrolled in foreign academic institutions and wish to participate in summer study programs in Greece (as defined by Law 4692/2020) for a period of up to 7 months.
b) Foreign companies employees (either from a Non-EU country, a member of the European Union or the Single Economic Area), who wish to attend courses at one of the Greek Colleges that offer exclusive study programs based on certification (validation) and franchise agreements (franchising) with foreign academic institutions, for a period of up to 12 months. This is specifically designed to help large companies train their executives in Greece; these employees will be allowed to have their family with them for as long they reside in Greece.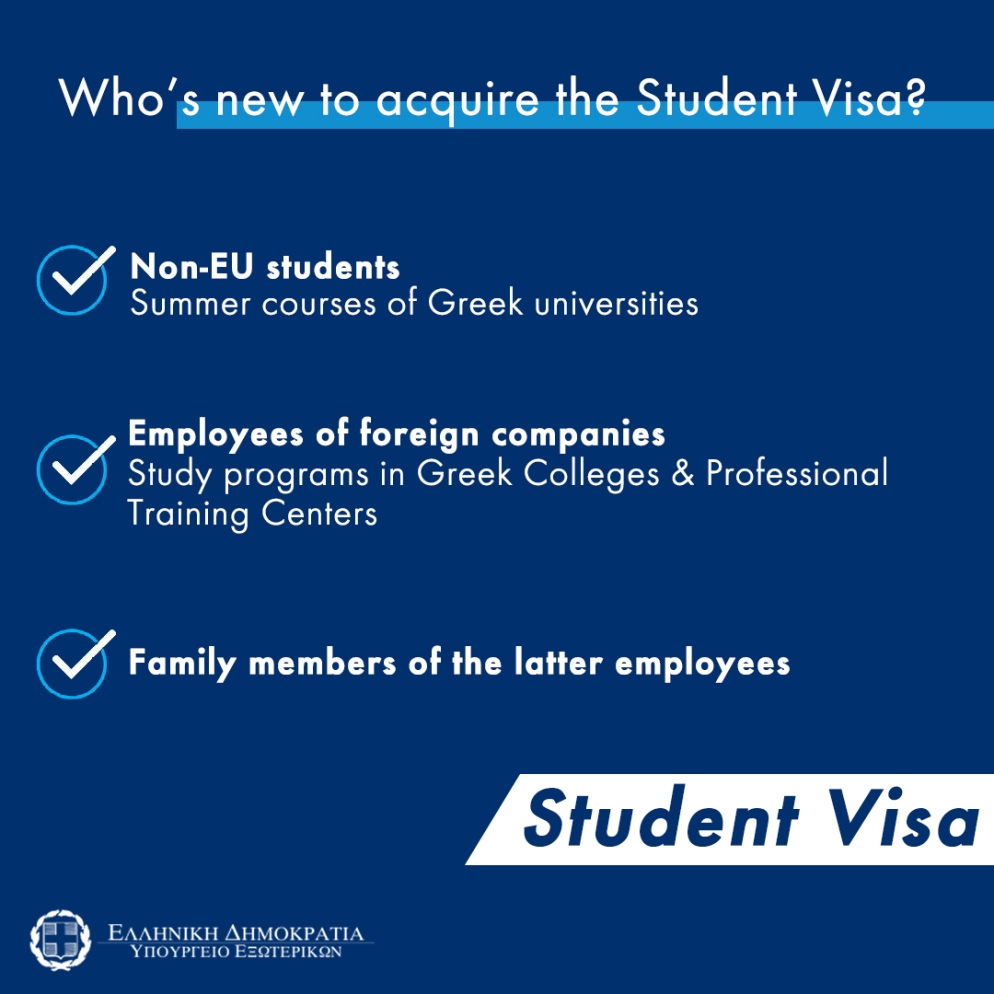 In both cases, the new procedure has been largely simplified and entails only the issuance of a national visa by the relevant Greek diplomatic or consular authority, without the obligation for the student to further obtain a residence permit. However, it is a necessary condition for prospective students to pay all of their tuition fees in advance and prove that they will have sufficient resources to cover their living expenses for as long they will be living and studying in Greece.
By attracting high-value human resources, Greece will profit not only from tuition fees but more likely from the full range of activities that students will add to the local community in which they will reside, revitalising it in a variety of ways, including economic and social, as well as in terms of age.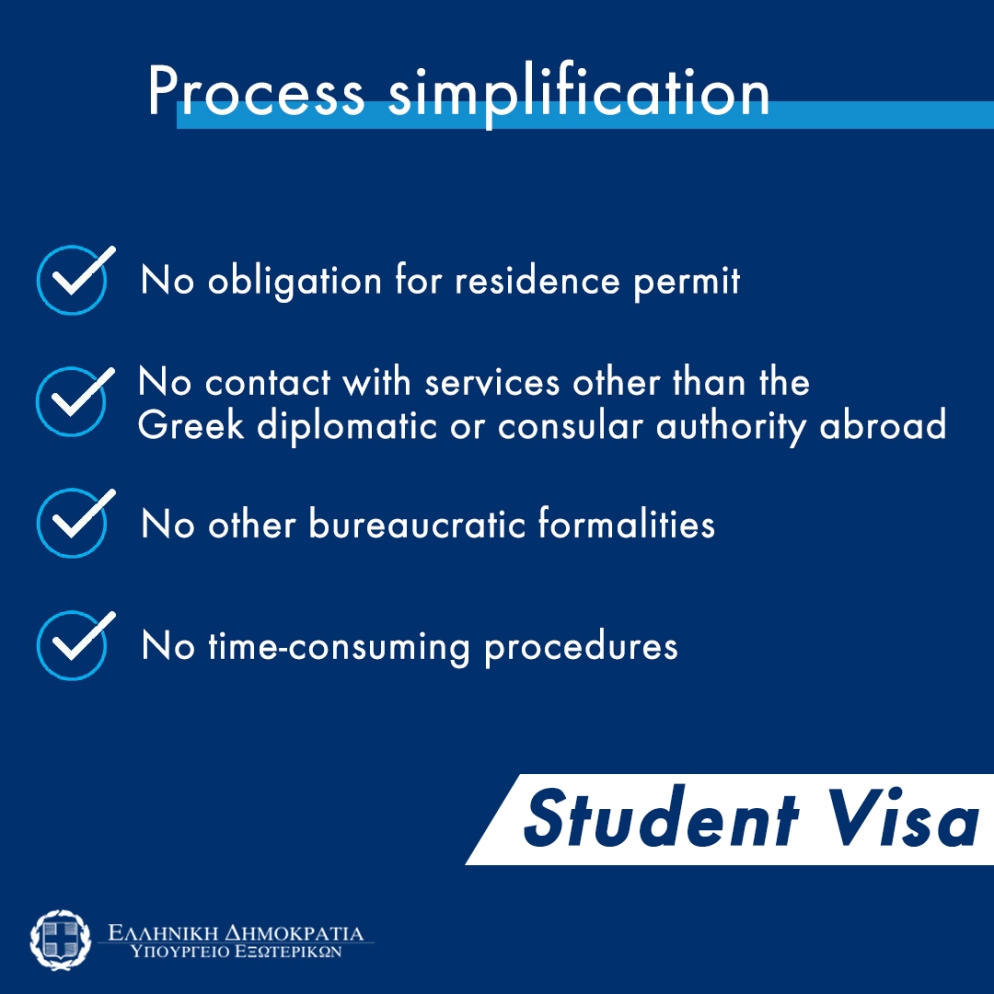 As regards specially summer course programs, it is most likely that many will choose Greece in order to combine studies and vacations, motivated by the country's history, excellent weather and quality of life.
Alternate Minister of Foreign Affairs M. Varvitsiotis: newly instituted Student Visa is a strong message of extroversion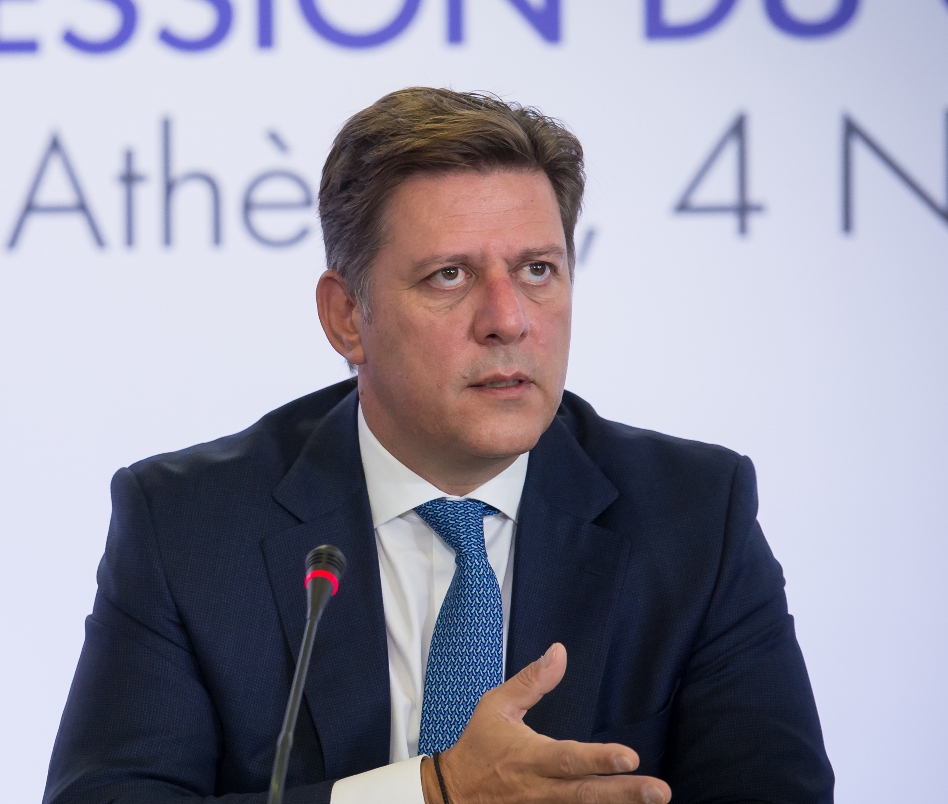 In promoting this regulation, Alternate Minister of Foreign Affairs Miltiadis Varvitsiotis pointed out that "with summer courses, Greece is entering a market where important benefits can be obtained, by putting its great comparative advantages to use, namely tourism and culture. For example, the Universities of Athens or other historical cities of ancient Greece could further arrange summer philosophy programs oriented towards third countries, themselves cradles of ancient civilizations (China, India, South America, etc.) and thus attract targeted student audiences with similar interests."
According to Mr Varvitsiotis, the second regulation has a different targeting, but an equally multiplying effect on the overall balance sheet. As he put it, the country's Colleges can attract high-income individuals from large foreign companies, who have the ability to send their employees to Greece to attend postgraduate programs in management, economics or modern technologies, in order to improve their technical know-how. Their long stay here (on their own or with their families) will entail additional benefits, given the inflow of foreign exchange, while the potential contribution of these highly qualified executives to domestic chains of value are also to be taken into account.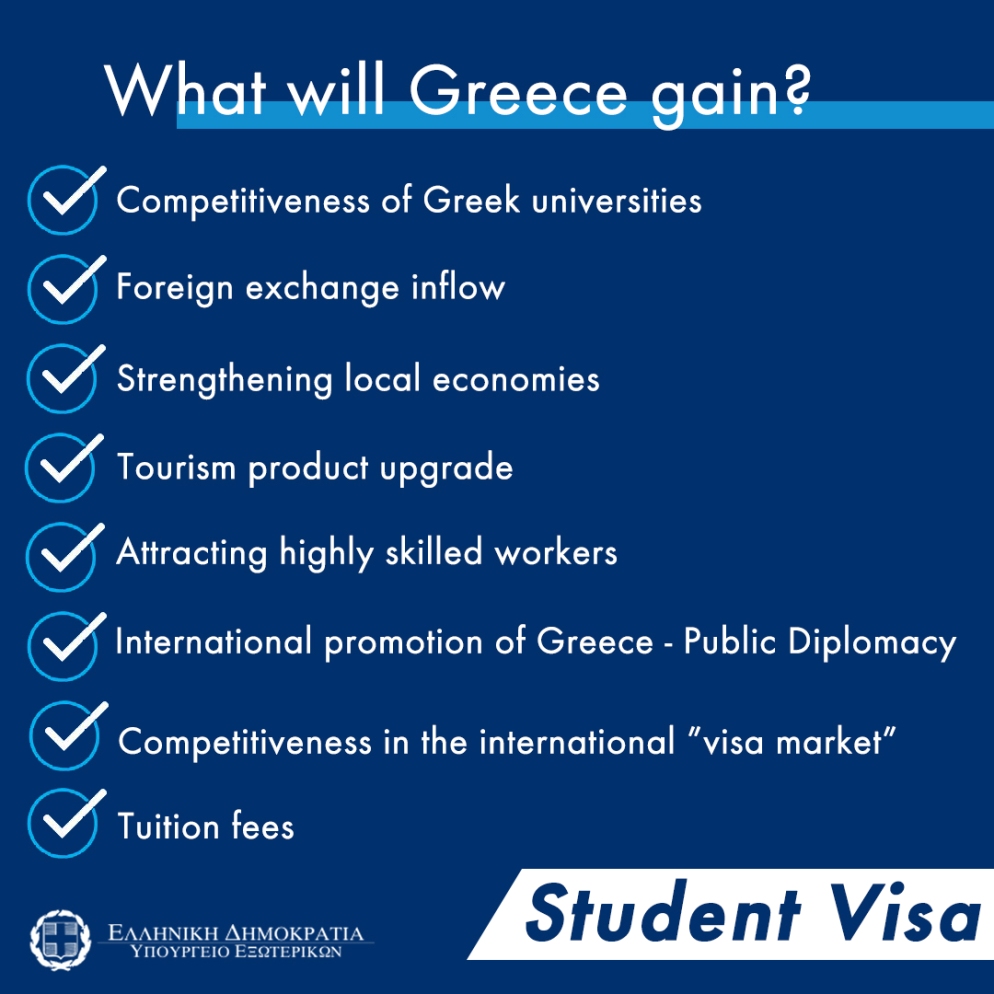 Vassilis Daskalakis, the President of the Association of Greek Colleges, agrees with this position. As he pointed out: "the Association of Greek Colleges welcomes this very important amendment by the Ministry of Foreign Affairs and Alternate Minister of Foreign Affairs Mr. Miltiadis Varvitsiotis regarding the issuance of a training visa for Business Executives from Abroad. According to the new amendment, business executives from abroad will be able to study in Greece for a period of one year, together with their family members, thus revitalizing Greek tourism. At the same time, these young students will be the best ambassadors of Greek culture in their respective countries. This amendment brings Greece one step closer to our vision and dream, to finally make Greece a global educational centre ".
In any case, the new institutional framework of Greek student visas adds to the competitiveness of Greece in the "visa market", but also the overall competitiveness of Greek educational institutions. The student visa helps make Greek education accessible to international audiences, by highlighting its dynamics and a new orientation to professionals. As Mr Varvitsiotis stated in this regard, "this is an innovative regulation that was missing from Greek legislation; it is sending the message that education in Greece is not introverted, but internationalized and open to the global academic community. We welcome those who want to come to our country for studies and we facilitate them, hence ensuring that they will not face unnecessary bureaucratic obstacles and time-consuming procedures ".
Source: Greek Ministry of Foreign Affairs
Read also: On-line Conference highlights on Reinforcing bridges between Greek Universities and the Greek Diaspora, Christos Michalakelis explains why Greece is the new studies destination in the COVID-19 era, Study Classical Greece in Athens, e-Academia: Learn Modern Greek online, Study in Greece: Summer Schools 2020; International Cavafy Summer School 2020: "Cavafy Mediated", Study In Greece: Catalog of Postgraduate Programs taught in foreign languages
F.K.