Few people have been as closely associated internationally with contemporary Greek music as Mikis Theodorakis, a man famous not just for his diverse body of work but also for his active involvement in Greece's political and social struggles during the second half of the 20th century.
Theodorakis was born on 29 July 1925 on the Greek island of Chios and spent his childhood in different cities around Greece. His passion for music manifested at an early age and he taught himself to write music, without having access to instruments. He later received music lessons and gave his first concert in Tripoli, at the age of seventeen, presenting his troparion of Kassiani for a cappella quartet. In that same year he also published his first collection of poems under a pen name, and joined the resistance against the occupying Axis forces.
After having been arrested and tortured by the Nazis, he left for Athens in 1943 and enrolled at the Athens Conservatoire to study composition. At the same time, he became a member of a Reserve Unit of the Greek People's Liberation Army (ELAS), and took part in the Dekemvriana clashes. During the Greek Civil War, along with other communists, he was arrested, and sent into exile on the island of Icaria and later Makronisos, where again he was tortured. He continued to write music in exile -including his first symphony- inspired by his own suffering, while his experiences were also evident in many of his works later.
In 1950, after the civil war had ended, he was finally able to graduate from the Athens Conservatoire. In 1953 he married Myrto Altinoglou, with whom he would have two children. The following year, together with his wife, he left for France under a state scholarship, to study at the Paris Conservatoire. There he composed music for ballet and cinema scores. At the 1957 World Festival of Youth and Students in Moscow, he was awarded the Gold Medal by a Jury chaired by Dmitri Shostakovich.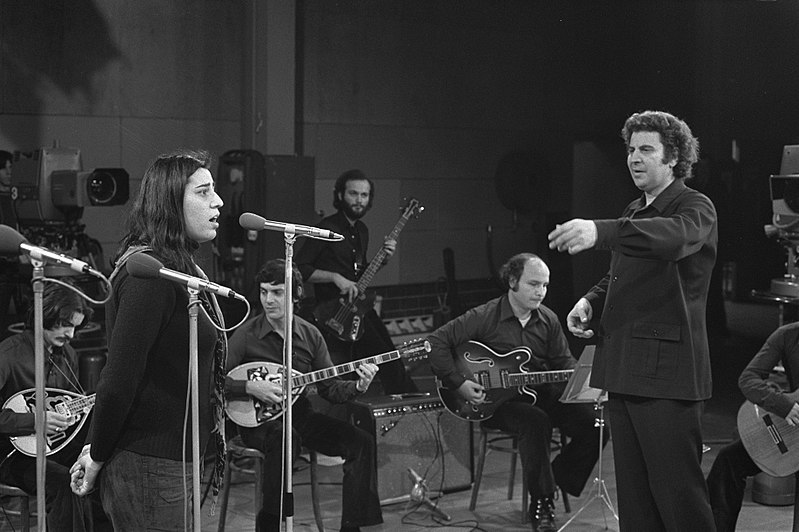 Theodorakis with orchestra and singer Maria Farantouri, Netehrlands, 1972 (photo by Bert Verhoeff / Anefo, from the National Archives of the Netherlands, via Wikimedia Commons)
Theodorakis was becoming increasingly famous on an international level. He composed scores for Michael Powell's films Ill Met by Moonlight (aka Night Ambush, 1957) and Honeymoon (1959); the latter featured the "Honeymoon Song", a famous piece which has by then been reprised by many artists including the Beatles. His ballet Antigone was performed at the Covent Garden in London to critical acclaim.
In 1960 he returned to Greece and recorded one of his most prominent works, Epitafios, based mainly on Yiannis Ritsos' poetic collection of the same name. Theodorakis in fact released two different versions of the work: one orchestrated by the equally famous composer Manos Hadjidakis, with vocals by Nana Mouskouri, and one recorded with Greek popular music artists Manolis Chiotis and Grigoris Bithikotsis with an orchestration featuring bouzouki. The work has since been covered by several prominent Greek artists.
His works from this period are often based on poems or entire poetic collections by Greek and foreign artists, including Axion Esti (Odysseas Elytis), Mauthausen (Iakovos Kambanellis), Romiossini (Yannis Ritsos), and Romancero Gitano (Federico García Lorca). It was in this time that he developed -especially with Axion Esti– his concept of "metasymphonic music": symphonic compositions that go beyond the "classical" status and mix symphonic elements with popular songs, Western symphonic orchestra and Greek popular instruments.
During this period, he also composed music for Greek and international films including Jules Dassin's Phaedra (1962), Raymond Rouleau's The Lovers of Teruel (1962) and Michael Cacoyannis' Electra (1962). In 1964, he also composed one of his most iconic tunes: the main theme for Cacoyannis' Zorba the Greek, ever since considered the epitome of Greek dance music, usually referred to as "Zorba dance" or the "Syrtaki dance".
Theodorakis gave numerous concerts all around Greece, but his interest in politics never weakened. After the assassination of progressive politician and peace activist Gregoris Lambrakis in May 1963, he was elected president of the newly-founded Lambrakis Democratic Youth, a political organisation that garnered more than 50.000 members and played a decisive role in Greece's progressive movement of the 1960s. At the 1964 national elections, Theodorakis became an MP with the left-wing party EDA. Due to his political views, many of his songs were censored or banned from airplay at the time.
After the coup d'état of 1967, which established a seven-year-long military dictatorship, Theodorakis went underground and founded the resistance movement "Patriotic Front" (PAM). His music was completely banned, and he was himself arrested in August of that same year, later going on hunger strike for which he was hospitalised. After being released from prison in January 1968, he was placed under house arrest in an isolated village in the Peloponnese, together with his family, only to be transferred again to a prison camp in Oropos.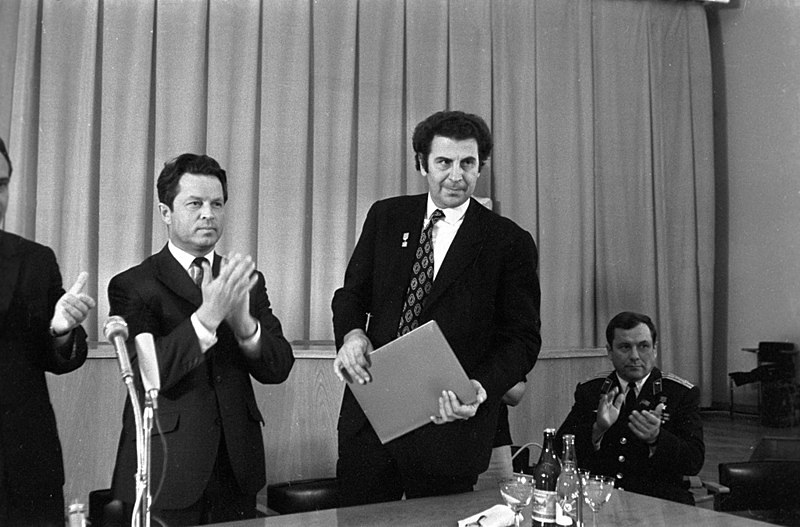 First Secretary of the All-Union Leninist Young Communist League's Central Committee Yevgeny Tyazhelnikov (left) after bestowing the Lenin Komsomol Prize on Greek composer Mikis Theodorakis, 24 March 1970 (RIA Novosti archive, image #586411 / Dmitry Debabov / CC-BY-SA 3.0, via Wikimedia Commons)
In the camp his health deteriorated, giving rise to a widespread solidarity movement, fronted by personalities such as Leonard Bernstein, Arthur Miller, Dmitri Shostakovitch and many more. Thanks to international pressure, he was released and allowed to leave for Paris in 1970, where he was soon joined by the rest of his family. While in exile, Theodorakis organised worldwide tours, raising awareness regarding the persecutions and encroachment of personal and political rights in Greece. Together with Melina Mercouri, he became a leading figure in the struggle against the junta and a symbol of defiance, with his concerts attracting big audiences. Some of his most famous works from that period include a musical setting of Pablo Neruda's Canto General and the now famous main theme for Sidney Lumet's film Serpico (1973).
After the Restoration of Democracy on 24 July 1974, Mikis Theodorakis immediately returned to Greece and was once more involved in the political life of the country. In 1978 he ran for mayor of Athens on the Greek Communist Party ticket. He was elected to Parliament with the Communist Party in 1981 and 1985 while in 1990 he ran as an independent candidate supported by New Democracy, and served as a Minister of State from 1990 to 1992, in the government of Constantine Mitsotakis. In 1983 he was awarded the Lenin Prize for Peace.
In 1993, Theodorakis took over the management of the Symphony Orchestra and Choir of Greek state radio station (ERT). Whilst touring the United States, he was honoured by the US Senate for his services to culture and humanity. He kept giving concerts and being involved in politics, committed to the struggle for human rights, environmental issues and the promotion of world peace. Among other causes, he promoted Greek-Turkish friendship, along with Turkish musician, author, poet, and politician Zülfü Livaneli. To this day, Theodorakis is still present in the public sphere; his works are a staple for Greek orchestras and a point of reference for any Greek composer, while his songs are still extremely popular and relevant.
Read also via Greek News Agenda: "Dance Fight Love Die. With Mikis On the Road": an idiosyncratic portrait of an idiosyncratic artist; Dr. Kostas Gouliamos on Mikis Theodorakis and the "Dialectics of Harmony"; Rethinking Greece: Evi Gkotzaridis on the 'long' Greek Civil War, the 'deep state' and historical Revisionism; Manolis Anagnostakis: A poet of defeat and infinite hope; Manos Hadjidakis: The grand poet of Greek music; Iannis Xenakis: Science as art; Rebetiko music: From the margins to the mainstream
N.M. (Intro photo: Theodorakis in Amsterdam, 1978, by Koen Suyk/ Anefo, from the National Archives of the Netherlands, via Wikimedia Commons)
TAGS: ARTS | GLOBAL GREEKS | MUSIC