A Week of Irish Music, Art, Poetry and Culture, organized by Friends of Paxos and supported by Culture Ireland and the Embassy of Ireland in Greece, will take place on the island of Paxos from July 6 – 10, 2017. The Irish Wings Festival, showcasing the dialogue of Irish culture with Greece and featuring some of Ireland's best musicians, painters, poets and chefs will be opened by the Irish Ambassador to Greece, Ms Orla O'Hanrahan.
Greek News Agenda* spoke to Kathryn Baird, a Friend of Paxos and a Paxos summer resident who, along with Chris Boïcos and Faye Lychnou, are the main organizers of Irish Wings. Kathryn is an Irish television and radio producer, who has organized several literary and cultural festivals in Northern Ireland, featuring Irish and Greek literature, music and photography.
Could you tell us a few words about the Irish Wings Festival's structure and aims, as well as the choice of Paxos as the Festival's home?
Irish Wings, a weekend of Irish events on the Ionian island of Paxos, is an exciting new festival exploring Ireland's connections with Greece. It will showcase the best of Irish culture to consider, in shared spaces, the ways in which artists work across disciplines, geographical territories and ethnicities. The events will take place in intimate venues, designed to engage the audience with the artists and reveal the richness of Irish culture to a Greek audience.
Paxos is an exquisite Ionian island on the western side of Greece, famous for its Venetian olive groves, clear waters, sea caves and white chalk cliffs. In summer it fills with international residents and visitors (25 different nationalities) who create a distinctly cosmopolitan atmosphere and enthusiastically attend Greek and international cultural events.
Who are the people and institutions behind the Festival, and what instigated your involvement that resulted in Irish Wings?
Though Irish Wings is an innovative venture, it grew out of the Friends of Paxos, which in turn grew out of the highly successful and respected Paxos International Music Festival, which has run on the island for over thirty years. Friends of Paxos is a non-profit organization, started in 2015 by the Franco-Greek an art historian and art curator, Chris Boicos, who is based in Paris and Faye Lychnou, a Paxiot who has long been involved in cultural projects on the island and the International Music Festival. The aim of Friends of Paxos is to promote the preservation of the island and present cultural events on the island during the summer season. Its activities, which are organized with the help of the increasing number of summer residents, include lectures, nature and cultural walks, rediscovering and cleaning the old network of paths which criss-cross the island and restoring icons in Paxos's sixty-plus churches.
Chris Boicos, whose family is from Paxos, spent most of his childhood and adolescent summers on the island, with his grandmother, aunts and cousins. When, following his father's death, Chris inherited the family home in the island capital, Gaios, he decided that he needed to spend more time there and opened a summer art gallery in the shop which had been on the ground floor. This evolved into the idea of inviting artists to stay and asking them to create work inspired by Paxos. The resulting artwork is usually shown either at the gallery or in the old schoolhouse in the neighbouring village of Loggos, which has gradually evolved into an exhibition and concert space.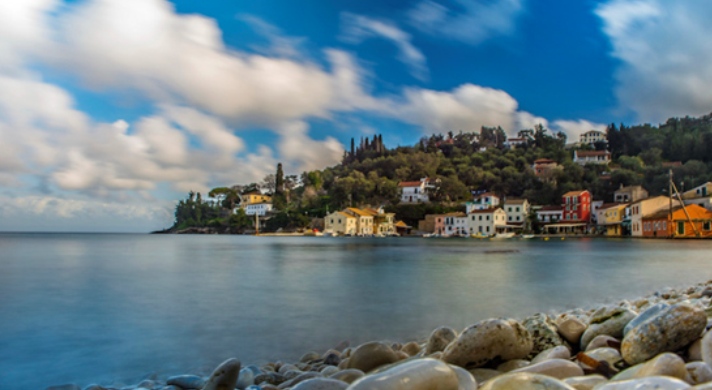 I have been holidaying Paxos for some thirty years now and met Chris Boicos during a printmaking workshop in which I participated in the summer of 2015. Friends of Paxos had recently requested ideas for cultural events and I suggested a bouzouki concert in which Irish and Greek musicians could together explore the role of the instrument in their respective traditions. Chris was very taken by the idea and, during one of our meetings said, "Why don't we put on an Irish Week?" I heard myself saying, "That's a great idea" – and so Irish Wings was born.
We decided to start in small way and to mount the events in the early summer, when there are enough tourists and international residents on the island to make the events viable, but the weather is not yet too hot. Having the events over a long weekend also allowed the participation of Greeks, who could share in the events both as audiences and participants. Only one event a day has been planned, acknowledging the fact that most visitors to the island are on holiday and will want to spend time at the beach.
Ireland's cultural connections with Greece figure prominently in the music that will be showcased. Could you tell us something about the other events?
The notion of the festival started with approaching Andy Irvine and Dónal Lunny, icons of Irish traditional and world music, to appear in a concert with the popular Greek group, Apodimi Compania, respected exponents of Greek folk and dance music and rebetika, the Greek 'blues'. Though the bouzouki was introduced into Ireland by the singer, Johnny Moyhihan, in the 1960s, Irvine and Lunny had a major role in developing it into the instrument which is now known world-wide as the Irish Bouzouki and placing it at the centre of Irish music. The Irish and Greek musicians have collaborated before, in concerts and on CDs, and the concert, and the public interview which goes with it, are designed to offer valuable insights into the cross-fertilisation of musical genres.

Other events involve the poet Theo Dorgan, a former Director of Ireland's respected poetry institution, Poetry Ireland. His collection, Greek, explores his love of the country, its history and mythology, especially the island of Ikaria where he often stays. Theo's work has been translated into Greek by the poet, Socrates Kabouropoulos, and Socrates will be present to read with Theo, along with the poet, Alexandra Kandanou and the Paxiot writer and lexicographer, Spyros Bogdanos.
We also approached visual artists who specialize in seascapes. Views of the rugged Irish coast chime well with the local experience of the Paxos cliffs and it has been interesting to compare the light of the Irish seas with that in the Mediterranean. The paintings Chris has chosen have an entirely different sense of luminosity, though it is often said that the painter Derek Hill, who established the Tory Island School of primitive painters on a windswept rock in the Atlatic Sea off the coast of Ireland's Donegal, said that the light on Tory was as intense as that of Greece. In our exhibition, two island experiences – north and south – will come together. Artists on show include Mick O'Dea, the President of the Royal Hibernian Academy and Denise Ferran, the President of the Royal Ulster Academy.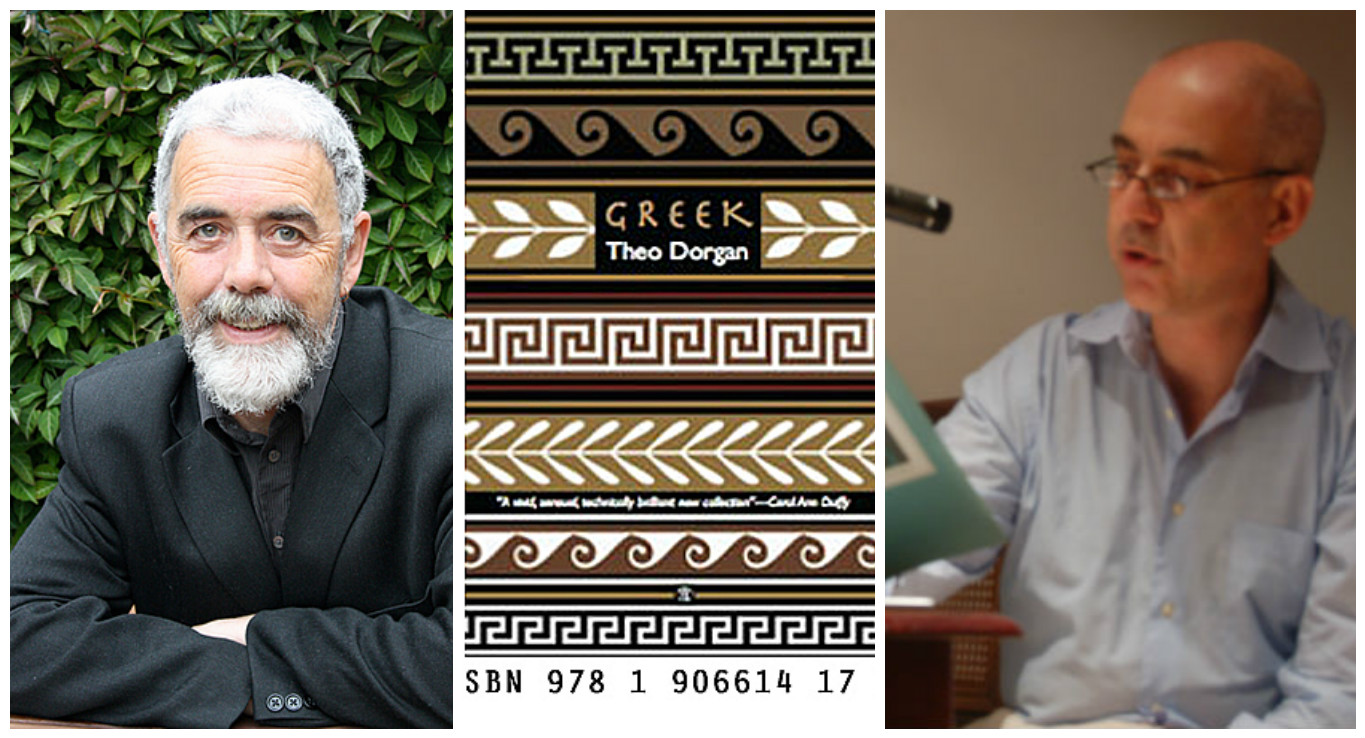 The final event is a cookery demonstration in which the Irish celebrity chef, Paula McIntyre, will demonstrate recipes inspired by Irish writers and Greece and using Irish and Paxiot ingredients. Food is another place where cultures meet and exchange and Paula will include in her demonstration work by the poet, Seamus Heaney, who was in Greece when he heard that he had won the Nobel Prize for Literature and who has written, in 'Sonnets from Hellas' the following lines:
As we wolfed down horta, tarama and houmos
At sunset in the farmyard, drinking ouzos,
Pretending not to hear the Delphic squeal
Of the steel-haired cailleach in the scullery.
Then it was time to head into Desfina
To allow them to sedate her. And so retsina,
Anchovies, squid, dolmades, french fries even.
Paula will also be demonstrating recipes derived from the writer, Anne Haverty, who will be present to read from her novel, The Free and Easy.
As the principal organizer of Irish Wings, what are your aspirations for this Festival and its effect on Irish-Hellenic cultural ties, the Greek public's engagement with Irish culture and vice-versa?
The image of the Festival, appropriately called Irish Wings, is a blackbird on an olive tree. In a famous mediaeval Irish poem a blackbird sings over Belfast Lough. For Irish Wings its song soars over the Ionian Sea.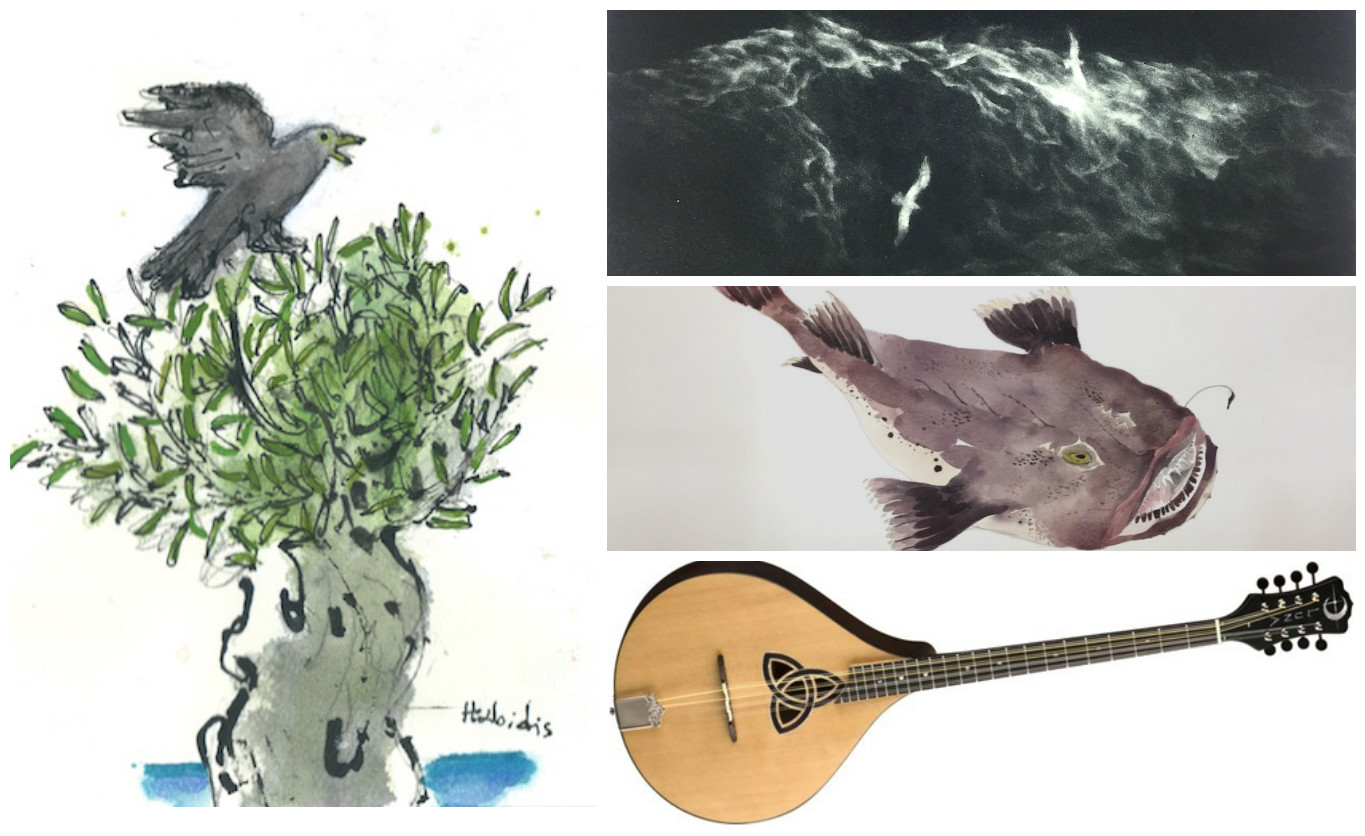 The ultimate objective of all of this cultural activity on a small Ionian island is to create, in Paxos, which houses in the summer more than 25 different nationalities, a cultural space that is international and open, rich yet intimate. The small size of the island (8 x 5 km) allows almost everyone to meet on many informal occasions so that public and creators can exchange in a way that is often impossible in bigger cities or big festival sites. We also hope that all the Irish artists will be inspired by and respond to Paxos, eventually returning to the island with their new work.
Your ties with Hellenic culture in general and Paxos in particular are deep and long-running. How did it all begin and what are some of the other Irish Hellenic cultural exchanges that come to mind?
My own experience of Greece is that I came to the island as a holiday maker in the 1980s – surprisingly late, given that I had done my undergraduate degree in Classics at Cambridge, where I played the title role, in the original Greek, in Sophocles' Electra, for the triennial Cambridge Greek Play. I also won the university's Greek Reading Prize. But when I arrived on Paxos I was so attracted by the islanders' warmth and hospitality that I decided to learn Modern Greek and ended up so loving Modern Greek poetry that I left my job as a BBC Producer to do a Masters in Modern Greek and Byzantine Studies at Queen's University, Belfast. This brought me into contact with the then Greek Cultural Attaché in London, Victoria Solomonidis and we, together with Margaret Mullett, Belfast's Professor of Byzantine Studies who went on to become Director of Dumbarton Oaks, began an Irish-Greek cultural exchange in Northern Ireland which involved presenting, with concerts, film and artworks, a symposium on 'Performance in Byzantium', an exhibition of prints by Alekos Fassianos, an exhibition of photographs by Dimitris Sofikitis, an exhibition of Greek icons and visits by Greek writers including Ersi Sotiropoulos.
I am not a musician, but in my experience traditional music in Greece, as in Ireland, is seen as a vehicle of national identity. A move towards the restoration of language, cultural and political values following independence are common to both experiences. As Richard Pine, the Irishman who directs the Durrell School on Corfu, said in a recent article for The Irish Times, 'Traditional music from all areas of Greece, including rebetika from Asia Minor, plus the shadow-theatre of Karaghiozi, are vibrant presences in Greek cultural life, not merely hangovers from a forgotten past. In fiction and poetry writers constantly engage with the past as both a source of heritage and as a referent for contemporary life'. This is one of the elements that will feature in the Irish-Greek literary festival that Richard Pine is helping to organize in Corfu in October, when Irish novelists including Katy Hayes, Deirdre Madden and Paul Murray, will engage with their Greek counterparts to explore, among other topics, the way the past, and different memories of the past, insist on taking their place in modern writing.
Socrates Kabouropoulos, Theo Dorgan's translator has produced Greek translations of many Irish poets, including Ciaran Carson, Paula Meehan and Brendan Kennelly and in December 2015 Athens hosted IRELLAS, a symposium on connections between Greek and Irish poetry, in which Theo Dorgan also took part and where lectures and presentations considered the work of Seamus Heaney, Derek Mahon, C.P. Cavafy and George Seferis amongst others.
*Interview by Magda Hatzopoulos
Read also via Greek News Agenda: Inner and Outer Landscapes of Irish and Greek Poets; Elective Affinities: Greece and Ireland

Μ.Η. & Ν.Ν.