Thessaloniki Queer Arts Festival [TQAF] is a grassroots initiative aiming to "alter deeply entrenched misconceptions and prejudices toward the queer and LGBT community through artistic and cultural practices". The festival was founded by Tomas Diafas, together with a dedicated team of volunteers, whose purpose was to provide queer artists with a platform to investigate sociocultural phenomena relating to queer identities and experiences. This year's edition takes place on 7-23 June 2019 in Thessaloniki.
According to the curatorial team, the festival is driven by the belief that "art has the power to open new avenues of communication" and connect different individuals and social groups, fostering dialogues and promoting alternative ways to address social discrimination. Artists, researchers, educators, performers, musicians and activists from around the world come together to give their insight into questions regarding what is Queer, what is Eros and how queers in love function socially.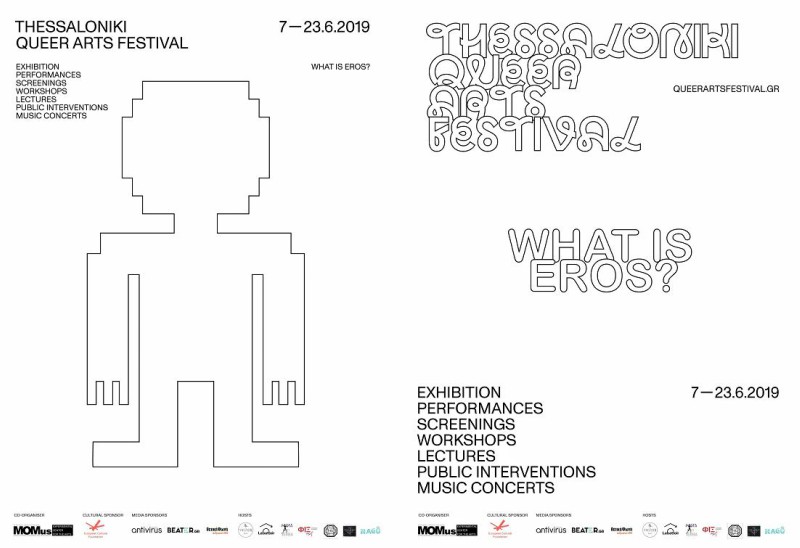 The city of Thessaloniki was chosen because of its location on the crossroads between the Balkans, Turkey and the Middle East, regions where LGBT and queer communities are often marginalised. TQAF hopes to develop strategies for addressing prejudice and resistance to queer inclusiveness in Greece, thus also serving as an inspiration for societies in neighbouring countries. As is also evident in the Festival's posters, the organisers avoid giving a concrete definition of what constitutes queerness, opting instead for a "white canvas" where everyone can fill in their own interpretation of the queer identity.
The festival is co-organised by the Experimental Center for the Arts, part of the Metropolitan Organisation of Museums of Visual Arts of Thessaloniki – MOMus, a public cultural institution supported by the Hellenic Ministry of Culture and Sport, and is sponsored by the European Cultural Foundation.
TQAF's programme features exhibitions, discussions, workshops, performances, public interventions, educational seminars, film screenings and other events. The festival's various events will be hosted in several locations in Thessaloniki, including the Experimental Center for the Arts, as well as Bensousan Han, Facta Non Verba, FIX in Art, Labattoir, Ypsilon, Spectroom and other open air venues across the city.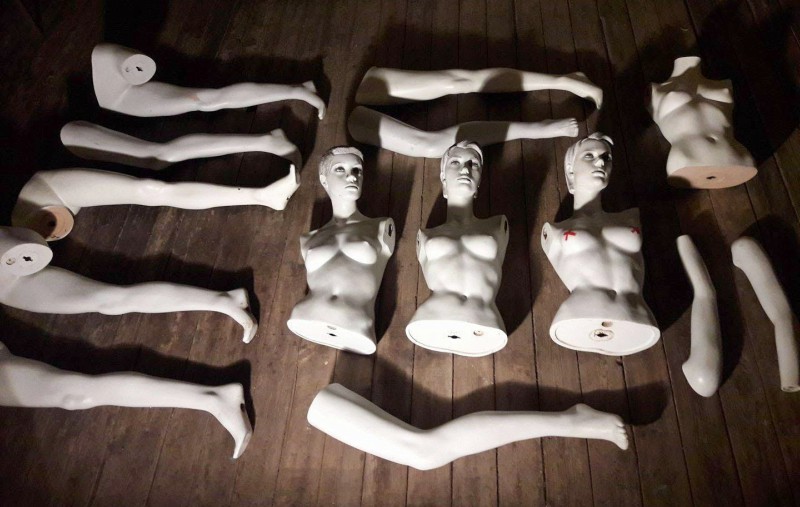 Inappropriate Course – Queer Edition with Vasilis Alexandrou | June 11 at Bensousan Han
Exhibition
The main exhibition, under the title "What is Eros?", features 44 artists from Greece and abroad who examine the concept of freedom, identity, sex and sexuality through painting, sculpture, photography, installation and performance art. Participants were selected through an open call that was announced in December 2018 and closed on 14 February 2019. The exhibition is curated by Eirini Papakonstantinou, curator at MOMus.
Discussions
The discussions, coordinated by Tomas Diafas, will take place over the course of the festival and will involve the public as well as educators, artists and activists in discussions on queerness, erotic love and the arts.
Workshops
The programme features artist-led workshops, coordinated by Tomas Diafas and Maria Juliana Byck, covering a wide range of media to examine the perspectives on Eros/erotic love and its impact, as a "tribute to our vulnerable bodies". The workshops are set to "reveal erotic potentials within the urban landscape to produce transformative mappings of lust" and "uncover the most intimate details of passionate relationships that rewrite the rules of desire".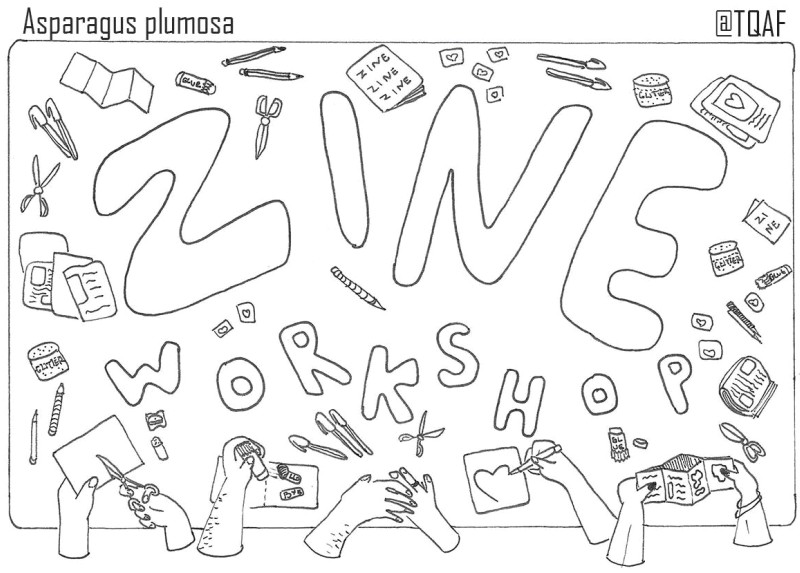 Zine Workshop with Asparagus Plumosa | June 21 at Facta Non Verba
Performances
FIX in Art's theatre and MOMus – Experimental Center for the Arts will host a selection of performances curated and coordinated by Eirini Papakonstantinou and Tomas Diafas. There will be many different types of performances dramatising various "experiences and understandings of queer desire and Eros".
Public interventions
Public interventions coordinated by Tomas Diafas and Maria Juliana Byck will take place all around the city and in open air venues, merging the concept of the almighty Eros with the stories of the city, its streets and its people. Playful, spontaneous and unexpected social interventions as well as more controversial and risqué provocations are intended to challenge, inspire and spark dialogues.
Screenings
TQAF will feature a selection of international short films and documentaries throughout the festival run. The film screenings, curated by Evi Minou, Magda Vaz, and Annie Tsevdomaria in collaboration with Balkan Can Kino, will be hosted at Labbatoir project. The films selected explore themes such as discovering love through self-acceptance, motherhood and familial dynamics. Some of the films are political in nature, while others explore sex, desire and how the queer relationships engender love within conventional communities.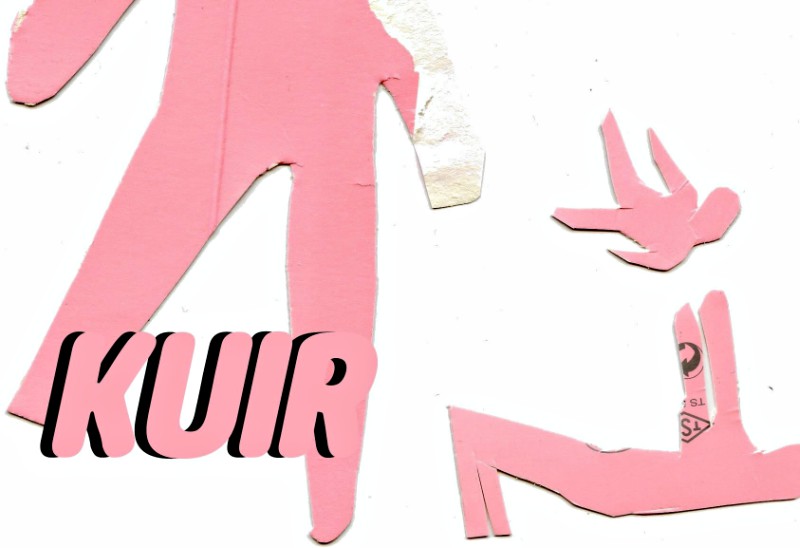 The Poetics of Queer Trauma – Creative Writing Workshop with KUIR | June 15 at MOMus – Experimental Center for the Arts
Other events
TQAF will also feature educational events and seminars, coordinated by Tomas Diafas, bringing together educators to discuss LGBTQ+ issues at local schools. Other events programmed for the festival include dance and theatre performances, poetry readings and music concerts hosted at various venues in the city of Thessaloniki.
Read also via Greek News Agenda: Athens Music Week – First edition; Rethinking Greece: Stella Belia on Civil Partnership Rights, LGBT claims and human rights agenda in times of crisis; Kostis Georgiou: "Art's purpose is to provide a zone of unlimited paths"; Denys Zacharopoulos: A museum should function as an open window between the private and the public life of people
N.M. (Intro photo: Dare to Stitch – Workshop with Anna Bonarou | June 8 at Facta Non Verba)