Dimitris Tzamouranis is a contemporary artist who was born in 1967. His works have featured in numerous exhibitions at leading galleries and museums, including the Gallery Michael Haas in Berlin. Tzamouranis has been living and working in Berlin since 1990 and exhibiting in museums and galleries across Europe. Retrospectives of his work have been shown at the art museum Kunsthalle Osnabruck in Germany, at the Miro Gallery in Prague and at the Frissiras Museum in Athens, as well as at the Haas Gallery in Zurich, Switzerland.
One of the principal representatives of the movement in favor of a dynamic return to figurative painting, Tzamouranis seems torn between lyrical photorealism and coloristic expressionism. Based on allegory and metaphor, his epic compositions are known for their multitude of figures and the meticulous depiction of space, material and objects. His works remind of theater stages, where an epic narrative takes place in front of the audience urging them to interpret situations and incidents.
In an interview with Greek News Agenda*, the distinguished painter talks about his influences, his style of painting, as well as his plans for the future.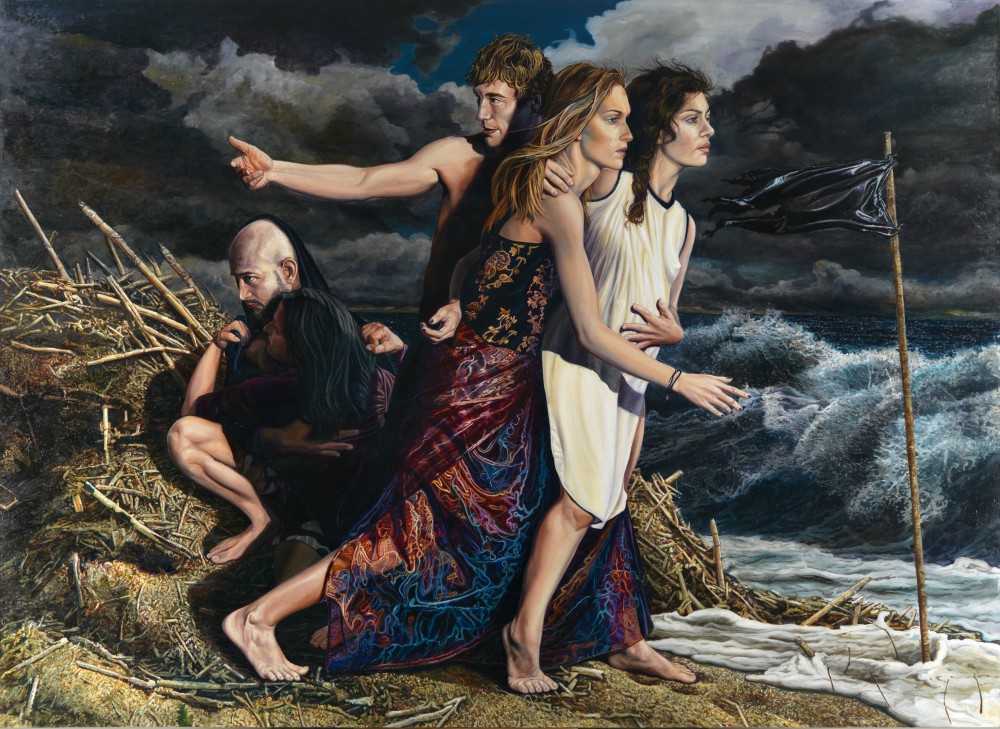 Embarkation for Cythera II, 2017, oil on canvas, 310 X 225, (courtesy of Gallery Michael Haas, Berlin)
You have been brought up in an environment where art was present in your daily life – your father being the well-known painter Sotiris Tzamouranis. To what extent has this environment influenced your decision to become a painter yourself?
Given that my father is a painter, I grew up in a house that was also a studio. My maternal grandfather was a decorator and an iconographer. In summer, my father and I would often go to Mani by car and we'd paint landscapes. Later on, I spent time in the studio of sculptor Christos Riganas as an apprentice. Childhood stimuli and inspiration obviously played a decisive role in my artistic development.
I believe that when a person is born in a certain place there are dependencies and experiences that cannot be left out. Over time, I have shaped my artistic persona and aesthetics more or less coherently. As an artist I may have changed, but my distinctive quality remains the same.
You are considered one of the main representatives of the trend to return to figurative painting. Where do you want to lead the viewer through this style?
I believe that art aims at imitating nature, the ultimate objective being the transcendence of reality and the pursuit of beauty, because it is a quality as important as truth and kindness. The beauty of a person is the flesh that becomes spirit through the medium of art, allowing us to see the soul it depicts. This is how we can see beauty – not only in a young person, but also in an aging face full of wrinkles.
Painting is a complicated experience. Conceptually, the composition of the painting may be pre-structured in the artist's brain, but it must become a physical object. The body must discipline and cope through method in order to give form to the idea. For example, if you look at details in a Rembrandt landscape, you will notice irregular color shapes. But as a whole, the painting represents an aspect of a landscape.
Thus chaos, through structure and organization, becomes harmony. I think that this process, whereby the conceptual idea through manual action transforms into visual language is what differentiates painting from photography or video. In the mechanical depiction of reality we have the reproduction of nature; in a well-made painting we transcend reality.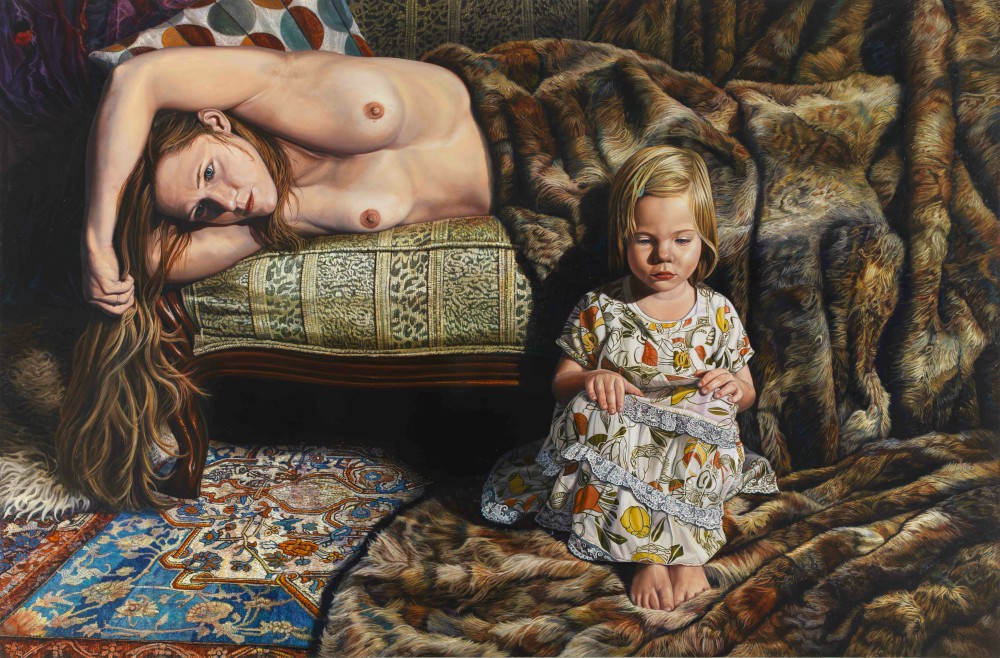 Kathrin and Zoe, 2018, oil on canvas, 290 X 190, (courtesy of Gallery Michael Haas, Berlin)
In what I regard as your epic compositions, you depict exceptionally the emotional intension of your central characters. Is this an attempt to decipher the psychological state of contemporary man?
Usually, the figures in my works are familiar, real people, from my family or friendly environment. My affiliation and experience with them often inspire me to create my compositions. The physiognomy of a particular person can make me look back at the history of art and recognize it in a painting of the Renaissance. The idea for ​​my next project often comes after such an experience. The answer to the question of to what degree has the state of human existence changed through time could be found in the subject matters of painting, which are limited to life, love, death.
Traditionally, anthropocentric portrayals in paintings often project a person's inner state to the outside world. This could be his/her position in a landscape, a room, or in an allegorical or symbolic environment.
"Art is a lie that helps us discover the truth," Pablo Picasso said. The artist with the choice of colors, themes and contrasts leads the viewer to a feeling. What is the secret to discovering it?
In my opinion, art must represent reality so as to contribute to a democratic society immediate access to the truth. The more authoritarian and oppressive a society, the more mystical and distant the culture it reproduces.
Let's not forget that around 510 BC (the beginning of democracy), something extraordinary began to take place in the streets of ancient Athens: the sculptures were no longer motionless and stylistically impersonal; they acquired movement and human characteristics.
We come across this again in Europe in the Renaissance and the Enlightenment.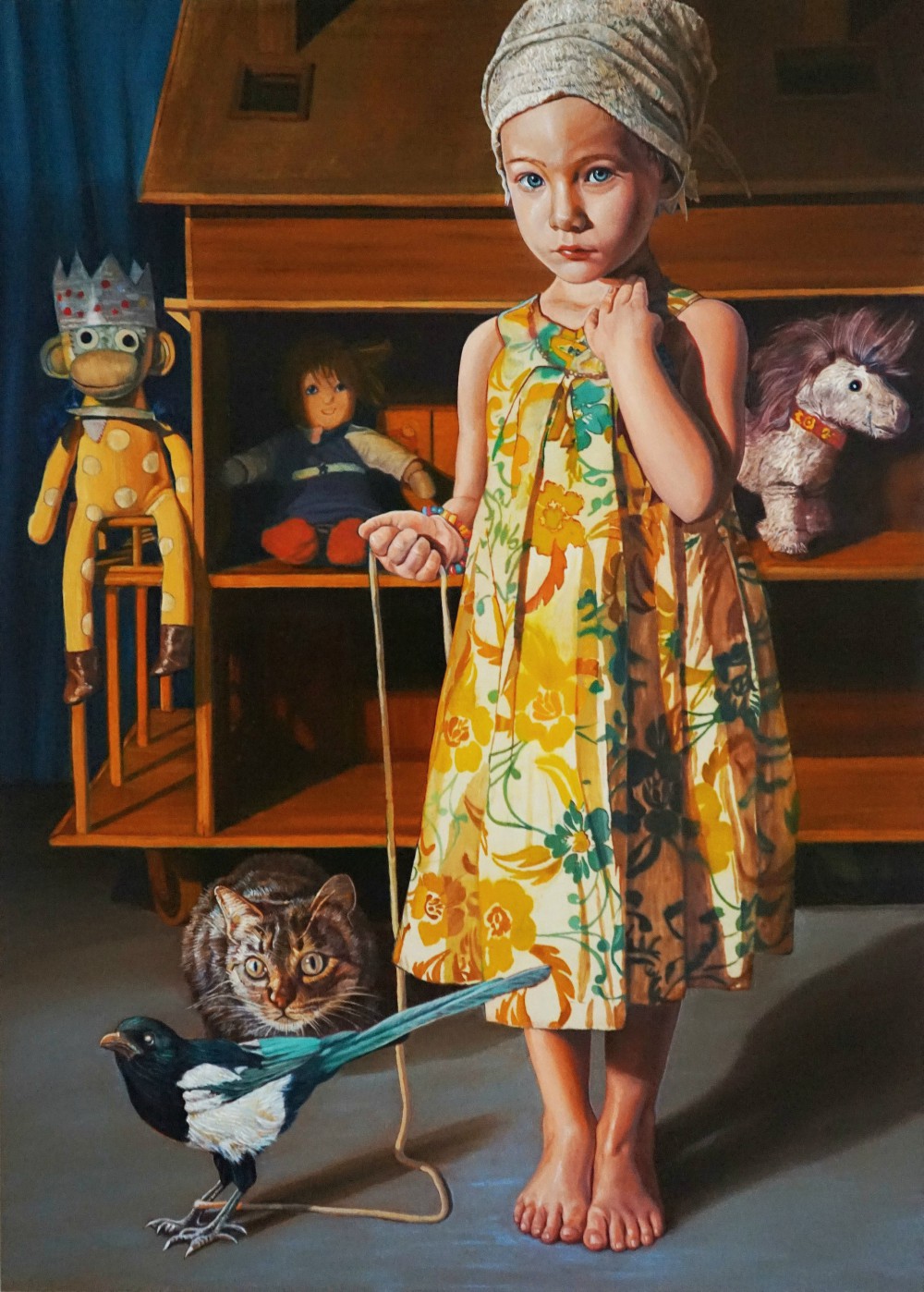 Zoe, 2019, oil on wood, 100 X 140, (courtesy of Zina Athanassiadou Gallery, Thessaloniki)
Last June you delivered a lecture in Kalamata on "Melancholy in Art". What would you define as "melancholy" today and how does it affect art?
Melancholia was for the ancient Greeks the terrible mental illness of black bile (in ancient Greek melaena [black] + khole [bile]). In the essay "Natural Problems by Aristotle's school, the question that arises is "why do the majority of creative people have a melancholic nature"? This question marked a new beginning in the elaboration of the concept of "melancholy". In later times, especially during the Renaissance and Romanticism, melancholia was directly linked to the arts.
Besides, in modern psychology melancholia is not referred to as an illness because it is linked with creativity. In the 20th century, the concept of melancholia will change: The focus is on social loneliness; the individual's isolation from the outside world. The individual no longer suffers from α mismatch with the world, but with himself. Questions relating to the meaning of life, where we come from and where we are going and what death is are no longer posed in the modernist era and in our times. Modernism, aided by technology, has dealt with these issues, and depression has taken the place of melancholia.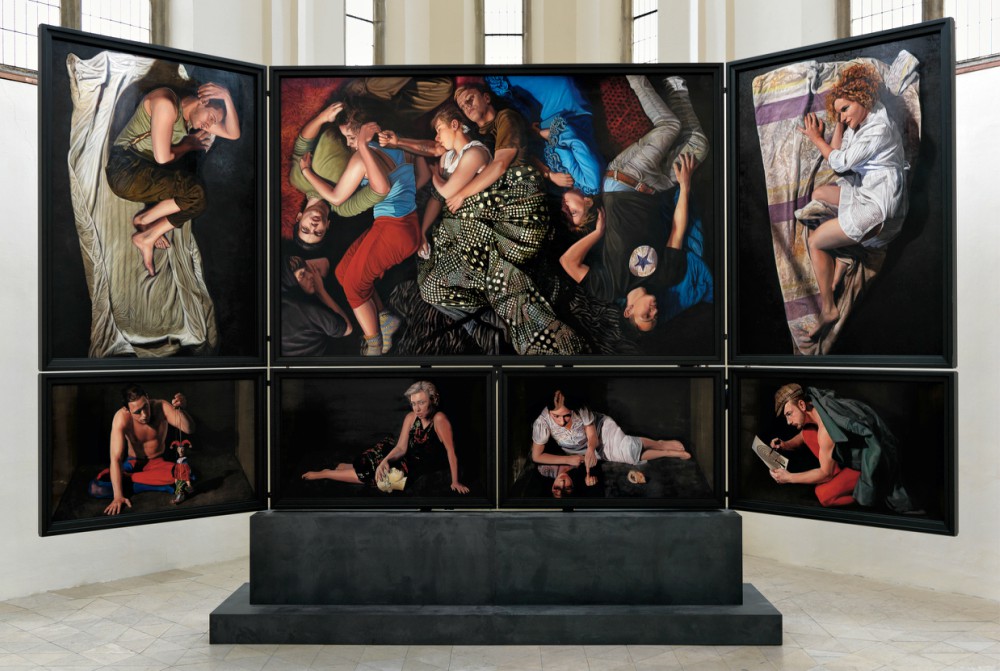 Melancholia-Altar, 2012, Polyptychon, oil on wood, 630 X 310, (courtesy of Gallery Michael Haas, Berlin)
You have chosen to live and work in Berlin. Do you miss Greece?
I have been living and working in Berlin for almost three decades, but I have direct, personal and professional connections with Greece. I often come to Kalamata and I have a studio at the village Akrogiali of Avia, where I can work.
What are your plans for the future? Will there be an opportunity to see some of your works in Greece soon?
I have scheduled an exhibition at the Zina Athanassiadou Gallery in Thessaloniki for January 2020.
I am also working on a large triptych based on Dante's Divine Comedy, which I will exhibit at the Gallery Michael Haas in Berlin.
*Interview by Marianna Varvarrigou. Translation by Magda Hatzopoulou. (Intro picture: Melancholia- Altar, detail, courtesy of Gallery Michael Haas, Berlin)
Read also via Greek news Agenda: Maria Filopoulou: an important representative of contemporary representational art in Greece; Arts in Greece | Kostis Georgiou: "Art's purpose is to provide a zone of unlimited paths"
TAGS: ARTS