Carefree people sunbathing, beautiful women smiling in their swim suits, wrapped in the glossy escapist visual style of the 50's. But what do these people think about? "What lies behind the summer holiday smiles?" is the question Charis Tsevis poses in his latest art exhibition of digital mosaics on canvas, titled Endless Summer, opening at The Collection Gallery in Nicosia, with the support of the Ministry for Digital Policy, Telecommunications and Information. The exhibition was successfully held in Paphos (21.09 – 21.10.2018) and it will run from 14 of November to 15 December in Nicosia.
Charis Tsevis is a Greek visual designer living and working in Pafos. He holds a Diploma in Graphic Design from the Akademie für das Grafische Gewerbe, München and a Master in Visual Design from the Scuola Politecnica di Design, Milano. He manages a studio on the island of Cyprus serving clients all over the world. His client list includes companies like Nike, Google, Ferrari, PepsiCo, Toyota and IKEA, advertising agencies like TBWA\Chiat\Day, Saatchi & Saatchi LA, DDB Munich and Leo Burnett Hong Kong and media like Time, Fortune, Wired and the Wall Street Journal.
Charis is a visiting professor of Editorial Design and Typography at the AKTO College in Athens since the year 1996. He has also presented seminars at the Panteion University of Athens and he has given lectures in numerous national and international conferences and symposiums. Charis is often writing articles about design theory, aesthetics and history of computing in some highly respected art and IT magazines in Greece (+design, RAM etc). He has also written 2 books about Adobe Photoshop.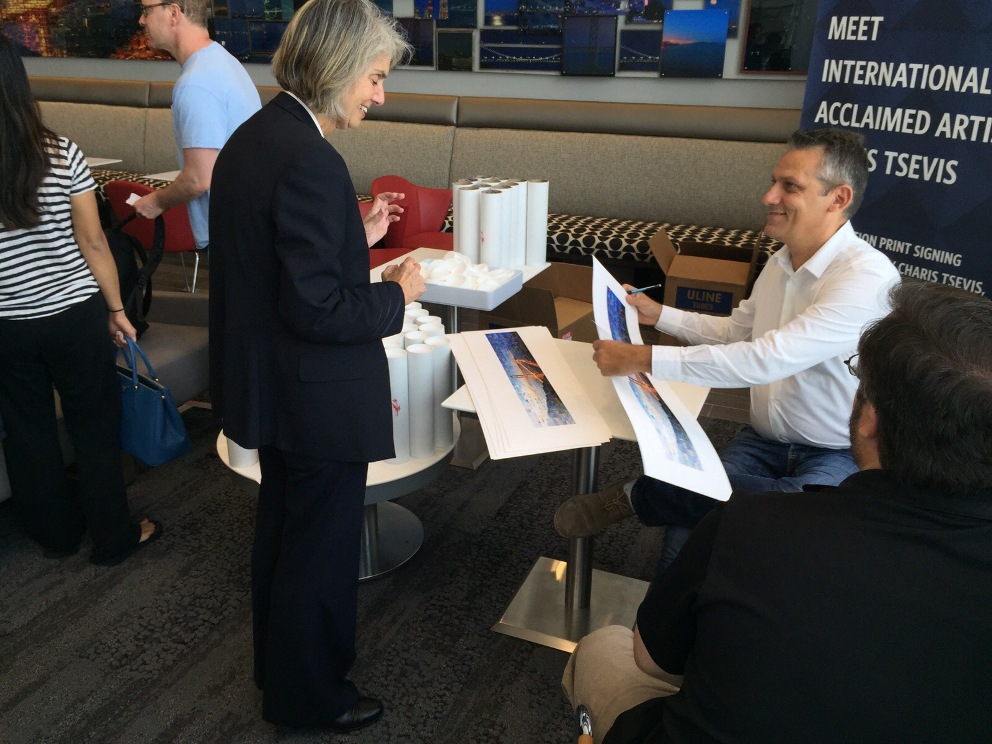 Charis Tsevis signing limited edition art prints on the opening of the new Delta Airlines Sky Club in San Francisco International
Charis' work was awarded in ED Awards (Europe), Epica Awards (Europe), NPSA (USA), Behance (USA), EBGE (Greece) and others. He was named for 4 times in a row as one of the 200 World's Best Illustrators by Lürzer's Archive. Charis' work has been featured in many books, magazines and websites around the world. His art work has been presented in exhibitions in Athens, Barcelona, San Jose and other cities around the globe.
On the occasion of his latest art exhibition, Greek News Agenda interviewed* Charis Tsevis on his artistic influences and international career. Tsevis underlined the importance of his use of the social media as well as his participation in virtual creative communities in pursuing his international endeavor. He also stressed that there is a vivid but fragmented Greek design scene. Talking about his "Endless Summer" exhibition, he explained that he exorcised his fear of old age with youthful images of beauty, urging to seize the day, while at the same time he used holiday photos as a means to explore the human nature in the so called "best time of the year". Last but not least, Tsevis underlined the perpetual need for a graphic designer to study and share knowledge as education is the number one need for Greek design.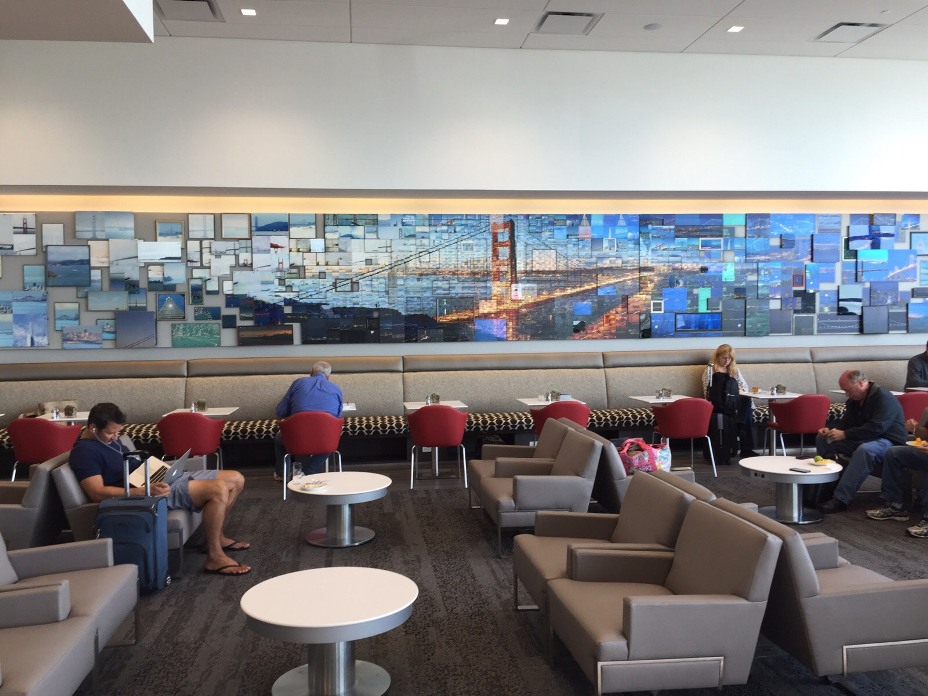 "The Moments gate": A mosaic mural on the walls of Delta Sky Club in San Francisco International airport
You've had an international career so far and you have worked with multinational companies (Nike, Toyota, Coca-Cola), media enterprises (Wall Street Journal, Time and CNN) and advertising companies (Leo Burnett Hong Kong, Saatchi & Saatchi Los Angeles and Publicis New York). How difficult was it to go beyond Greek borders?
Since my early childhood my family has encouraged me to look far beyond the Greek borders. Back in the 70s and early 80s Greece was isolated in a corner of the Balkans but I was lucky to have a family of simple people who haven't travelled a lot but always believed that we should try to surpass the limits. The only member of the family who really travelled the world was my grandfather. He was another Greek sailor passing months away from his home. But whenever he was coming back he was bringing me these incredible gifts from America or Europe that looked so much bigger and brighter than anyone else's in my neighbourhood.
And then my father wanted my sisters and me to take international education. My parents made real sacrifices to send us to German or French schools and they were raising us with the belief that we are citizens of the world. So it was natural for me to try to push my carrier abroad and I had even tried to physically leave Greece for studies and work.
But even if I loved the idea of my international citizenship, I am very Greek when it comes to where I like to live. I couldn't see myself easily in any other environment than the sunny blue one of our country. With the social media boom I found a way to travel without really leaving Greece. Online tools such as Flickr or Facebook are great media to reach the international audience. I have methodically tried to be part of various creative communities online and at a certain moment I have been lucky to see my work published by some important sites etc. This was the start I needed. Was that difficult? I don't see it like this. I have enjoyed all the years' long process. The journey was really worth it.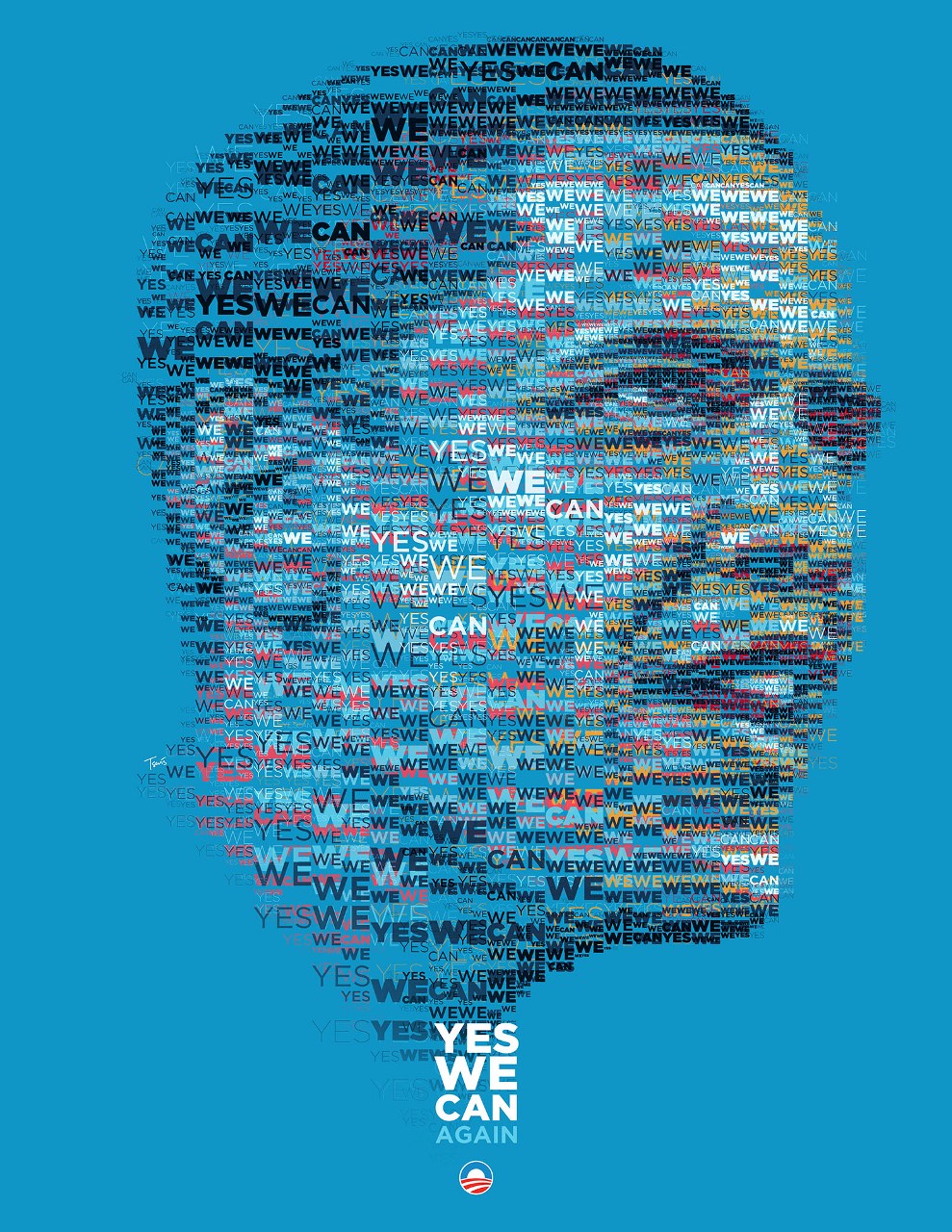 Yes We Can. Again. Mosaic portrait of President Barack Obama made out of the three words of the YES WE CAN moto. Created for Democrats Abroad during the U.S. presidential campaign 2012
You have worked for political campaigns. How has this experience affected you?
I was always very interested in projects of big scale. Directing a visual message to a massive audience is so challenging and educational. In politics a designer should communicate a generic message to the masses but at the same time he has to speak directly to every single one of the voters. Every one of them wants to be treated as an individual, not as a part of a target group. Keeping my visual tone general and private at the same time is an exercise I love. Politics is for me the highest art and science of all as it's a combination and an orchestration of every single art and science. So I can't find a more appealing field for my work.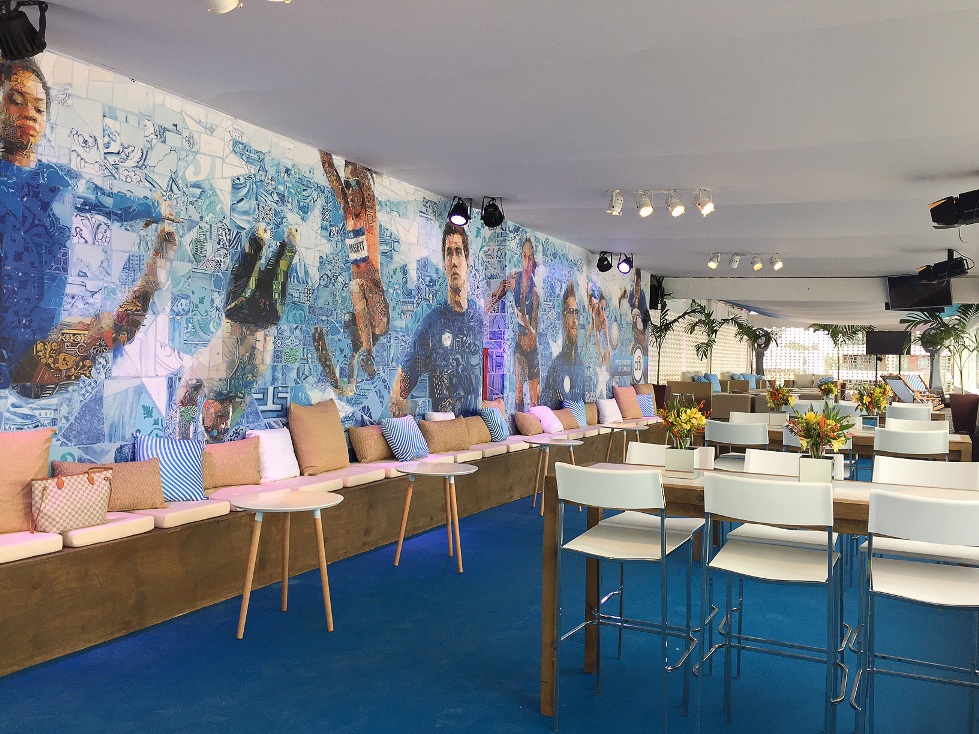 Mural at the House of the USA, the headquarters for the American Olympic team in Rio 2016 Olympics
You are an artist and entrepreneur; is there a clash between the two?
What I'm trying to do is to see the artistic part of business and vice versa. That way the one hand helps the other. I'm an artist who is recognizing the importance of the business side of our work. I want my art to find its audience and I want to create the right environment for my business to be sustainable and give me a good life. I'm confident in my art but I'm always considering myself a very entry level entrepreneur. This is why I'm studying and working hard in that field. Understanding your limitations is always very helpful and at the end of the day it helps you finding ways to surpass them.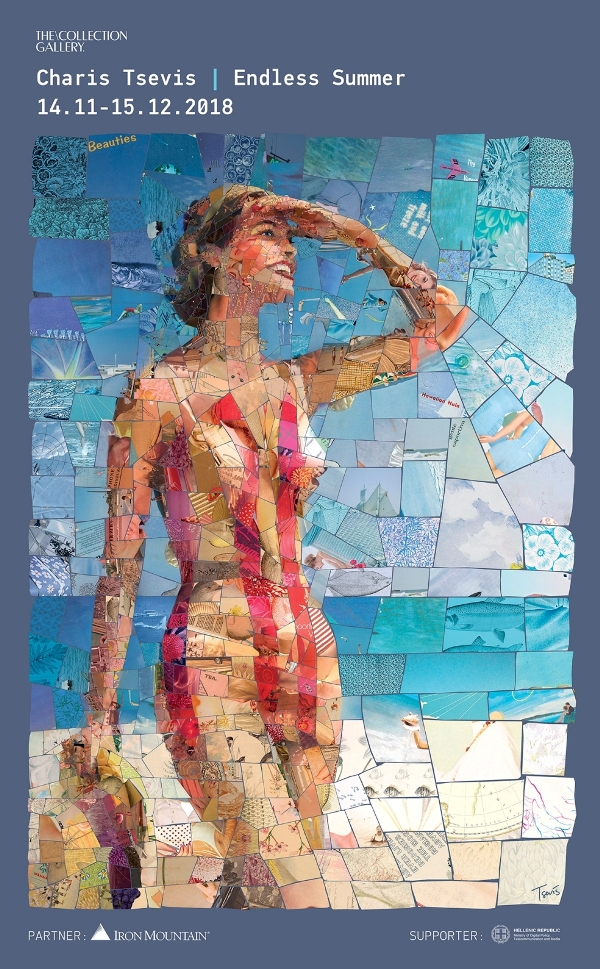 The "Endless Summer" art exhibition poster

The works in your exhibition are characterised by nostalgia, they are an ode to eternal youth. Would you like to elaborate?
Maybe I'm growing old and cultivating more nostalgia… maybe I'm always a student of history who believes that you can find great answers for the future in the past. And yes, I belong to these classic artists who praise the youth when it comes to beauty. The idea of a series of artworks inspired by a beautified image of retro Summer scenes came to me when I moved to Pafos and was living very close to the sea. Cyprus is a place with 10 months of sunshine and the hotels in Pafos are open all year long.
So I was observing the people in the beach in various seasons of the year. I started to guess what they were thinking and mostly what they were feeling. How their so called "best time of the year", the holidays, is affecting them. I found that a very strong element of holiday lifestyle is photography. People make thousands of photos. So I wanted to use these photos in my art. We all know that some of them are still significant. But most of them are forgotten or hidden in our deep memories. So the true value of the photos is the moment they capture, especially if they were shot in a true happy moment. I will leave it to my viewers to judge if the photo shot they are seeing was really happy of not. What I wanted to do is to just kick start a discussion.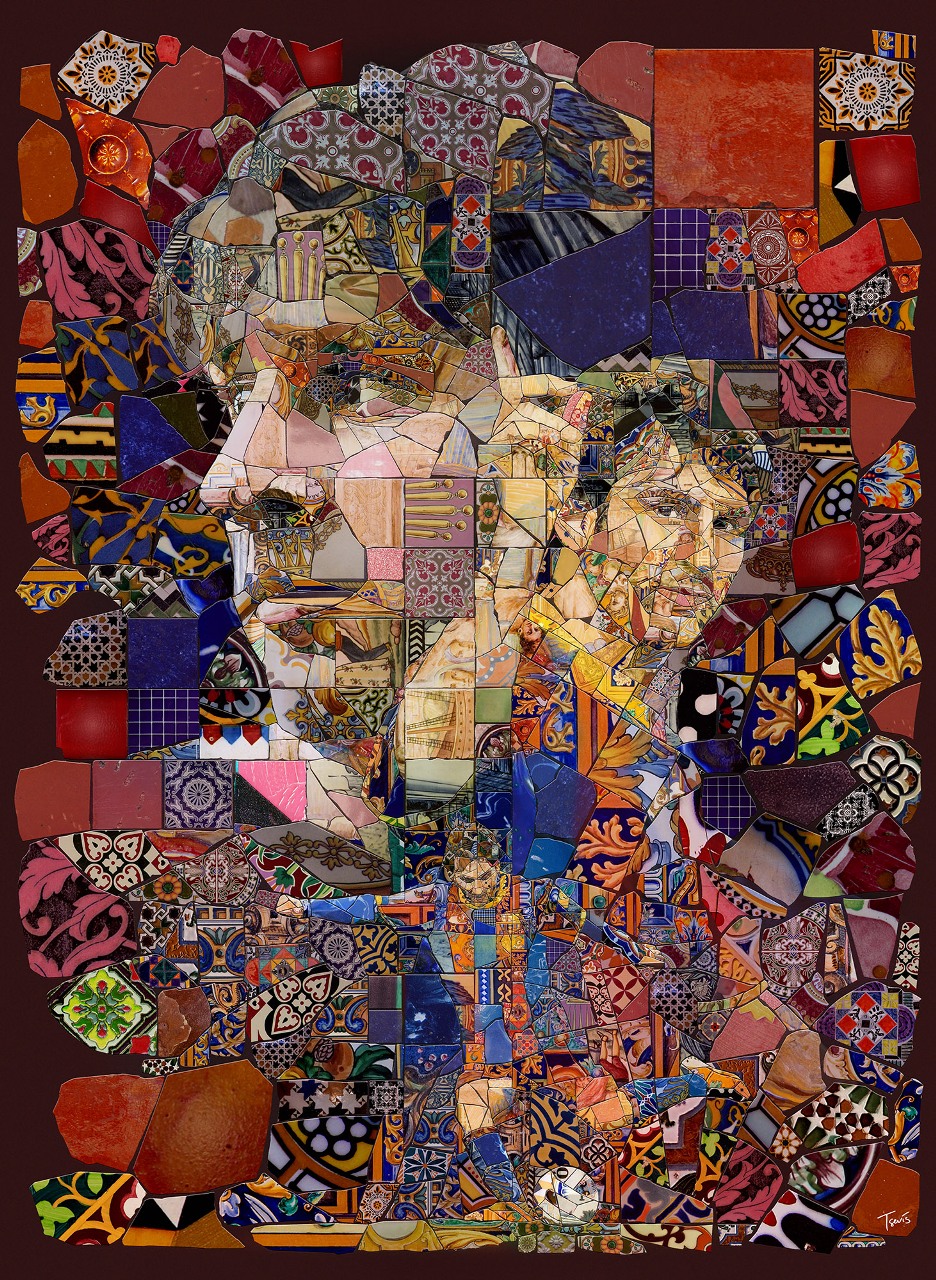 "Lionel Messi: The compass" Self initiated project based on experimentations with trencadis and other related ceramic tiles techniques
Which artists have you been influenced by?
They are so many obviously. I have a big respect for every art form or genre and I wish I had limitless time to dedicate to study all of them. What I could say answering your question and giving a tip to a younger artist is that I am finding a solid foundation in the Italian futurism and the school of Gestalt psychology. Then I have always been a true believer of machine and computer art.
Futurism is one of the very first strongly political art movement. Based on the incredibly powerful concept of cubism and using all these great ideas that were born between the late 19th and the early 20th century. It was also a movement that praised the machine, the industry and the futurists were some of the very first who used machines to produce sonic and visual art. Gestalt is giving a visual designer the scientific tools to analyze how our brain understands what we see and how we translate images to ideas and emotions. I could mention numerous artists and theorists but I would just pay tribute to some few ones who I had the privilege to call professors. Nino Di Salvatore, Augusto Garau, Bruno Munari, Carlo Nangeroni. These guys had a unique influence on my thinking and my creativity. I should probably add Steve Jobs as the genius of the "go-to-market" strategy and branding in today's world.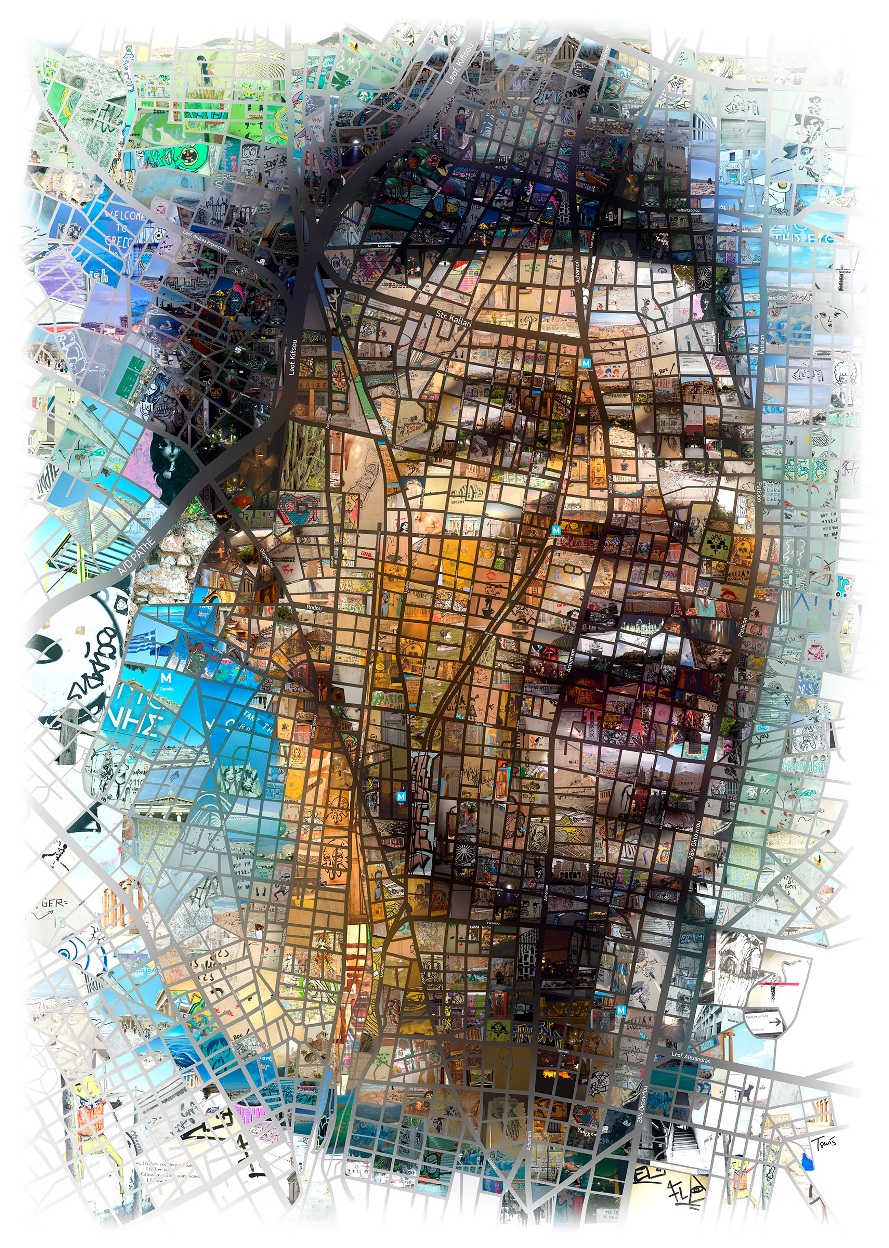 "Made in Athens". A mosaic portrait of NBA star Giannis Antentokounmpo based on the actual map of the part of Athens where he is born and raised. Created for Nike
What do you think about Greek visual design? What were the effects of the economic crisis?
Greek visual design school is existent and strong. Sometimes you can see a provincial or imitating character but this is not something just Greek. Greece has always been a country of heroes. So there are heroic designers in today's Greece, people who are creating amazing work in very difficult circumstances. I could mention at least 100 important Greek designers and they are many more in a small country like Greece.
So we have great individuals. But what we Greeks often forget is to be team players. So the design scene is fragmented in many amazing but small groups. But this is our identity. This may be difficult to change.
Crisis helped and damaged at the same time the Greek design community. Many good designers had to leave but this is not always negative. As said before, Hellenism has always been an idea greater than the borders of Greece.
For me what Greek design really needs is the Academia. Crisis limited the schools and kept people away from design education. I believe that the number one need for Greek design is education. Schools, libraries, books and publications. A real movement is based in real ideas not just trends and ephemeral tricks. This is not only a Greek problem. But in the times of Instagram and eternal scrolling what we need is long textbooks with ideas and concepts to study.
What I would ask my colleagues is to dedicate some time in their week to study, to read and then to teach and share knowledge. What I would ask the Greek authorities but also everyone else involved in the public dialog to do is to invest more in education and culture. It's our only weapon and our best hope for the future.
CharisTsevis, Visual Designer – Presented by LoveGreece.com from LoveGreece.com on Vimeo.
* Interview by Florentia Kiortsi. Special thanks to Dr Aikaterini Lambrou, Head of the Press and Communication Office of the Embassy of Greece in Cyprus.