Οn 29 January 2020, at the Barbican Centre, London, the BBC Symphony Orchestra performed the world premiere of "Kyrie Eleison" by Greek composer Dimitrios Skyllas, the first Greek composer ever to be commissioned by this legendary orchestra.
In a programme based on grief, rituals and spirituality, "Kyrie Eleison" stands between two of the most iconic figures of classical music, the Estonian composer Arvo Pärt and Rachmaninoff. With references to Ancient Greek tragedy and his music for Electra in Epidaurus, Byzantine church music and laments from the region of Epirus, Skyllas' aim was to create a platform of new rituals that connect the old with the contemporary.
Dimitrios Skyllas (1987) is based in London and he is considered to be as one of the most spirited and outstanding artists of his generation. After his debut at Westminster Abbey in 2016, he appeared at the V&A Museum, the Royal Albert Hall and the British Ceramics Biennale. In Greece, the Onassis Foundation invited him to perform his piano piece, "Abyss", at the first public presentation of Maria Callas' precious piano.
In 2018 he composed the original score for the tragedy Electra, a production by the National Theatre of Greece presented at the Epidaurus Festival. He often appears as a soloist of his piano music, while many of his pieces are performed internationally by world-class performers. "Kyrie Eleison" was co-commissioned to him by BBC Symphony Orchestra and the Onassis Foundation.
Dimitrios Skyllas was interviewed by the Press & Communications Office at the Embassy of Greece in London and shared his feelings and views on music, on his works and on the premiere of "Kyrie Eleison".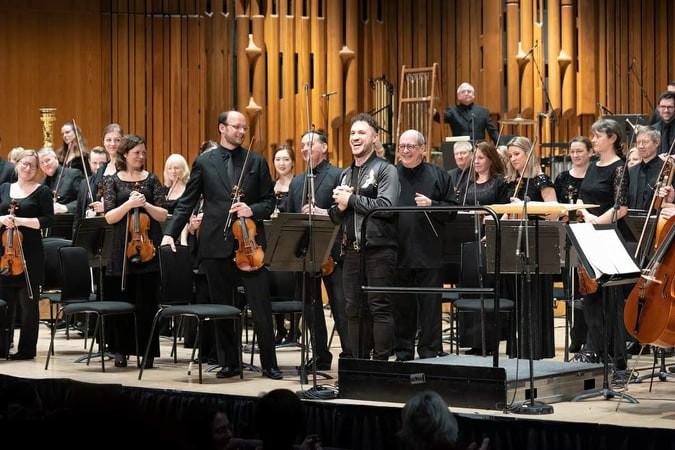 You have "conquered" many iconic venues in London where famous and world-class musicians have performed (Westminster Abbey, V&A Museum, Royal Albert Hall). Your latest work -commissioned to you by the BBC- was premiered in January 2020 at the Barbican Centre. How have you received the audience response to your works and in particular the premiere of "Kyrie Eleison", in these venues?
I have been very lucky; I feel that the audience is always supportive to what I do. Perhaps because I don't follow the conventional route of composers. I feel great performing in different spaces, museums, cathedrals, experimental venues. Each of them has a different type of audience. But it is true that with important venues come high expectations. "Kyrie Eleison" was indeed the peak of my career, also my creative anxiety and my fear of rejection! I was blessed to have such a large number of Greek people in the audience, I felt that they brought justice to my piece, mainly because they connected to the Greek side of my music.
You have said that "Kyrie Eleison" is based on sounds from ancient tragedy, byzantine and ecclesiastical music and lamenting songs of Epirus. All these elements and sounds are quite familiar to audiences of Greek origin, wherever they are in the world. But to what extent do these sounds resonate with foreign audiences?
This is one of the greatest challenges of my music. I feel that what I do is purely Greek, yet made with international standards and needs. I have a feeling that different cultures understand completely differently my work. The southern part of the world reacts with more passion, they are less reserved and they want louder sounds. However, what I do is highly connected with the feeling of a strong core, of home, of personal feelings. So, my sound is very personal and all audiences can connect to that quality.
How have your life and your career changed since the premiere of "Kyrie Eleison", which was the first ever work commissioned by BBC to a Greek composer, and such a young one at that? Do your Greek or British colleagues treat you differently? Have your relations with Greek or British colleagues and friends been affected in a certain way? What challenges does this extraordinary commission set upon your future works?
The important thing is that I don't treat them differently! Deep inside I know that I am the same person I was before this commission. It is true that people who don't know me, do seem to respect my work more nowadays. However, maybe I am gradually becoming more demanding. This is a good thing. There are so many things I want to do with my life and my music, so I don't want to waste my time when things or collaborations don't function well. The greatest challenge right now is to feel free and not try to measure my new works against "Kyrie Eleison".
In an interview with in.gr you said that "you are very keen on creating narrations". What is the narration you would like to give or the messages you would like to convey to the audience through "Kyrie Eleison"?
Music has the power of giving strong narrations and yet, sound is a highly abstract material so one can hide things in it. "Kyrie Eleison" follows the very standard, classical form of introduction, main body, climax, catharsis. Even this decision is a narrative itself. Before I started composing "Kyrie Eleison", I knew that I wanted to explore different sides of human emotions, grief, fear, nostalgia, love, faith. And all these combined, can create a wide open platform where the listener can make a very personal journey guided by the sound.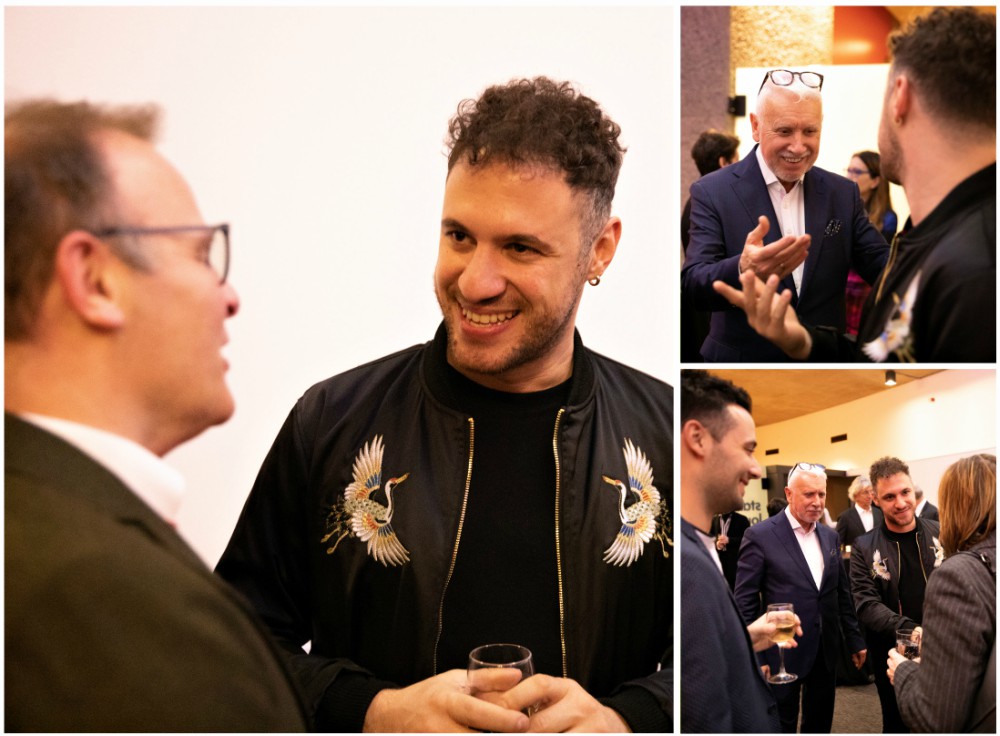 Although I understand that "Kyrie Eleison" is a milestone in your career up to now, which is the piece of music among those you have composed that you are particularly fond of and why? Are there common elements in your compositions or are there sounds and themes that are fundamental for you and which you always return to when composing music, and which are they?
People often ask me which piece of mine is my favourite one but you know, I only compose one piece! All my music is one piece. Sometimes I compose for the piano, or for voice, or for orchestra, they are all different aspects of the same creature, my music. Every time I have a new commission it is like I am given a new task, to add something new to my existing material. So, to answer this question, my favourite piece is my whole music!
What inspires you and prompts you each time to choose what to compose in a specific music form and genre? How challenging is it to transform inspiration into a composition for a chamber or symphony orchestra?
I only compose in one style, my personal style. It doesn't matter if I have to write music for a solo instrument or an orchestra. Of course, writing for a large ensemble such as a symphony orchestra, has a lot of technical requirements and challenges. The most obvious one is to be able to handle and orchestrate all these instruments at the same time. But you might be surprised if I tell you that writing a piano piece can be more difficult. This is because you have to create the same effect and artistic interest using only one instrument.
Is there a composer you admire particularly or is there a piece you would like to have composed yourself?
I admire too many composers. I am saying this with a hint of guilt, but I am not very much into classical music lately. I don't feel connection. On the contrary, I am attracted to different types of music such as religious/spiritual music and traditional music. I can't listen to Mozart very much, but I can listen to old religious chants, written 400 years before Mozart lived. A good example is the female composer Hildegard Von Bingen, a polymath of her time. For some reason, I connect to this music although it was written 900 years ago! So it seems that I am looking for a functional character in music. I hope one day I will be able to say that my music is functional. The same way the ancient tragedies were for the Greeks. As for a piece of music, there is no piece of another composer that I would have liked to have written myself. This is a healthy and refreshing thought!
What is the greatest anxiety of a young composer? Does it have to do with inspiration and creativity, with the audience's response, with the fellow composers' and music community's reactions or with the critics?
I can only reply for myself and my own experience. My only challenge is to engage the new audiences with new music and to eliminate this idea that "classical music is boring". I am really not interested of what the musical community of the critics say. All I want is to have the resources and the budget to continue creating new music. The rest will come.
When I, personally, hear contemporary "classical" music pieces, I, as a lay person, get the impression that contemporary artists consider music compositions more like creative experiments, a challenge on how to combine in an innovative way sounds, instruments and forms, rather than as pieces to be addressed to a wide public. I feel that audiences may often find interesting modern compositions that are based on atonal music, experimental and minimalist music, dissonant intervals, different scales, unusual rhythms, and unconventional perceptions of melody, however it seems to me that they always feel more excited and 'comfortable', when pieces written on classical forms of 18 c. and 19 c. are performed. In brief, I find that contemporary compositions are focused on artistic innovative creation rather than audience-centred. Would you agree with that perception of mine?
I totally agree with this. Yes, indeed, this is how the post-modern composers approached their music in the previous century. Music, somehow, lost its simplicity of expression. It is what we said before, music stopped to have narrative. If you ask me, I don't understand it, especially because most of composers continue writing this way. I personally make challenging music but I always think it is somehow accessible to the wide public. I care to create an experience, a journey that people can follow. I hope that "Kyrie Eleison" belongs to this category.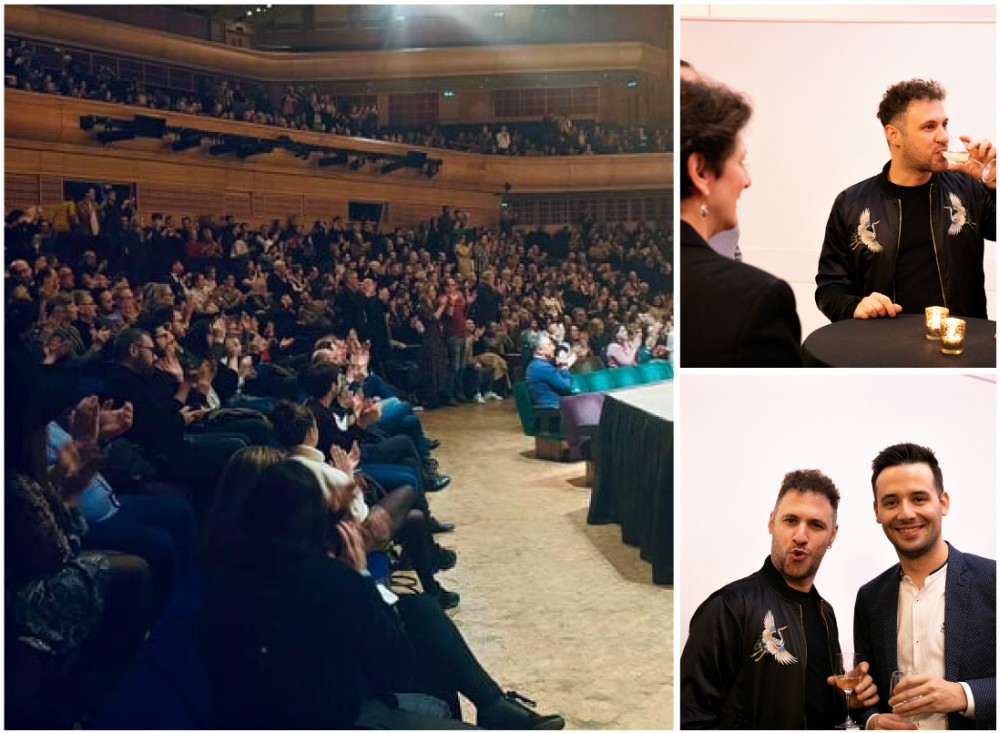 In your opinion, how does the Greek audience differ from the audience in other countries when it comes to attending classical music concerts?
Unfortunately, the Greek audience is way behind. It is not their fault. It is because Greece doesn't have a tradition in classical music, so it is not part of the culture the same way theatre is. Every time I perform my music in Greece I find great interest and response to what I do. This gives me hope. We have a long way ahead to reach an international standard when it comes to classical music concerts. But this is not only the public's role, it has to come also from the composers, the promotion of the concert halls, and the intention of music-making. It is a combination between both sides.
In times of economic scarcity, culture is the first to be affected, as it is considered by many to be a luxury. On the other hand, we observe in Greece a spectacular increase of cultural institutions (Onassis Cultural Centre, B&M Theocharakis Foundation, Stavros Niarchos Foundation Cultural Center). Would you think that the Greek audience's interest in art and music has increased, or does art still remain an affair for the affluent, while the general public still sees it as a luxury?
The foundations are definitely improving the standards of new art. I am privileged to be working with some of them and more specifically with the Onassis Foundation who co-commissioned "Kyrie Eleison" with the BBC. However, I do think that more emphasis is given to theatre, dance and the performing arts, and less to new music. Music always suffers. If theatre is a luxury for the general public, then new music is luxury even for the art world!
What are you currently involved in and what are your plans for the future?
I have taken some time off to get some rest and think of my next steps. I would like to compose for cinema and theatre, but also to make some projects that connect Greece to the UK, especially these hard times of Brexit. I also want to go back to piano playing, I miss performing my own music, so I might compose some piano music as well. People always enjoy seeing the composer on stage playing his own music!
(All photos by John Kolikis)
Read also via Greek News Agenda: Composer Yiorgos Vassilandonakis on his opera "The Papess Joanne"; Composer Minas Borboudakis on his work in 21st-century classical music; Composer Dimitris Marangopoulos: "The crisis has stimulated a rediscovery of the arts"; Composer Lina Tonia on the quest for uniqueness and going beyond Greek borders
TAGS: MUSIC