W. Mark Wilman originates from the Caribbean, grew up in London and spent much of his life in Milan, but holds a special place in his heart for the Greek islands. His photographic project Discovering the Beauty of the Cyclades has had its first public solo exhibition, promoted by the Department of Culture of the Milan Municipality, at the Aquarium of Milan (10 May – 5 June 2019), while more presentations of the work are being programmed for cities in China and other countries.
Originally from the Notting Hill area of London, with origins in the Caribbean, W. Mark Wilman spent many years in Milan following a teaching and consulting career with a client list that included the University of Milan -where he lectured for fifteen years to PhD students, researchers and professors- as well as national and multinational organisations in a variety of sectors, and other high level professionals. He also developed his experience in photography there, working as a photographer for the Milan Cricket Club.
A frequent visitor to the Cyclades since age ten, Wilman has enjoyed numerous experiences on the islands, freediving, rock climbing and trekking to discover their abundant beauty in detail, using a camera to capture his impressions along the way. He began work on the project in 2014 and remains highly focused on it until today. His exhibition was dedicated to the memory of the late Professor Angelos Delivorrias, eminent Greek archeologist, director of the Benaki Museum from 1973 to 2014 and member of the Academy of Athens, who passed away in 2018.
The islands included in the photographic project so far are Anafi, Santorini, Ios, Sikinos, Folegandros, Poliegos, Kimolos, Milos, Sifnos, Serifos and Kythnos. Greek News Agenda interviewed* W. Mark Wilman on the reasons behind his interest in these islands, his artistic approach and his thoughts on beauty.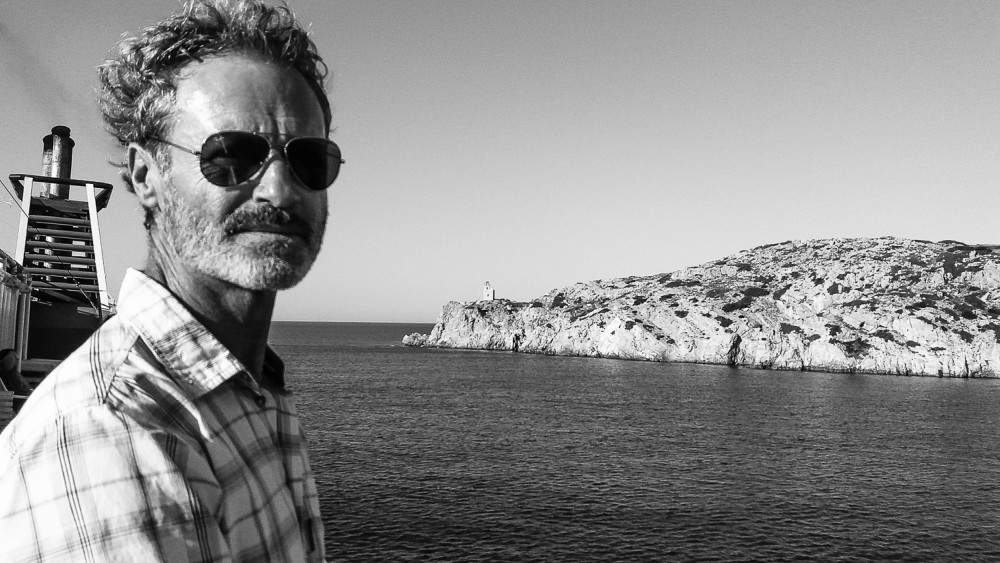 W. Mark Wilman
You have roots in the Caribbean, and yet you chose the Greek islands for your first extensive photography project. What is it that, in your opinion, particularly attracts you to wild and rugged landscapes?
I'm particularly fascinated by the shapes and colours of the rocky landscapes so typical of the Cyclades affected throughout the year as they are by sunlight of varying intensity, from extremely bright to subtly gentle. The hypnotic perfumes of golden grass, oregano, thyme and junipers relax my senses as I explore, causing frequent stops to inspire their heavenly fragrances.
Clusters of trees set firmly in ancient riverbeds challenge me physically, often hidden by the labyrinthine formations of tortuous hillsides and mountains, their trunks thick enough and plentiful to slow my progress of photographic research down to a worrying pace when confronting them unexpectedly, relying on the daylight remaining to reach my final destination laden heavily with camera gear; the birds I've disturbed without intention circle above watching as I progress. There's no choice but to edge forward with care inside the silence, adapting my cumbersome form to the extensive natural obstacles while observing every plant, stone and pottery shard as evening advances. Seeing something that indicates where I stand stood someone else long before, a thousand years perhaps, amazes me, the location unchanged ever since.
The electric blue of the Aegean in June is incredible, the mists inside far-off valleys in November enigmatic. I climb the peaks with intense enthusiasm looking down at my feet frequently for safety and also upwards or across for ideas about how best to reach the summits. Once at the top and after the panoramic views have been studied, memorised for their sensations and photographed, I invariably choose an alternative way down, more difficult, steeper, at times forcing me to remain immobilised on a solitary protruding rock circled by extensions of thick, ageing thorns waiting to engage, unless the intricate conundrum of how to avoid them can be solved. The majestic scenery stretching outwards to the vast blue horizon offers welcome distraction, encouraging the desire in me to step no further.
I love the involvement, the way my mind and body readily focus on yet another challenge, like the solitary medieval lookout tower with its narrow underground passageway which includes marble segments from what was there before built by the ancients. Its strategic positioning on a remote hilltop overlooks an area of vast open water where lie Santorini, Anafi and even Crete distant 178km though rarely visible from this spot because of year-round complex atmospheric conditions.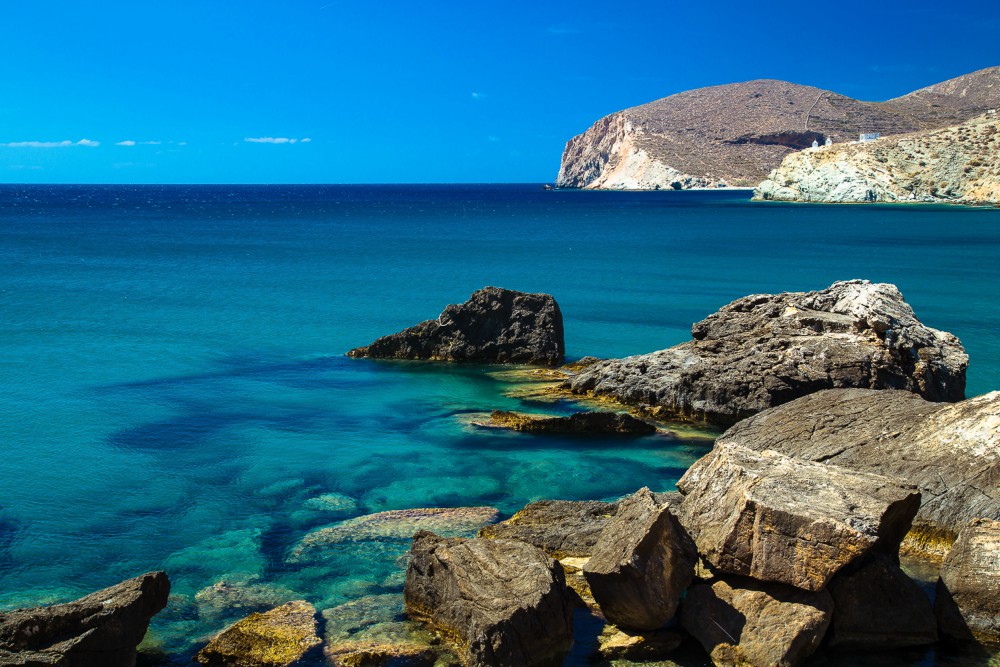 Rocky bay, Vathy, Folegandros
In your introduction to Discovering the Beauty of the Cyclades, you place emphasis on the physical demands of your explorative approach; freediving, rock climbing and trekking form an integral part of your Cyclades experience. Do you believe that those who choose a less strenuous approach miss out on the opportunities provided by these terrains?
I've been exploring the archipelago since the age of ten in 1974, the year I learned to freedive at the British Sub Aqua Club in London, and continue to prepare year-round for future encounters. On several occasions, people have accompanied me on diving experiences, or climbs to the tops of steep hills and mountains but never has anyone attempted to explore both environments, except Roxana, the model in the project. Rarely do I come across someone while exploring, though this doesn't mean there aren't numbers of highly fit individuals enjoying the mesmerising views of the Cyclades from impressive vantage points.
On one occasion, two couples in their forties asked for suggestions about how they might spend a special day. They later explained how they'd followed my suggestion of climbing a nearby hillside to reach an inlet of exceptional beauty an hour and a half away. During the return, one of the men had apparently come close to suffering a heart attack, while his female companion's sandals had collapsed forcing her to walk bare footed over the decidedly rough terrain. They loved the experience nonetheless, still laughing about the drama last time we met.
So in answer to your question, an awesome view is certainly not worth the risk of injury, and in case strenuous activity is contemplated, the right equipment should be considered.
That said, freediving is quite phenomenal, a challenge many swimmers might enjoy. Unique because the diver holds his/her breath during immersions performed mostly in the sea, it doesn't require the heavy gear necessary for scuba diving. The sport tests an individual's true capacities, both physical and psychological, in surroundings which favour sensations of calm and self awareness. There's no requirement to descend to great depths to best enjoy it, but without proper training it can be risky, so a preparatory course is essential. The exhibition at the Aquarium of Milan brought me into contact with the former Italian world champion and present day trainer Umberto Pelizzari, who I've admired for many years. It was wonderful to communicate with an expert of such excellence.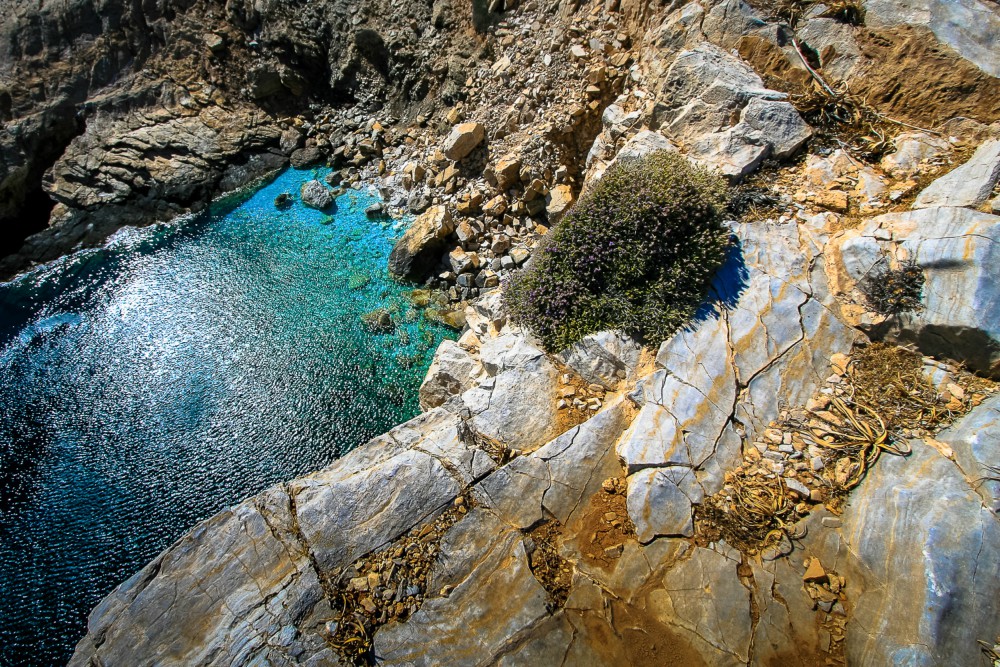 Bay view from high, Ios
A part of your project is dedicated to the concept Wild, Natural Beauty Blended with 'Beauty of the Female Kind'. Why did you choose a fashionable, urban clothing style for you model, creating a contrast with the mainly rough, rocky landscape?
As you've noted, a contrast is created between the model and the rocky landscapes. To my mind, when brought together, both can be admired for their unique characteristics, blending but also differing. I'm attracted by the concept of woman in harmony with mother nature, each enabling the continuation of life as we know it.
My choice of elegance stems from a particular experience from the many years I spent in Milan lecturing to PhDs of Natural Sciences at Università degli Studi di Milano and working as a consultant to a wide variety of Italian professionals in a number of sectors. One of these was an internationally famous fashion designer whose offices were close to the Duomo of Milan.
The impressive laboratory where the stylist and I would meet to discuss his work was filled with elegant female garments for the upcoming season displayed over most of the extensive wall space. It was another universe, a place I'd never imagined, highly attentive to detail and perfection. Its impact has remained with me ever since.
Once, while I waited in the reception area to meet him, a female voice began talking into a mobile phone close by; it was Helena Christensen, a leading top model. I couldn't believe it!
Roxana and I discussed the use of elegance in black the second year of the project and agreed to proceed this way. The theme compliments her graceful form, expressions and gestures while following the tradition of widows in the Cyclades, whom I've always felt particular respect for since their husbands often died during the war or from accidents while working on the land or at sea.
The 'Church at the Top' gallery is an example of what we wanted to achieve. It's set on a hill with superb views over the islands to the north and west of Ios, i.e. Iraklia, Naxos, Paros, Milos, Folegandros and Sikinos. Almost 500m above sea level with no road leading up to it from the unpaved track far below; the rough, almost vertical slope separating the bottom from the top makes access to the church complicated, so reaching it with model intact and unscratched was challenging.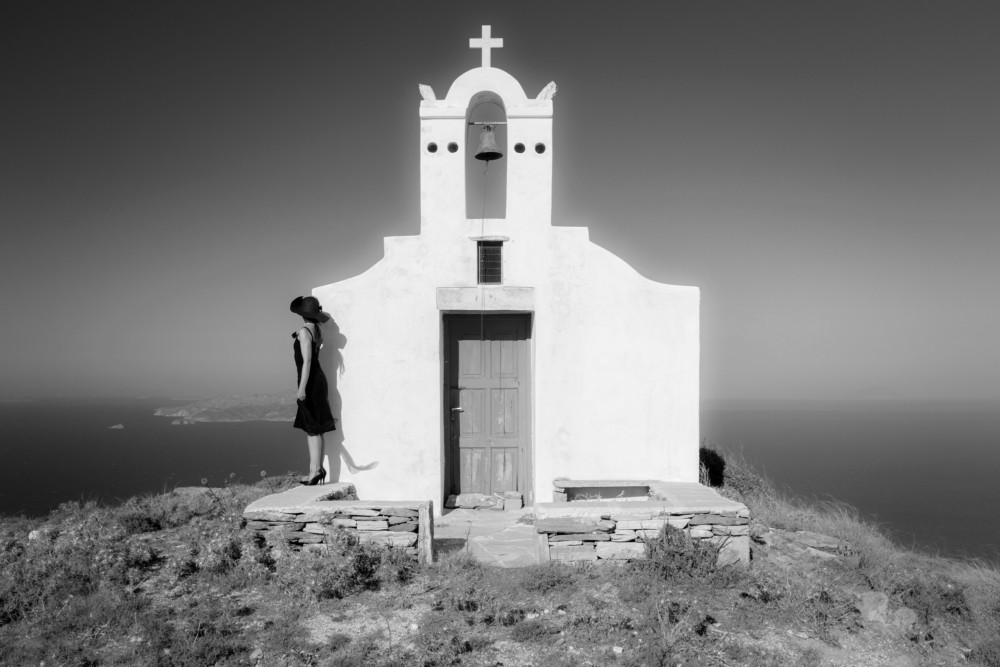 Church at the Top: Profile
Your exhibition is dedicated to the late Professor Delivorias. How did you come to know him and how has he influenced your work?
I came to know the late Professor Angelos Delivorias, director of the Benaki Museum in Athens for over forty years and a prominent archeologist, when my son, now 24, was still very young. It was the same summer and location that I (with son in arms) met a former U.S. President, who introduced me to a future Secretary of State, on a small beach in a magnificent bay that is part of an island not far from Santorini. This encounter has played a great role in my efforts to achieve the highest level of success for the project; the President had been the world's most important leader during his time in office due to political upheaval elsewhere and to see him step out of a boat just metres away was just quite unbelievable.
On another occasion, my wife, son and I shared that same beach with PM Kostas Karamanlis and his family; the two ladies discussed children, I remember.
I told the Professor about my explorations and sightings of amphorae, shipwrecks, foundations of buildings built with large sculpted stones, etc. He responded with explanations I could only have dreamt of hearing till then, causing my frustrations from ignorance about the subject to vanish.
We met many other times over the years, forming a friendship that lasted two decades. He admired my level of fitness and wished I would always give importance to it. He encouraged my interest in antiquity, inspiring me to explore with greater understanding, perception, use of imagination and passion. Last time we saw each other was in September 2017 when he'd already retired. I described a group of ancient Roman buildings hidden under foliage high on a hillside in a remote part of a less visited island, which he found fascinating. An exhibition of my work, focused on panoramic views of the island we were on, had impressed him; the details in the images were so sharp, he said, that in all his years at the Benaki, he'd never seen anything quite like them, concluding by emphatically encouraging me to try for an exhibition in Athens.
Parting company with a bear-like hug was customary though who knew this would be the last? When I discovered he'd passed away, I didn't sleep for an entire week. My eyes had become his concerning research of the archipelago.
Though he and his wife had met Roxana and recognised her as the model, they hadn't seen the unpublished photos of her wearing a classical white costume outside Episkopi church in Sikinos in 2016, two years before the discovery of the tomb of Neiko under the floor of this remote monumental structure dating back to the 3rd century A.D., unique in the Hellenic world. The tomb is regarded as one of the most significant finds in recent Greek archeological history.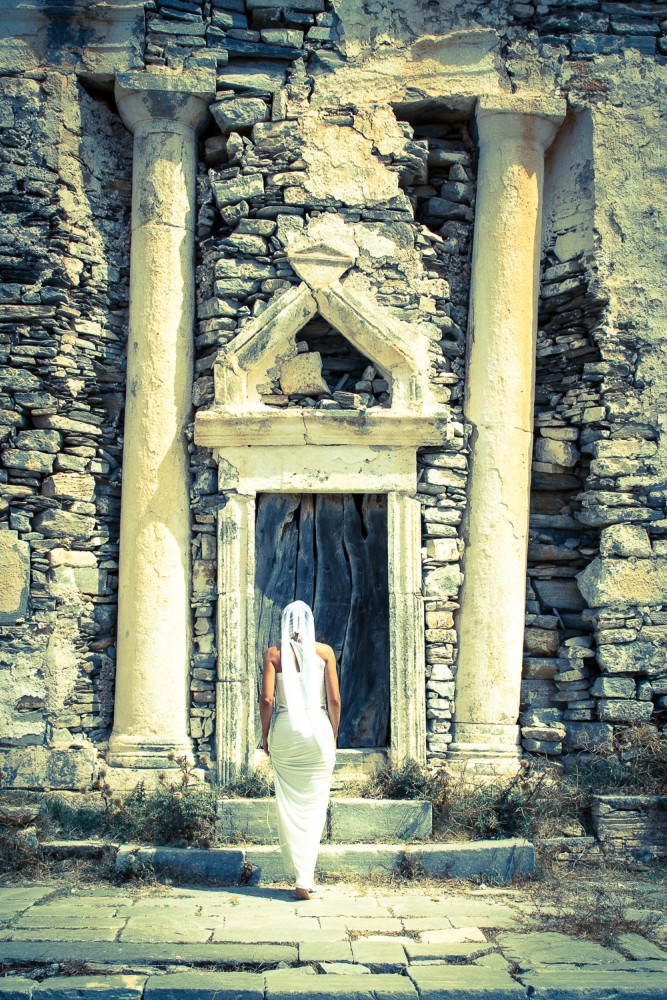 Lost Lady of Sikinos, Neiko
For this reason, a photo from the 'Lost Lady of Sikinos, Neiko' set, seen by the director of the Ephorate of Antiquities of the Cyclades, who found them 'very interesting', permitting me to quote him publicly, became the centrepiece of the Discovering the Beauty of the Cyclades exhibition at the Aquarium of Milan last May – June, officially approved and promoted by the Department of Culture of the Milan Municipality, or Comune di Milano, and presented by embassies of Greece and U.K., as well as leading journals. The Professor's family agreed to my request to dedicate the event to his memory.
On your website, you state your belief that "beauty invariably triumphs over ugliness and evil"; can we however remain optimistic when faced with the results of climate change and with severe environmental disasters (such as the recent Amazon rainforest wildfires)? Does a flower always "grow in the place of destruction"?
I think of nuclear devastation and how nature reclaims its place, how it flourishes again given time. Landscapes burnt expressionless by terrible fires I've documented in the Cyclades have had impressive regrowth after only a year or two.
What to say about the extreme weather conditions occurring around the world from the Amazon to Australia, California to Europe, etc? It's awful. I've been in a car in the Caribbean that got caught in a flash flood from a river whose banks had broken. Without warning, the powerful onslaught hit the vehicle well above roof level with water encapsulating it for several minutes. Death Valley National Park in Eastern California is the hottest place I've ever known with temperatures well into the mid 50s before noon; feeling the heat by touching the driver's window was seriously shocking. Imagine a car breaking down in such a place. Could these examples become the new normal in more places around the world in the not so distant future? It would seem so.
Technology will surely advance to where humankind's aggressive output of CO2 is considerably reduced, but how many will be made to suffer, even fatally, before real solutions are found?
In answer to your question, does a flower always grow in the place of destruction? I say, yes, even if it's a single water lily floating on top of a vast ocean covering what was once the world we inhabited.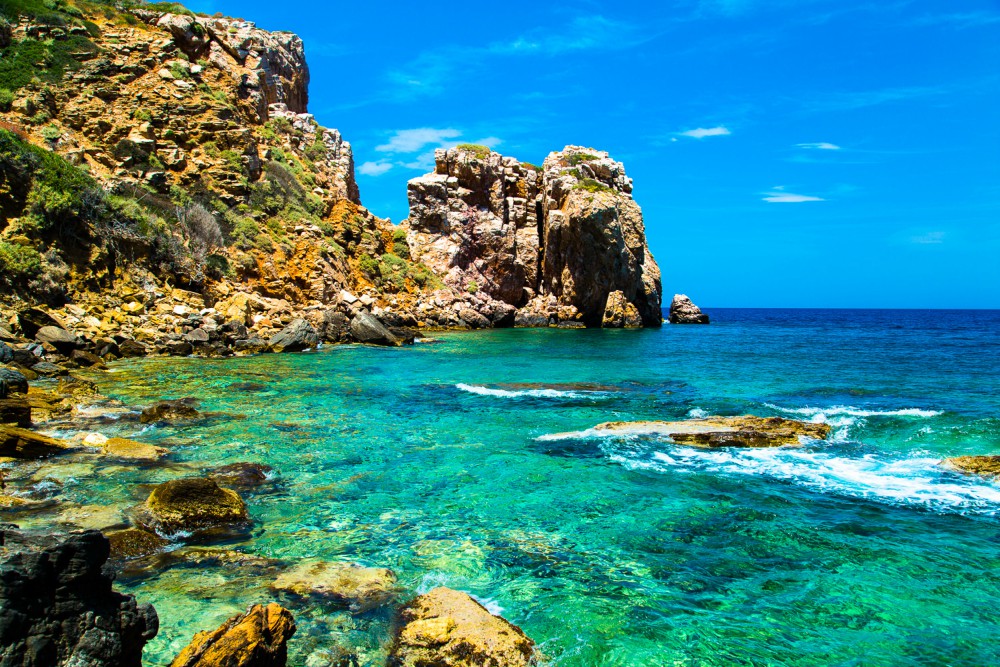 Poulati Bay, Sifnos
Your project is now in its sixth year. What would it take for you to feel it is "completed"?
I'm open minded about the project's continuation. My focus from the start has been on beauty, which takes time to capture in its variety of physical forms and expressions above and below the water line. For this reason, I haven't moved around the Cyclades hastily searching for new material.
The islands considered in the project are: Anafi, Santorini -volcano and caldera-, Ios, Sikinos, Folegandros, Poliegos, Kimolos, Milos, Sifnos, Serifos and Kythnos. This year has seen sponsorship for further research from ANEK Lines, the historical maritime company and a leader in the Mediterranean. Perhaps 2020 will bring more opportunities for exploration from other businesses interested in promoting themselves through my work.
Film directors and producers have contacted me with enthusiasm. I'm hoping there'll be progress in this respect since there's so much to say about the Cyclades, especially from a historical perspective.
Do you have plans for future projects in other parts of Greece?
Greece has genuinely fascinated me since I was a child. I've travelled extensively throughout the nation over many years also visiting Crete, the Dodecanese, the Northeastern Aegean islands, the Sporades, the Ionian Islands and the Peloponnese, as well as other mainland areas all of which I'd be more than pleased to rediscover and explore photographically in potential future projects.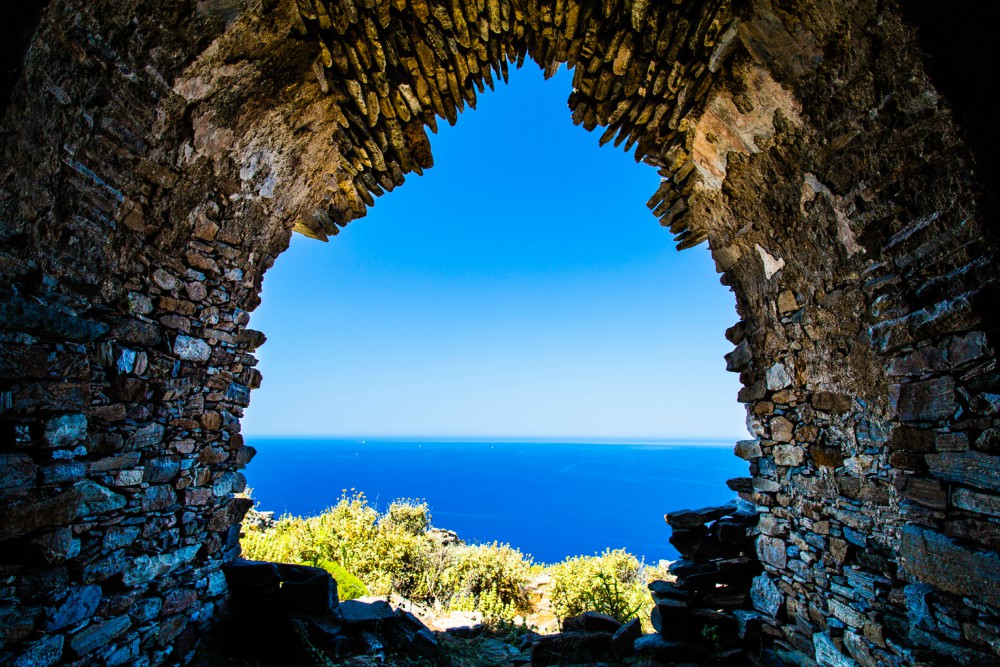 Byzantine church at Kastro, Kythnos
*Interview by Nefeli Mosaidi. (Intro photo: Rock pattern, Milos. All photos courtesy of W. Mark Wilman)
Read also via Greek News Agenda: Greek Seas: A photographic journey in time; Photography in Greece | Yiorgis Yerolymbos on the Stavros Niarchos Cultural Center and the Greek urban landscape; "111 Places in Athens That You Shouldn't Miss": The stories that make up a city; Hilary Roberts on German and British Photography in Greece 1940-1945; Visual designer Charis Tsevis: "Education is our only weapon and best hope for the future"
TAGS: ARTS | INTERNATIONAL RELATIONS | TOURISM