The pilot project "Between Worlds – A Greek Civilization XR Experience" was recently launched by the Stavros Niarchos Foundation Centre for Hellenic Studies at Simon Fraser University at the Museum of Vancouver; the exhibit uses a repertoire of spatial interface technologies in order to implement an experimental XR digital hub that can support experiential cultural interaction and feedback within immersive virtual spaces. The work was completed under the umbrella of the Rebooting the Greek Language project.
Between Worlds
The exhibit was developed as a pilot project by the SNF New Media Lab and Dr. Nick Hedley's Spatial Interface Research Lab in SFU's Department of Geography, under the auspices of the Greek Ambassador to Canada, Dimitrios Azemopoulos. The project's purpose was to explore the potential of XR (extended reality) as a tool for enhanced educational programming and opportunities; the content of the "Between Worlds" exhibit showcases technology and content developed within the ambit of Rebooting Greek Language.
It also aligns with British Columbia's new Grade 7 social studies curriculum and includes virtual and augmented experiences that span a range of geographic scales and contexts, such as: looking through a doorway in museum space, to experience the daily domestic life of an ancient Greek home in virtual space, witnessing a famous Greek naval battle from the perspective the deck of a warship, a journey deep into the underworld, rebuilding a ruined Tholos, and participating in ancient rituals. Physical objects and historical artifacts will be the starting point of these engagements, while the story arc and narratives that accompany them bring an elevated historical meaning to the student's learning outcomes.
As Dr. Nick Hedley, Professor of Spatial interface Research and Geovisualization and Technical Lead of "Between Worlds", explains "the project, much like its title, aims to allow students to easily step between the worlds of the present day and ancient Greece. Participants will be able to view a static museum artefact or object and bring it to life with a contextual narrative that will engage them on a much deeper level".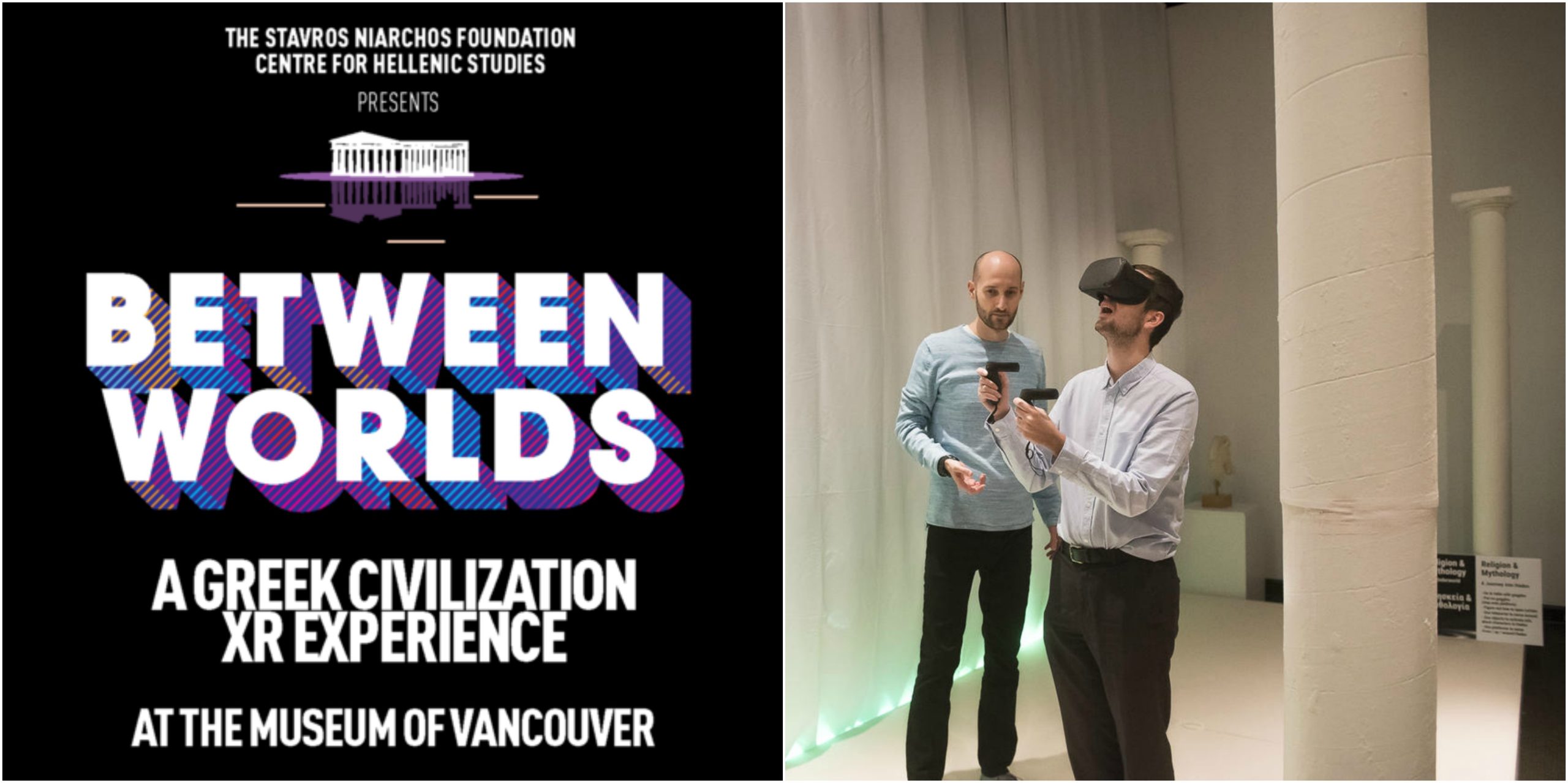 According to Dr. Hedley, the technology used is meant as a tool to tell a story, and as the main focus of the exhibit; the entire exhibit is a spatial interface, as opposed to a room full of inert artefacts. This way, visitors are provided with "portals between physical and virtual worlds, connecting present and past".
Mauro Vescera, CEO at the Museum of Vancouver (MOV), views the partnership between MOV and the Stavros Niarchos Foundation (SNF) Centre for Hellenic Studies at Simon Fraser University (SFU) as "a great opportunity to explore XR with respect to education by connecting our artefacts and objects to real stories. It's also a way for the organization and museums in general to explore, investigate, and identity future opportunities to integrate this type of technology into our activities".
This pilot project's main goal is to collect survey data from student participants to gauge the engagement and learning experience. If successful, the project will then have the opportunity to be replicated and re-calibrated to showcase other cultures and histories to areas of BC and Canada where accessibility is an issue and concern.
Costa Dedegikas, "Rebooting the Greek language" project coordinator, also expressed his excitement about combining emerging technologies with methods developed in research; pointing out that the SNF Centre for Hellenic Studies at SFU is always looking at new and exciting ways to teach Greek Language and Culture, he drew attention to the power and potential of Extended Reality (XR) to capture the imagination of young learners "especially for Greek Culture which offers such a recognizable and rich visual history".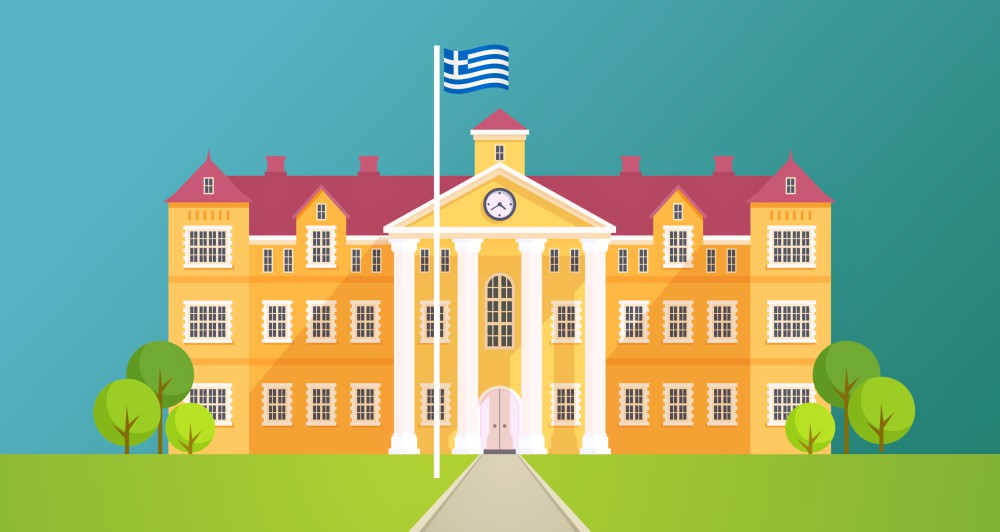 Rebooting Greek
"Rebooting the Greek language" is an initiative for developing innovative tools and 21st century pedagogy for teaching and learning Greek in the Diaspora, incorporating the latest in language pedagogy and educational technology; it features the latest advances in mobile technology, including augmented reality, a conversational user interface, fully localized content and revolutionary teaching methods based on smart learning analysis.
The app and platform is designed as a complementary learning resource, to be used in a variety of ways, depending on classroom conditions, students' educational needs and teachers' teaching style.
"Rebooting the Greek language" is an ongoing effort by Simon Fraser University, and this recent phase of the project has been generously funded by the Stavros Niarchos Foundation and implemented by the SNF Centre for Hellenic Studies at SFU. There is a number of development partners from other universities and schools, such as the University of Patras, the University of Pennsylvania and the St. Nicholas Greek School (Vancouver). SNF New Media Lab, which is part of the Centre, will provide ongoing support, maintenance, and upgrades.

SNF Centre for Hellenic Studies
The Stavros Niarchos Foundation Centre for Hellenic Studies at Simon Fraser University in Vancouver is a major site for the research, promotion, and advocacy of Hellenism in North America. It was established in 2011 at Simon Fraser University through a multimillion-dollar grant by the Stavros Niarchos Foundation.
The Centre supports the Hellenic Studies Program at SFU which offers undergraduate courses in Ancient, Byzantine, Early Modern and Modern Greek History, in addition to Archaeology and Greek language training. The Centre also has partnerships across the United States and is leading the way in the expansion of Hellenic Studies to China.
The SNF New Media Lab, part of the SNF Centre, has forged new methods for language learning and language preservation. A key specialty of the Lab is online and mobile language education for Modern Greek. Its proprietary Odysseas technology has also been used for French, Italian, Arabic, as well as for the teaching and preservation of 13 critically-endangered First Nations languages in Western Canada. The two-year project "Rebooting the Greek Language" is its most ambitious one.
Read also via Greek News Agenda: Learning Greek in Greece; Routes in Teaching Modern Greek as a Foreign Language; On Not Knowing (Modern) Greek
N.M.
TAGS: EDUCATION | GREEK LANGUAGE | MODERN GREEK STUDIES