Renewed research over the past decades reconstructs a vivid history of Greek medicine, synonymous with Hippocrates, Dioscorides and Galen, its daily practice in antiquity, the long and tenacious efforts of physicians and scientists to understand the mechanisms of action of medicinal plants, and the great chain of knowledge transmitted from early Greece to modern medicine.
Dr. Alain Touwaide, a founding member and scientific director of the Institute for the Preservation of Medical Traditions in Washington, D.C., has recently started in Athens a research program with colleagues at the National Hellenic Research Foundation, funded by the Onassis Foundation, about the history of Greek medicine and medicinal plants.
At an event titled "The Green Gold of Greece / Medicinal plants – History and context", taking place this evening (15.6) at the Athens Centre, Dr. Touwaide will present the unique range of medicinal plants one can find in Greece – the country is the third hotspot for biodiversity in the world – and their healing properties. This unique knowledge was handed down by oral tradition from one generation to the next, from ancient Greece and the 'father of medicine' Hippocrates to the 20th century, first through Byzantine manuscripts, and further on, through yiatrosofia. The lecture aims to illustrate the richness and continuity of this tradition and suggest how remedies derived from plants and herbs have the potential to renovate medicine.
Dr. Touwaide, also a classicist and byzantinist, proficient in 12 languages, including ancient Greek, has devoted his career to unearthing lost knowledge and scouring the globe searching for millennia-old medical manuscripts. His trans-disciplinary research deals with the history of botany, particularly the medicinal plants, from Antiquity to the 17th century, in the Greek, Latin, and Arabic cultures that flourished around the Mediterranean Sea.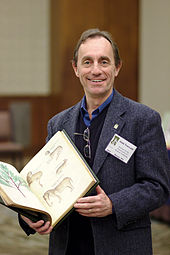 Alain Touwaide was recently awarded by the Onassis Foundation with one of the ten Foreign Fellowships (for the academic year 2015-16) to investigate the manuscripts preserved in Greece that transmitted the knowledge of medicinal plants inherited by Greek people populations in the Ottoman Empire.
Over the past 15 years he has been in residence at the Botany Department of the prestigious Smithsonian Institution in Washington DC (USA), while at the same time, he has been travelling, teaching and doing research all over the world. The Institute for the Preservation of Medical Traditions is a research centre at the interface of science, medicine, and the humanities, which bridges past and present, and inspires fresh investigations and innovative research strategies for tomorrow's health care.
Read more @GNA: Cretan Iama, an Organic Medicament Made in Greece
Watch Video: Flora Graeca Sibthorpiana and the botanical exploration of Greece
TAGS: ARCHEOLOGY | CONFERENCES | EDUCATION | FESTIVALS | GLOBAL GREEKS | HERITAGE | HISTORY | INNOVATION | PRODUCTS | SCIENCE & TECHNOLOGY