The Corfu Trilogy is the unofficial name for three autobiographical books by British naturalist Gerald Durrell, giving humorous, exaggerated and sometimes fictionalised stories of the years that he lived as a child with his siblings and widowed mother on the Greek island of Corfu between 1935 and 1939. It consists of the popular classic My Family and Other Animals and its delightful sequels, Birds, Beasts and Relatives and The Garden of the Gods.
For Gerald, the budding zoologist, Corfu was a natural paradise, teeming with strange birds and beasts that he could collect, watch and care for. But life was not without its problems – his family often objected to his animal-collecting activities, especially when the beasts wound up in the villa or – even worse – the fridge. Indeed, Durrell's books are also a sardonic scientist's observations of family life, in which his relations appear as animals slightly disorientated by their alien habitat.
The trilogy makes the reader privy to the riotous yet endearing antics of Durrell's unforgettable siblings: there's bossy Larry's love of literature (he went on to write the celebrated Alexandria Quartet), Leslie's obsession with guns and sister Margo with her acne and fashion magazines, all set against the incongruous reserve of their English mother.
With hilarious yet endearing portraits of his family and their many unusual hangers-on, The Corfu Trilogy also captures the beginnings of the author's lifelong love of animals, thereby explaining his later pre-eminence as a naturalist and zookeeper. The procession of toads, scorpions, snakes, spiders, owls, pigeons, geckos, ladybugs, glow-worms, octopuses and mantids marches through all three books.
Recounted with immense humour and charm, this wonderful account of Corfu's natural history reveals a rare, magical childhood. Gerald Durrell evokes his island paradise with passion and wonder. As eloquently put by the New York Times review, The Corfu Trilogy is 'a delightful book full of simple, well-known things: cicadas in the olive groves, lamp fishing at night, the complexities of fish and animals – but, above all, childhood moulded by these things'.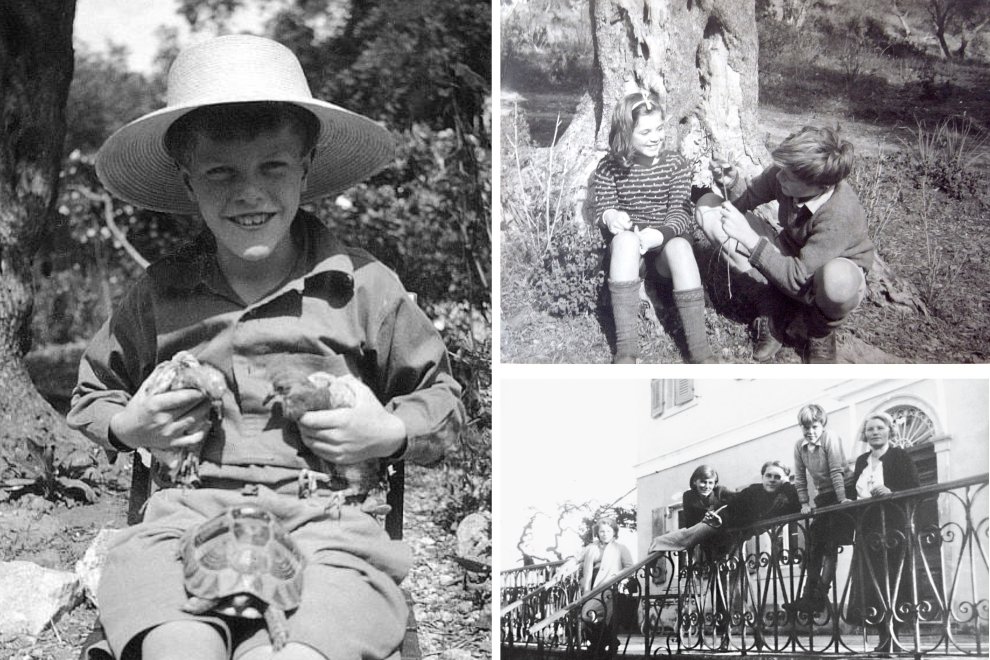 The author
Gerald Durrell (1925-1995) moved from England to Corfu with his family when he was eight. He spent much of his time studying the island's wildlife and surprising his family by keeping lots of very unusual pets in very unexpected places. He grew up to be a famous naturalist and conservationist, leading expeditions to exotic places such as Argentina, Sierra Leone, Assam and Madagascar. Durrell dedicated his life to the preservation of wildlife, especially the less glamorous kinds, which he called 'little brown jobs' and 'small uglies'. It is through his efforts that creatures such as the Mauritius pink pigeon and the Mallorcan midwife toad have avoided extinction.
Over his lifetime he presented many TV shows, and wrote thirty-seven books, including My Family and Other Animals and its two sequels, Birds, Beasts and Relatives and The Garden of the Gods. He founded Jersey Zoo in 1959 as a centre for the conservation of endangered species, and in 1963 created the Jersey Wildlife Preservation Trust – later renamed Durrell Wildlife Conservation Trust in his honour – of which his wife, Lee, is still Honorary Director. He was awarded the OBE in 1982.
A.R.
Read also: Meet "The Durrells" in Idyllic Corfu!
TAGS: LITERATURE & BOOKS | READING GREECE