"SIGHT", an unprecedented site-specific exhibition by renowned British sculptor Antony Gormley is presented on the Greek archaeological island of Delos and its museum by NEON (a nonprofit organisation that works to bring contemporary culture closer to everyone) in collaboration with the Ephorate of Antiquities of Cyclades.
According to NEON's press release, the Greek Archaeological Council has for the first time unanimously approved a contemporary art installation to take over the mythological and archaeological site, which will be on display on Delos from May 18 to October 31, 2019. The installation will consist of 29 life-size iron-sculpted figures, four of which have been specially commissioned for the exhibition and positioned at various locations around the island, inviting visitors to discover them. Thus the installation restores a human presence and creates a physical path connecting to the mythology and human activity of Delos's past, on what has for two millennia been an uninhabited island, except for archaeologists safeguarding Delos and those undertaking scientific research.
Greek News Agenda spoke* with the Director of the Ephorate of Antiquities of Cyclades, Dr Dimitrios Athanasoulis, who submitted to NEON the idea for a contemporary art show on the island. Dr Athanasoulis, who is charged with the research, restoration and management of the monuments, archaeological sites and museums of the Cyclades, is a member of the Greek Central Archaeological Council, the Board the European Centre of Byzantine and Post-byzantine Monuments, the Scientific Board of Pompei and the Board of the Christian Archaeological Society. He is head of major museum projects in the Cyclades and has conducted studies and restoration works on many archaeological sites and monuments.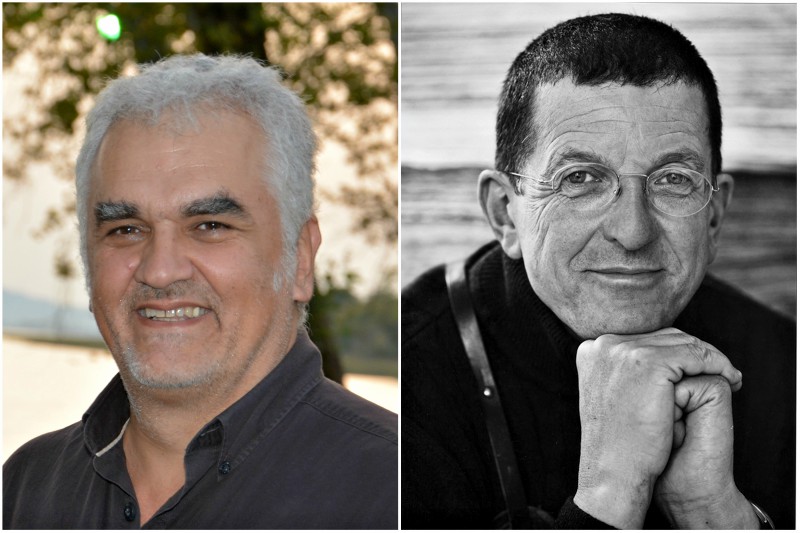 Dr Dimitrios Athanasoulis (left), sculptor Antony Gormley (right)
Asked what prompted him to make this suggestion, Dr Athanasoulis pointed to "the constant search for new ways of perceiving antiquity and monumental heritage and the public's renewed interest in space redefined by a contemporary art installation were the main reasons that instigated our initiative to host contemporary art on Delos. In this context, we approached NEON, given that this organisation has what it takes for this initiative to succeed and generate an original outcome that will achieve international recognition, since flimsy experimentation does not befit Delos".
Talking about the internationally acclaimed sculptor Antony Gormley, Dr Athanasoulis noted that "Antony Gormley is an internationally acclaimed artist, with studies in Art History, Archaeology and Anthropology, who provides new insight into structured and unstructured environments through the metallic figures he inserts in public space. In Delos, he designed an installation using metallic "bodyforms" in natural size, dispersed throughout the island, on selected locations. The visitors will discover them while roaming the island and have an unbuffered perception of their presence.
Asked if the number of people visiting the island of Delos will rise in the next few years Dr Athanasoulis said that "the Ephorate implements a comprehensive plan for the promotion of Delos, including extensive restoration works and other projects aimed at increasing the number of visitors, which taking into account the site's significance is considered relatively low. In spite of obstacles faced over recent years, we have achieved a steady increase in the number of visitors and hope to continue with this trend. Projects such as this art installation could also promote the site to specialised audiences, contributing -together with our other initiatives- to the advancement of Delos' importance and uniqueness".
*Interview by Marianna Varvarrigou, translation by Nefeli Mosaidi (Into image & photo of A. Gormley are used courtesy of NEON)