The first annual Delphi Economic Forum will be held at the European Cultural Centre of Delphi (ECCD, February 25 – 28, 2016) under the auspices of the President of the Hellenic Republic, Prokopis Pavlopoulos. The aim of the conference is to engage business, political, academic and other influential opinion makers, in an effort to address emerging challenges for Greece and to contribute to a policy framework that will set the grounds for the country's socio-economic transformation and revival.
Among the issues to be discussed at the Conference, according to the 4-day program, are the shifts in the global balance of power, strategies for sustainable development, Greece's constitutional revision dilemmas, Europe's migration and refugee crisis, Foreign Direct Investment and entrepreneurship as key drivers for the Greek economy, energy issues, the Greek pension system and the demographics of ageing, media and education reforms, the cooperation with the Greek Diaspora, as well as extremism and populism as challenges for the future of Europe.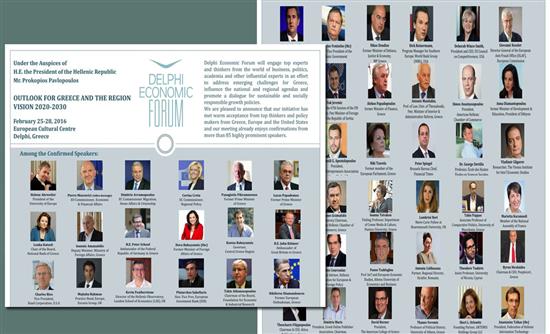 High-level government officials, influential politicians and major experts from Greece and abroad are expected to attend, as well as distinguished businessmen, market executive's academics and journalists from the international and domestic community. The list of speakers includes Helene Ahrweiler, President of the Administration Council of ECCD, Ioannis Dragasakis, Deputy Prime Minister of Greece, George Katrougalos, Minister of Labor, Ioannis Amanatidis, Deputy Minister of Foreign Affairs, Kostas Bakoyannis, Governor of Central Greece Region, Dimitris Avramopoulos, European Commissioner for Migration, Corina Cretu, Regional Policy Commissioner, Declan Costello, Director of Economic Relations of the European Commission, Deborah Wince-Smith, President and CEO, US Council on Competitiveness, Lucas Papademos, former Greek Prime Minister, Thanos Dokos, Director General Hellenic Foundation for European and Foreign Policy, and many more.
Τhe Conference is taking place in Delphi, one of the most important archaeological sites of Greece, which seems to appear in the itinerary of every traveler who is attracted to the oracle that influenced affairs in the known world for over a thousand years.
TAGS: CONFERENCES | ECONOMY & DEVELOPMENT | GLOBAL GREEKS | GOVERNMENT & POLITICS | HERITAGE