Afghan dissidents on their visit to the Presidential Mansion to meet with Greek President Katerina Sakelaroupoulou / Photo: Athens News Agency
In recent months, Greece has welcomed many high-profile Afghan dissidents fleeing the country. Since September 2021, the city of Athens has provided a safe haven for more than 700 of Afghanistan's female judges, lawmakers, journalists and lawyers, together with their families. They have arrived with the help of NGOs, international aid groups and several individuals who lobbied Greek leaders to remove from Afghanistan the people whose lives were most at risk, that is the women who represented the democratic society of Afghanistan that is no longer welcome after the Taliban takeover in August.
According to Politico, Ahmed Khan, an American philanthropist, is one of those individuals. Back in September Kahn started a weeks-long effort to get dozens of female Afghanis and their families to Greece, after securing almost instantaneous authorization from Greek officials. Kahn coordinated with the Greek government to cover the cost of the food, lodging and health insurance for the evacuees, and with the ministry of Migration to organize the operation. This happened in late September and since then, several groups of evacuees have fled Afghanistan for Greece. The exchange opened a pathway that Khan would use to bring more and more high-profile Afghan women to Greece. It was, as Khan said, a "flawless partnership." And, he added, it reflected an openness he saw from smaller governments that was missing from the world's biggest economic powers.
Many non-governmental organizations, such as Melissa Network, Mina's List and Human Rights 360 have carried out evacuations in cooperation with the Greek government. One of the first evacuation operations that became widely known was in October of 2021, when twenty-six female judges and lawyers and their families arrived in Athens from Afghanistan, via the Georgian capital of Tbilisi. Their safe transfer to Greece was carried out with the assistance of President Katerina Sakellaropoulou. The women were welcomed at the Athens International Airport where they were registered and taken to apartments provided under the ESTIA program of the ministry for Migration.
The Afghan women and their families
"
will be hosted in Greece until the process for their transfer and settlement in other Western countries that have expressed willingness to accept them is completed," the Foreign Ministry said in a statement, emphasizing that Greece is "committed to hosting a symbolic number of Afghan citizens who advocate the values of freedom of expression and equality." While most of the Afghan women who made it to Greece want to ultimately settle down in the U.S., Greek minister for immigration Mitarachis said Greece is "willing to provide asylum to all of them, if their attempts to find alternative accommodation doesn't materialize."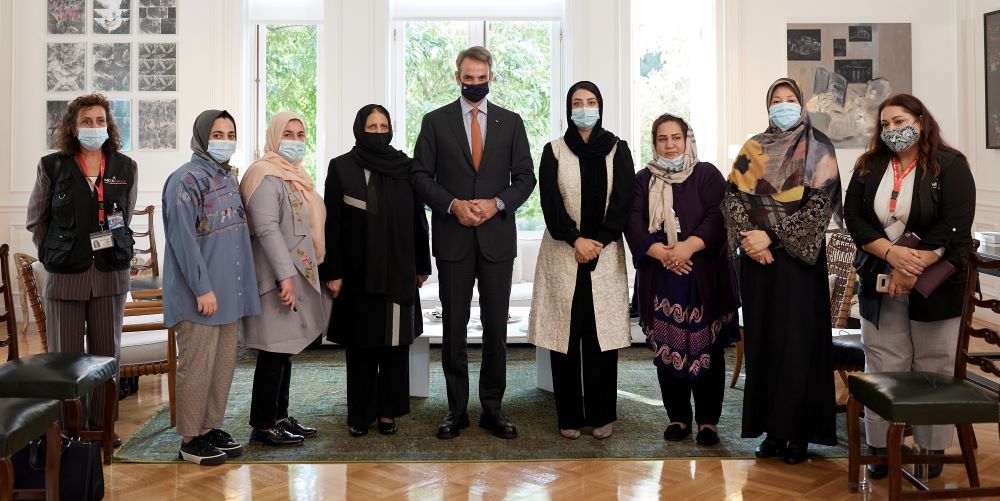 Greek PM Kyriakos Mitsotakis meets with Afghan women that served as parliamentarians and judges in Afghanistan / Photo: PM's Twitter account
In October, a small group of female Afghan dissidents met with both Greek Prime Minister Kyriakos Mitsotakis and the President of the Hellenic Republic, Katerina Sakellaropoulou. The PM tweeted, "Greece is offering safe passage and temporary accommodation to women that served as parliamentarians and judges in Afghanistan, as well as their relatives. Their lives would otherwise have been threatened by the Taliban. I am very proud of the action we are taking."
On November 22, another group of Afghan refugees landed in Athens: a private charter flight transported the group of 119 Afghans from the capital of Kabul, among them an ex-Afghan minister, as well as a lawyer who prosecuted more than 2,000 Taliban inmates. Nobel Peace Prize winner Malala Yousafzai hailed this rescue flight as a success. The plane, carrying dozens of Afghan women, included activists who had worked alongside Yousafzai.
According to the Independent, Yousafzai stated that the flight that helped Afghans escape the Taliban brought hope and safety. "Today's arrival provides hope and safety for so many incredible, vulnerable Afghans, including women's rights advocates, journalists and Malala Fund partners," Yousafzai stated. "I'm grateful to Prime Minister Mitsotakis and the Government of Greece for their support."
Faridoon Hazeen, a lawyer who investigated people who had links to the Taliban and al-Qaeda, was on the flight alongside his wife and four children. He said to the Independent, : "We had to leave. The Taliban had been looking for us. They went to my apartment and broke everything. They took my elder brother as hostage for eight days, then later they took my younger brother and father. My older brother was tortured and is still in critical condition. "In helping with this flight, the Greek government has proved that humanity matters, and it is playing its role for the people who need help and support. For that, I'm truly grateful."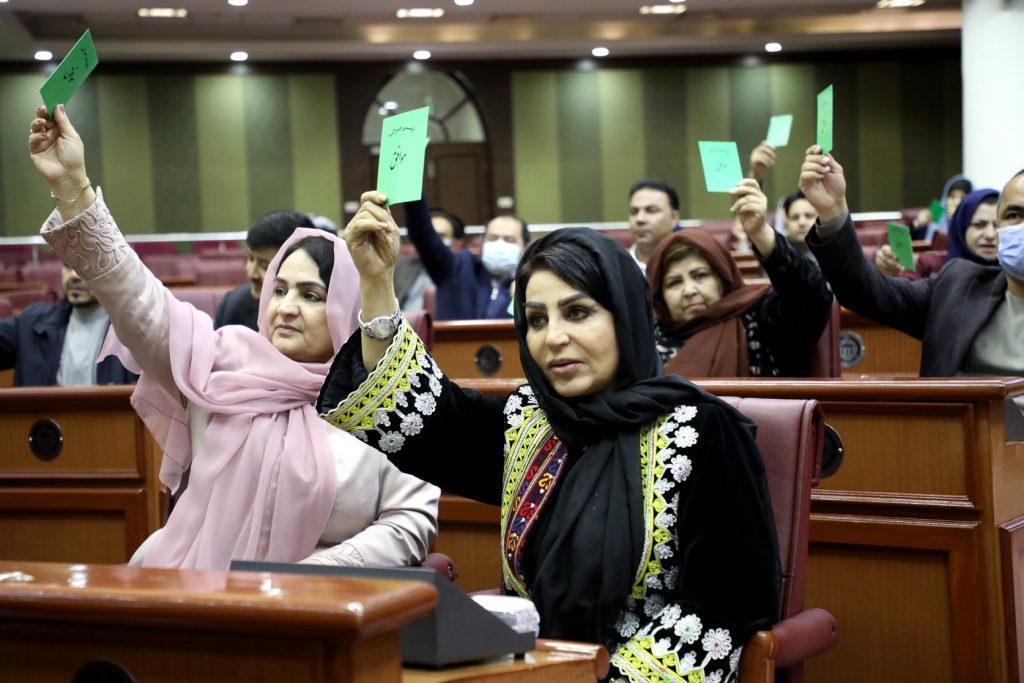 Images from a previous life: Afghan female members of the parliament in one of the parliament sessions before the return of the Taliban to power / Photo : Afghan Parliament Media Department
Afghan Women's

Parliament in Exile

Afghanistan's twin-chamber parliament was effectively dissolved after the Taliban seized control of the country in August. The future of the national assembly and the question of whether women will be allowed to hold any positions of authority remain uncertain. As the Guardian reports, Afghan female MPs that live now in Athens, are continuing the fight: "The 28 female MPs who have found refuge in Greece, want to combat a regime that has stripped women of basic rights and plunged their country deeper into poverty and hunger. During meetings with Greece's prime minister, Kyriakos Mitsotakis, and president, Katerina Sakellaropoulou, the MPs have pushed the country's authorities to advocate for Afghan women with other EU member states.

One of the parliamentarians, Shagufa Noorzai, came up with the idea for a parallel parliament in exile, along other MP Yousufi Bek. A teacher before becoming a legislator, while in office Noorzai focused on improving the financial status of women and set up a foundation aimed at supporting homeless children and widows in her native Helmand province. "I want women in Afghanistan to think, 'Shagufa didn't forget us. Shagufa wants to do something for us'," says Noorzai, who at 24 became the youngest member of parliament when she was elected in 2018. Many of the MPs have seen fierce opposition when seeking election; Yousafi Bek's campaign was the target of a deadly suicide bomber."

On November 27, the Afghan women parliamentarians and Senators announced that they have launched the Afghan Women's Parliament in Exile in Athens:

The Afghan Women's Parliament in Exile, which includes 41% of Afghan women MPs and Senators, will work "to mobilize support for their compatriots left behind under Taliban rule, to support the resettlement of Afghan refugees around the world, and to continue to advocate for the protection of women's and girls' rights," according to a press release issued by Mina's List, a US-based non-profit which funds the initiative.

Nazifa Yousufi Bek, who represented northern Takhar province in the Afghan parliament, is one of the founders of the Afghan Women's Parliament in Exile.

"Our work is not done. We were elected by the Afghan people to represent them," Bek is quoted as saying in the press release. "Our people, especially women and girls, and those living in poverty, are facing a severe humanitarian crisis and a crackdown on their rights by the Taliban. We will continue to serve them wherever we are," she added.

Tanya Henderson, Founder and Executive Director of Mina's List said:

"We are very grateful for the continued support of the government and the people of Greece who have welcomed the women MPs and their families with open arms. Today, these remarkable women have found the strength to continue their work as parliamentarians. Despite losing everything, Afghan women are still leading."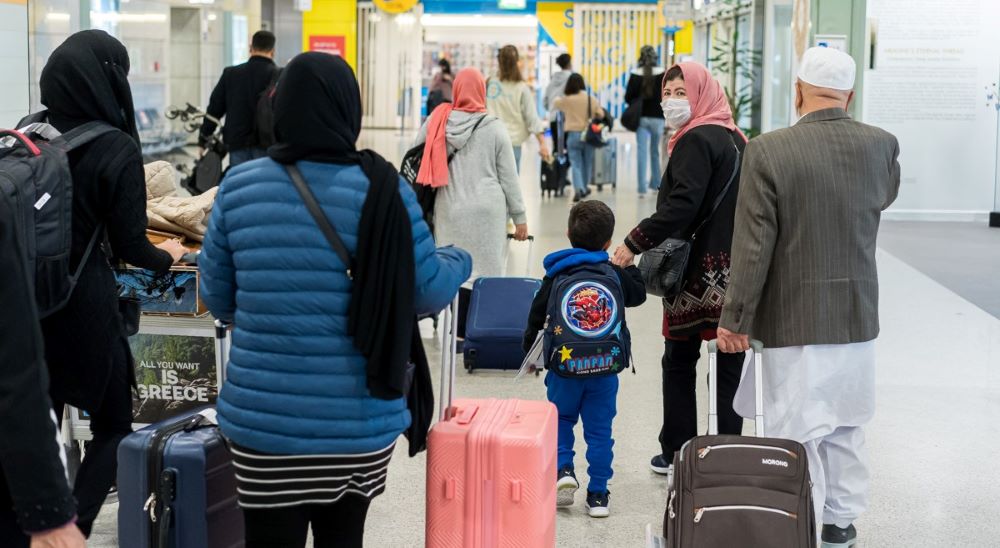 Afghan refugees arriving at the Athens International Airport / Photo: Human Rights 360