The General Secretariat for Media and Communication has published a fact sheet that compiles figures and up to date information οn economic developments in Greece, providing an conscise and informative economic review of the year 2017 – including updates until March 2018.
Download the fact sheet in pdf format
Greece has returned to growth in the course of 2017, signaling a turning point for its economy. With a fiscal over-performance over the period 2015-2017 and a gradual restoration of investor and market confidence, signs of economic recovery are observed in an accelerating growth rate, a remarkable increase in exports of goods and services and in the return of Foreign Direct Investments to pre-crisis levels. At the same time unemployment has dropped, demonstrating a downward trend. The third economic adjustment programme is progressing smoothly towards its conclusion on 20 August 2018, paving the way for the technical work concerning the related growth-adjustment mechanism which is linked to debt relief measures.
With a view to the final decision expected in June, the post-programme framework that will define relations with Greece's partners is also being prepared. A long-term growth strategy is being elaborated by the Greek government, taking Greece's economic profile into account and highlighting the country's competitive advantages.  The strategy will continue the necessary structural reforms to make the country more competitive and less bureaucratic, while at the same time promoting fair growth for all.
Public Finance on the right track
State Budget Execution for January – December 2017
Ordinary Budget net revenues amounted to 48,973 million Euros, 259 million Euros or 0.5%, higher than the target.
State Budget expenditures up to 55,690 million Euros, 1,575 million Euros lower than the target (57,265 million Euros).
Decrease in the Ordinary Budget expenditures by 943 million Euros compared to the respective period of 2016.
The General Government primary surplus targets of 2017 and 2018 agreed at 1.75% and 3.5% of GDP, are about to be achieved, building on the previous year's primary surplus overshooting by 3.3% of GDP against target.
Confidence gradually restored
Access to international capital markets
Successful attempt to access international capital markets in July 2017, for the first time since 2014, with the issuing of a syndicated 5-year state bond of 3 billion euros at a 4.62% interest rate (against 4.95% in 2014).
Successful issuance in February 2018 of a 7-year state bond of 3 billion euros at a 3.5% interest rate, in the framework of a planned series of market access exercises under the ESM programme.
Economic outlook upgrades by credit rating agencies
A series of economic outlook upgrades within 2017 by credit rating agencies Moody's, Standard & Poor's, Fitch and DBRS from stable to positive.
Greece's sovereign credit rating was upgraded by Standard & Poor's from B- to B, in January 2018.
Greece's issuer rating was upgraded by Moody΄s to B3 from Caa2, in February 2018.
Economic Sentiment – Consumer Confidence
Consumer confidence improved by 18.5 bps at the end of 2017 versus the end of the previous semester.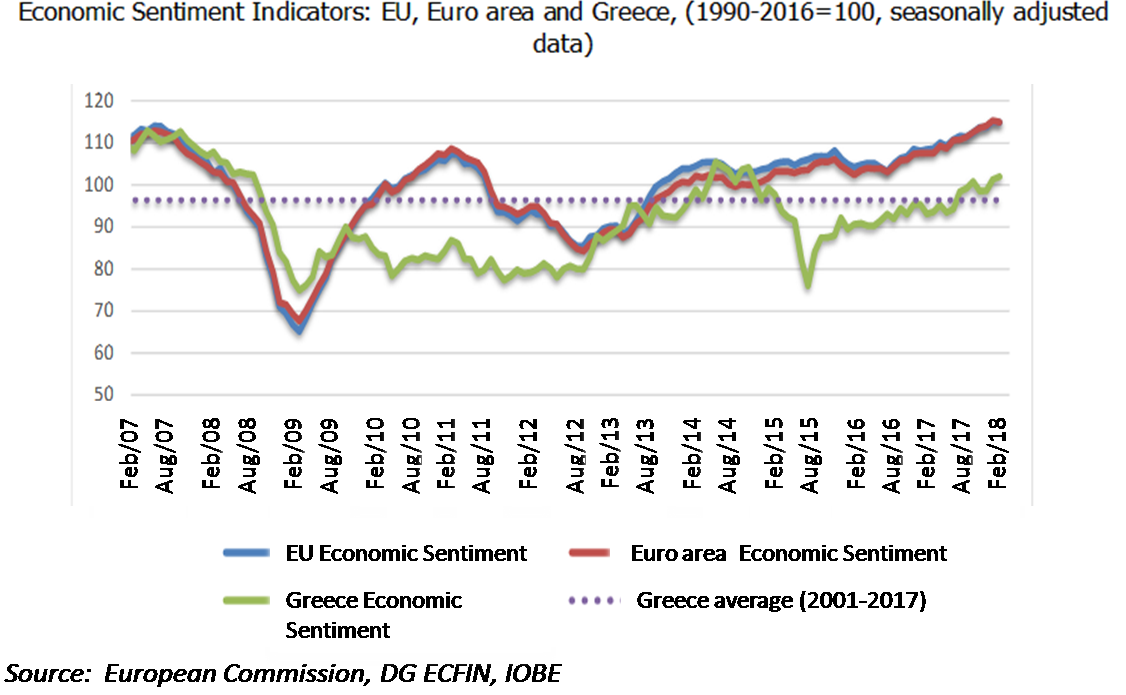 Signs of economic recovery
GDP growth
Greece returned to growth, in 2017, signaling a turning point for its economy. GDP growth reached 1.4% for the whole year according to first estimates (the biggest increase since 2007), while for 2018 GDP growth is estimated at 2.3%.
Exports of goods and services
Exports of goods and services during 2017 amounted to 59,758 billion euros in comparison with 55,970 billion euros for the corresponding period of the year 2016, recording an increase of 6.8%.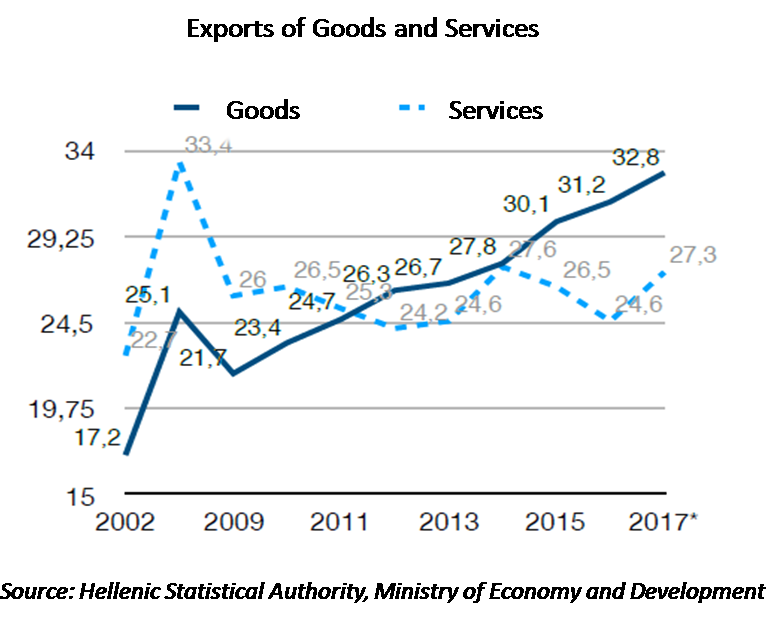 Public Investment Programme
The Public Investment Programme showed a yearly increase of 209% in January 2018 and 27% in February 2018, in comparison to -80% and -34% respectively in 2017.
Tourism
In 2017, the balance of travel services showed a surplus of €12,680 million, up 13.2% from a surplus of €11,201 million in 2016. Net receipts from travel services offset 69.1% of the goods deficit and accounted for 72.9% of total net receipts from services. Travel receipts rose in 2017 to €14,596 million a 10.5% rise compared with the previous year.
Foreign Direct Investments (FDI)
Foreign Direct Investment (FDI) in 2017 came to a total of €3.59 billion euros (2% of Greek GDP), increasing by 29.4% in comparison to 2016. FDI inflows to Greece have returned to pre-crisis levels both in quantity and quality as an increase in industrial sector's contribution has also been remarked (from -9% in 2014 to 8% in 2017).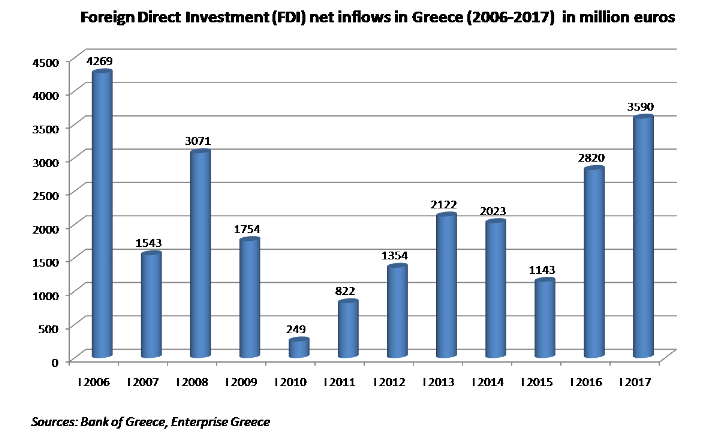 EU funding absorption
Greece achieved the highest EU funding absorption in the EU having used 25% of the funding available from the new European structural and investment funds for 2014-2020. Greece also ranked first in 2016 with a record absorption of 11.3 % in that year, placed in the top of available EU funding absorption for the third consecutive year.
Agreements with the European Investment Bank (EIB)
EIB financing in Greece came to a total of EUR 2.1 billion in 2017.
The total investment of the EIB Group (the European Investment Bank and the European Investment Fund) in Greece in 2017 was EUR 2.49 billion.
European Fund for Strategic Investments (EFSI) – (Juncker Plan)
Total financing under the European Fund for Strategic Investments (EFSI) in Greece amounts to €2.1 billion and is set to trigger €8.1 billion in additional investments (as of February 2018).
Greece's economy reorientation
Consumption expenditure
Final consumption expenditure (in public and private sector) decreased by 0.2% in 2017 while gross capital formation representing productive investment increased by 9.6% (against 5% target), showing the biggest increase over the past decade.
Industrial production
Industrial production stayed on an upward climb for the third consecutive year, at an accelerated pace (+4.4% in the January-November period versus +2.5% respectively in 2016).
Agri-food sector
Agri-food sector is a key sector for Greek economy showing an increase of 15.3% in exports in the period 2014-2017 representing the 17.5% of total exports.
Extroversion
The exports of goods and services to GDP ratio has increased to 31.9% in 2017. The ratio of goods exports to the total exports (goods and services) increased in 2017 from 50.1% to 55.1% marking the shift from a production model based on services to a model  based on goods mainly industrial.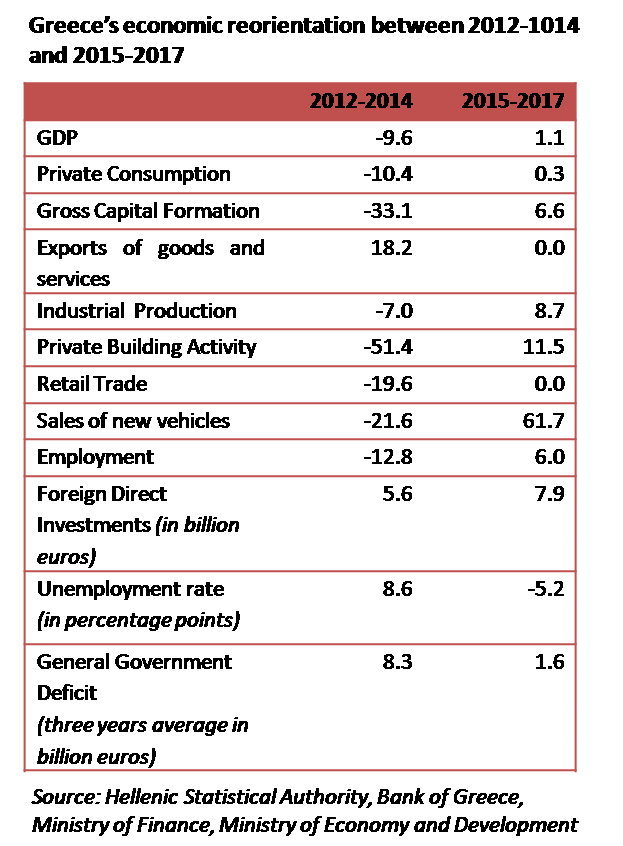 Labor market developments
Reduction in unemployment rate reaching 20.2% in the 3rd trimester 2017, the lowest since 2013 when unemployment rate reached 27.9%.
Reduction in youth unemployment rate reaching 42.9% in 2017, the lowest rate of the last 7 years.
Creation of 320,000 net jobs in the period 2015-2017, the highest employment growth over the past 10 years.
Salaried employment returned to positive numbers in February, as recruitments outnumbered retirements by 16,628 jobs according to the ERGANI Information System.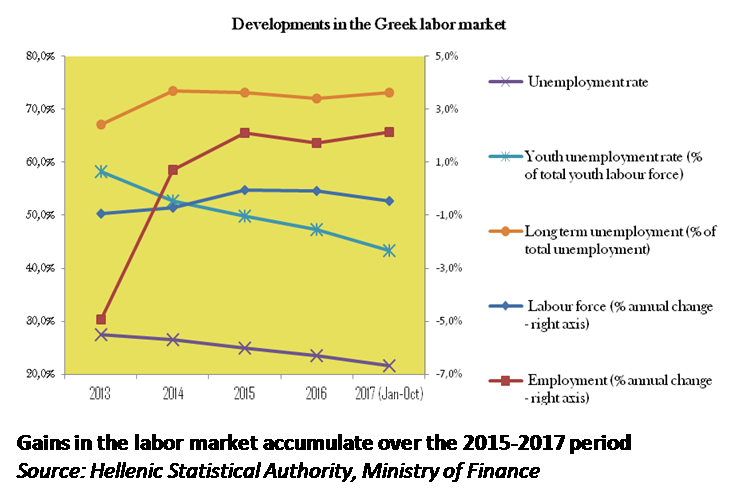 Adjustment Progress
According to the 2017 Euro Plus Monitor issued by the Brussels-based think-tank Lisbon Council, Greece ranks first in Adjustment Progress Indicator, an index showing the progress that countries have made in fiscal adjustment, taking into account hard economic data but also structural reforms.
More specifically, Greece ranks:
first in fiscal adjustment (the  size and quality of any change in the fiscal deficit, adjusted for interest payments as well as cyclical and one-off factors),
first in structural reforms,
second in the criteria of labour cost adjustment (changes in unit labour costs relative to the eurozone average),
fourth in the external adjustment (the rise/or fall in exports relative to imports in the external accounts).
*Τhe Fact Sheet was compiled by Strategic and Communications Planning Unit of General Secretariat for Media and Communication, Ministry of Digital Policy, Telecommunications and Media.
Sources available online:
Read more via Greek News Agenda:
I.L.
TAGS: ECONOMY & DEVELOPMENT | RECOVERY