The film "Meltem" by Basile Doganis – shot in Lesvos through Franco-Hellenic cooperation – hopes to participate in the Cannes Film Festival. The film is a co-production of Greek Blonde company and the French production company Elzévir Films, of which Denis Carot is the Manager/Producer. Two months prior to the Festival, the team is working feverishly to finish post-production in Greece.
We interviewed* Denis Carot, initiator of the project with Basile Doganis, on how the project idea was born, and especially how filming on the island was, where the presence of migrants continues to be very prominent. He emphasized that "Meltem" is not a documentary, but a fiction film in which the life of the island is of course reflected.
What are the reasons that made you choose Greece, and, more precisely, the island of Lesvos?
Initially, this was done very naturally, since we developed this project together with Basile Doganis, the director and scriptwriter of this film; Basile is Franco-Greek, though first Greek, so Greek-French! He wrote this scenario which takes place entirely in Lesvos. This is the story of three young French people; the main character is a young Franco-Greek woman who returns to Lesvos with two friends, both French but of immigrant origin, one from North Africa, and the other from West Africa. We see at the beginning of the film that she comes to Lesvos Island in order to sell the house of her Greek mother who died a year ago. Her step-father, with whom she does not get along, is still there.
The three young people think that they will spend pleasant holidays, but the action takes place in July 2015, when the first big flow of migrants arrives on the island of Lesvos. The three heroes meet a fourth character, a young migrant who makes them believe that he is Spanish, but they will quickly discover that he is actually Syrian and seeks to cross over to continental Europe to find his mother who is probably in a refugee camp, so they try to help him.
This film is interesting in that it questions the notion of identity and roots, because everyone has a particular story. The fact of being in a foreign land, facing immigration problems. But this is not a drama; at the beginning it is a comedy that gradually turns into a drama, as there is a moment when everything changes. It is the story of these young people who find themselves in this context, which in itself, is very dramatic. Where does this bring them in their thinking and where does it lead us? This film pushes them and pushes us to think.
Could we approach it as a documentary?
No, it's fiction that challenges reality. I equally discovered on this occasion that most of the inhabitants of Lesvos are also migrants, most of who come from Asia Minor. Elena's step-father – she's the heroine of his film, interpreted by Daphné Patakia – who is Greek and a biologist, works for the police on a program to collect the DNA of shipwrecked migrants, so that families can identify their corpses. The whole story revolves around that.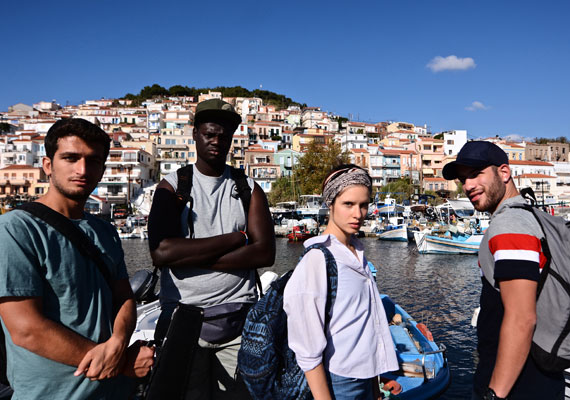 Karam Al Kafri, Lamine Cissokho, Daphne Patakia and Rabah Nait Oufella, "Meltem" (2018) © Chloé Kritharas Devienne
How would you describe your filming experience in Greece? Especially on an island that is in the front line of migratory flows?
So, in the film, migrants are kind of present everywhere, voluntarily – again this is not a film about migrants. When the young people come out of the airport, in the first sequence, they are on their way home, they go through the port and they see a lot of migrants huddled there, and they are very intrigued by the presence of these people. The step-father explains that they have just arrived, that the island is invaded by migrants. That's where we had a good partnership with producer Fenia Cossovitsa, from Blonde company, because it's a complicated situation locally, and we had fears about the municipality's participation in the scene reconstruction, but in fact it went fine. Local authorities have been very cooperative and have complied with our requests. Fenia, without a doubt, was one of our great assets.
Tell us about your experience with the people of Lesvos. Did you stay on the island a long time?
They were very welcoming, very receptive, very positive vis-à-vis our project. Yes, the shooting lasted six weeks, from early September to mid-October.We let the peak tourist season go by and we benefited from ideal weather conditions,it is one of the many advantages of Greece. We had a lot of sequences with extras; we reconstructed a traditional festival in a village. We were very well received, the people were very friendly. The team was almost all Greek, the entire technical team, people from Athens but also excellent local technicians, because other shootings were also taking place in Lesvos, including the latest film by Tony Gatlif before us. But above all the quality of the teams is paramount, we have worked in many other countries that work differently, like Belgium, Poland, Morocco and even Tajikistan; but the work organization in France is very similar to what is practiced in Greece. And in addition, they are very good technicians; a good team is one of the keys to success.
Did you use Greek technical equipment?
For the filming equipment, all the technical equipment we used was from Greece, except for the camera, in order to respect a certain balance between France and Greece; we should have some French expenses. That's why we brought the camera and its accessories from France, and we worked with Greek electrical equipment and machinery.
At what stage of post-production are you now? Why did you choose to make it in Greece?
We finished editing images that we filmed in France. Now we are at the stage of post-production that we are doing in Greece: sound editing, film design, mixing, color grading and music recording. We hope to present it at the Cannes Film Festival in May, time is running out, we have to be ready by the end of March because competition among the first films is fierce.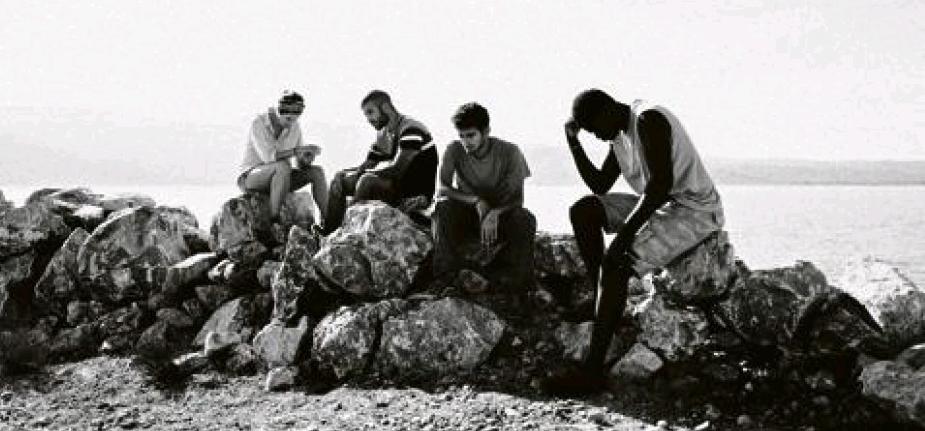 Daphne Patakia, Karam Al Kafri, Lamine Cissokho and Rabah Nait Oufella, "Meltem" (2018) © Chloé Kritharas Devienne
Could you tell us about your co-production work?
It was our first co-production experience with Greece, with the Greek company Blonde, Fenia Cossovitsa who recommended excellent service providers in Greece.We had a small amount of money, so we tried to optimize the allocation of resources, prices being cheaper in Greece than in France, so this economic issue also guided our choices. We tried to reach a certain balance. With Fenia, things went very quickly, she took decisions very quickly, very professionally, there was a lot of Greek money, since we had the support of the Greek Film Center for minority co-productions, we had the Franco-Greek mini-treaty, and perhaps we will have participation from Greek television. A relationship of trust was quickly established between us, things followed without a hitch as soon as the final green light was given.Fenia took care of the locations, found the technical team,she was the one who recommended the young Greek Photography Director, Konstantinos Koukoulios – it is his second film. All the important posts were occupied by Greeks.The financial aspect also played a big role because salaries and charges are lower in Greece; we could not have made the film in France with our budget.
Three months ago you met General Secretary for Media and Communication, Lefteris Kretsos here in Paris. He told you about the new incentive law for filming in Greece. Have you been able to benefit from this financial aid?
Alas no, because filming took place before the voting on the bill. These are excellent measures, especially if Greece is in competition with other countries, for example, in case of footage shot in several countries. Thanks to these financial advantages, arbitration would be in favor of Greece. Afterwards, for the co-production to be formalized and to benefit from these incentives, Greek financing of at least 20% is necessary. This remains an excellent initiative.
Are you considering a subsequent production in Greece, another film with Basile?
Why not? We can also consider the opposite with a Greek production and a French co-production, and a new collaboration with Blonde Audiovisual Productions.
Will you come back on holiday in Greece?
I do not know yet, I have made many round trips recently, and it was very nice. I enjoyed the hospitality of Greeks, tasted the savoury cuisine, especially with grilled fish and honoured ouzo, the famous local drink! This was not my first experience in Greece, I taught Cultural Project Management for three years straight, at the French Institute of Athens. I enjoyed the sweetness of life in Greece!
Meltem, film directed by Basile Doganis
Cast: Daphne Patakia, Rabah Nait Ouffela, Lamine Cissokho, Karam Al Kafri, Akis Sakellariou and Feodor Atkine.
Original music: Kyriakos Kalaitzidis and Hockyn.
Production: Elzévir Films and Blonde Audiovisual Productions
* Interviewed by the personnel of the Press and Communication Office of the Embassy of Greece in Paris
Translated by Nicole Stellos
Read also via Greek News Agenda: One more reason to film in Greece: A new legal framework of economic incentives, Lefteris Kretsos on bringing Greece on the global map of the Game and Film Making Industry, "Filming Greece": our new series of interviews on Greek Cinema.
F.K.