Expectations for the smooth conclusion of the third adjustment programme for Greece prove justified as Fitch upgrades Greece's sovereign credit, and Eurogroup's President Mario Centeno declares that there are "excellent news on Greece" after the Eurozone finance ministers' meeting on Monday 19.2.2018.
This Friday 16.2.2018, the major rating agency Fitch upgraded Greece's sovereign credit rating by one notch from B- to B, and kept its positive outlook. In its report, estimated that the sustainability of the state debt will improve with the contribution of the economic recovery and the reduction of the political risk as the primary surpluses which are ensured by the additional fiscal measures that will be implemented until 2020.
Eurogroup President Mario Centeno said that here was "excellent news" on Greece, whose government had made a "tremendous effort" to implement all the prior actions needed to complete the third review and shown "strong ownership" of the reforms, after the Eurozone finance ministers' meeting. "National procedures will now be needed to approve the disbursement of 5.7 billion euros", Centeno said, adding that it is time to move on to the next stage, as staff-level talks on easing Greece's debt have already begun.
In a message to investors, Finance Minister Euclid Tsakalotos told French newspaper "Les Echos" (18.2.2018) that Greece could look forward to three years of economic growth, revealing that government intends to present a reform plan in April that will be both growth-friendly and socially sensitive, so that investors will "know where we are headed." Speaking to the "Financial Times" (18.2.2018) Euclid Tsakalotos asserted once more Greece "wants as 'clean' an exit as possible," and will not need to be subject to tight monitoring once its bailout programme ends in August, adding that the "after emerging from recession last year, the economy is projected to grow by about 2.5% this year and next.
Earlier this month French newspaper "Le Figaro" published (7.2.2018) a 24-page business report on Greece under the title "Revive Greece, restore Europe" presenting the country's energy, tourism, and telecommunications industries as well as discussing finance, development, infrastructure and exports.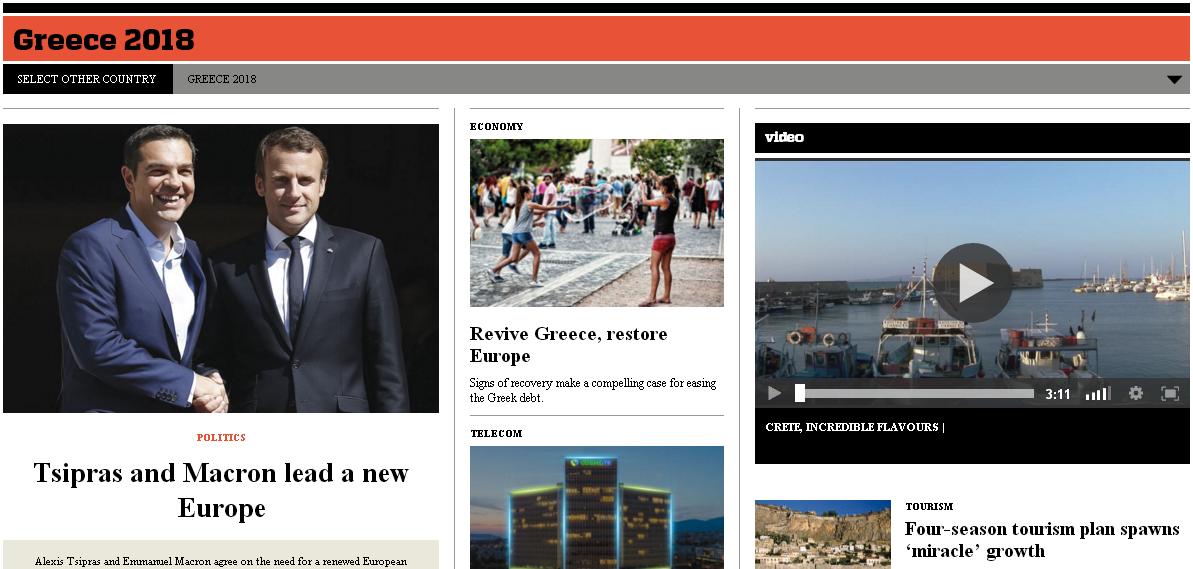 On Greek economy overall, the report posits that Greece is slowly emerging from the crisis after seven years of recession and now has all the assets to attract investors in various sectors, ranging from tourism to energy and telecommunications."It is still a long way, but we can finally be more optimistic", said Greek Prime Minister Alexis Tsipras at the end of July. For 2018, the Greek government expects a growth rate of 2.4%. Tourism continues to break records, with 26 million visitors recorded in 2017. Even unemployment has receded to around 20% after having reached a peak of nearly 28% in 2013. Dimitri Papadimitriou, Minister of Economy and Development, said that "250,000 jobs have been created since my government has been in power." Athanasios Chrysafidis Managing director of NBG Securities believes that "macroeconomic indicators are improving" and "we need initiatives to support growth now".
Through privatizations, managed by the Hellenic Corporation of Assets and Participations, many opportunities are open to foreign investors. Greece hopes to draw 5.5 billion euros from the sale of public companies by the end of 2018. The country has already sold the management of the Port of Piraeus to the Chinese company Cosco, and has also sold 14 regional airports to the German company Fraport, and many other assets. Dimitri Papadimitriou, Minister of the Economy and Development, also highlights the advantages in investing in Greece from a human capital perspective: "We have a workforce of nearly 50 % of university graduates, who are experienced and talented, active in the sectors of health, technology and telecommunications, biotechnology, the pharmaceutical industry and of course, in tourism".
Exports are a key factor in getting Greece out of the crisis: GDP grew by 1.3% in the third quarter of 2017 compared to the third quarter of 2016, according to the Hellenic Statistical Authority (ELSTAT), mainly due to a rise in exports of goods and services, which were up 5% from the second quarter and up 7.8% y-o-y. By focusing on exports, Greek entrepreneurs made the right bet to survive the decline in domestic consumption. "In the past months there has been a significant increase in Greek product exports (…) because Greek manufacturers have realized that it is necessary to be competitive and turn to the international market," explained Stergios Pitsiorlas, Deputy Minister of Economy and Development.
"In the last three years, we have conquered 10 new international markets," said Elias Athanasiou, Director of Enterprise Greece, a Greek state agency that aims to promote Greek companies abroad. Enterprise Greece participates in more than 50 trade shows throughout the year and collaborates with 900 Greek companies. The Greek pharmaceutical sector is also experiencing a new era and is beginning to make itself heard abroad.
As far as energy is concerned, Greece is at the heart of three vital projects to supply gas to the European Union, while Greece's largest refiner, Hellenic Petroleum, is diversifying its activities and focusing on hydrocarbon exploration in the Ionian Sea and Greece's Independent Power Transmission Operator (ADMIE) has placed smart grid development, new technology R&D and greater efficiency in the deployment of critical electricity transmission projects across the Greek islands atop the agenda.
According to the Greek Ministry of Infrastructure and Transport there is a €25 billion infrastructure need in Greece. "Much of the investment will be sought from the private sector, with the support of the EIB and the EBRD through viable Public-Private Partnerships," says Christos Spirtzis, Greek Minister for Infrastructure and Transport. An agreement was signed with Bulgaria and involves one of the major infrastructure projects aiming to connect the rail network to the three ports of northern Greece; Thessaloniki, Kavala and Alexandroupolis to the ports of Burgas, Varna and some Danube ports.
In the tourism sector, a plan to promote Greece as a 365-day vacation destination is taking tourism a step further, turning admirable crisis management into what the UN World Tourism Organization's head director calls a "modern-day miracle," with Greece's arrival growth now double the global average. "Our negotiations with tour operators and airlines have led to tourism packages and new direct flights for a longer period and to a larger number of Greek destinations," says Minister of Tourism Elena Kountoura. According to the Ministry of Tourism, arrivals increased to 28 million in 2016, up 4 million from two years before, resulting in an annual growth rate of 8%, or twice the global average. In 2017, Greece is expecting a breakaway year, setting more all-time highs.
As far as digital policy is concernced, the relevant ministry wants to encourage more investment in the audiovisual sector. Between 2018 and 2020, 450 million euros will be used to subsidize up to 25% of audiovisual content. "Cinema, educational videos, video games, documentaries, all these media can improve the image of the country and help create a real industry", said minister of Digital Policy Nikos Pappas.
Read more via Greek News Agenda: Greece's post-memorandum era: developmental and social goals
See also: GrèceHebdo: Le Figaro – Dossier spécial dédié à la Grèce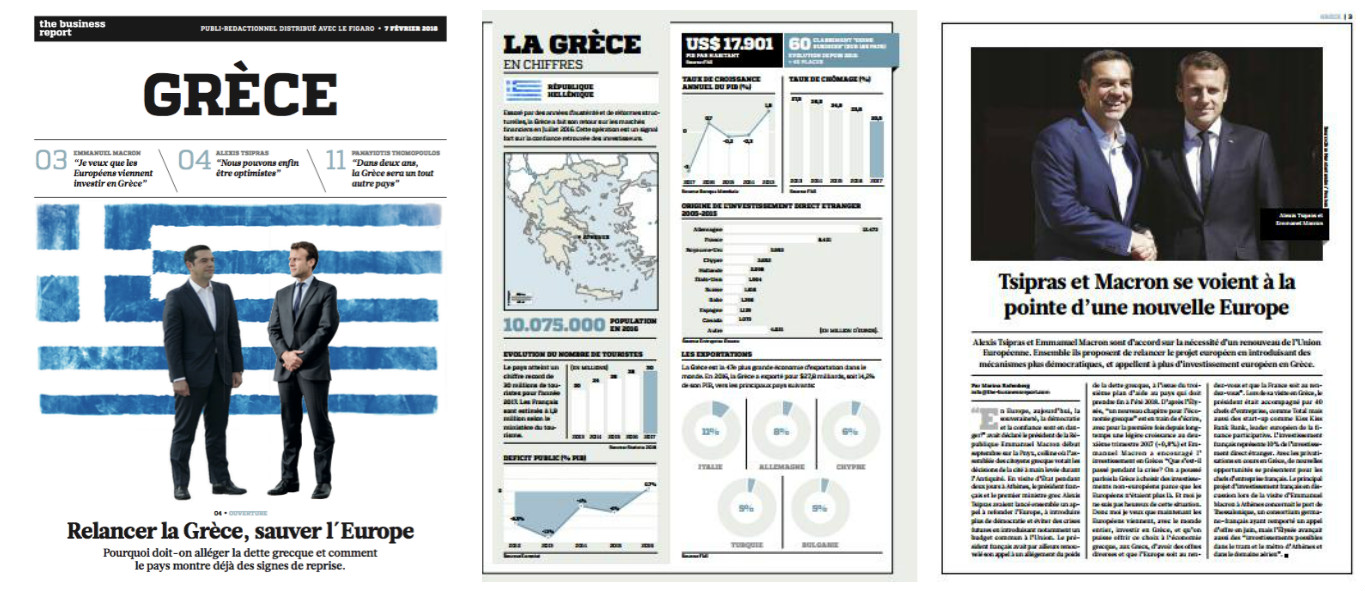 I.L.