Legendary author, painter and hagiographer Fotis Kontoglou is honored by the Benaki Museum, with an exhibition marking 120 years since his birth and 50years since his death, featuring representative works from his career in writing and illustration
Fotis Kontoglou was born in 1895 in Ayvalik, a seaside town in Asia Minor, and moved to Athens in 1913 to study at the School of Fine Arts. Unable to withstand the Munich School academic style prevailing at the time, he quit in 1914 and left for Europe. Following a short stint in Madrid, he settled in Paris where he gained the attention of fellow contemporary artists like Auguste Rodin. There he finished his first novel, "Pedro Kazas", and returned to Ayvalik to teach French and History of Art. The destruction of Asia Minor in the events of 1922 forced him to seek refuge across the sea, in Lesvos, and later in Athens. The publication of "Pedro Kazas" in Athens consolidated him in leading literary and artistic circles of the 1930s. He taught art at the National and Kapodistrian University of Athens, and his students included distinguished Greek painters Giannis Tsarouhis, Nikos Engonopoulos and Spyros Vasileiou, who followed his lead by looking back to roots and popular tradition to find Greek identity. He survived the German occupation but was left penniless. It was at that time that he devoted himself to Christianity, deciding to serve his faith wholeheartedly as an author and painter, excelling in every type of activity and bringing his own personal style in religious painting and hagiography, which combined various types of the byzantine tradition with personal ideas. Kontoglou played a decisive role in the transformation of iconography and also worked extensively in the restoration of byzantine works of art.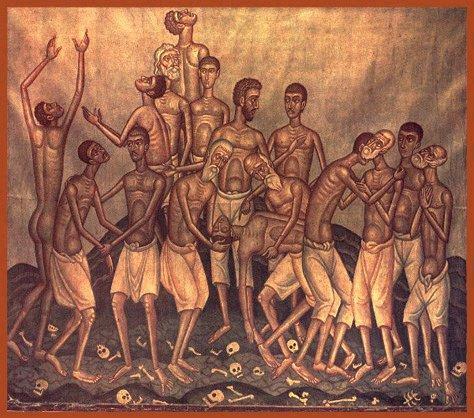 The exhibition at the Benaki Museum, which runs until the 20th of February, at the Gallery of N.Hadjikyriakos-Ghika, highlights Kontoglou's work as a writer illustrator of books authored or translated by himself as well as by others. The exhibition, featuring manuscripts, models and sketches –some of which remain unpublished to date— will acquaint visitors with yet another aspect of this multi-talented artist's work. Logos was a monthly journal published in Istanbul (Péra-Constantinople), in the first volume of which (1922) was discovered a translation of Edgar Allan Poe by Kontoglou. Ekphrasis was the culminating chapter in Kontoglou's writing and publishing career, a monumental work for which he received an award by the Academy of Athens. Accompanying the exhibition is the comprehensive volume Fotis Kontoglou: "From "LOGOS" to "EKPHRASIS", with drawings and decorative designs by the author, as well as reviews by a number of distinguished scholars.