Last March, 26year old Alexi Pappas, a Greek-American athlete based in Oregon, qualified to compete at the 2016 Rio Olympic Games, wearing the colors of the Greek Olympic Team. The young distance runner, who specializes in the 5,000 and 10,000 metre runs, had already beaten the 32:15.00 Olympic qualifying time in the 10,000 metres but had to run again as a Greek athlete to make the team, which she did. And she made it with an impressive 31:46.85 at a race in Stanford, California, on May 1.
Speaking recently for Runners World, she explained that the decision to run for the Greek Olympic Team "did not happen overnight – it was a very thoughtful process of figuring out what it meant and talking to my mentors in the sport a lot, many of them Olympians". This decision, which makes Greeks around the world so proud, is important also for another reason: she is the 20th diaspora Greek to compete with the Greek colours in track events in 120 years.
She was born in San Francisco, grew up in a Greek speaking home (surrounded by the teachings of her father and godmother on her Greek roots), graduated from an Ivy League college (Dartmouth) where she began running, and while studying for her Master's degree at the University of Oregon, decided to continue running professionally (a difficult path to follow, especially in the US, where there is so much talent in distance running). But Alexi Pappas is not afraid to admit that she is gifted and humbly acknowledges that the reason for doing this sport is "to inspire as many people as possible while competing at the highest level—and be at my highest athletic performance when I'm doing that."
And yet, she isn't just a talented athlete who made Greeks around the world cheer for her with pride and enthusiasm when she announced that she would be representing Greece. She is a professional runner, a writer, actress and filmmaker and sees running "as a sort of performance". And it seems that she turned down fully funded offers to pursue a Master's degree in writing from Columbia in order to continue running professionally.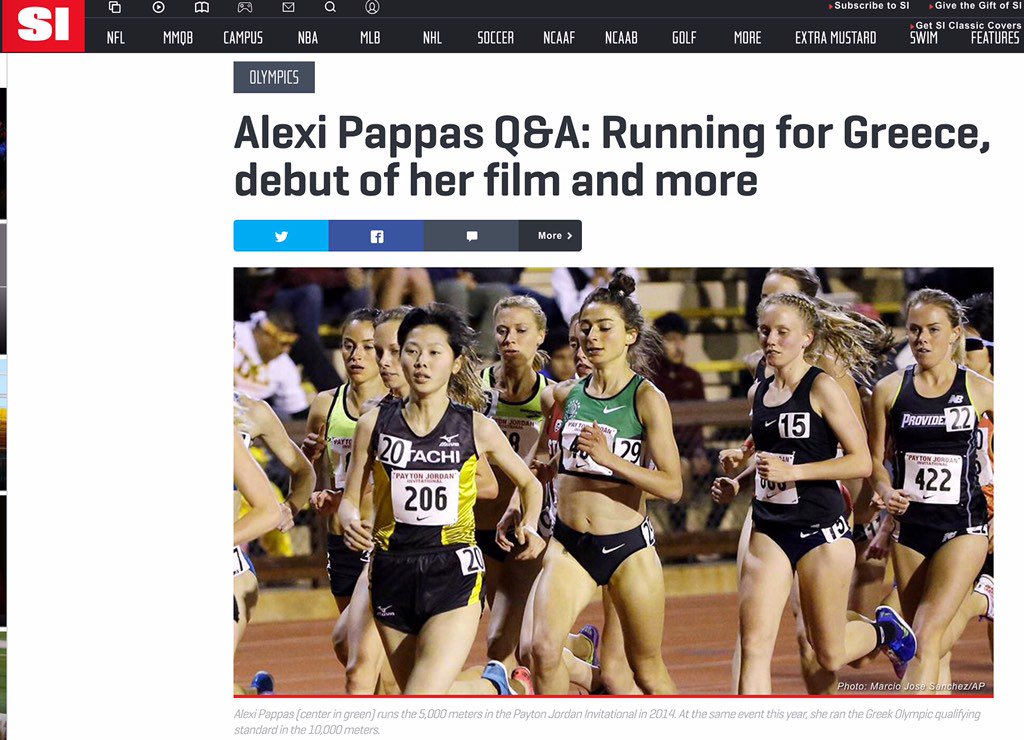 Inspired by her experience she writes poetry, essays and plays, and as her coach, Olympian Ian Dobson, quotes in Sam McManis' feature on her for the NY Times, "Alexi has momentum in her life. That's what she runs on. She also has the ability to be focused on more than one thing without diminishing either." A poet, essayist, actress and filmmaker, whose semi-autobiographical movie, "Tracktown" premieres on June 4 at the Los Angeles Film Festival. She is a true inspiration to her generation but also to all the young male and female athletes who follow her. She has a quirky hair bun, the infamous "Alexi bun", which is adored by her fans and praised by social media (yes, her bun has its own twitter account @AlexiPappasBun), she calls her naps "practice", talks openly about life and makes people around the world accept her just the way she is.
TAGS: GLOBAL GREEKS | LIFESTYLE | SPORTS