In the crisis-stricken Greek capital where austerity has led to the closure of shops and the slack activity of those open, there is a road that still booms with activity. Stretching from Aeolou to Menandrou streets, Evripidou Street hosts an array of spice stores and charcuteries that carry us back to the time of Ottoman-era bazaars.
Every day, many Athenians leave their suburban malls behind and come to visit this multicultural environment full of hidden treasures. Pepper cocktails, saffron, roasted kosher salt, dried artichoke leaves and aromatic mixtures galore are on offer in the shops of Evripidou Street and the flag bearer among them since 1940 is the historic Bahar.
Herbs go hand in hand with seasonings. And then next to these, you can find almost any kind of tea known to the world. Established in 1959, Elixirion is all about herbal therapies. "A pinch of spice a day keeps the doctor away", says Maria, the owner, noting that customers often visit the store to avoid taking conventional medicines or visiting a psychiatrist.
A long-standing tradition
Herbs and spices have been part of the Greek culture for thousands of years. In Ancient Greece, they were used both in food and for medicine. In fact, the whole system of medicine that the Ancient Greek physicians practiced was based on the variety of herbs and spices that are found growing in the Greek countryside. The Ancient Greek physician, Hippocrates, is credited with saying, "Let food be your medicine, and medicine be your food".
The excellent quality of Greek herbs and spices reflects the country's long periods of sunshine and the different kinds of landscape. This special landscape makes Greek flora so rich, that from the 7,500 different species of plants growing in Greece, 850 of them are only found there. Herbs and spices can be found fresh and dried, flaked and whole, as leaves and stems, in pods and other variations.
Spices and herbs constitute an integral part of the Greek cuisine which is known for its ability to combine different elements wisely, with a unique sense of proportion and equilibrium. Over the ages, researchers have recognized their beneficial attributes amid continued insights into the so-called 'Mediterranean diet' and its apparent correlation with longevity.
Herbs: the jewels of Greek land
Greece is one of the richest countries in the world, herbally speaking. Almost every place in Greece is known for some particular herbs that are "magical" to those less familiar with the healing qualities of the plants and their fruits. The names of herbs, their qualities and use have been passed on from generation to generation as a legacy that blended with mythology, traditions and home recipes or remedies.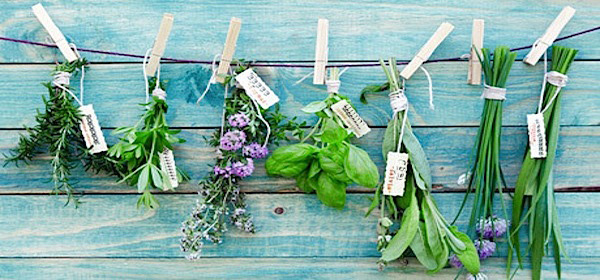 Loads of aromatic and therapeutic herbs grow in Greece. Each season of the year has its own herbs. In winter time, as the human body needs to fight off the cold and humidity, dozens of herbs can protect the immune system from various infections. Aromatic herbs, such as mountain tea, Sideritis, tilia, sage, chamomile and thyme, are some of the most common to find in Greek homes during winter.
Herbs in Greece could cover the nutritional needs of the country's population up to 80%, while the remaining 20% can be covered by imported herbs from abroad. The island of Crete hosts 33% of the Greek registered flora species.
Among the most popular herbs and seasonings are: basil (vasillikos), bay leaf (daphni), oregano (rigani), marjoram (mantzourana), parsley (maidanos), dill (anithos), rosemary (dentrolivano), mint (diosmos), purslane (glistritha), fennel (marathon), sage (faskomilo), thyme (thymari), chamomile (chamomili), fliskouni, dittany (dictamo), rock samphire (critamo).
Greek spices: Greece's comparative advantage
For thousands of years, spices have been integral to Greek traditions, myth and religious rituals. Greeks have used spices to flavor and scent their foods, as well as for their calming, healing, and aphrodisiac qualities. Many prized spices — anise seed (glykanisos), sesame (sousami), mastic (mastiha), red and black pepper, saffron (krokos Kozanis), cinnamon (kanella), cloves (garifalo), nutmeg (moshokarido) and all-spice (bahari) — are as cherished today as they were millennia ago, while they are also highly thought of by renowned international chefs.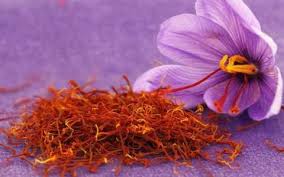 Placed among the most precious and valuable spices, the Greek red saffron (Krokos Kozanis) is a Protected Designation of Origin (PDO) product and is renowned for its aroma, colour, pharmaceutical and aphrodisiac properties. The northern Greek prefecture of Kozani and specifically a number of small villages called Krokohória (= the crocus villages), is one of just four regions in the world where saffron is grown, and the Greek variety is considered of supreme quality. It owes its beneficiary properties to the particular soil and climatic conditions of the area, as well as to the cultivation techniques and traditional practices followed by the area's crocus growers.
Greece is the world's largest producer of organic saffron and Kozani saffron had been one of only fifteen European agricultural products featured in a campaign to promote quality European farm products outside the European Union. Director of Kozani Crocus Products SA, Angelos Markou, said the company's products are available in 23 countries abroad, including the Gulf States, Australia, Japan, Hong Kong, USA and Canada, as well as in most European markets.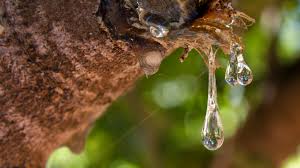 The mastic of Chios island (Mastiha Chiou) is also characterized as a PDO product, exported from Chios all over the world. It is a natural, aromatic resin, produced from the mastic trees that grow exclusively on the Aegean island of Chios. Many international journals have described Mastiha's beneficial action against disorders of the peptic system, its contribution to oral hygiene, its significant antimicrobial action, as well as the fact that it constitutes a natural antioxidant agent. In addition to that, Chios mastiha contributes to wound healing and skin regeneration. Mastic is being widely used for confectionary purposes, in various dishes and drinks, as well as in perfumes and cosmetics industry. "A tear that pleases, perfumes, relieves and heals".
Challenges and prospects
Greece's enormous wealth of herbs ranks her third in the world in native plants, which make up for 50% of the entire European Union. The vast, untapped wealth of 7,500 different species of plants that our country features, many of which grow solely here and cannot be found anywhere else in the world, represent a comparative advantage for the Greek agricultural sector, that's not yet fully exploited.
For the time being, the size of the domestic production of medicinal and aromatic plants remains 5 times lower than that of the European average. At the same time, Greek exports are well behind the European leaders in the sector — Germany, France, Bulgaria, Italy and Poland.
But the tide is turning. The Association of Medicinal and Aromatic Plants of Greece was founded in 2013 with the aim to promote the production, marketing and distribution of aromatic and medicinal plants in Greece and abroad, as well as, among others, to encourage aroma-tourism in Greece. In 2014, the government launched a 'national catalog' serving as a scientific reference on the plants. What's equally encouraging is that more and more young people or entrepreneurs are turning towards aromatic and pharmaceutical plants. The demand is certainly there!
TAGS: BUSINESS & TRADE | FOOD & DRINK | MED DIET | PRODUCTS