Easy and safe access to the beaches and the sea is a right that should be guaranteed to everyone. Swimming and enjoying the beach should not be a luxury denied to people with disabilities and those with limited mobility – such as people with temporary injuries, pregnant people, and the elderly.
The project "Creation of Integrated Accessible Tourist Marine Destinations" of the Operational Program "Competitiveness, Entrepreneurship and Innovation" of the National Strategic Reference Framework (NSRF) 2014-2020, with an initial budget of €15,000,000, is based on making the most of the potential of the country's coastline.
The project concerns the supply and installation of non-permanent demountable structures for independent access to the sea for disabled people, as well as people with reduced mobility. This includes the installation of transportable changing rooms, mobile toilets, ramps and shade structures, and also the creation of designated accessible parking spaces.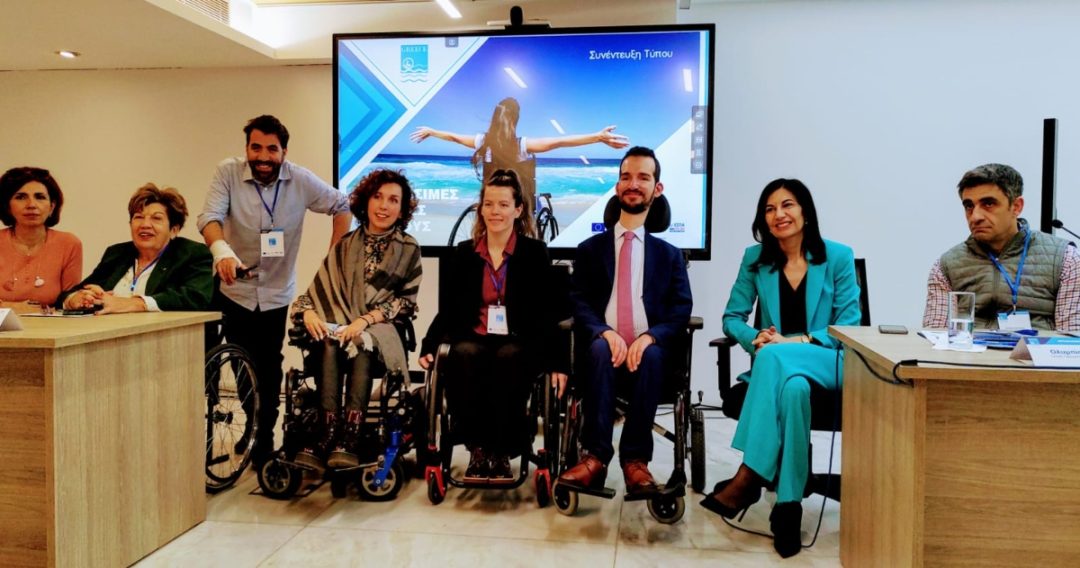 The project was presented on Thursday, April 6, 2023, by the Secretary General for Tourism Policy and Development, Ms Olimpia Anastasopoulou, who pointed out that accessibility "is an indicator of quality of life, and also a central element of any responsible and sustainable tourism policy. The adoption of a "holistic model" is a human rights imperative and an excellent business opportunity. Above all, we must recognize that Accessible Tourism benefits not only people with disabilities or special needs, but all of us".
In the context of promoting accessible beaches in Greece, the Greek Ministry of Tourism created the website AccessibleBeaches, through which one can browse and choose accessible beaches throughout the country. Special social media accounts have also been created (Facebook, Instagram, Twitter) and videos have been posted on the project's official YouTube channel. The awareness campaign includes the online promotion of accessible seaside destinations for targeted audiences (people with disabilities and their carers) in Greece, as well as in Britain, France, Germany, Italy and Cyprus.
Addressing the event, Minister of Tourism Vassilis Kikilias underlined the fact that equal access to the sea is an human right which this project helps to ensure, and reaffirmed the ministry's commitment to continue on this path and create even better conditions, adding that the EU funding programs offer valuable tools in this direction.
The accessibility of Greek destinations is an important pillar of the Ministry of Tourism's strategic planning, which it not only encourages, but works systematically to provide people with disabilities with the opportunity to enjoy the beauties of Greece without discrimination.
As Ms Anastasopoulou pointed out, beside the significant steps taken by the State to improve the accessibility of tourist infrastructure, many Greek business owners and entrepreneurs have understood the importance and the potential benefits of better catering to all categories of tourists.
Read also via Greek News Agenda: "Getting in Touch with our Cultural Heritage": Public Diplomacy for inclusivity and accessibility
N.M.
TAGS: TOURISM