Last weekend marked the 20th anniversary of Odysseus Elytis' death (Nov. 2, 1911 – Mar. 18, 1996) and the Teloglion Fine Arts Foundation in Thessaloniki is hosting from March 18 until May 31, 2016, a tribute exhibition to the poetic universe of the great Greek poet and Nobel laureate in Literature (1979) who influenced and continues to influence contemporary artistic creation.
The exhibition, titled "Odysseus Elytis world, Poetry and Painting" and curated by Takis Mavrotas, was inaugurated on March 18th by the President of the Hellenic Republic, Prokopis Pavlopoulos, and it is divided in three areas:
All of Elytis' artworks, collages, aquarelles, manuscripts and unpublished photos reflecting his aesthetic perception
Archival material and essays on great painters and sculptors including Matisse, Picasso, Zografos, Theophilus, Parthenis, Hadjikyriakos – Gikas, Engonopoulos, Kapralos, Nicholas, Kanellis, Tsarouhis, Moralis, Fassianos, and Derpapas
Works of prominent contemporary artists, inspired by the poetry of Elytis, such as Melas, Tetsis, Theocharakis, Tsoklis, Paniaras, Sorogas, Carella, Makroulakis, Botsoglou, Papagianni, Psychopedis, Kottis, Lapa, Adamakou, Pantelias Varotsos, Bokoros and Liti.
Background – selection of poems
Odysseus Elytis (pen name of Odysseas Alepoudellis, 1911-1996) was an internationally acclaimed poet and among the foremost Greek literary figures of the 20th century whose work has been translated in 29 languages. He first became interested in poetry around the age of 17. At the same time he discovered surrealism, a school of thought emerging at the time in France, adapting only selected principles of surrealism to his Greek reality. Free association of ideas, a concept he often made use of, allowed him to portray objects in their "reality" but also in their "surreality." This is shown in various poems, as when a landscape becomes a human body or the mood of a morning takes on the form of a tree. His first volume, "Prosanatolismoi" ("Orientations"), was published in 1940. Filled with images of light and purity, the work earned for its author the title of the "sun-drinking poet". One of the poems included in this volume was "The Mad Pomegranate Tree"(translated into English by Edmund Keeley and Philip Sherrard).
In these all-white courtyards where the south wind blows
Whistling through vaulted arcades, tell me, is it the mad pomegranate tree
That leaps in the light, scattering its fruitful laughter
With windy willfulness and whispering, tell me, is it the mad
pomegranate tree
That quivers with foliage newly born at dawn
Raising high its colours in a shiver of triumph?
Elytis's next fundamental work, "Axion Esti" ("Worthy It Is") came after a long period of silence (1959), inspired by the memories of World War II, the German occupation, the Greek resistance and the Greek Civil War that followed. "Axion Esti" reaches the peak of Elytis' attempt to identify himself with his nation and is considered as his most ambitious work that redefined the Greek collective unconscious by elaborating repressed experiences and myths from Modern Greek history. Its three parts are named characteristically "The Genesis", "The Passions" and "The Gloria", and it culminates in a glorification of all ephemeral things, of what is Axion (Worthy) in "this small, this Great World". Elytis´ poetical theory as regards "the view of things" is fully realized in this work. As he said in his address to the Swedish Academy on receiving the Nobel Prize: "I am not speaking of the common and natural capacity of perceiving objects in all their detail, but of the power of the metaphor to only retain their essence, and to bring them to such a state of purity that their metaphysical significance appears like a revelation". In "Axion Esti", a major poem by any standard, these ideas are materialized poetically. When Mikis Theodorakis later set "Axion Esti" to music, it gained widespread popular appeal and became a kind of national anthem.
O Sun of Justice in the mind and you O glorifying myrtle
Do not, I implore you, do not forget my country
It has high mountains eagle shaped and rows of vines on its volcanoes
And houses very white for neighboring the blue
Though touching Asia on one side and brushing Europe on the other
It stands there all alone in aether and in sea
Elytis´ later work consists of ten collections of poems and a substantial number of essays; Outstanding among them are "The Monogram" (1972), an achievement in the European love poem tradition, and "The Oxopetra Elegies" (1991), which include some of the most difficult but profound poems written in our times. He was also a talented painter and produced illustrations of his lyrical world in gouaches and collages. Later illustrated works by the author himself or by his friends Picasso, Matisse, Ghika, Tsarouchis and others include "Six and One Remorses for the Sky" (1960), "The Sovereign Sun" (1971), "The Ro of Eros" (1972), "Villa Natacha" (1973), "Maria Neféli" (1979), and the collection of essays with a personal touch "Open Book" (1974).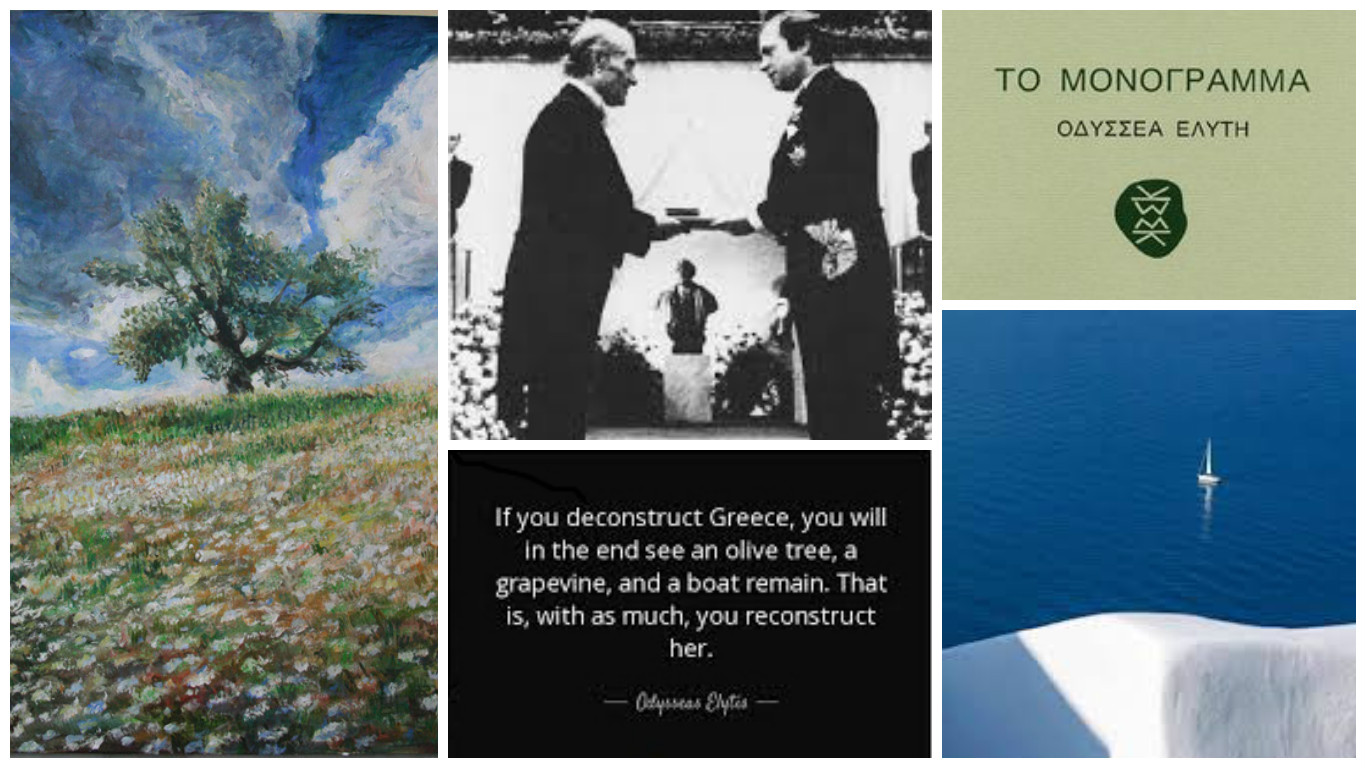 Acknowledgements – Distinctions
Elytis held a variety of positions. He had twice been Programme Director of the Greek National Radio Foundation (1945-46 and 1953-54), Member of the National Theatre's Administrative Council, President of the Administrative Council of the Greek Radio and Television Service as well as Member of the Consultative Committee of the the Athens Festival. In 1960 he was awarded the First State Poetry Prize, in 1965 the Order of the Phoenix and in 1975 he was proclaimed Doctor Honoris Causa of the Philosophical School of the Thessaloniki University and Honorary Citizen of the Town of Mytilene. In 1979, he was awarded the Nobel Prize in Literature, "for his poetry, which, against the background of Greek tradition, depicts with sensuous strength and intellectual clear-sightedness modern man's struggle for freedom and creativeness", followed by several awards and distinctions in Greece and abroad, like the Tribute of Honour by the Greek Parliament, the Golden Medal of Honour by the Municipality of Athens, the Doctor Honoris Causa by the University of Sorbonne, the Elytis Chair of Neohellenic Studies at the Rutgers University of New Jersey and the Benson Silver Medal by the Royal Society of Literature in London.
Frequently called a poet of optimism, Elytis disagreed with such descriptions of his work as he believed that poetry on a certain level of accomplishment is neither optimistic nor pessimistic; It represents rather a third state of the spirit where opposites cease to exist. There are no more opposites beyond a certain level of elevation. Such poetry is like nature itself, which is neither good nor bad, beautiful nor ugly; it simply is.
An ardent apologist of the poet´s vocation, Elytis never ceased from exploring poetry´s role in materialistic times; he once stated: "I consider poetry a source of innocence full of revolutionary forces. It is my mission to direct these forces against a world my conscience cannot accept, precisely so as to bring that world through continual metamorphoses into greater harmony with my dreams".
Read more: Odysseus Elytis: The Poet of Greece
Selected Elytis' Poems: Worthy It Is (Excerpt); Burnished Day, Conch Of The Voice…; Drinking The Sun Of Corinthe; Here Then Am I…; Holy Saturday, 25; I Lived The Beloved Name…; La Pallida Morte; Marina Of The Rocks; The Autopsy; The Sleep Of The Brave; They Came…; This Wind That Loiters…; Wednesday, 8c
TAGS: ARTS | FESTIVALS | GLOBAL GREEKS