Near the northern shore of Lake Pamvotida, off the city of Ioannina in Epirus, lies the "island of Ioannina". It has no name of its own, and is known simply by the name of its neighbouring city (and locally also as the "island of the lake"), despite being one of the few inhabited lake islands in Europe. The picturesque forested islet attracts many visitors, especially in the summer, as it is easily accessed by boat from the city's pier; the trips are frequent and last no more than ten minutes.
Theisland covers an area of 0.2 km2 and only has one village, with about 110 houses and a population of with a population of a little more than 200; it is a designated traditional settlement, created in the 17th century, with two-storey buildings typical of the characteristic vernacular architecture of Epirus region, made with stone and timber, and sloped slate roofs. Its cobbled streets are free of cars and invite for a stroll among the quaint houses with their whitewashed courtyards.
Most of the locals used to make a living mainly from fishing, but are now mostly dependent on tourism. Many of them work as boatmen, transporting people to and from the isle, while others operate taverns -often specialising in lake fish- and artisan shops selling traditional craftwork and souvenirs.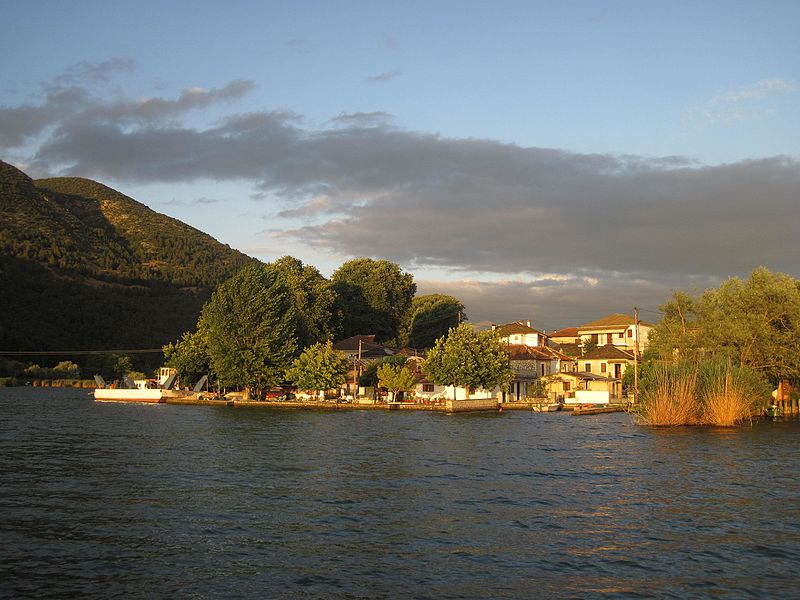 View of the island from Lake Pamvotida, by Stylianos-Marinos Charalampidis, via Wikimedia Commons
The island hosts the third largest monastic community in Greece, comprised of eight monasteries, most of which were built in the 16th century AD. Themost historic one is the Monastery of Agios Nikolaos of Philanthropenoi, founded in the 13th century by Michael Philanthropenos, a priest of noble descent; its catholicon (major temple) was built in 1292, and was later enlarged and decorated with wall paintings, in three phases (in 1531/2, 1542, and 1560). Its impressive frescoes include scenes from the life of Christ, the martyrdom of saints as well as other biblical scenes, but also a depiction of the Seven Sages of Greece.
The Monastery of Agios Nikolaos Ntiliou is also believed to date to the 13th century, and was founded by the Strategopouloi, an aristocratic family that fled Constantinople in 1204. It was later renovated by the local Ntilios family. The Monastery of Agios Panteleimon is mainly known as the place of death of Ali Pasha, the notorious Ottoman ruler of Epirus, who was killed in 1822 by Ottoman forces during his rebellion against the Sublime Porte. The monastery now houses a museum dedicated to him, showcasing a number of his personal possessions as well as exhibits of historical interest from the period before and after the Greek Revolution.
Read also via Greek News Agenda: Three religions meet in the Castle of Ioannina; Caves of Greece; Greece's UNESCO Global Geoparks
N.M. (Intro image: View of the island and the city of Ioannina from Mitsikeli mountain, by Ale30307, via Wikimedia Commons)