Greece enters a new era next month, marking the end of an almost decade-long economic crisisand with the economy returning to growth. On August 20, the country will conclude the last of three successive European adjustment programs, with analysts hailing Greece's economic reforms and a debt-relief deal reached with official creditors. Since first seeking international aid in the spring of 2010, Greece has seen its economy shrink by more than 25% that has left more than a fifth of the workforce without a job. But starting in the spring of 2017, Greece has staged a remarkable turnaround and has put the crisis behind it. Emerging from recession last year, the economy is now growing at a 2% rate – supported by an export boom and record tourism. Foreign investment has returned. Privatizations are accelerating, economic sentiment is up and unemployment is falling. Below are the key economic developments of the past two months (June and July 2018).
The Eurogroup of June 22 ratified the completion of the fourth review prior actions and approved the disbursement of the fifth loan tranche, amounting to EUR 15 billion –to be used for debt servicing and building up a cash buffer. The Eurogroup also endorsed the implementation of significant medium and long-term debt relief measures. Following these Eurogroup decisions, S&P and DBRS upgraded Greece's rating by one notch.
Key Economic Figures: GDP, Primary Surplus & Employment
The Greek GDP grew at an accelerated pace by 2.3% yoy (year on year) and by 0.8% qoq (quarter-on-quarter) in Q1, mainly due to a strong rise of exports.
The state budget primary surplus stood at EUR 1.53 billion in the 5-month period overshooting the target by EUR 1.35 billion, mainly on the back of higher ordinary budget and PIB revenues. Despite high primary surpluses, the government is creating fiscal space that allows for lower taxes and significant spending for hospitals and schools.
The over-performance of the general government primary surplus in 2017 reflects mainly an increase in revenues from social security contributions, which are due to a higher than anticipated employment growth, an increase in tax compliance as a result of non-cash payments as well as an under-execution of the Public Investment Budget (PIB).
Deposits in Greek banks increased by EUR 919 million in May, mostly reflecting a positive flow from non-financial corporations.
The 10-year Greek government bond (GGB) yield hovers at around 4%
The improvement in employment resulted in an increase of 22.9% yoy in net jobs to a new record high of 264,551 for the 5-month period of 2018.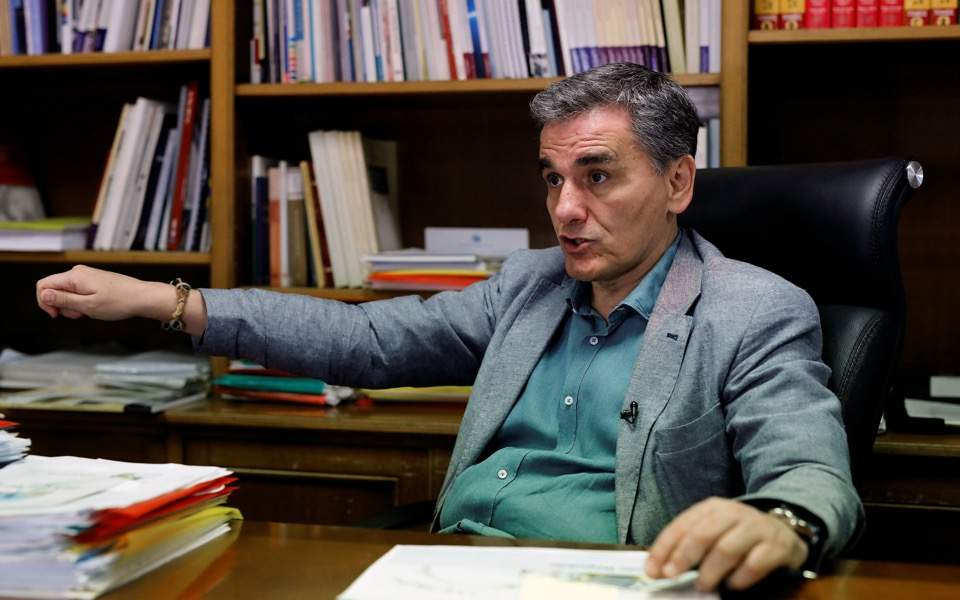 Greek Finance Minister Euclid Tsakalotos speaks during an interview with Reuters at his office in the Finance ministry in Athens
Government Initiatives: Growth Strategy & Development Plan
Finance Minister Euclid Tsakalotos presented the government's growth strategy for post-memorandum Greece (A Holistic Growth Strategy for Greece). The plan aims at creating a new identity for the Greek state, based on social welfare, fairness and productivity. To achieve this goal the government will roll-out specific actions, including: modernising the public administration, reforming the justice system, restoring collective bargaining, designing a gradual rise in the minimum wage, establishing a development bank and encouraging private sector investment in research and development.
Government vice president and Economy and Development Minister Yiannis Dragasakis in an interview with Euronews (July 16, 2018) presented the development plan after Greece's exit from the programme. He also spoke of the new investment environment, the economic plans and Greece's role for stability in the wider region. He stressed the need to support the interest for investments in Greece and combine the citizens' needs with the needs of the economy. "We are trying to integrate the people who have been marginalized in the development process. That is why we are talking about inclusive growth. As long as we achieve this through anti-poverty programmes and second-chance programmes, we are trying to support heavily indebted businesses and households, and this also strengthens growth," he said. Dragasakis made clear that reforms will be more intense and will aim to reduce inequalities, boost employment and will help the country move forward.
Projections, outlooks and reports
The Medium-Term Fiscal Strategy 2019-2022 projects a primary surplus of 3.56% of GDP in 2018 increasing thereafter up to 5.19% by 2022. The debt ratio is expected to drop by almost 33 percentage points to 150.3% in 2022.
According to the IMF Staff report on Greece released on July 31 the big macroeconomic stabilisation effort, structural reforms, and a better external environment contributed to an increase in real GDP of 1.4% in 2017. According to projections, recovery will strengthen in the near-term, with growth expected to reach 2% in 2018 and 2.4% in 2019, with unemployment declining as the output gap closes.
The latest Parliamentary Budget Office (PBO) quarterly report highlights the positive prospects and challenges ahead, while also underscores the need for a long-term strategic plan on fiscal stability.
In an interview with Reuters Finance Minister Euclid Tsakalotos (July 4, 2018) when asked if Greece would need further debt relief to sustain market access and to be able to service its debt in the long run, as the International Monetary Fund suggested (Greece: Staff Concluding Statement of the 2018 Article IV Mission, June 29, 2018), Tsakalotos said that a 2017 promise by European lenders to do more if needed was a further safety net. "As things stand now and if we have serious government policy from now on, which has sustainable growth and does treat our growth strategy seriously … then I think everything is in place for sustainability," he said.
S&P said (July 21) it raised its outlook on Greece to positive from stable. The ratings agency said it sees an enhanced policy stability supporting Greek banks and the economy, adding that the country's growth projections will improve: "The positive outlook reflects our opinion that Greece's policy predictability is improving, as are its economic prospects. During 2016 and 2017, the government ran primary fiscal surpluses while the multiyear recession ended last year…. We think planned increases to public spending on key infrastructure projects in transport, including ports and airports, could contribute to stronger growth by galvanizing private investments in Greece's most competitive sectors including tourism, shipping, and logistics".
Moody's Investors Service said in an annual report on July 26 ("Government of Greece – B3 Positive, Annual credit analysis") that Greece's (B3 positive) credit profile is supported by the debt relief granted by the country's euro-area creditors in June. "The debt relief package is a significant benchmark in Greece's recovery from its deep economic, fiscal and financial crisis," said Kathrin Muehlbronner, a Moody's Senior Vice President and author of the report. "It reflects both the significant progress achieved by the Greek authorities in correcting the causes of the crisis and the strong and continuing support from Greece's euro area creditors."
Read more:
Edited by: Nikolas Nenedakis & Ioulia Livaditi