Stavros Kotsireas is an artist with an international background and reputation. He has 37 solo and 81 group exhibitions to his credit, and his works, both paintings and sculptures, can be found in many private, public and corporate collections. His solo exhibition "One exhibition in three parts" was scheduled for April 2020 at Chili Art Gallery; when, due to the Covid-19 pandemic, the show had to be cancelled, Kotsireas chose to provide online access to the exhibition via a virtual tour.
Kotsireas was born was born in Athens in 1960. In 1963, his family relocated to Brisbane Australia for five years. As a teenager he took up athletics (track & field 400m & 800m events), competing at championship level for sixteen years. In 1980 Kotsireas started a two-year apprenticeship with painter and set designer Vasilis Fotopoulos, who also became his mentor. He got his first experience in scenic design assisting Fotopoulos with the set design for the productions of The White Wedding and Emigrates at Karolos Koun's Art Theatre in 1980.
From 1984 to 1990 Kotsireas studied at the renowned Royal Academy of Art, The Hague, where he specialised in Painting, Drawing and Graphic Art and went on to complete a Master's degree in Set and Costume Design. Since 1993 the artist lives and works in the United Kingdom. He has presented in works in multiple solo and group exhibitions and has created sets for theatre productions. Since 2015 Kotsiréas is the artistic director of the Greek-based art foundry V&P. Tassis. He is a member of ETEE Chamber of Fine Arts of Greece and Surrey Sculpture Society.
On the occasion of his latest exhibition, Kotsireas spoke to Greek News Agenda* about his sources of inspiration, the way he approaches artistic work, and his choice to make his art show accessible through a virtual tour.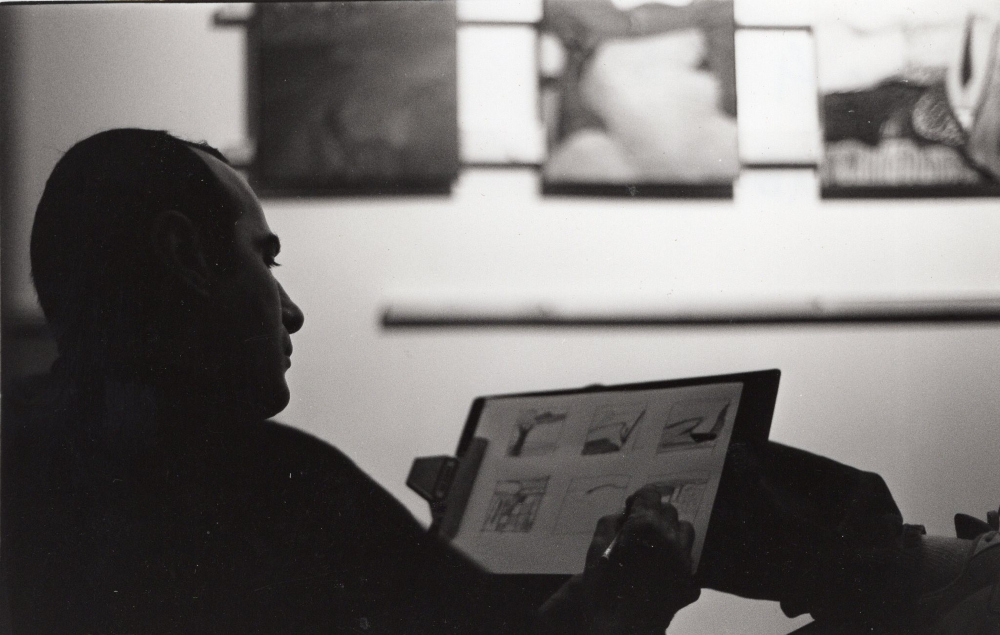 You have many solo and group exhibitions, both in England and in Greece, but also in other countries of the world. Would you like to tell us what prompted you to express yourself through painting?
My vivid memories take me back in the 60s growing up in Brisbane, Australia. As a child there were two things, I was enjoying the most, painting and running. These two interests of mine have accompanied me through my whole life's journey. In the 70s and 80s I was involved with athletics in a high level of championships and through my trainer and European champion Spilios Zacharopoulos, I met my mentor Vassilis Fotopoulos (known worldwide as a scenographer and costume designer awarded among others also with the Oscar for the film Zorba the Greek) I was at the crossroads of a major decision of mine: to study, Sports academy or School of Fine arts. Vassilis Fotopoulos, after seeing my artwork without wanting to influence my decision, he made me aware of my ability as an artist and since then I took his advice and don't look back. I studied at the Royal Academy of fine Arts in The Hague in the Netherlands and one of my two passions had become a reality. I can't find a more fulfilling vocation than to paint and be able express my feelings and statements through art.
In your paintings, two very prevalent subjects are landscapes and still life. What do they represent for you?
Nature is the greatest artist of all and I am nothing but its instrument. Soon after my graduation, nature became a major inspiration for me. The landscape for me is a notion and not a picture with just lovely colours and compositions. I explored and experimented having in mind and associating two elements in my early landscape paintings. The elements of nature coexisted in the same compositions in my paintings with the elements of the human body, (I viewed the human body as a landscape and fragmented it, in parts). The human body in my later work was dissolved and became one with nature into my compositions as the paintings progressed to their final stage. The circle of creation of my landscape period lasted for fifteen years, from 1992-2007. While that circle of creation was coming to an end, in parallel I was seeking for new ways to express myself artistically. Because of my involvement in the theatre and how enjoyable was the creation of objects for the plays, I started evolving the idea of "Still Life" but not the way we used to know it until now: let me please make a parenthesis, -I don't like the term still life so I have renamed the term for my personal benefit to "Silent life or Silent nature"-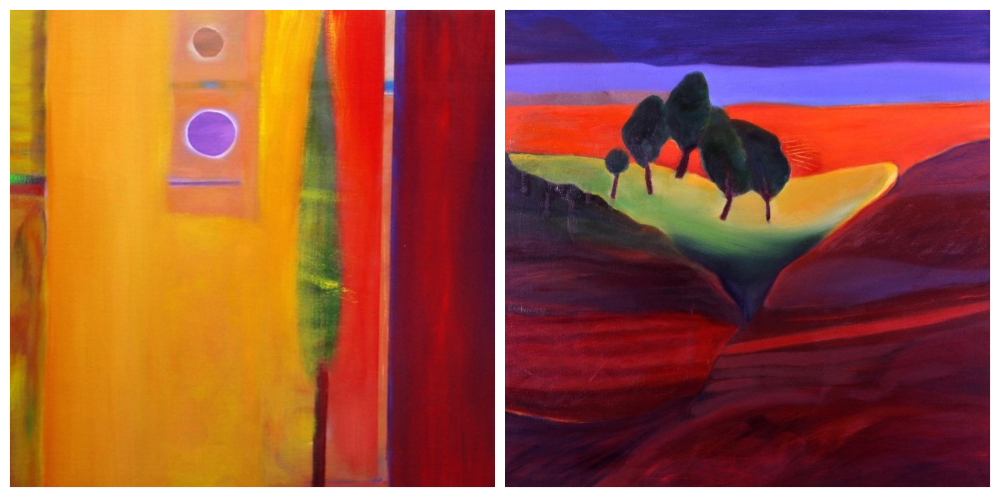 Landscapes: Purple Planet, 2008, oil on linen; Enchanted Light, 1997, oil on linen
These moments of thought isolation turned out to challenge the ephemeral nature of the source of inspiration. In my work, the source of inspiration, those carefully selected inanimate objects, are preserved and associated with the final completed painting. This approach to silent nature challenges the idea that there is a hierarchy of value between the painting and the object. Through the strange and concerning juxtaposition of the source of inspiration and the painting, the real value and life force of the work is revealed, as the space between the two…the creative process.
What I actually do is, I preserve and don't destroy the source of the -Still life- that inspires me to create the painting. In that sense you keep alive and visualise the pictorial journey from one to another.
"Creativity is part of our humanity – I want people to see what inspired me to create – that's why I bring the compositions of my silent nature out of the studio into the exhibition space. I want to demystify aspects of the creative process."
Although we are experiencing a period of isolation, you found a way to communicate with the people through a virtual tour of your exhibition in Chili Art Gallery in Athens which got cancelled because of Covid 19. Would you like to tell us a little more about this exhibition?
My disappointment was obvious and a month before the show, the loss of our beloved mother was added, who, along with my farther, was always on my mind, especially during the time I was preparing for my shows and how much I would like them to be with us.
The people who responded to the invitation to the exhibition was unprecedented, I had to find a way to respond to this expression of interest and love. People have begun to adapt to the new conditions of survival and coexistence.
I thought about inviting people to see the exhibition in their own home, it's not something new I did, but I sat down and set up a virtual tour and an online catalogue that you can also visit though my website and my purpose under these conditions was for the exhibition to visit the public and not the public to visit the exhibition. The exhibition at Chili Art Gallery in Athens was scheduled for April 2020 with an opening date on April the 4th. There were several reasons for having this show.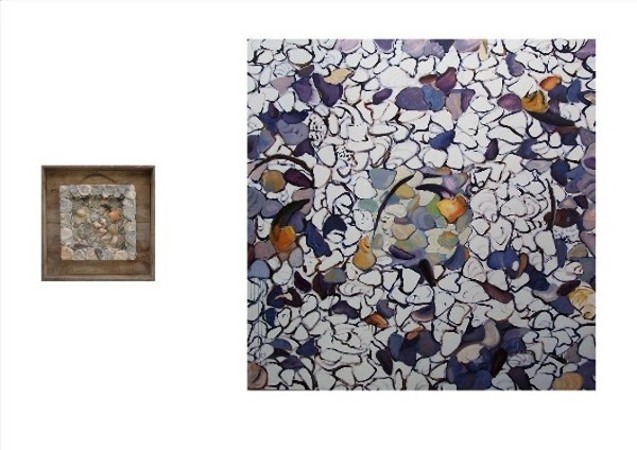 Silent Nature: Sea works – Sea Creatures (diptych), construction-mixed media
Firstly, I had not presented my work to the public in Athens in a solo exhibition for more than 10 years, for the simple reason that I have been working since 2007 with my new theme 'Silence nature', where I continue to experiment.
Secondly, for the last two years I have been creating an art installation that I am planning to present together with artwork by Sir Peter Blake, a beloved artist of mine who is also known worldwide as the godfather of British Pop Art, at the Averoff Museum in Metsovo, Greece. My idea was to support this effort with my exhibition in Athens. The title of the exhibition "ONE EXHIBITION IN THREE PARTS" where we will see in the first section my "Landscape work" in the second section compositions of my "Silent nature" and in the third section I will present, as a pro-announcement of my exhibition at Averoff Museum "CREATIVE ENCOUNTERS", pieces of my bronze sculptures included in my installation. Also, to make the virtual tour a little bit more interesting, I continued the tour outdoors, with a presentation of my sculptures and a wall (The White Wall) where I regularly will present different artworks from old works of mine that belong to private collections and some of them have never been seen before. I am thinking of keeping this tour alive until we find ourselves in better times and given once more the opportunity to present it live in the gallery.
I was informed that you will donate part of the money of the sales to Greek institutions in order to help them to deal with the economic problems caused by the pandemic. Can you tell us more about this decision?
It doesn't matter how small or big a contribution is; the main thing is that each contribution makes a difference to the ones who need it. Charities are in dire need of support due to the situation with the coronavirus. I will donate 20% of all sales to The Ark of the World charity for children living in conditions of neglect and abandonment and I hope I can also support an additional charity that has been affected by these conditions. These thoughts pre-existed long before the exhibition and will be valid whenever the show can take place. We tend to forget that people are in need of support regardless of pandemics. I have always tried to give back to the community in many ways and this specific way through my art, gives me a moral satisfaction because I believe a healthy and mindful society has a stronger future.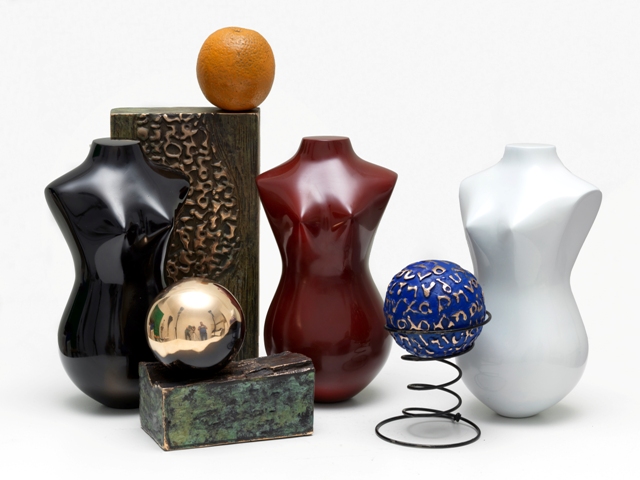 Evolution of a sculpture, I, II, III, bronzes with patinas
As I saw in the third part of your virtual tour, you are also an excellent sculptor. How difficult is it to combine painting and sculpture?
Creativity has an open mind for those who wish to be challenged. When you study for a degree in fine art, the beauty of it, is that no one can stop you involving yourself with any artistic discipline you desire, regardless of your background.
My first ever experience in the art scene was at the Theatre of Art of Karolos Koun in Athens, as I mentioned earlier, where I worked as an assistant and student of Vassilis Fotopoulos in two plays. That experience, with the stage design and the hand-crafted sculptural objects had me hooked for some time. Theatre and film set designs in a way are sculptural representations of ideas within a different medium.
As I finished my studies in fine art and dedicated myself completely into developing my love for painting and drawing, gradually the bug of sculpture appeared back on the scene and for a few years now it preoccupies my creative output parallel with my painting. The transition from one to the other is fulfilling and the combination of the two are very obvious in my present works of "Silent Nature" where the source of inspiration is created from three-dimensional found objects but also objects created by me. As a result of this procedure I have also been creating individual sculptures and compositions and never felt that painting or sculpture is competing against each other. It's a harmonious coexistence and I dedicate my time accordingly.
Renowned artist Sir Peter Blake, who will exhibit with you at the Averoff Museum, has offered some lauding remarks regarding your exhibition "Metamorphosis". Would you like to make a comment on them?
Sir Peter Blake, of whose work I am a great fan, quoted prior to my exhibition in 2017 in London, that "this is a new and exciting addition to the still life, especially when painting and sculpture are combined. That's a unique and smart idea."
Peter's response to my new work was a delightful comment. When I started chatting with him about it and explained how this approach to still life challenged the whole concept of how we viewed Still life through art history, he responded with the above comment.
Peter is a highly regarded artist, so his words are very dear to me and much appreciated.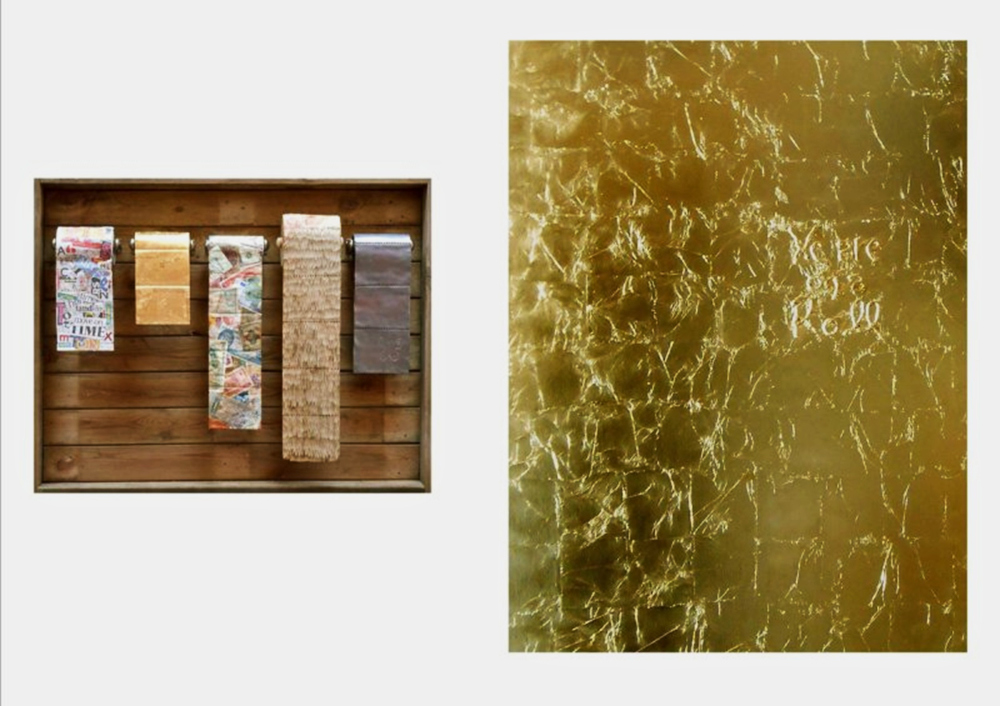 Silent Nature: We are on a Roll (diptych), construction-mixed media
And one last question. How is the situation in England in this time of pandemic? Is the situation getting better?
We all are in unknown territories; this pandemic is a shock to every society. I would reserve my final thoughts for when this pandemic has eased up, because I fear it will be something we need to learn to live with, as we have done with the flu virus. Historically and every nation individually will be judged at the appropriate moment, how they dealt with this crisis. Despite the easing up of the lockdown in England, I am not 100% sure that England is in a stage yet to ease up, I still hear there are 400-600 casualties every day and 'one in 400' people in England has coronavirus. I understand the financial complications are huge and despite some positive steps taken, still we need to realise that without people there is no economy, no evolution, no future. Right now, the effort must be to save human lives. Everyone's life is precious and unique. I cannot see how Greece, who reacted sooner against the pandemic and has fewer cases and zero casualties at the moment is easing up the restrictions and England, that declared lockdown more than two weeks after with a much larger population, is easing up the same time, still with many daily casualties. There is a lot of pressure and only time will tell if these measures had the desirable impact. Meanwhile: In these given moments, the question is: What is more valuable than life itself?
*Interview by Marianna Varvarrigou (Intro photo: The artist in front of his work Seeds of mother earth, 2009, construction-mixed media)
Read also via Greek News Agenda: Painter Dimitris Tzamouranis: "Art's ultimate objective is the pursuit of beauty"; Maria Filopoulou: an important representative of contemporary representational art in Greece; Arts in Greece | Kostis Georgiou: "Art's purpose is to provide a zone of unlimited paths"