Sophia Laskaridou (1882 – 13 November 1965) was a Greek painter, predominantly known as an impressionist. She made history as the first woman to be accepted at the Athens School of Fine Arts. 55 years after her death, she remains largely unknown to the wider public, despite having left her mark in Greek art.
Laskaridou was born in Athens, to a wealthy and influential family. Her father, Laskaris Laskaridis (1820 – 1899), was a merchant who grew up in London and her mother, Aikaterini Christomanou (1842 – 1916) born in Vienna, was a pioneer in women's education who founded a girls' school in Athens in 1864 and a nursery school and kindergarten in 1897. Her sister, Eirini Laskaridou, would also go on to found the first school for the blind in Greece in 1907.
She started painting at a young age, before receiving formal training. Initially, she focused on landscapes, partly because she lacked the necessary training to depict human figures. Her choice to paint outdoors was at the time unusual for Greeks, especially women, as the countryside harboured the threat of bandits; hence she always carried with her a handgun.
After having received private lessons, Laskaridou studied from 1894 to 1900 at the "Women's Department" of the Athens School of Fine Arts, a separate department which did not provide a degree of equal status with that of the main institution; she continued her studies at the Académie Julian private art school in Paris.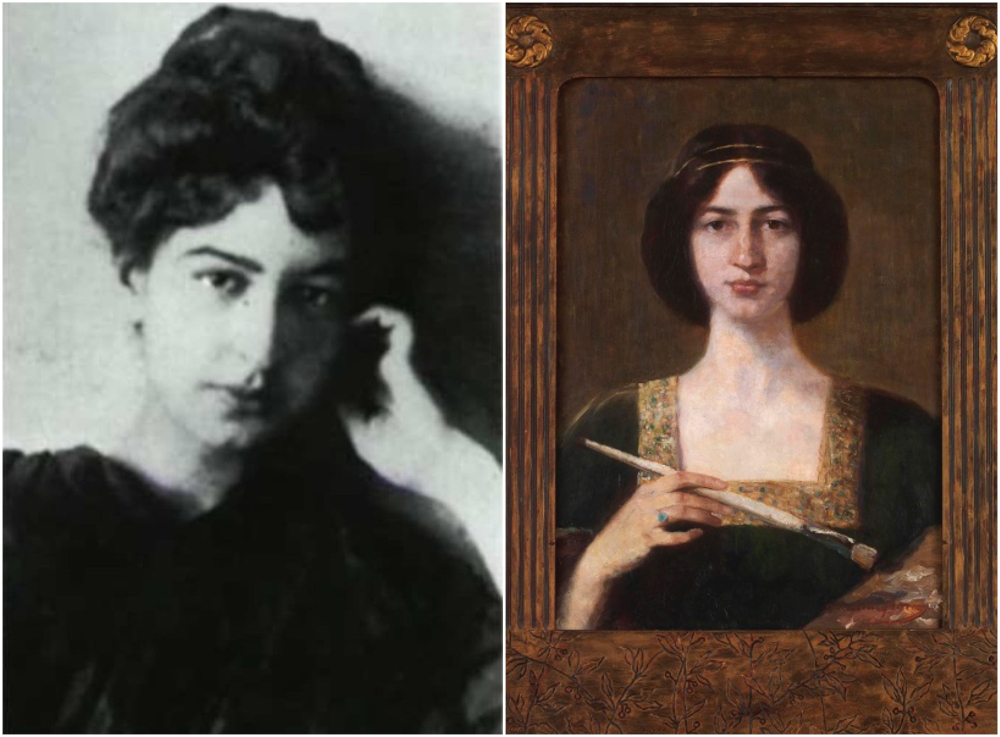 Left: Sophia Laskaridou, Right: Portrait of Sophia Laskaridou by Thalia Flora-Karavia (Archive of Neohellenic Art – Facebook)
In 1903, encouraged by her mother, she headed a group of female art students who managed to receive an audition with King George I and request him to allow for co-education at the Athens School of Fine Arts. The king indeed issued a decree, granting their request, and women were finally allowed to follow the same courses with the same renowned teachers as men did, and had also equal access to grants, prizes and scholarships.
Laskaridou thus enrolled to the School of Fine Arts in 1903, obtaining her diploma in 1907. Her professors were, among others, Konstantinos Volanakis, Nikephoros Lytras and Georgios Iakovidis. She also studied with the painter Spyridon Vikatos. From 1897 to 1907, she took part in important art exhibitions, including the Athens International Exhibition at Zappeion in 1903. She then secured a scholarship for postgraduate studies in Paris and later Munich.
1906: a joint exhibition with Thalia Flora – Karavia in Athens
On 12 April 1906, Sophia Laskaridou and Thalia Flora – Karavia (1871-1960), the most prominent Greek female painter of the time, launched a joint exhibition hosted by Parnassos Literary Society. The two artists had decided to exhibit their works together following the cancellation of a State-organised national collective art exhibition in 1906, for which Thalia Flora – Karavia had already traveled from Istanbul to Athens. The exhibition at the Parnassos hall, which comprised about 100 works, received several favorable reviews and was a commercial success. Flora – Karavia and Laskaridou were already well known at the beginning of the 20th century, as can be seen from Karavia's portraits of Laskaridou, but also from their joint interview in Kallirroi Parren's Ladies' Journal in 1901.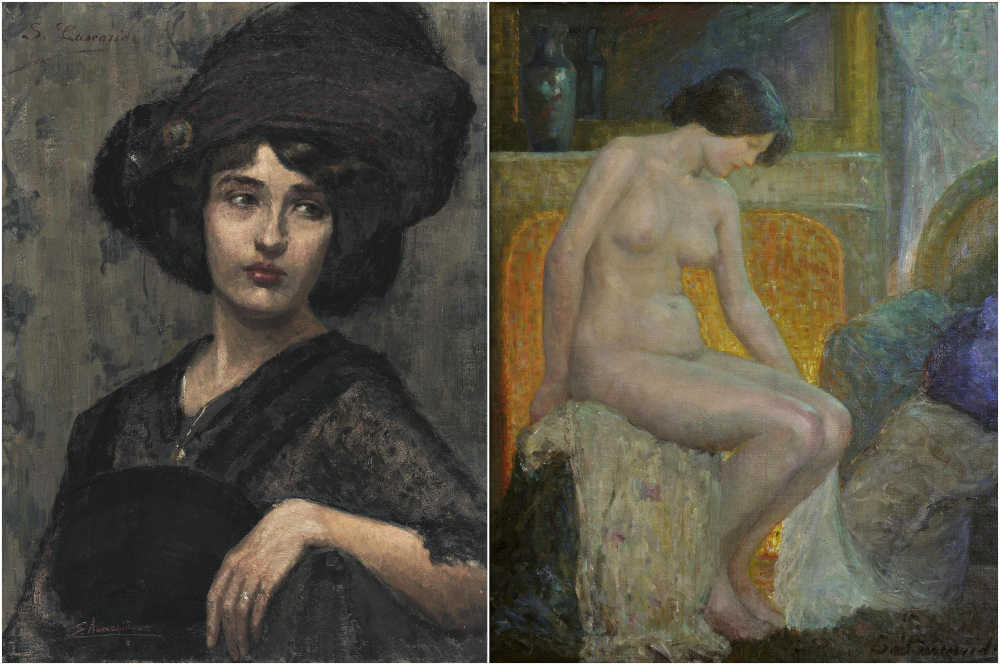 Left: La Belle Epoque, 1910 – 1915, Right: In front of the Fireplace, 1910 – 1912, Sofia Laskaridou (National Gallery)
1908-1916: Munich and Paris, international recognition
In 1908 Laskaridou left for Munich to further her studies on a scholarship at the Ladies' Academy run by the Women Artists' Association; she later continued her studies at the Académie de la Grande Chaumière and the Académie Colarossi in Paris, also presenting her work at the art fairs of the time. Although she had formed a romantic relationship with the Greek writer Pericles Yannopoulos (1869-1910) since a young age, she declined his marriage proposal to pursue an artistic career. In 1910, Yannopoulos, disillusioned by his limited success, a general disregard for his hellenocentric ideas, and also by Laskaridou's absence, committed suicide.
When Laskaridou returned to Greece permanently in 1916, she was considered an established artist. She presented solo exhibitions in 1924 and 1927 and sold numerous paintings. After that, her work only appeared occasionally in group exhibitions. Laskaridou's subjects include landscapes, portraits and still lifes and her style is marked by impressionist influence.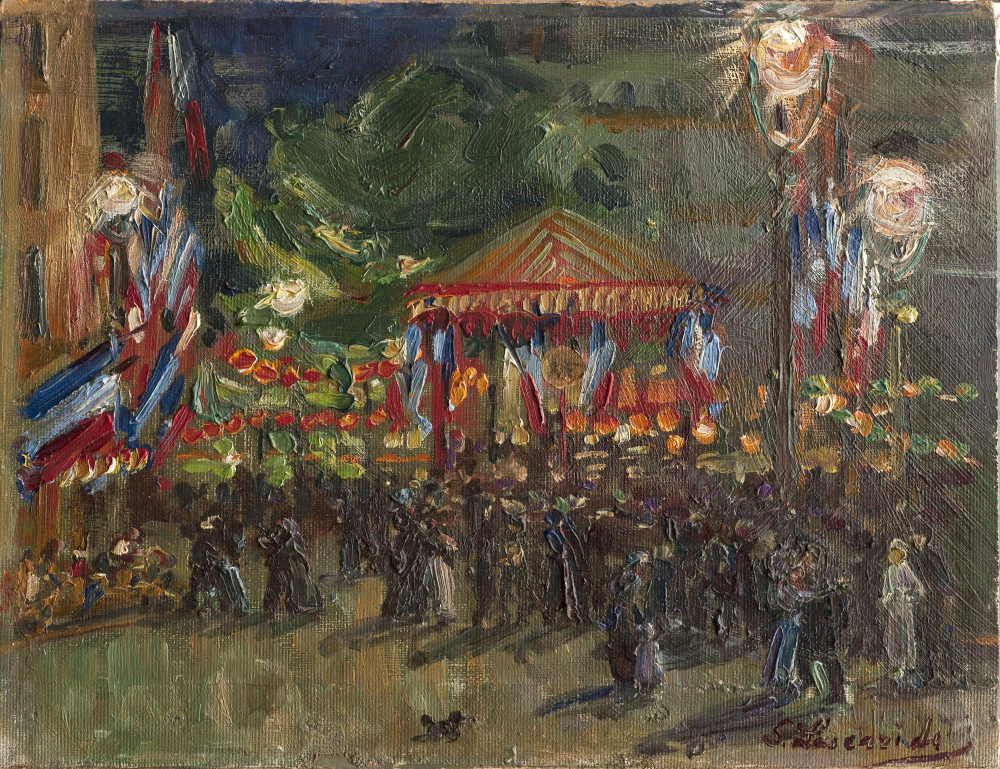 Bastille Day, Paris, Sophia Laskaridou (National Gallery)
Αrt historian Venia Pastaka notes that "Sophia Laskaridou was known as a successful impressionist artist following her studies in Athens, Paris and Munich and had already won the admiration of her colleagues as the woman who succeeded, through her own intervention, in achieving equal education between men and women at the School of Fine Arts".
1952-1965: Final years
In 1952 Laskaridou organised a solo retrospective exhibition and in 1955 she published her autobiography, covering her time in Germany and France. In 1960 she published one more autobiographical book in which she described her relationship with her great love, Yannopoulos.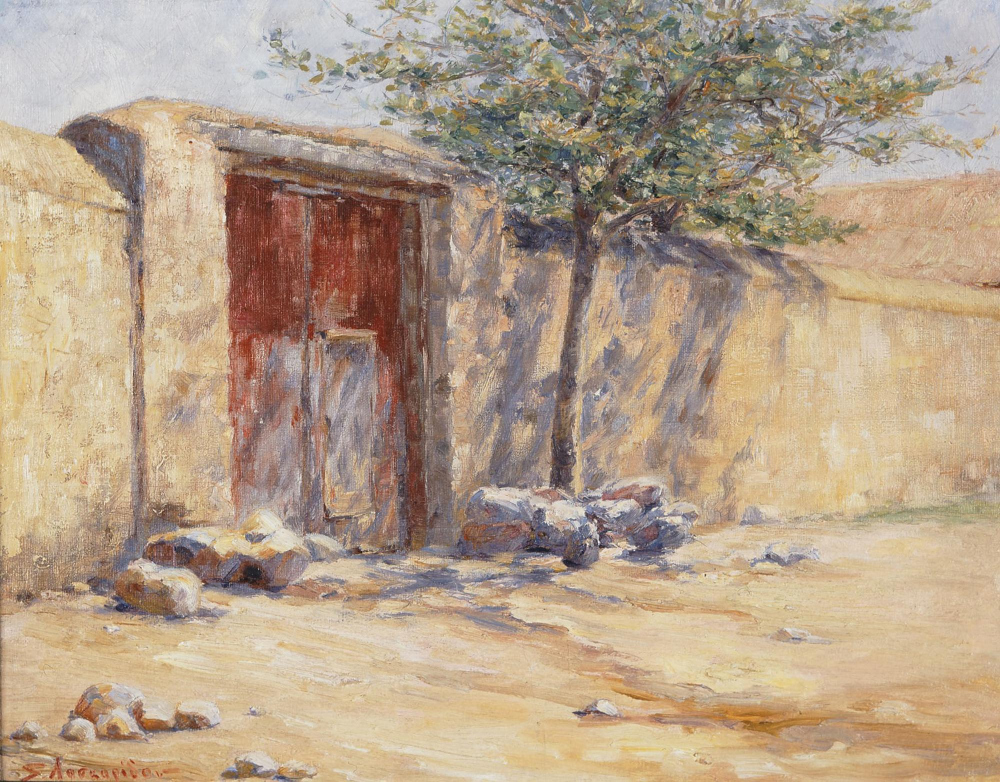 The Red Door, Sophia Laskaridou (National Gallery)
She died in Athens on 13 November 1965; her house now houses the Municipal Gallery of Kallithea, which bears her name.
Originally written for Grèce Hebdo by M. Varoucha in French & adapted into English by N. Mosaidi
Read more via Greek News Agenda: Georgios Iakovidis, a painter of childhood; Nikephoros Lytras, the Artist behind Greek Christmas' Most Celebrated Painting; Athens School of Fine Arts celebrates 180 years; Nikolaos Gyzis, the Greek master of genre painting; Konstantinos Volanakis: the Father of Greek Seascapes