The web portal Study in Greece is campaigning for the promotion and international visibility of Greek Universities and the comparative educational advantages of our country. In particular, the campaign focuses on the foreign language study programmes that Greek Universities offer to Greek and international students. The initiative is supported by the General Secretariat of Higher Education of the Ministry of Education and Religious Affairs and the General Secretariat for Greeks Abroad and Public Diplomacy of the Ministry for Foreign Affairs. In this context, a number of educational programmes and actions are presented in detail on a regular basis, such as undergraduate and postgraduate programmes, summer schools etc, to inform international students about the many foreign language options offered by Greek Universities.
Study in Greece interviewed Professor Vasiliki Lalagianni, director of the MA in Mediterranean Studies offered at the University of the Peloponnese (UoP), about the programme, its features and what it has to offer to international students.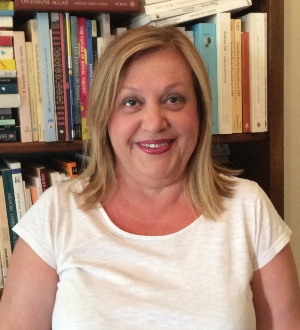 Vasiliki Lalagianni is Professor of European Literature and Culture at the Department of Political Science and International Relations of the University of Peloponnese. She has also been the Director of the Master of Arts in Mediterranean Studies since 2013. From 1997 she has taught courses on the theories of culture, Diasporas and migration, comparative and European literature and Gender Studies at the University of Thessaly, the University of Athens, the Hellenic Open University, and the Harokopion University of Athens. She is an elected member of the Governing Board of the International Council of Francophone Studies (CIEF, 2004-2007) and a member of several international academic associations and advisory boards as well as a reviewer in international academic journals.
Could you please describe briefly the concept and content of the Master of Arts (MA) in Mediterranean Studies?
The MA in Mediterranean Studies is designed to be a flexible and dynamic umbrella programme that covers a wide variety of issues and problems across different disciplines (i.e., Political Science, International Relations, Cultural Studies, and Economics). It is premised on a multidimensional approach to an array of pressing, though interdependent, questions such as conflict, security and nationalism; democratisation, civil society and the Arab Spring, cultures and multiculturalism; women's issues and activism, economic crisis and development and energy security and environmental challenges.
Τell us about the collaboration with the University of Bologna (Italy), the INALCO -Alliance Sorbonne Paris Cité (France), the Yaşar University (Turkey), the Neapolis University of Pafos (Cyprus), and the Olympia Summer Academy. Why did you choose to collaborate with these Universities?
The universities-partners have many years of experience in fields related to the Mediterranean in various fields: politics, history economics, cultural studies, geopolitics and energy.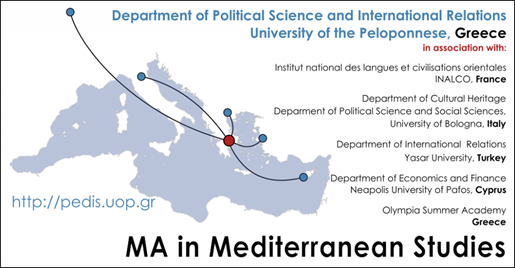 Given that the programme is taught entirely in English, what are the benefits of this Master's degree for an international student?
An international student is able to:
possess advanced, interdisciplinary knowledge of the modern Mediterranean region in relation to its political systems, international relations, cultural diversity, and socio-economic conditions.
have a solid and comprehensive methodological, theoretical and empirical knowledge base to work individually or in teams in order to investigate, analyse and solve problems, particularly with regard to the design and implementation of policies in the Mediterranean region.
draw on academic theories, analytical concepts, and historical experience to critically assess policies and policy prescriptions for the region promoted by public agencies, non-governmental actors and international organisations.
conduct professional-level research, articulate tenable arguments, and present original findings and viewpoints concerning developments in the region.
prepare and carry out work plans/research and to undertake responsibility for decision-making and problem-solving.
Does Greece's strategic geographical location and cultural importance help attracting students in similar fields?
The Mediterranean area is particularly important for understanding today's world. It is home to the longest continuous interactions among Christianity, Islam, and Judaism. Its civilisations greatly contributed to the evolution of knowledge and institutions at the basis of modern Western society. The aim of the MA in Mediterranean Studies is to promote research, through a comparative perspective, in the political, cultural and socio-economic structures and developments in the Mediterranean region and to provide expert education to its students in these fields.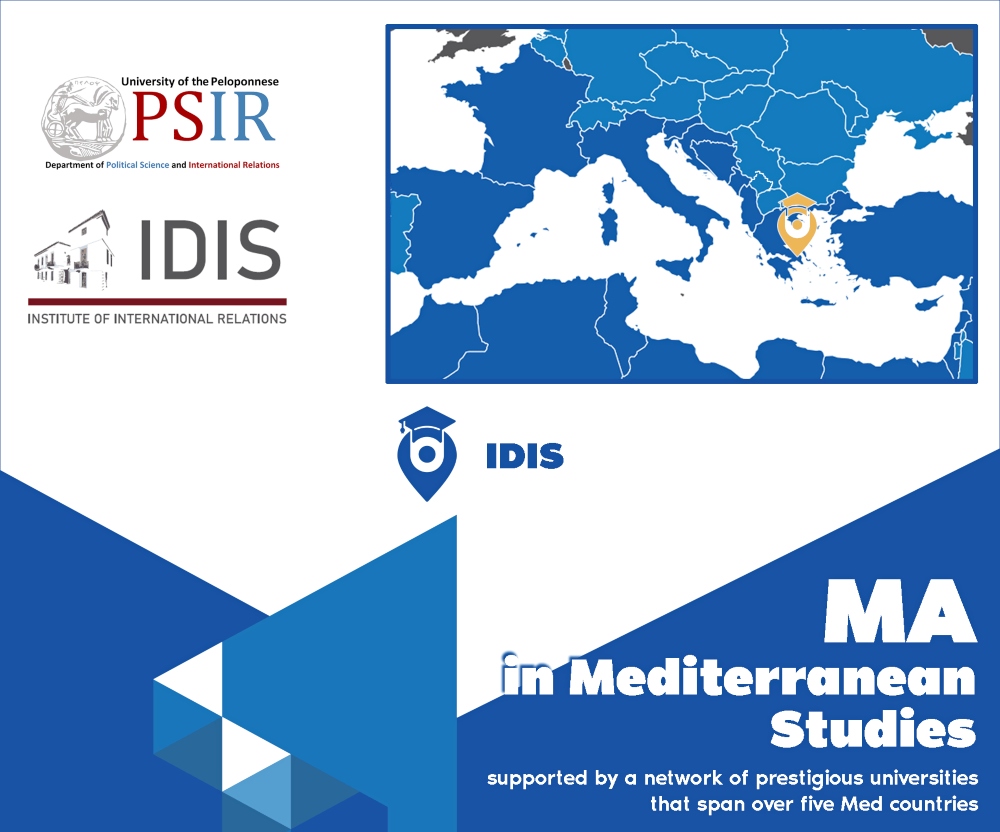 Which has been the output of this Master's degree so far? Is it satisfactory?
Since its inception six years ago, 52 students from France, Italy, Nigeria, Portugal, Tunisia and Uzbekistan have completed the programme (a rate of 90%). Our courses fostered close faculty-student interaction and our graduates maintained links with the Department and among themselves. Some of them have continued their studies at the Ph. D. level in both Greece and abroad. In short the Programme has achieved its original objectives and has acquired an international profile. Our graduates have followed careers in government branches, diplomacy, non-governmental organisations, as well as private companies and corporations.
What does Corinth, and the Peloponnese in general, have to offer to an international student? Could we argue that the region harmoniously combines a glorious past and a beautiful natural landscape with the trends of the modern world?
Apart from a high level of education offered through this interdisciplinary programme and its international outlook with several guest speakers from the partner universities (France, Italy, Turley and Cyprus) coming to teach in Corinth, the Peloponnese is full of interesting places of archeological, historical but also tourist-economic interest. The Department is conveniently located an hour away from Athens, easily accessible by train (also linked with the Athens airport) and bus. Students can also visit Athens and the islands, and have a overall understanding of the Greek ancient and modern culture and civilisation.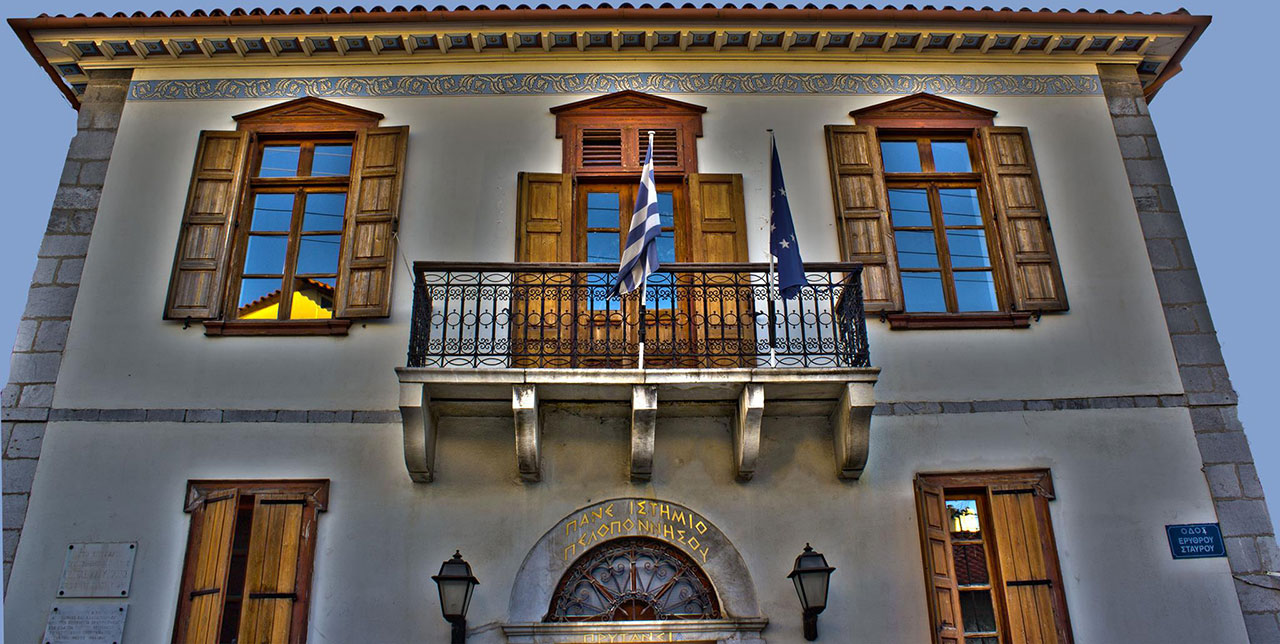 Tell us a few things about the University of the Peloponnese – its departments, its history, its spirit and its efforts to adapt to the rationales of the contemporary international academic environment.
The University of the Peloponnese is a modern, multidisciplinary, regional and multi-campus university. It was established in 2000 and accepted its first students in 2002. It was developed in the five capitals of the regional units of the Peloponnese Region (Tripolis, Corinth, Nafplion, Sparta, Kalamata) and in Patras, and comprises 9 Schools and 22 Departments with 350 members of academic staff and 165 members of administrative services. It offers studies in all cycles of learning: undergraduate, postgraduate and Doctoral as well as Life Long Learning. More than 20.000 students (1st, 2nd and 3rd Cycle of Studies) are educated in its premises. The University offers 24 Postgraduate Programmes (of which, 6 in the English language and 8 in collaboration with Greek and foreign universities). The University of the Peloponnese aims at an international presence through international research projects, international mobility of its professors and students, as well as through foreign language postgraduate programmes.
Read also via Greek News Agenda: Professor Maria Litsardaki presents the Erasmus Mundus Joint Master Degree in European Literary Cultures (CLE) at AUTh; Professor Zoe Detsi presents the MA in English and American Studies at AUTh
N.M. (Images from the MA's official website)