MOTHERLAND, I SEE YOU is a moving film festival, dedicated to salvaging, preserving, screening and studying films from the diverse Greek film production of the 20th Century. The festival, an initiative of the Hellenic Film Academy under the Auspices of the "Greece 2021" Committee, is an exciting journey through space and time that doesn't just rediscover the national film heritage but an entire country, as it is mirrored in works of Greek filmmakers.
'Motherland, I See You' consists of 40 short, mid and full-length fiction, documentary and hybrid films – 28 of which are digitally restored under the Hellenic Film Academy's supervision – and will make 21 stops in five continents. Next stop for the festival is Munich for the 35th Griechische Filmwoche München with screenings on November 12, 13 & 21.
The films selected for Motherland I See you are a collection of emblematic Greek productions, both classic and hard-to-find, award-winning and obscure, as well as queer, ethnographic, surrealistic, poetic, electric and just plain weird films – just like the country that gave birth to them. Among its titles, audiences can discover or re-discover legendary feature films like Theo Angelopoulos' The Travelling Players, Alexis Damianos' Evdokia, Michael Cacoyannis' A Matter of Dignity, Costa-Gavras' Z, Nico Papatakis' The Shepherds of Disorder, Jules Dassin's The Rehearsal, Tonia Marketaki's John the Violent, Dimos Avdeliodis' The Tree We Hurt, or Constantine Giannaris' From the Edge of the City, documentaries like Takis Kanellopoulos' Macedonian Wedding and Athene by Eva Stefani, essay films like Idées Fixes by Antoinetta Angelidi and short films like Dimitris Stavrakas' Betty.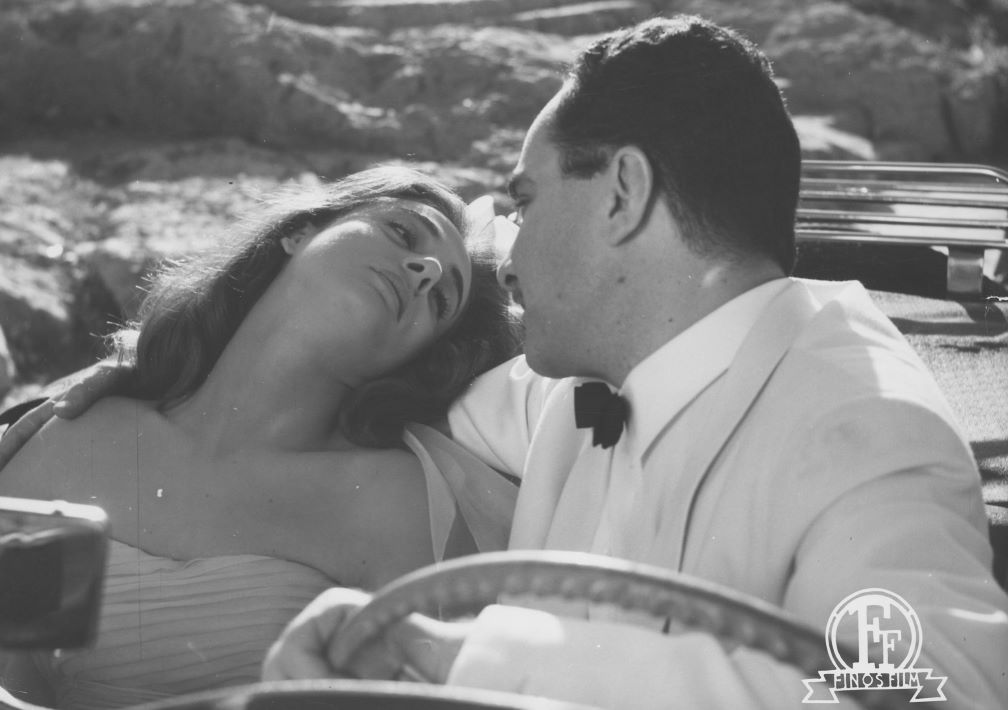 Michael Cacoyannis' A Matter of Dignity (1958)
'Motherland, I See You' is curated by directors Elina Psykou and Syllas Tzoumerkas and co-curated by academics Afroditi Nikolaidou and Dimitris Papanikolaou, who also serve as publication and educational material curators.
Acclaimed director Syllas Tzoumerkas, whose films include Suntan (2016) and The Miracle of the Sargasso Sea (2019) spoke with Greek News Agenda* on selecting the films that make up Motherland I See You, and Greek cinema then and now.
What were the criteria for the selection of these 40 films?
We held long discussions with Elina Psykou, Afroditi Nikolaidou and Dimitris Papanikolaou to end up with a list, applying multiple and complex criteria. We tried to be as inclusive, intriguing and representative as possible choosing from the body of Greek cinema of the 20th century one film per director; classic films but more "opaque", unexpected choices too; feature, medium and short films; fiction, documentary and essay films; titles representative of different genres and styles; titles debating a broad scope themes and ideas, ranging from social class and history, to immigration and gender, or to the footprint of tourism and urban development.
Another criterion, was to restore landmark films like Damianos' Evdokia or Angelopoulos' The Travelling Players to their optimum self for a new generation of spectators, and to save certain films that we knew they were in danger. Overall, at the end, what we tried to do in Motherland, I See You was to form a consistent narration of how Greek cinema reflected the country's experience of the 20th century.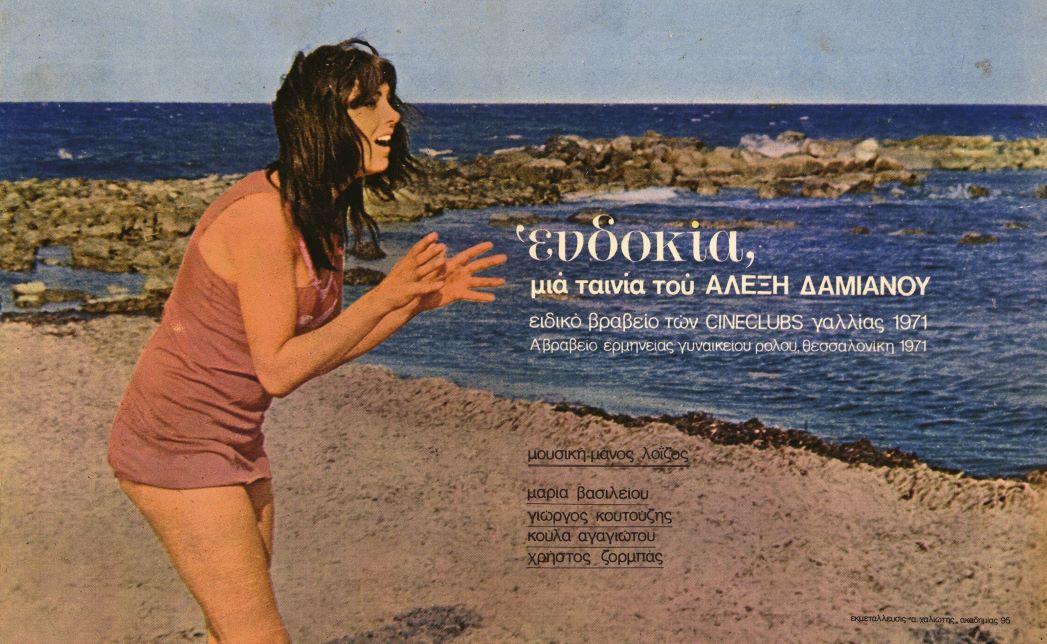 Alexis Damianos' Evodkia (1971)
If you had to recommend only a handful of films to the foreign viewer as an entry point to Greek cinema, which would they be?
As entry points, Damianos' Evdokia, Cacoyannis' A Matter of Dignity, and Angelopoulos' The Travelling Players, would be the best in my view. The latter is one of the most intriguing and insightful depictions of the effect major 20th century events had on people. Cacoyannis' film is the harshest and most accurate depiction of class issues and mentalities that have tormented and still torment the country. And Evdokia is a cinematic triumph of defiance, anarchy, rawness and wild spirit like no other. These three are also films, that together with Nico Papatakis' The Shepherds of Disorder, have had tremendous influence on the Greek New Wave, the Greek cinema of the last decade.
What are the elements of the Greek cinematic language? Are there any dominant moods/ themes?
It's a very broad question and, thank God, I'm sure there's no such thing as a "Greek cinematic language" – that would be terrible. Recurrent themes in certain films that connect again intensely with the Greek New Wave, would be family, class, the devastating faces and realities of patriarchy, and the harsh absurdity of the everyday and of our convictions.
What is the country [the motherland] we see emerging through this selection of films?
A blissfully multi-faceted one, that negates answers that don't include enough shades.
One of the goals of the festival is to look at Greek cinema "with a gaze that aims at the future". Are there any distinct creative trends shaping the Greek cinematic landscape now?
I think that, right now – but, really talking really right-now – traditions, manners and themes of the Greek essay film are back in a very vibrant way.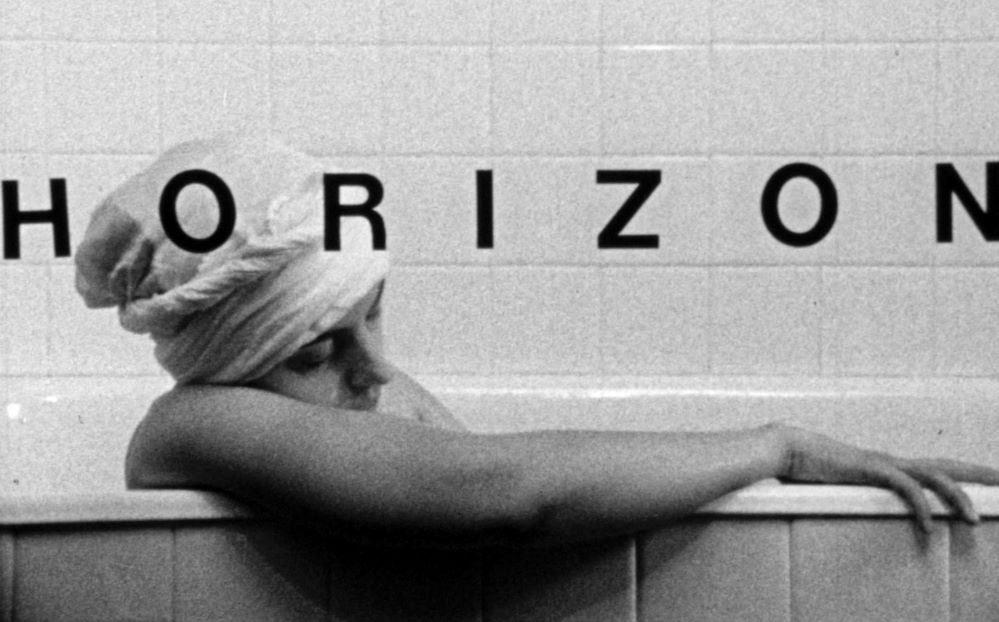 Antoinetta Angelidi's Idées Fixes (1977), an essay film
---
Following full house screenings at both the Athens Epidaurus Festival and Thessaloniki International Film Festival, Motherland, I See You travels to Munich for the 35th Annual Week of Greek Cinema, or Griechische Filmwoche München as it is known, the longest running festival of its kind in Europe and important advocate and ambassador of Greek cinema abroad. Screenings will take place on 12, 13 & 21 November and will include Dinos Dimopoulos' Madalena, Giannis Dalianidis' Kiss the Girls, Costa-Gavras' Z, Pantelis Voulgaris' Anna's Engagement, Theo Angelopoulos' The Travelling Players, Nikos Perakis' Loafing and Camouflage.
In the upcoming months 'Motherland, I See You' will continue its world tour with stops in Berlin [Greek Film Festival in Berlin], Los Angeles [Los Angeles Greek Film Festival] and Sydney [Greek Film Festival Australia] among other places.
'Motheland I See You' is sponsored by the National Centre of Audiovisual Media & Communication ΕΚΟΜΕ (main sponsor), the Greek Film Centre, the Athens Epidaurus Festival and Thessaloniki International Film Festival, with the support of the Greek Film Archive and Finos Film.
Read more on Greek Cinema via Greek News Agenda:
*Interview by: Ioulia Livaditi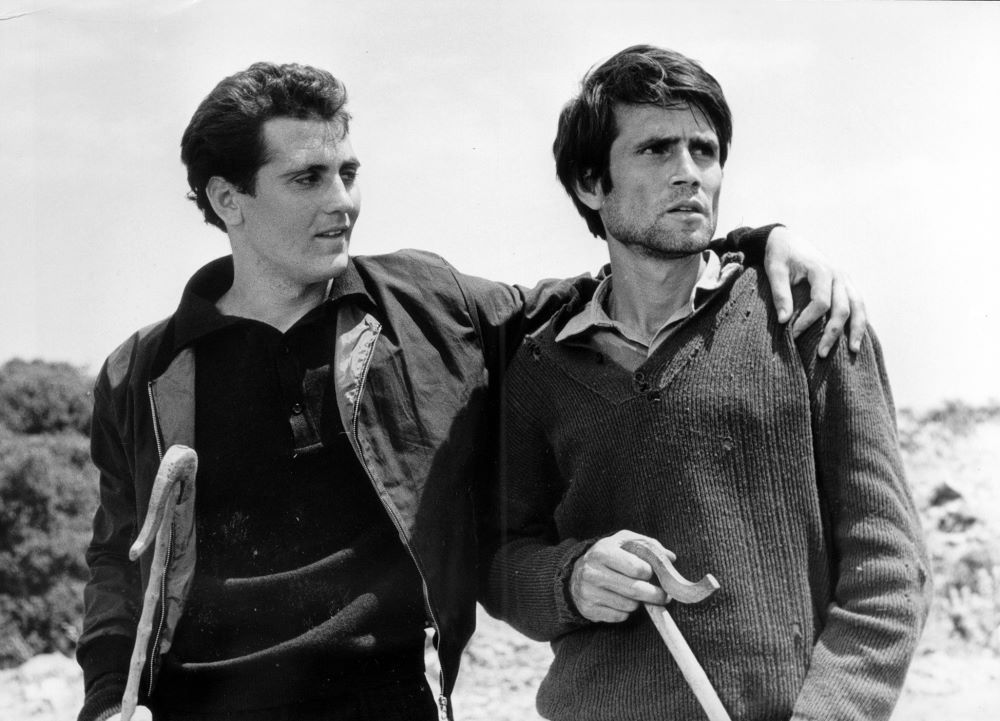 Nico Papatakis' The Shepherds of Disorder (1967)