A new Master's degree in Orthodox Theology, taught entirely in English, offered by the International Hellenic University in Thessaloniki, provides students interested in theology with a unique opportunity to learn more about Eastern Orthodox Christianity.
The Master's Programme in Orthodox Ecumenical Theology (MOET) is an inter-Orthodox and inter-jurisdictional programme, which proposes applying the rich theological legacy of the Eastern Orthodox Christianity to the needs of the present, following all international standards of excellence and the critical study pursued in modern academic scholarship.
Aims and objectives
The programme aims at fostering research and education in foundational Orthodox theology in the framework of 21st century Church and in an inter-Faith environment. Though it primarily refers to Orthodox Theology in its ecumenical dimension, it also applies to all Christian theologies not designated as "orthodox" in the confessional sense.
The twofold objective of the master's is to enhance understanding of the ecumenical, socio-economic, ecological and gender issues facing the Churches and society today, and to create an international, multi-ethnic, multi-cultural and diverse student and faculty community that can foster greater understanding between cultures, nations, and Church traditions.
The Master´s in Orthodox Ecumenical Theology is addressed to English-speaking, non-Orthodox as well as Orthodox theologians, students and graduates of relevant disciplines who wish to acquire or broaden their specialization, through a high level application of the rich foundational doctrine of the Eastern Orthodox Church (Biblical, Liturgical, Patristic) to our secular, multi-religious and multi-cultural context. Holders of any undergraduate degree from accredited higher education institutions are eligible.
Programme Structure
Core courses include: Liturgical Theology, Patristic and Systematic Theology, Missiology, Biblical Theology, Ecumenical Theology (Inter-Christian & Orthodox Relations) and Ecology & Inter-Faith Dialogue. In elective courses you can find subjects such as: Pauline Theology in Early and Contemporary Christianity, Emotion, the Body and the Senses in Orthodox Hymnography and Liturgy, Oriental Orthodox Churches, Patristics and Orthodox Mission, Christian Social Ethics, Modern Orthodox Ecumenical Figures, Scientific and Bioethical Issues in Orthodox Theology and Orthodox Feminist Hermeneutics.
The Academic Committee
The academic Committee is comprised of highly accomplished hierarchs and theologians, such as Emeritus Professor of Dogmatic Theology Metropolitan Ioannis Zizioulas, Emeritus Professor of Orthodox Theology Metropolitan Kallistos Ware, Professor of Old Testament and Rector of the University of Targoviste Metropolitan Nifon Mihaita, Professor of Church History and Dean of Makarios III Seminary Metropolitan Makarios Tylliridis, Professor of Patristic Theology and Rector of Ss. Cyril & Methodius Theological Institute Metropolitan Hilarion Alfeyev, Professor of Inter-Orthodox and Inter-Christian Relations Metropolitan Elpidoforos Lambriniadis and Emeritus Professor of New Testament and Director at the University of Thessaloniki Petros Vassiliadis.
Career path
The Master in Orthodox Ecumenical Theology offers a critical and multifarious study of Christianity, from the traditional focus of the Christian Faith to the present day realities. The obtained skills that the graduates develop will allow them to work in Educational Institutions and Academies, concentrating on classical Christian Theology, in contemporary missionary work and Church administration, concentrating on Ancient Macedonia or Greece, Archaeological Departments, Research Institutes, Museums, etc.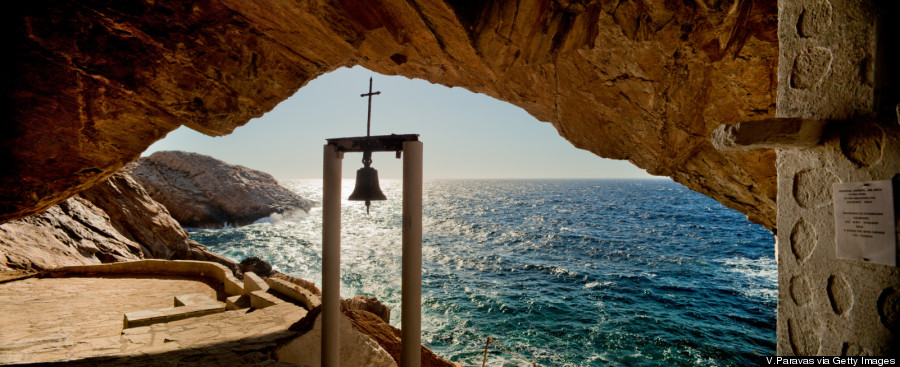 International Hellenic University
The programme is offered by the School of Humanities of the International Hellenic University, the first public university where all programmes are taught exclusively in English. The Humanities school's strategic mission is to develop programmes of study and research that will address issues of particular relevance for the region of South Eastern Europe.
Beside the MA in Orthodox Ecumenical Theology, the school offers an MA in Black Sea & Eastern Mediterranean Studies as well as an MA in the Classical Archaeology and the Ancient History of Macedonia. The MA in Black Sea & Eastern Mediterranean Studies is based on an interdisciplinary approach to the study of the history and culture of the Black Sea and the Easter Mediterranean region, providing specialized education in diverse areas of interest such as Archaeology, Ethnography, Historical Geography, Art, Religion, Mythology, Ancient and Modern History, International Relations, Politics, Diplomacy and Economy.
The MA in the Classical Archaeology and the Ancient History of Macedonia considers the history and the archaeology of ancient Macedonia, covering the region of Macedonia and the Macedonians from the Mycenaean period until the Roman era, offering courses in areas such as Historical Geography and Cartography of ancient Macedonia , Prehistoric Macedonia, Hellenistic Kingdoms, Languages and dialects in Macedonia, Coinage and economy, Cults and beliefs and New technologies in archaeology.
Find out more:
Visit the official portal for studies in Greece to search for study programmes, scholarships, read about studying and living in Greece, learn about Greek culture, Greek philosophers and many more: studyingreece.edu.gr
Read via Greek News Agenda: University of the Aegean Summer Schools: A sunny learning experience!; Study Archaeology in Greece: English-taught Undergraduate and Postgraduate Courses; Study in Greece: International Master's Programmes taught in English
I.L.

TAGS: STUDY IN GREECE