Did you know that Greece offers many studying opportunities at Master's degree level exclusively in English?
In Greece you can find some challenging and innovative fully English-taught Master's degree programmes in a variety of disciplines, especially in Archaeology, International Relations, Media studies as well as Business Administration and Innovation Management. Courses usually last at least one calendar year and application deadlines range from early May to late September.
The high level of spoken English in the country together with its historical heritage, its Mediterranean climate, diverse geography, excellent food and good living conditions make the country an appealing destination for scholars and students.
National and Kapodistrian University of Athens
University of Athens MA in Southeast European Studies is an intense one-year graduate programme. The Programme is primarily addressed to graduates in the social sciences and humanities (politics, sociology, economics, social anthropology, political and social history, Balkan studies, Modern Greek Studies, journalism, etc). Based on its interdisciplinary nature, it aims at providing a thorough understanding of the key historical, social, political, economic, and cultural issues of Southeastern Europe (SEE). The call for applicants for the academic year 2017-2018 is until June 16, 2017.
ΜΑ in Greek and Eastern Mediterranean Archaeology: The Department of History and Archaeology of the National and Kapodistrian University of Athens offers a Master's programme devoted to the advanced study of Greek archaeology, as well as the wider area of the Aegean, Cyprus and the Eastern Mediterranean, including Mesopotamia. The programme combines an in-depth, systematic account of the evidence, the methodologies and the current debates on Greek and Eastern Mediterranean Archaeology. The University is situated as close to Greece's prehistoric and classical monuments as possible. Thus, all its postgraduate programmes entail a strong hands-on learning element, such as classes and seminars held in archaeological sites and museums and special field trips. Placement in museums and field projects is also possible, subject to availability. During the Spring semester, students are welcome to attend on a voluntary basis and subject to their academic schedule, the Departmental Archaeological Excavation at Marathon (mid-April to late-May). Applications are accepted from January 1st till May 31st.
Athens University of Economics & Business
Athens University of Economics & Business (AUEB) offers a MBA International Programme, fully accredited by the Association of MBAs (AMBA). Besides the general track (Business Administration), students taking the programme can choose between the following 5 majors offered: Finance – Marketing and Strategy – International Business – Innovation and Entrepreneurship – Technology, Logistics and Operations. AUEB's iMBA allows participants to benefit from a curriculum of more than 40 courses, a personalized Skills Development Programme, a practical Immersion Project at the end of the coursework offering additional work experience, a multitude of extracurricular activities, and a Career Office. Students might also undertake an international internship, an entrepreneurial project or a corporate social responsibility action. Both The Full Time MBA International programme and the part time programme start in September. Application deadline is May 31, 2017.

AUEB and the University of Kent, UK in cooperation with IHC offer a unique intensive MA in Heritage Management in English. It combines archaeology and business and is taught at Elefsina, an area of world-class archaeological significance. It focuses on teaching the skills required for the management of heritage sites across the world as well as how to effectively work with archaeologists, architects, conservators, and marketing and education specialists while fundraising and supervising specific projects.
Aristotle University of Thessaloniki & University of Macedonia
The School of Journalism and Mass Communications of Aristotle University of Thessaloniki offers a year-long intensive Master's Degree programme in Digital Media, Communication and Journalism. It is addressed to aspiring graduates and mid-career professionals in the fields of communication and journalism. The MA includes a special training programme and offers three distinct options: DigitalMedia, Culture & Communication, European Journalism and Risk Communication and Crisis Journalism. Application period duration is from February 1st to September 10th each year.
The Department of Balkan, Slavic and Oriental Studies of the University of Macedonia, also based in Thessaloniki, offers an MA in Politics and Economics of Eastern and Southeastern Europe which aims at offering a comprehensive and in depth analysis of both political and economic developments in the region of Central, Eastern and South-Eastern Europe, emphasizing the interrelation between the two, and setting their institutional and social context. The MA course is hosted by the University of Macedonia in Thessaloniki, Greece. The university campus is located at the centre of Thessaloniki. The programme lasts 13 months for full time and 25 months for part-time study. Application deadline is July 23, 2017.

The Department of International and European Studies of the University of Macedonia School Of Social Sciences, Humanities And Arts invites applications for the second year of studies leading to a Master's Degree In International Public Administration. The aim of this two year course is to provide students, employees in the public and private sector as well as people considering a career change with an education that will prepare them for employment in International Organizations, the Diplomatic Service or in positions where knowledge of the International System and its functions is important. It also aims to Greek civil servants and military personnel who wish to apply for secondment or long term positions abroad requiring a good knowledge of English on a variety of subjects. The course consists of three semesters, two of which require class attendance, while the third is dedicated to the writing of a dissertation. During the third semester students are not required to reside in Thessaloniki. Application deadline is (June 15th non-EU students) 20 September 2017.
University of Peloponnese
The Department of Political Science and International Relations of the University of Peloponnese, in partnership with universities of Bologna (Italy), Inalco (France), Yaşar (Turkey), Olympia Summer Academy (Greece) and Neapolis Pafos (Cyprus), offers an MA in Mediterranean Studies in English. The MA in Mediterranean Studies is designed to be a flexible and dynamic umbrella programme that covers a wide variety of issues and problems across different disciplines (i.e., Political Science, International Relations, Cultural Studies, and Economics).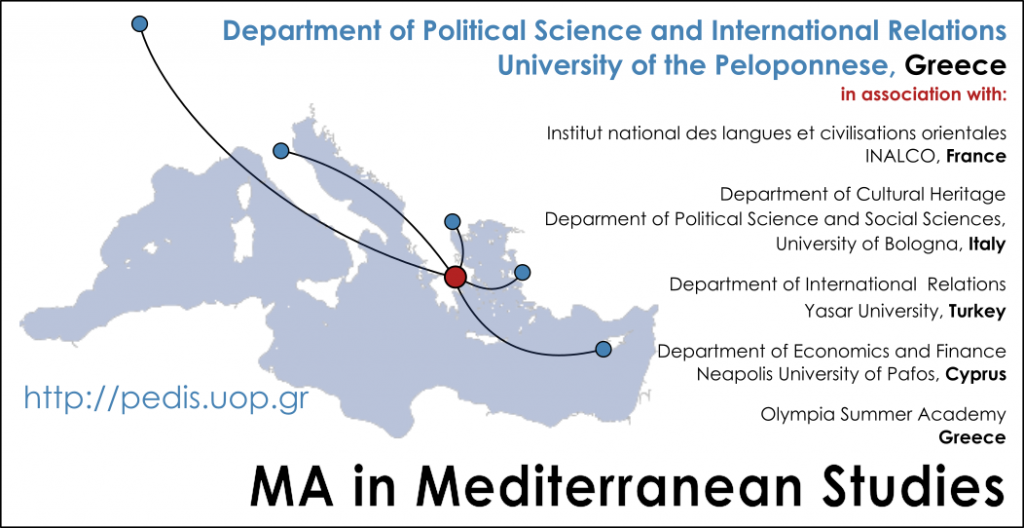 The collaborative structure of the programme facilitates the diverse contributions of faculty of the different participating institutions, enabling and sustaining the programme's wide-ranging focus. The Department is located at the seaside city of Corinth, an hour away from Athens. Application deadline is June, 30 2017.
University of Peloponnese Master of Science in Cultural Heritage Materials and Technologies (CultTech) orientation towards hands-on research offers post-graduate research training and the potential of the implementation of a dissertation closely related or within ongoing research projects. Studies on the interdisciplinary field of Cultural Heritage and Science/Technology offer the great potential of a modern and balanced educational syllabus; they also produce an ideal platform for holistic approaches that are guaranteed by the creative mixing of up-to-date methodologies with archaeological science, archaeometry and cultural heritage technologies. The programme is based in the Department of History, Archaeology and Cultural Resources Management in the city of Kalamata, southern Peloponnese and operates in collaboration with the National Center for Scientific Research Demokritos and the Navarino Environmental Observatory.

Technical University of Crete
The Master in Technology & Innovation Management (MTIM) is an interdisciplinary MSc program offered by the Technical University of Crete. It is postgraduate programme coordinated by the School of Production Engineering and Management with the collaboration of the School of Electrical and Computer Engineering. It runs from February to February and includes an optional summer internship – Startup Nation Study Trip to Israel. Τhe MTIM program is designed for graduates from a wide range of academic backgrounds including Engineering Schools, Physics, Mathematics, Chemistry, Biology, Geology, Agriculture, Business Administration, Finance, Information Technology, Medical & Bio-medical, and Military Academies.
Read also: Study in Greece: International Hellenic University offers 20 Postgraduate Programmes in English; Study in Greece: Summer Schools of the University of the Aegean; Study in Greece: An innovative platform brings international students closer to Greece