Prime Minister Alexis Tsipras, heading a broad delegation of 60 government officials and businessmen, paid a two-day official visit early this week to Iran for top-level talks with the Iranian leadership, in order to strengthen political and economic ties for a strategic cooperation, as Greece aims to become a bridge between the European Union and Tehran.
"Greece will act as a conduit for establishing economic, trade and energy connections between Iran and the European Union" the Greek PM said Sunday (7.2) upon arriving in Tehran, and outlined a framework of strategic cooperation during his visit to the Pardis Technology Park (PTP), where he noted that the two countries could collaborate in the areas of technology and innovation, energy, trade, culture and shipping.
Tsipras is the first Western leader to visit Iran since the lifting of trade sanctions against the Middle Eastern nation and on Monday (8.2) he met with Iran's supreme leader Ayatollah Ali Khamenei, President Hassan Rouhani and first vice president Eshaq Jahangiri. The two sides agreed to strengthen cooperation on energy, technology, commerce, tourism and construction, water management, culture, agriculture-nutrition, pharmaceutical industry and general financial matters. They also signed a series of agreements aiming to upgrade the two countries' diplomatic relations, including a memorandum for political deliberations, an agreement on visa exemption for diplomatic passports and a road map for the improvement of bilateral cooperation.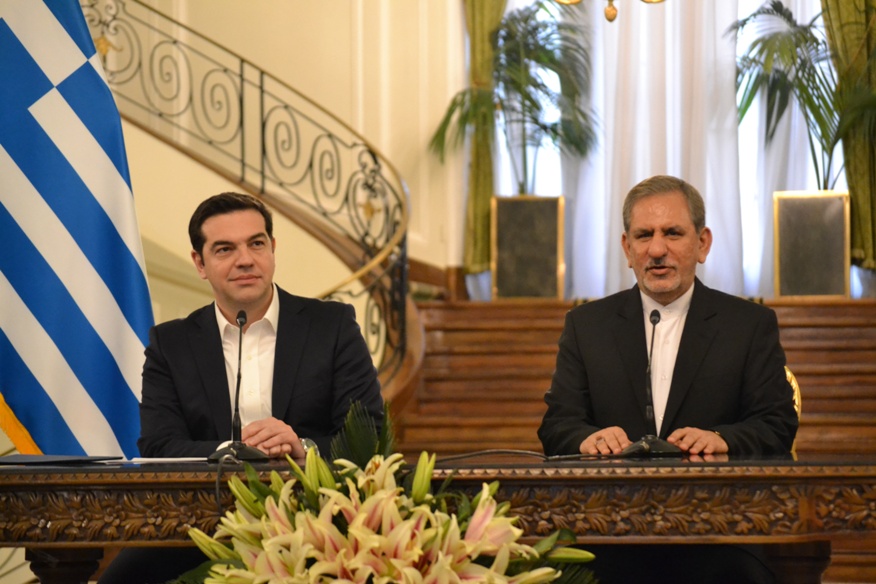 Talks also focused on the importance of combating violence and extremism, dealing with Islamic State militants, improving cooperation to safeguard stability in the region and finding a diplomatic solution to the Syrian conflict. Tsipras said that Iran and its reintegration in the international community can play a role in stabilizing the wider region from Afghanistan to the Mediterranean and Rouhani confirmed that his country is ready to expand its cooperation with the EU and Greece. Jahangir noted that the visit of the Greek PM is a milestone for bilateral relations while Tsipras referred to a strategic upgrading of their bilateral relations and a geopolitical importance of Greece-Iran's cooperation. He also stressed the need for a reduction in the migration flows from Afghanistan and Pakistan to Europe via Greece.
The Greek government considers the visit as a "strategic choice" that will lay the foundations for expanding relations with Iran and also highlight Greece's positive role in the region. Officials in both Athens and Tehran have expressed an intention to give a powerful boost to bilateral relations and to act as factors for stability in a troubled area of the world. According to government sources in Athens, "following the empowerment of the strategic cooperation between Greece and Cyprus with Egypt and Israel, and in the context of a multidimensional initiative in energy and foreign policy, Greece is reflating its bilateral relations with Iran, a regional power with significant influence, who is now returning to the international forefront wishing to restore smooth relations with the West".
Regarding energy cooperation, Greece and Iran launched discussions to resume Iranian oil deliveries to Greece in late January, when Iran's deputy petroleum minister, Amir-Hossein Zamaninia, and other Iran officials came to Athens following Greek Foreign Minister Nikos Kotzias' visit to Tehran in early December. Greece's largest refinery, Hellenic Petroleum, is to buy oil from the National Iranian Oil Co., marking the first sale of Iranian crude to a European country since the lift of sanctions after an agreement between the major world powers and Iran over its nuclear program. Iran delivered an estimated 100,000 barrels of oil per day to Greece in 2011, a figure equaling one-third of the Hellenic Republic's total oil imports.
Apart from the prime minister, the Greek delegation also included Foreign Minister Nikos Kotzias, Economy, Development and Tourism Minister George Stathakis, Environment and Energy Minister Panos Skourletis, Deputy Foreign Minister Dimitris Mardas and the foreign ministry's General Secretary for International Economic Relations and Developmental Cooperation Giorgos Tsipras.
More from Greek News Agenda:
TAGS: BUSINESS & TRADE | ECONOMY & DEVELOPMENT | ENERGY | FOREIGN AFFAIRS | GOVERNMENT & POLITICS