George Gordon Byron, 6th Baron Byron, usually referred to as Lord Byron, is considered one of the most iconic Romantics poets and arguably the most famous Philhellene; a fascinating and highly influential figure throughout his life, he died at the age of thirty-six in the war-stricken town of Missolonghi, during the Greek War of Independence, which only added to his legend. On the day of his last birthday, on 22 January 1824, he wrote a poem inspired by his recent arrival in liberated Greece.
Lord Byron in Greece
Lord Byron was born in London in 1788; he lived in exuberance, and became notorious for his flamboyant lifestyle and for his numerous romantic and, at times, scandalous love affairs. He entered the House of Lords at the age of 21, and the following year he set on a long journey to the Mediterranean (1809-1811), which was the inspiration for one of his most famous works, the narrative poem Childe Harold's Pilgrimage. He visited Greece during his travels, and stayed in Athens for extended periods of time.
Byron was fascinated by Greece, and visited several archaeological sites. He was incensed by the removal of the Parthenon marbles by Lord Elgin, especially after seeing the spaces left by the missing friezes and metopes, and denounced Elgin's actions in his poem The Curse of Minerva. In 1810 he wrote the poem "Maid of Athens, ere we part", presumably for the teenage Teresa Makri.
The publication of Childe Harold would make him a celebrity, and he would go on to produce many more works; he later resumed his extensive travels, especially in Italy, where he stayed for many years, often joined by friends such as Mary and Percy Shelley, Thomas Moore and is Edward John Trelawny.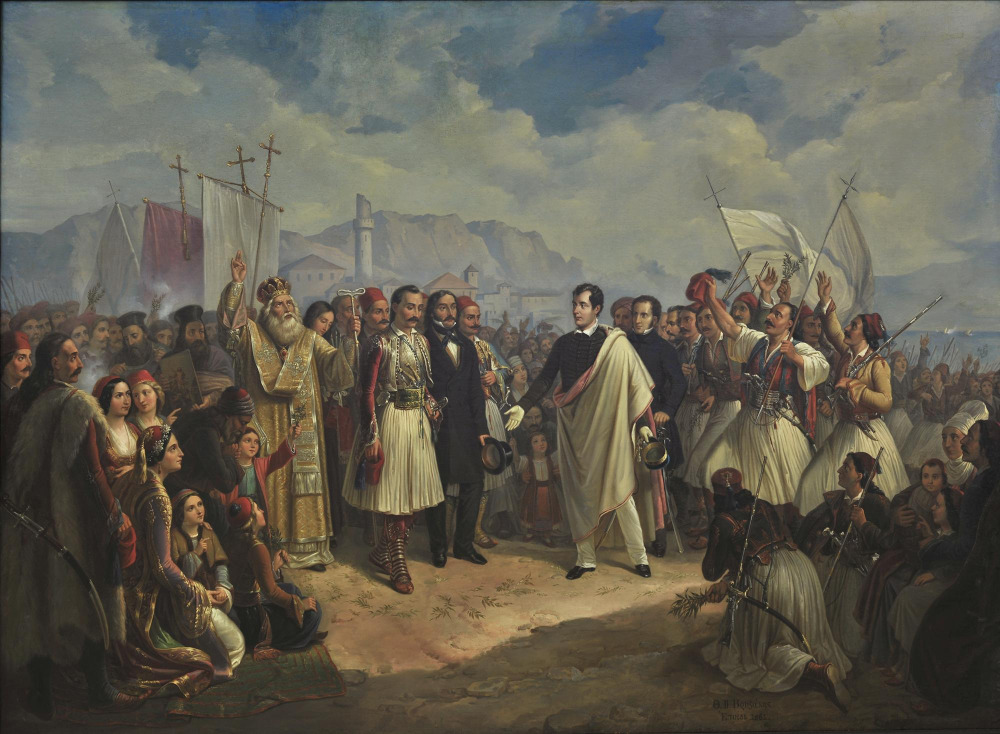 The Reception of Lord Byron at Missolonghi, 1861, Theodoros Vryzakis (National Gallery–ASM)
In 1823, Byron was living in Genoa with his young mistress, Countess Teresa Guiccioli. Mobilised by British officer Edward Blaquiere, he decided to travel to Greece to act as agent of the London Philhellenic Committee, which had been formed to aid the Greek struggle. He initially sailed for the island of Kefalonia in the Ionian Islands – at the time, a protectorate of Great Britain.
After several months, he left for the mainland and, in January 1824, he arrived by boat in Missolonghi, where he was received with great enthusiasm. He probably chose this destination because Alexandros Mavrokordatos, a prominent Phanariote politician who commanded units of Philhellenes in the War, had repeatedly invited Byron to the town in his letters; Missolonghi was of great strategic importance to the Greek forces, and was Mavrokordatos's base. The town had twice been under siege by the Ottomans, but had successfully held out against them.
Byron's death
The poet had brought with him a substantial amount of money, which he had secured, among else, by selling his property of Rochdale Manor, and was planning to spend all of it to support the Greek cause. Despite his lack of military experience, Byron was also expected to lead an attack against the Ottoman-held fortress of Lepanto, in the Gulf of Corinth. The planned attack was however delayed due to internal differences (the Greek Revolution was thwarted by a civil war at the time) and Byron's own health condition, as he fell gravely ill in February – possibly a relapse of malaria.
He made a partial recovery, but took a violent cold in early April, after being caught in a storm while riding, and suffered chills and extreme pain. His doctors bled him to ease his condition (a usual practice at the time) but probably only aggravated it, as he is believed to have developed sepsis, although his illness has never been identified with certainty. After a violent fever attack, Byron died on 19 April 1824.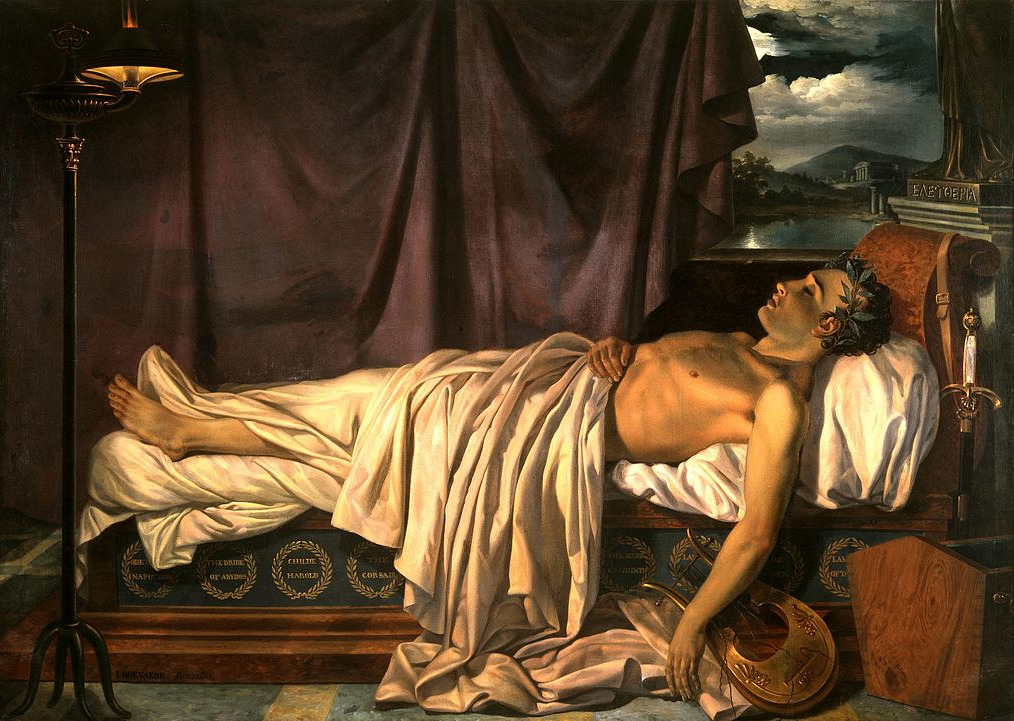 Lord Byron on his Death-bed, 1826, Joseph Denis Odevaere (by Web Gallery of Art via Wikimedia Commons)
On 22 January 1824, the day of his birthday, Byron had written a poem inspired by his recent arrival in Missolonghi.
On This Day I Complete My Thirty-Sixth Year
'Tis time the heart should be unmoved,
Since others it hath ceased to move:
Yet, though I cannot be beloved,
Still let me love!
My days are in the yellow leaf;
The flowers and fruits of love are gone;
The worm, the canker, and the grief
Are mine alone!
The fire that on my bosom preys
Is lone as some volcanic isle;
No torch is kindled at its blaze–
A funeral pile.
The hope, the fear, the jealous care,
The exalted portion of the pain
And power of love, I cannot share,
But wear the chain.
But 'tis not thus–and 'tis not here–
Such thoughts should shake my soul nor now,
Where glory decks the hero's bier,
Or binds his brow.
The sword, the banner, and the field,
Glory and Greece, around me see!
The Spartan, borne upon his shield,
Was not more free.
Awake! (not Greece–she is awake!)
Awake, my spirit! Think through whom
Thy life-blood tracks its parent lake,
And then strike home!
Tread those reviving passions down,
Unworthy manhood!–unto thee
Indifferent should the smile or frown
Of beauty be.
If thou regrett'st thy youth, why live?
The land of honourable death
Is here:–up to the field, and give
Away thy breath!
Seek out–less often sought than found–
A soldier's grave, for thee the best;
Then look around, and choose thy ground,
And take thy rest.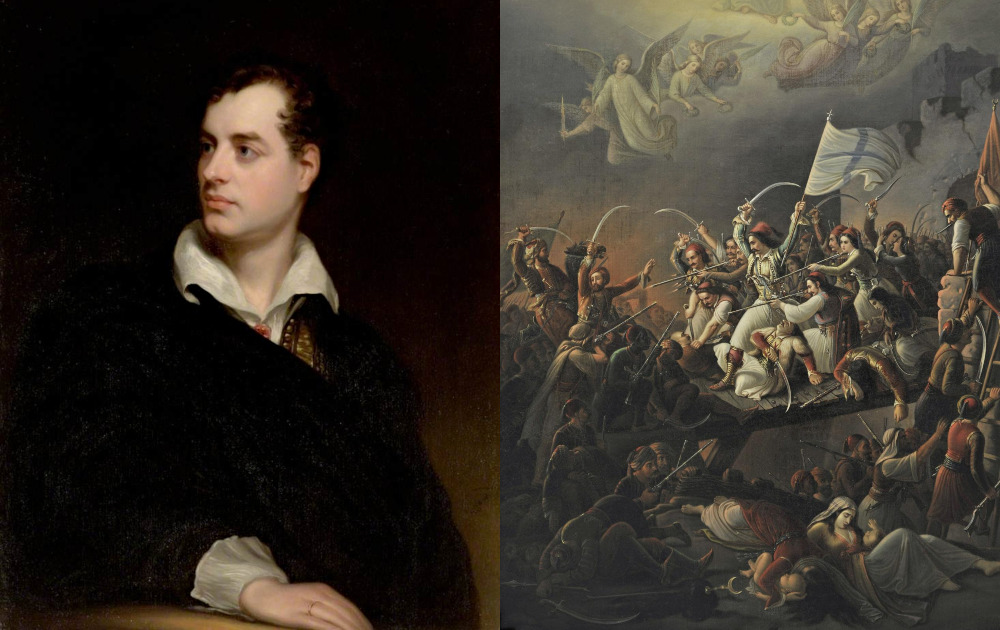 Left: Portrait of Lord Byron [detail], 1813, Thomas Phillips (by BBC Your Paintings via Wikimedia Commons); Right: The Exodus (sortie) from Missolonghi, 1853, Theodoros Vryzakis (National Gallery–ASM)
The ten stanza poem was a private diary entry, preceded by the note "January 22nd, Missolonghi"; Byron initially expresses grief as he feels he is becoming older and no longer worthy of love – a sentiment possibly exacerbated by his ailing health (he had probably contacted malaria in 1810, and subsequently suffered from recurrent fever attacks), while he was also self-conscious about a deformity in his right foot which caused him to limp.
But, in his despair, he finds inspiration and motivation in the Greek struggle for independence, of which he intends to be part, and aspires to glory through a brave death for a noble cause. The poem was masterfully translated in Greek by poet and translator Nikos Spanias in 1966-1971.
Although the painful end that Lord Byron met was not in combat, his sacrifice was not in vain; as British historian David Brewer wrote, "his presence in Greece, and in particular his death there, drew to the Greek cause not just the attention of sympathetic nations, but their increasing active participation".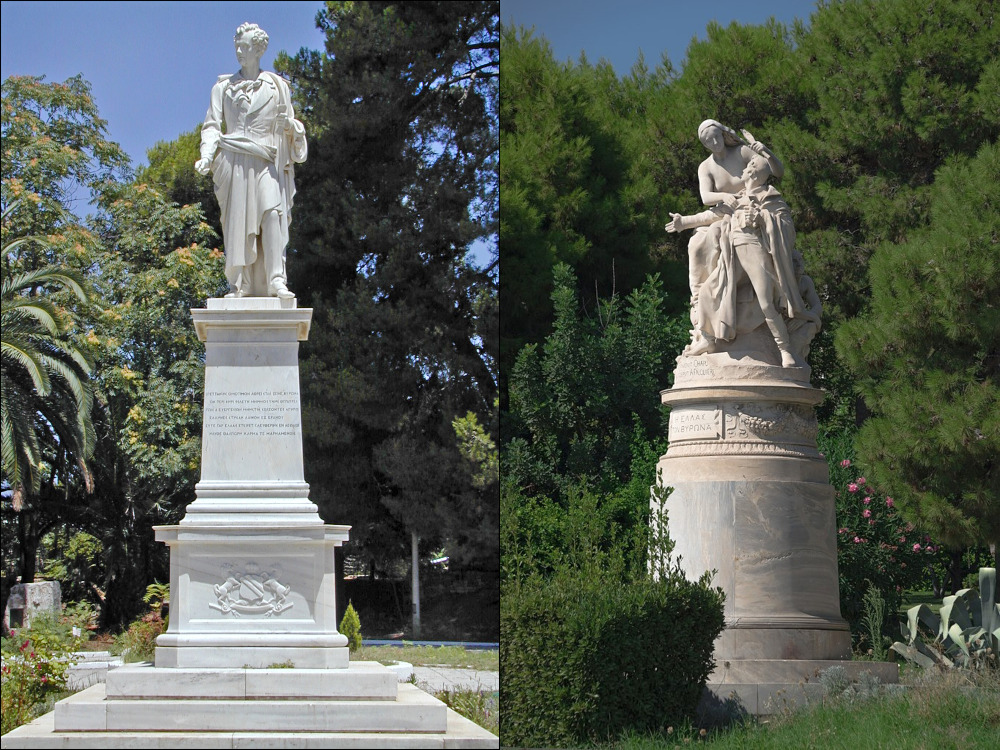 Left: Monument to Byron by Greek Sculptor Georgios Vitalis, 1881, Garden of Heroes, Missolonghi (by Jean-Pierre Dalbéra via flickr); Right: Statue of Greece crowning Byron, 1896, by French sculptors Henri Chapu and Alexandre Falguière in Zappeion, Athens (by Jebulon via Wikimedia Commons)
To this day, Byron is indeed regarded with great reverence by the Greek people. His heart is reputedly buried under his statue in Missolonghi (while his remains were sent to the UK and buried there). The hellenised version of his name (Vyron or Vyronas) was popularised as a male first name in the years following the establishment of the Greek state. Statues of him have been erected in prominent sites in Athens and Missolonghi, and his bust stands on a central square of the municipality of Vyronas in the Greek capital – initially established as a city quarter on the centenary of his death, and named in his honour.
A year after Byron's death, in April 1825, the town of Missolonghi was besieged for a third time, this time by Reşid Mehmed Pasha, whose army was later reinforced by that of the notorious Ibrahim Pasha. The siege lasted a year, during which the city suffered from constant attacks and, soon, starvation. Finally, the besieged decided on an escape plan but they were betrayed to the enemy; the night of 10 in April 1826, they attempted a sortie, but they were surrounded by the enemy forces, and most of them were killed. The town would remain under Ottoman rule for three years but, in April 1829, the Greek regular forces organised by Governor Ioannis Kapodistrias besieged Missolonghi by land and sea until, in May 1829, it was officially ceded to Greece.
Read also via Greek News Agenda: POEM OF THE MONTH: "The Free Besieged" by Dionysios Solomos; POEM OF THE MONTH: "Hellas" by Percy Bysshe Shelley; BOOK OF THE MONTH: "The Archipelago on Fire" by Jules Verne; American and British Philhellenes; 2021 Bicentennial Celebrations by Foreign Embassies and Institutions
M. V. (Intro image: Portrait of Lord Byron in Albanian Dress [detail], 1813, Thomas Phillips [via Wikimedia Commons])
TAGS: GLOBAL GREEKS | HISTORY | LITERATURE & BOOKS