Α Greek "bohemian" poet, one of the "cursed poets" of Greek literature, Napoleon Lapathiotis (1881-1944) is considered one of the most important poets of the neo-symbolist and neo-romantic school. A controversial figure due to his gay sexual orientation, his communist sympathies, and his addiction to drugs, he was at the same time a national icon whose lifestyle created a scandal in the conservative society of his times.
A fan of Oscar Wilde, the sensitive, romantic but sharp poet wrote poems clearly influenced by aestheticism, while much later his melancholic mood leads him to symbolism. His poetry thus became a window to human condition. He wrote in a simple yet touching way about basic emotions such as love, joy, sadness, pain, memory, disappointment, death, etc. His daring lyrics, his constant search for pleasure and his declared homosexuality are provocative, his elegant and sophisticated appearance attracts attention.
Fall Song
Autumn, I loved you when the leaves fall
And leave the branches naked for winter's icy bites,
When the evenings flee, the poms are apple red,
And lonely are the nights….
And stand I now and ask: what fate and what storm,
While alone sailing the abysmal depths of mort,
Strangely and hopelessly has brought me now forlorn
A beggar in your court….
And when the dinner ends and night falls,
And quietly, like books, the light dies in the sky
I come back looking for my lost peace of old,
Like a charity from up high….
I loved you fall, when the leaves fall and
Leave the branches, and lonely is each night.
But did I really love you – or is just the shiver
Of the coming winter's icy bite….
Lapathiotis began writing poetry at the age of eleven. By 1907, his poems were already being published in magazines of the period. In 1907, along with others, he established the Igiso (Ἡγησώ, from the Attic Greek name Hēgēso) magazine, in which he published his works. In 1909, he graduated from the law school of the University of Athens.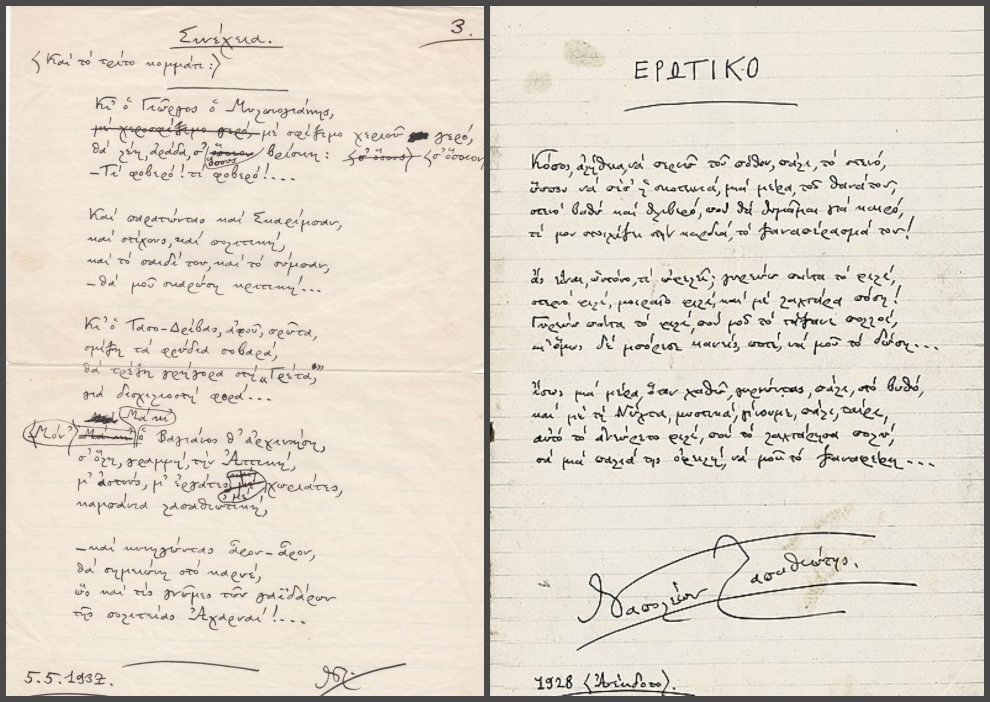 In 1912 during the First balkan War, he was conscripted into the Greek army. In 1914 he published his controversial "Manifesto" in "Noumas", a magazine of that era. Three years later, he published his poem "Kravgi" in "Rizospastis" and followed his father to Egypt where he met Constantine Cavafy. It is in the 1920s that he espoused the communist ideology. He returned to Athens shortly afterwards and continued to write poetry. However, his personality had drastically changed: he abused drugs and avoided being seen in public during the day, coming out only at night.
He wrote poems, novels, critiques, aesthetic texts, theatrical plays and articles, and was also involved in translation. In 1939 his collection of poems was published but the poet had descended into poverty and depression largely due to his continued drug abuse. On January 7, 1944, Lapathiotis killed himself with a revolver.
The 1985 the film Meteor and Shadow directed by Takis Spetsiotis was a poignant and harrowing account of the eccentric life and poignant death of the bohemian poet impersonated by the actor Takis Moschos. The film was based on a series of authentic documents and was set against the background of major historical events of a very important period of political and social developments in Greece, as well as the influences of European cultural events on our culture. The film won five prizes at Thessaloniki Film Festival 1985 – best film, best actor, best costumes and design, best make-up.
A.R.
TAGS: LITERATURE & BOOKS | READING GREECE