Elias Petropoulos (1928-2003) was among the most controversial Greek writers of the twentieth century. Imprisoned three times during the Junta (1967-1974) and persecuted by Greek judges as late as the 1980s, this "urban folklorist" produced a vast and groundbreaking oeuvre of some seventy books.
Mirror for You (Cycladic Press, 2023) collects nearly all of the poetry written by Elias Petropoulos. Featuring new translations by American writer, translator and literary critic John Taylor, it is the first time that Petropoulos's poetry has been made available in English. The book serves as a kind of "introduction" to the personality of Elias Petropoulos. As Head of Cycladic Press, Michael Alexandratos, told Reading Greece, "The poems make apparent Petropoulos's abrasiveness and eroticism, but also his sensitivity and melancholy. In this respect, Petropoulos can be compared to the poet Charles Bukowski, who was also harsh and tender in both his life and poetry".
As the author of some seventy books on topics ranging from prisons, brothels, graveyards, hats, moustaches and Turkish coffee to rebetic songs, folk architecture, homosexual slang and the plight of Greek Jews during the Second World War, Petropoulos was also and perhaps above all a poet. He wrote his first long poetic sequence, Funeral Oration, when he was thirty-nine years old, just after the imposition of a military dictatorship (1967-1974) during which he was imprisoned three times for his controversial writings. In the following decades, most of which were spent in exile in Paris, Petropoulos produced more poetry, often in spurts of highly concentrated energy. At turns melancholic, erotic and caustic, these poems form an uncomfortable self-portrait of the man behind the vast and groundbreaking oeuvre.
The Publishing House
Cycladic Press is an Australian-based small press dedicated to publishing on the margins of Modern Greek culture and literature. As Alexandratos notes, "I started Cycladic Press in 2016 and originally intended to publish zines that were loosely connected to Modern Greece. Over time, it became clear to me that there were writers in the Modern Greek world that deserved better attention amongst English-language readers. This motivated me to start publishing full-length books instead of small, limited-edition zines".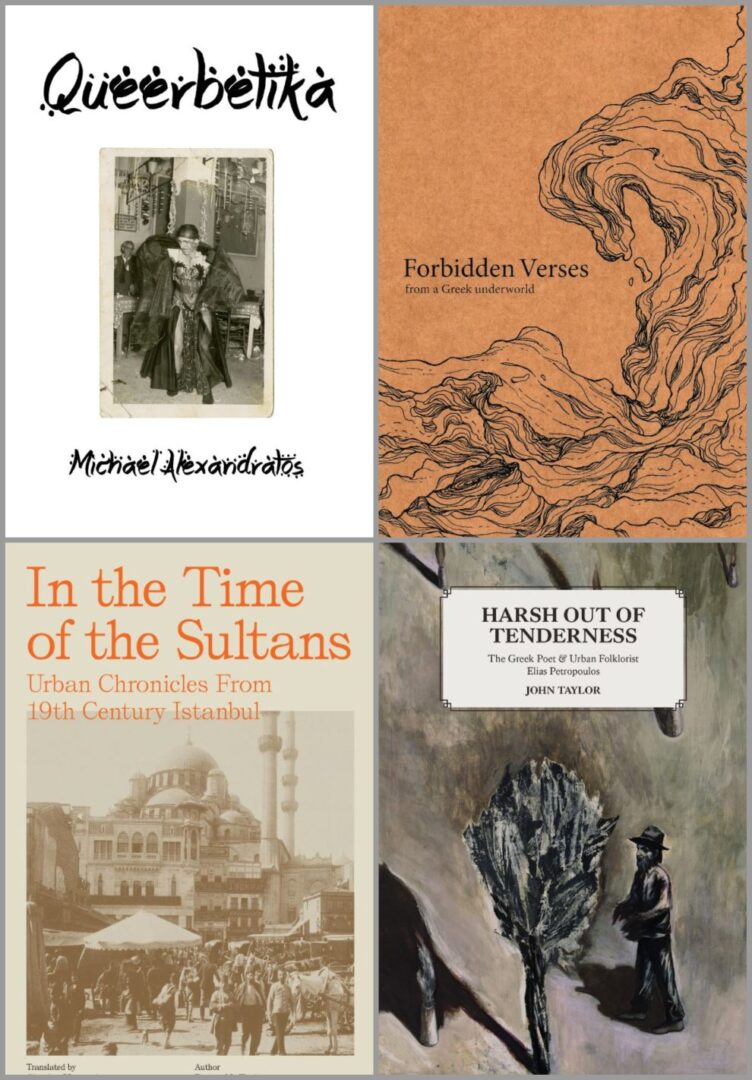 He goes on to explain that "in contrast to other independent publishers like Aiora Press and Denise Harvey, I decided that my press would focus exclusively on non-canonical writers in Modern Greek literature and not the "classics" and "big names" that other presses already do so well. In addition to this "anti-canonical" stance, I am broadly interested in topics and social groups that lie on the margins of the Modern Greek state and its nationalist ideals. These include queer or LGBT people, the mentally ill, prisoners, underground arts and "low" aspects of popular culture". 
The first serious publication through the press was Queerbetika by Michael Alexandratos, which is the only study and anthology available in either English or Greek that focuses on the queer elements of rebetika. Following this release, there was published Harsh out of Tenderness, a memoir by American writer, translator and literary critic John Taylor about his experiences working with Elias Petropoulos, as well as a translation into English by Charles Howard of Panos N. Tzelepis's tales from 19th century Istanbul and its underworld "rebetiko" subculture, titled In the Time of the Sultans: Urban Chronicles from 19th Century Istanbul.
As for what lies ahead, Alexandratos aims to publish more books of queer Greek literature and poetry and also more books by writers who have experienced mental illness, like Romos Philyras and Michaïl Mitsakis. "I am also currently working on an anthology of Greek outsider writing from 1842-present which I hope to publish in Greek through a small press in Athens. I will also potentially publish a translated English edition through my press".
A.R.
Read also: BOOK OF THE MONTH: Rebetika – Songs from the Old Greek Underworld; Rebetiko music: From the margins to the mainstream; "Rebetiko" Art Exhibition in Athens
TAGS: LITERATURE & BOOKS | READING GREECE