Russian President Vladimir Putin's two-day visit to Greece (27-28.05) marks the restart of the relations between the two countries, Prime Minister Alexis Tsipras said during a joint press conference with Russian President Vladimir Putin.
Tsipras spoke about the agreements signed on bilateral cooperation in the sectors of energy, transport, tourism, shipbuilding, mining and pharmaceuticals. "Energy constitutes a key area of economic development for Greece and the region and our strategic aim is for our country to become an energy hub," the Greek premier said. Tsipras noted that the close ties his country holds with Russia can help promote relations between Russia and the EU, as well as Russia and NATO, stressing that there can be no future for the European continent with the EU and Russia in adversity.
On his side, Putin noted the wide range of agreements signed on Friday, adding that Greek-Russian relations are progressing in the Greece-Russia Year, a large part of which is promoting trade. He said bilateral trade last year totaled 2.7 billion euros. The Russian president said the two countries agreed to emphasise investments, noting Russia has already invested 700 million euros in Greece and that there's room for more investments in transport, adding that that there are still many possibilities for cooperation in energy and the agreement signed today will contribute to its further development.
After concluding the press conference Prime Minister Alexis Tsipras and Russian President Vladimir Putin inaugurated the cultural cooperation between the two countries with a visit at the Byzantine Museum in Athens. Standing in front of the masterpiece "Ascension", by Russian icon painter Andrei Rublev, the first art work to be exhibited in the Byzantine and Christian Museum in the framework of the cultural events for the Year of Greece and Russia 2016, Tsipras noted that "2016 is the Year of Greece and Russia, a joint initiative that aims to highlight the strong ties that bind us and the foundations of our common cultural heritage."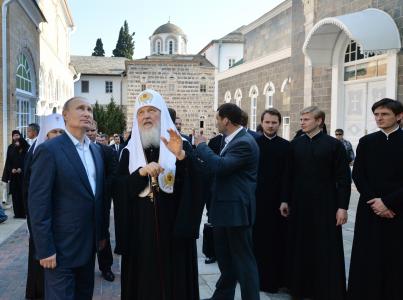 Russian President Vladimir Putin wrapped up his two-day visit to Greece on Saturday with a trip to the monastic community on Mount Athos in northern Greece – a sacred site for the world's Orthodox Christians – where he attended events, along with Patriarch Kirill of Moscow, marking the 1,000-year presence of Russian monks there, and reaffirmed the strong cultural ties binding the two nations.
TAGS: BUSINESS & TRADE | ENERGY | FOREIGN AFFAIRS | GOVERNMENT & POLITICS | INTERNATIONAL RELATIONS